Karnataka: Pourakarmikas Announce Statewide Strike From July 1
The action has been called by safai karamchari and pourakarmika unions across the state.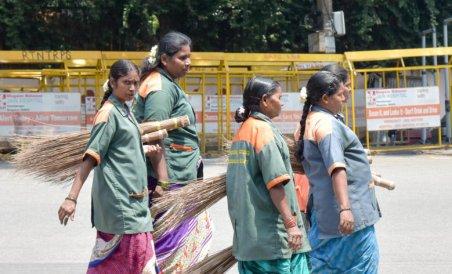 Image Courtesy: Deccan Herald
Thousands of pourakarmikas working in various sanitation jobs across Karnataka will down tools from July 1, 2022, onwards. Their primary demand is for all contract workers to be made permanent employees. They also ask for basic facilities like drinking water, toilets, rest areas and entitlements like paid maternity leave, health insurance, and pension. Activists say there are around 50,000 sanitation workers in the state, of which 4,800 are permanent employees.
A sanitation worker with a permanent job may earn a salary of Rs 40,000/month, while a contractual employee makes Rs 14000/month for the same work. In some districts, the workers take home even less because the contractors keep a share of the earnings. The pourakarmikas have raised the same demand on several occasions, most recently in March 2022. In Bengaluru, there are around 16,000 sanitation workers, including sweepers, loaders, drivers, helpers, etc. A helper may be engaged in segregating wet and dry waste but has been given an arbitrary title of 'helper' to keep the wages low.
Earlier, contract workers were earning a paltry sum of Rs 7,000/month. In 2015, the Minimum Wages Advisory Board of Karnataka recommended that the pay be hiked to Rs 14000/month. In 2017, when Siddaramaiah was Chief Minister, the labour department issued a notice to BBMP to pay the new minimum wage of Rs 14800/month to all contracted sanitation workers. However, the contractors were found to be pocketing the hike in salaries while paying the same amount as before to workers. This led to several protests and struggles to get their due.
Nirmala, President, BBMP Pourakarmika union, said, "The workers are not even provided dustpans to lift garbage. They have to use mats to collect and dispose of waste and garbage. They are sometimes forced even to buy brooms from their own pockets. They are neither provided with drinking water facilities nor toilets. The BBMP had claimed that they had started serving hot food to pourakarmikas. But this food is inedible. The rice is soggy. They serve a rasam which is mostly just water without any dal in it. And they serve it with pickles because they know that the food has neither salt nor spice. It is not fit for consumption."
Narayana, State President, Federation of Pourakarmika Associations of Karnataka, says, "When workers turn 60, they are retired from service without pension. We want health insurance and pension benefits for all sanitation workers in Karnataka. The strike will be observed in all 30 districts until our demands are met. Various political organisations like CPI, CPI(M), and DSS have come in support of pourakarmikas," he said.
In the 2022-2023 budget, Chief Minister Basavaraj Bommai announced a hardship allowance of Rs 2000/month, but activists allege that this amount has not reached the workers. To rid themselves of the menace of contractors, sanitation workers are demanding that they become permanent employees and receive payments directly from the government.
Sayed Mujeeb, CITU, said, "In the municipalities, there are at least five types of workers under the category of pourakarmikas. Why so many names for people who do the same job? All these categories have been made to exploit workers while paying them as little as possible."
The five categories are - direct payment, daily wagers, outsourced workers, time scale and welfare.
Chandrakala, a BBMP pourakarmika worker, said, "When we go for medical treatment, we may get admitted only after a week of tests. During this time, our salary gets deducted. We don't even receive PF because our records are not properly maintained. Even though we worked hard during the pandemic, we could not withdraw the money we had rightfully earned. When we approach the BBMP for help getting our payments, we don't get any response from them. Only if we approach through our union will they listen."
Appanna, from AICCTU, says, "Since 2018, the sanitation workers are owed Rs 90.18 crores as a part of their Provident Fund earnings. The PF commissioner had directed this amount to be paid into the bank accounts of sanitation workers. However, this has not been paid to this day."
In 2017, in neighbouring Telangana, the salary of sanitation workers was hiked from Rs 12,500/month to Rs 14,000/month. In November 2020, the wages of workers at the Greater Hyderabad Municipal Corporation (GHMC) were hiked to Rs 19503 (including PF and ESI).
In fact, in 2020, in the case of G. Srinivasa Chary vs The State Of Telangana, the Telangana High Court observed that the contractual system was a means of exploiting helpless workers who may not even take home the minimum wage after deduction of contractor's commission.
It further stated that the outsourcing system was a sham and a ruse to avoid paying the service entitlements to sanitation workers. However, the court stopped short of ordering the GHMC to absorb the contract workers as there was a procedure for filling vacancies.
As garbage starts to pile up around cities and towns of the state, workers are counting on the support of civil society to force the government to listen to their demands.
Get the latest reports & analysis with people's perspective on Protests, movements & deep analytical videos, discussions of the current affairs in your Telegram app. Subscribe to NewsClick's Telegram channel & get Real-Time updates on stories, as they get published on our website.
Subscribe Newsclick On Telegram