Karnataka: Researchers at the Indian Institute of Astrophysics Protest for Fellowship Hike
PhD researchers conducted flash demonstration on Wednesday demanding hike in stipend.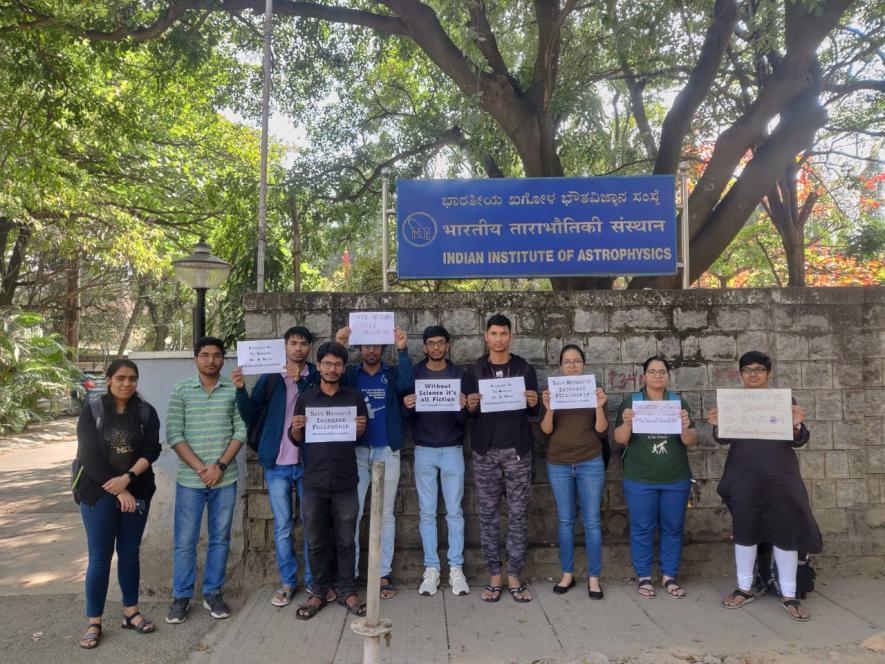 Bengaluru: PhD researchers at the Indian Institute of Astrophysics (a central institute) in Bengaluru conducted a flash demonstration on Wednesday demanding a hike in their stipend. The researchers cited inflation as the reason for their demands. The scholars with a JRF receive a stipend of Rs 31,000/month. After completion of two years, this is converted into an SRF of Rs 35000/month. Around Rs 5,000 is deducted from their fellowship towards hostel accommodation. So they are left with a smaller sum in hand.
Sushant Kumar, 25, is a second-year PhD scholar at the institute researching Quasar galaxies. He is from Bihar. Speaking to NewsClick he said, "my family back home are farmers. But agriculture does not yield any profit. Everything they earn from cultivation is then reinvested in the next crop. And during the seasonal floods, the entire crop is destroyed. So they depend on my stipend as well. I send them Rs 20,000/month. However, I am left with just Rs 5,000 for my expenses. It is difficult to survive on this amount in an expensive city."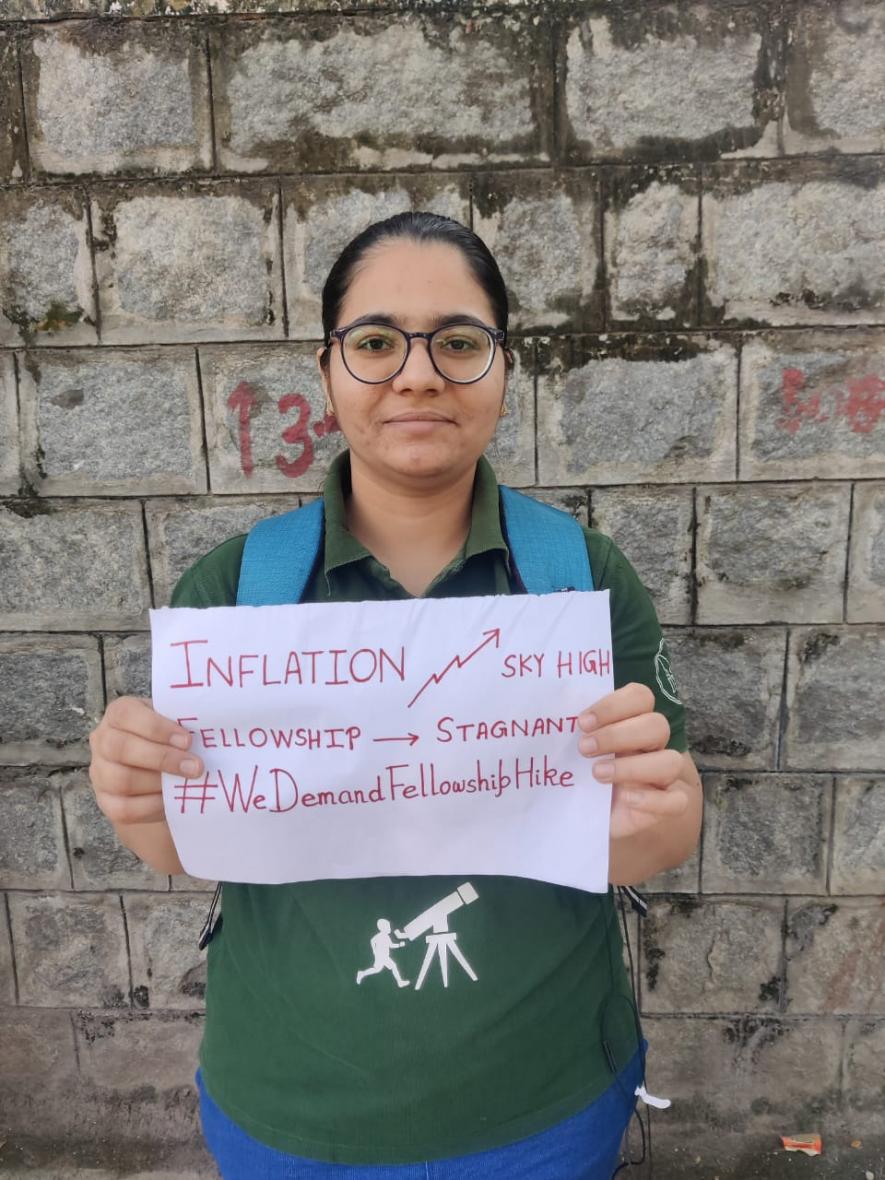 Sushant Kumar's research is focused on, among other things, supermassive blackholes which lie at the centre of quasar galaxies. He completed a Master's degree from Patna University. He also turned down opportunities to join the Indian Institute of Technology (IIT) Patna, IIT Guwahati and IISER Bhopal. Though he had applied to multiple institutes, he wanted to pursue research. He says, "I come from a joint family of 12 people. Even now, they tell me to sit for bank exams or SSC (laughs). I wanted to pursue astrophysics. I hope that my research on the properties of quasar galaxies will shed light on the birth of our universe. Quasars were formed at the time of the big bang itself. I chose this institute because it is research focused. It has its own telescope (which is located in Ladakh and monitored from Bengaluru). In fact, many components of this telescope were built right here."
The Indian Institute of Astrophysics (IIA) only offers research programs. Apart from a direct PhD, there is an integrated (M.Tech + PhD) course which is six years long. The integrated program is focused on the instrumentation and engineering side of astrophysics. Researchers who opt for this program will be paid a stipend of Rs 20,000/month during the Master's program. This will be enhanced when the PhD program commences. Shubham Ghatul, 27, is in his fourth year. For his PhD, he is building a spectrograph, an instrument that is used to study light emanating from distant objects. Once the machine has been built, it will be shot into space on a rocket. IIA is in talks with Indian Space Research Organisation (ISRO) for the launch.  
Speaking to NewsClick, he says, "I am from Parbhani district, which is one of the drought-hit areas of Maharashtra. My father is retired and my mother is a homemaker. If the fellowship amount was increased, it would benefit all the researchers and their families. There have been protests across the country over scholarship issues, since the budget is being presented today, there was a flash demonstration."
The researchers are collaborating with the University of Tubingen in Germany. Speaking about his research, he says, "Light consists of multiple wavelengths. I am working particularly in the far ultraviolet region, which is 90 to 180 nanometers, a narrow band. Since ultraviolet rays cannot penetrate the Earth's atmosphere, we cannot measure them from the ground. We have to build an instrument which can measure it in space. We have collaborated with the University of Tubingen which helps us with some of the technical aspects. Quality and Testing procedures are conducted at the C.R.E.S.T lab in Hoskote. This lab simulates the conditions of space including radiation and high & low temperatures." 
There is no student association on campus. The young researchers have been discussing their issues with each other. Since it is a central government-funded institute, they decided on a flash demonstration during the presentation of the union budget. They say that apart from the stipend, they don't have any other major issues in the institute. Researchers contend that they enjoy the academic environment here. Sushant Kumar says, "I am able to conduct research because of the fellowship stipend. I am looking forward to teaching young students in the future so that I can give something back to society."
Get the latest reports & analysis with people's perspective on Protests, movements & deep analytical videos, discussions of the current affairs in your Telegram app. Subscribe to NewsClick's Telegram channel & get Real-Time updates on stories, as they get published on our website.
Subscribe Newsclick On Telegram