Karnataka: One-Day Strike by Rice Millers Against 5% GST on Unbranded, Unpackaged Food Items
Millers have threatened to go on indefinite strike if the tax is not withdrawn. The 5% tax on unbranded and unpacked food items is to come into effect from July 18.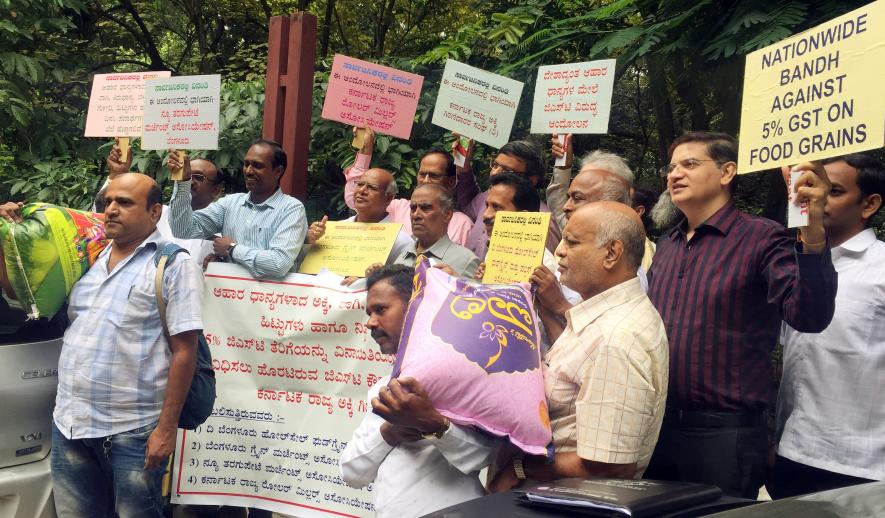 Karnataka State Rice Millers Association members protest against 5 percent GST on food grains.Image Courtesy: ANI
Bengaluru: Rice and flour millers in Karnataka observed a one-day strike on Friday against the proposal to remove Goods and Service Tax (GST) exemptions on unbranded and unpackaged food items. The millers have threatened to go on indefinite strike if the tax is not withdrawn. 
The 42nd GST Council has proposed a 5% tax on these items, which were previously exempted from GST, as well as sales tax and value-added tax (VAT) in the pre-GST tax regime. The new GST rate is to be implemented from July 18.
At a press conference here on Friday, representatives of the millers and traders associations said the new tax would have a cascading effect on the food industry which would ultimately hurt everybody, including farmers.
If traders wish to maintain their margin, they will need to pay farmers less for the crops or increase the price of goods on the consumer side, they said. They also apprehend that farmers may consider switching over to cash crops and other revenue-generating crops, which may hurt the country's food security.
Addressing the press conference, Prasanna Kumar, president of the Food Grain Traders Association, said: "Around 80 crore people are already getting free rice under the Food Security Act; 10% of the rice sold in the open market consists of branded items, which is already being taxed under GST. The trade in the remaining unbranded items is proposed to be brought under GST now. The tax collection earned by this will not be worth the burden being placed on people".
Kumar said other buyers like hotels and restaurants were already paying 5% GST on food items prepared by them. "Gas and electricity have become more expensive. There is also a proposal to increase the price of milk. In view of rising costs, there is no need to add a burden of Rs. 5-10 on rice for the common man", he added.
KG Nagaraj, joint cecretary, Karnataka Rice Millers Association, who believes that the number of rice mills is decreasing every year because millers are earning a margin of only 1%, said: "If we sell rice at Rs. 40/quintal, we earn 40 paise on it. If the government imposes a tax of Rs. 2/quintal, we will have to shut our doors."
Nagaraj said in places like Davengere, "there are around 200 rice mills. Now, this has come down to 80 due to various problems being faced by millers. Every year, the area under paddy cultivation is coming down because farmers' earnings are declining. In the last season, farmers sold paddy at Rs. 1,600-1,800/quintal,"
He said in Raichur, Sindhanur and Gangavathi, paddy farmers were switching over to cotton and chilli cultivation. In the districts of Shimoga and Chikmanglur, paddy farmers were switching over to arecanut cultivation, which fetches Rs. 50,000/quintal.
"If they care for the arecanut plant for the first 5 years, they will get a regular income for up to 40 years. In Mysore and Mandya districts, farmers have already switched over to sugarcane. Moreover, in remote places, there is no internet connectivity, how do we prepare the bill?" he added.  
BA Ravi Prasad, president, Karnataka Roller Flour Mills Association, also flagged concerns around the 5% GST hike on unbranded and unpacked food items.
"In Karnataka, there are 50 roller flour mills. We make atta, rava and maida flour. If the new rates are implemented, the atta consumer will have to pay an additional Rs 1.50/kg. If a luxury item like gold is taxed at 3%, how can essentials like food be taxed at 5%? Across India, we are growing 110 million tonnes of wheat. When there is such a heavy volume, taxing it at 5% will be a heavy burden on consumers. We demand that the government withdraw this tax," he added.
'PDS Dues of Rs 10Cr Unpaid to Rice Millers by Centre'
The State Millers Association also alleged that the Central government owes them public distribution system (PDS) dues going back more than three years. Rice millers in Karnataka, who have been participating in the PDS alleged that they had not been paid their dues since 2018.
Under the PDS, millers receive paddy from the government, which is then processed into rice through hulling. The final product is transported to government godowns. However, millers alleged that their dues -- nearly Rs 10 crore -- have not yet been paid by the Central government. 
The mill owners also alleged that a sudden change in policy in February had created more problems and uncertainty. Until December 2021, the government used to pay Rs. 148/quintal to millers. This included all the costs incurred by millers for services like hulling, packing, labelling, storage, and transportation. However, in February 2022, government officials indicated that millers would be paid Rs.10/quintal for hulling and that all the other costs and charges would be paid based on a new agreement. This drastic change has left them high and dry. Around 250 mills in Karnataka participate in the government's scheme.
S Shivakumar, secretary, Karnataka State Rice Millers Association, told NewsClick: "We do not do the hulling as soon as we get the paddy. We usually store it for two-three months until they are needed for distribution. We received the paddy in December after agreeing to sell at last year's rates. In February they said prices have changed to Rs.10/quintal. They have not even provided clarity on how much they will pay for additional expenses. Millers have also taken loans to meet their day-to-day expenses, how will we operate under these circumstances? Small mills will be forced to shut down". 
As per the Millers, this year, the government has procured 17 lakh tonnes of paddy (from Karnataka) under the PDS scheme. This will be milled into rice in the next three months. The government is paying farmers Rs.1,948/quintal for this year, while the rate for next year is proposed to be Rs.2,040/quintal. Most of the paddy procurement happens in the districts of Mysore, Mandya, Shimoga, Davengere, Hassan, Haveri and Bellary. The rice mills that participate in this scheme are also located in the same districts.
The Union Ministry for Consumer Affairs, Food and Public Distribution is responsible for payment of dues. While millers are looking to avoid legal entanglements, they are also worried that if they fail to agree with the terms set by the government, they would face penalties.   
Get the latest reports & analysis with people's perspective on Protests, movements & deep analytical videos, discussions of the current affairs in your Telegram app. Subscribe to NewsClick's Telegram channel & get Real-Time updates on stories, as they get published on our website.
Subscribe Newsclick On Telegram