Kashmir's Insurgency Situation Worsens Despite low Recruitment, Military Successes
At least three policemen were killed and eleven others were seriously injured in the Zewan incident which many in the security establishment claim to be the worst militant attack since Pulwama.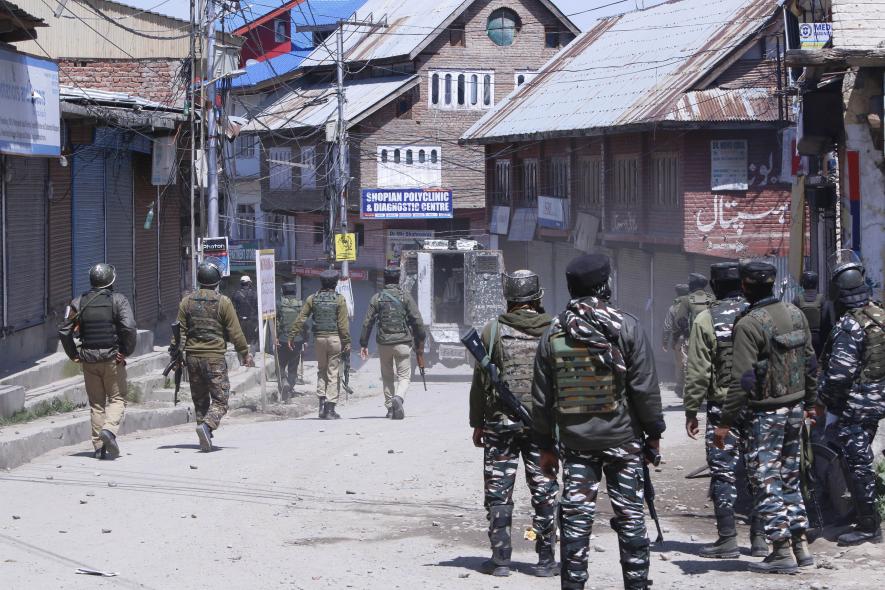 Srinagar: It was pitch-dark at around 6 pm on December 14 when a bus carrying 25 policemen was about to reach a police complex outside Srinagar city in Jammu and Kashmir. Suddenly, a din spiralled into a mix of blare, thuds and loud cries as bullets began to shatter window panes and perforate the bus' steel body. The men were under an attack that turned out to be the year's deadliest in Kashmir.
The attack on passengers was carried out just a few kilometres ahead of their destination at Zewan, but luckily, the driver was able to control the wheels as he sped away from the spot, managing to avoid what could have ended into a "catastrophe", security officials privy of the circumstances believed.
At least three policemen were killed and eleven others were seriously injured in the incident which many in the security establishment claim to be the worst militant attack since Pulwama in 2019 that killed 40 CRPF men. The brazen attack has also added to security concerns as it occurred at a time when a fresh spate of targeted violence against civilians has been sweeping the region since October.
Following the incident, IGP Kashmir, Vijay Kumar said that the attack was carried out by at least three militants of the Jaish-e-Mohammad (JeM) outfit. The security establishment have also identified a fourth local youth from the area, Suhail Rather, who they believe was also accompanying the attackers.
In past two years, official sources told NewsClick there has been a steady increase in the footprints of Jaish militants in Jammu and Kashmir, and therefore, an uptick in the violence perpetrated by the group as well. According to the police, the number of active foreign militants in Kashmir valley is somewhere between 70-80 and the number of locals active is around 90.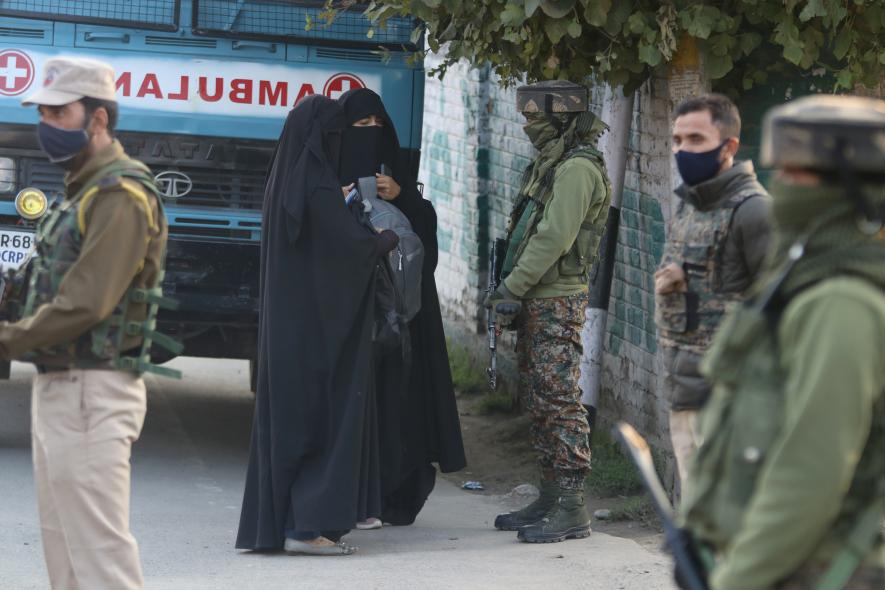 Photos by Kamran Yousuf
"This is for the first time in the last eight years that the number of local actives has fallen below 100 and the locals and foreigners have an equal presence on the ground," a senior security official said while seeking anonymity.
According to police data, there have been as many as 128 new local recruitments in Kashmir this year of which 79 have been killed and 16 have been arrested. Close to 40 militants are still active. The rise of Jaish's influence is also seen in the backdrop of waning influence of Hizbul Mujahideen (Hizb) in South Kashmir. However, there has been less recruitment in the Jaish cadres this year. In 2020, Jaish recruited as many as 21 youth in its ranks as compared just four this year.
"There has been an overall fall in the recruitments this year," an official said.
The data from the sources in the Army reveal that there have been 105 militant recruitments in the militant hotspot of South Kashmir districts this year of which 22 were recruited by Hizb, 38 by Lashkar-e-Toiba (LeT), 10 by Al Badr and 11 by The Resistance Front (TRF). The officials are also ascertaining the outfits that the other 15 new recruits have joined. Last year, Hizb, despite its waning influence, had recruited 66 new militants; LeT was joined by 34; Al Badr by 18, and TRF and Ansar Ghazwat ul Hind (AGH) made three recruitments each as a total of 152 new recruitments were carried out in the year.
The insurgency in Kashmir received its impetus for the first time since its downfall in early 2000's after militant commanders like Abu Qasim of LeT, Hizb poster boy Burhan Wani, and Noor Mohammad Trali of Jaish emerged on the militant landscape to drive what many later termed as "new-age militancy" in their own ways. By the time they were all killed, the insurgency peaked again in Kashmir as 191 new recruits made it to militant ranks in 2018, highest in the decade.
This year, the government forces have been able to kill as many as 168 militants so far. Of them, a majority were locals killed in close to 90 encounters while 19 were foreigners. In December alone, as many as 28 militants were killed, Kumar said during a presser in Anantnag district. Of those killed are the militants who had carried out the attack on the police bus in Zewan. IGP Kumar on Thursday claimed that the Jaish militants, including Rather, were killed in an encounter in South Kashmir.
Even as this is seen as one of the major successes by the security forces, tension in the region remains high, with many security officials claiming that there has been a spillover to central Kashmir districts, which include Ganderbal, Srinagar, and Budgam -- areas which witnessed a relative lull in the last decade as compared to areas in the south. "The militant groups have already made inroads in Srinagar, which means more limelight even if the violence is low," a security official said.
One of the key militant recruiters from the last decade was Abbas Sheikh, who shifted his allegiance from Hizb to LeT and vice-versa from time to time. He played a major role, agencies believe, in reviving militancy in central Kashmir and helping the TRF outfit emerge as a new face of insurgency. TRF, an off-shoot of the LeT, is believed to be behind most of the civilian killings and assassination of policemen in Kashmir carried out this year.
TRF's chief Abbas was killed in Srinagar's highly fortified Aloochi Bagh area, the police claimed. An official told NewsClick that the operation to kill him was aided by a special unit of the Army who carried or aided similar counter-insurgency operations in Srinagar; the official defined them as "Israel-type daredevil" operations. There are, however, concerns about Srinagar which is gradually emerging as the focus of the current insurgency.
According to security officials, one of the most wanted militants of LeT, Yousuf Kantroo, is also active in Budgam, which is centrally located between Srinagar, Pulwama and Baramulla.
LeT's Riyaz Sethri and Salim Parray, who managed to escape during a recent operation in the city outskirts, are also listed among the most wanted militants. The list of most wanted militants made by the security agencies features Hizb's divisional commander Zubair Wani, his deputy Farooq Nalli and Ashraf Mir. Basit, affiliated with TRF, along with Sameer Dar and Zahid Wani of Jaish are also on the list.
There is another rising concern about the use of Improvised Explosive Devices (IEDs) by insurgents in Kashmir. This year security forces have recovered or diffused close to a dozen IEDs in the region. "The number is low but it is relatively on the higher side as compared to previous years and given the current situation. Use of IEDs can simply make things worse," an army official said.
With increased fear in Kashmir valley, Chinese incursions in Ladakh, the Taliban's rise in Afghanistan, and higher militant activities in areas south of the Pir Panjal Range, many argue, despite military successes, the restive region is heading towards another uncertain year where factors like these will only add to militant recruitments and an escalation in violence.
Get the latest reports & analysis with people's perspective on Protests, movements & deep analytical videos, discussions of the current affairs in your Telegram app. Subscribe to NewsClick's Telegram channel & get Real-Time updates on stories, as they get published on our website.
Subscribe Newsclick On Telegram