Kashmir's North-South Runners Want Their Power Back
Football in the valley has a rich history, talented players, numerous clubs and inspiring legends. Then why are players unhappy?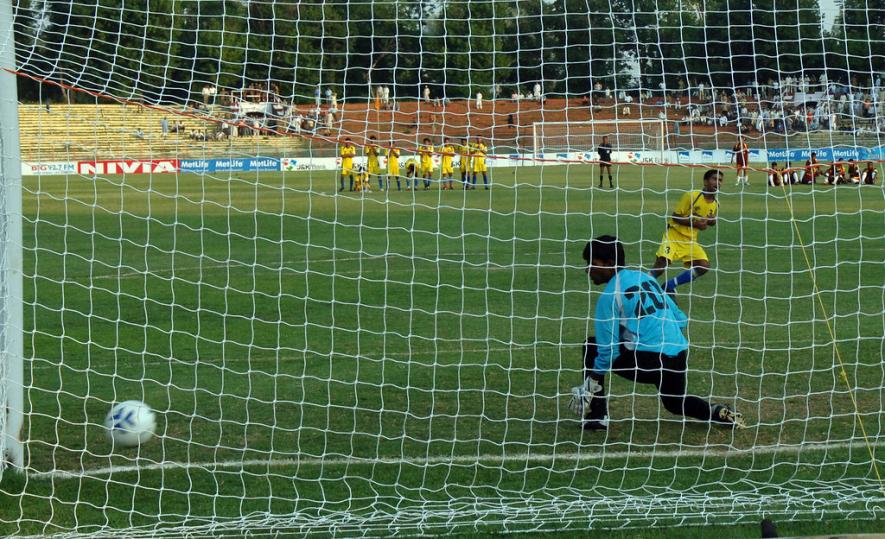 Representational image. image courtesy flickr
The first ever football match played in Jammu and Kashmir was in the autumn of 1891 in Srinagar. The team was of schoolboys of the Tyndale-Biscoe school. The players wore long gowns called pherans, and each carried a kangri fire pot under their outfits to keep warm.
The team consisted entirely of upper-class Brahmin players, who had at first refused to kick the ball because it was made from leather. It was the first time Kashmiris saw a football or a football match.
The British missionary and educationist Cecil Earle Tyndale-Biscoe made Kashmir's first-ever football match possible.
In his classic book, 'Kashmir in Sunlight and Shade', first published in the 1880s, Tyndale-Biscoe writes, "It was in the autumn of 1891, when I returned from Bombay with Mrs Tyndale-Biscoe, that amongst our luggage we brought a football, the first that our schoolboys had seen..."
Kashmir's first football match was exciting, including when one player got injured. Tyndale-Biscoe writes: "All was noise and excitement when all of a sudden the storm is succeeded by a dead calm: the game ceases, the Brahmans, both players and onlookers, are all sucking their fingers for all they are worth [a Kashmiri way of showing amazement], and all eyes are turned towards one of the players who is a picture of misery."
"And no wonder, for this unholy piece of leather had bounded straight into this holy one's face, had actually kissed his lips. He had never before in his life felt the smack of a football and certainly never dreamed of such a catastrophe. He thought all his front teeth were knocked out and that his nose was gone forever. He would touch his mangled features, but he dared not. Once or twice he essayed to do so, but his heart failed him. His face was defiled so that he could not do what he would and would not do what he could.
"He did the next best thing, which was to lift up his voice and weep, and this he did manfully. This moment was a terrible one for all concerned and especially for me, for now, all eyes were directed to the primary cause of all this misery.
"What was I to do? I was not prepared for such a turn of events. I could shoo an unwilling school to the playground and make unwilling feet kick, but how could I make an unholy face holy? Fortunately, the idea of water came into my distracted mind, and I said: 'Take the fool down to the canal at once and wash him.' Immediately the thoughts and the eyes of the victim's sympathisers were diverted to the cleansing waters and their magical effect on the outraged features of the body."
From that era to now, Kashmir's tryst with football has continued. This story is about how football grew in Kashmir amid ups and downs.
How it Began
The Jammu and Kashmir Football Association (JKFA) was founded in 1964 and affiliated with the Jammu and Kashmir Sports Council in the same year. By 1965, the JKFA was a member of the All India Football Federation (AIFF).
The first teams and clubs to get associated with the JKFA were: Jammu and Kashmir Roads and Transport Football Club, Food & Supplies Football Club, Jammu Kashmir Police Football Club, Azam Sports Football Club, KMD Mohammadan Football Club, and Cosmos 11 Football Club. They operated exclusively in central Kashmir.
In north Kashmir, the earliest football clubs recognised by JKFA were the Elite Mohammadan Football Club, Ushkara Football Club, Wullar Sports (1968), Khushal Sports Football Club, now renamed as Iqbal Sports Club (1969), and Friends Football Club (1972). Two more teams operate under the Friends Football Club, the Friends Club Green and Friends Club Red.
Football in Kashmir now has 600 associated and affiliated clubs, all owned by the JKFA.
The first official football club in north Kashmir was in Apple town Sopore. It had Pushkar Nath (goalkeeper), Muhammad Subhan Janwari (captain and striker), Abdul Rahim Langoo (defence), Ghulam Nabi Bisati (defence), Muhammad Akbar Pandith (goalkeeper), and Muhammad Yousuf Bhat (striker). In the early 1950s, they played football without shoes.
Only in 1957, on the insistence of Muhammad Akbar, the Physical Director at Sopore, a Srinagar resident, was the Mohammadan Football Club formally set up. In 1963 the team under Janwari won its first official tournament.
"In 1963, the Sherwani Football Tournament was hosted by Sopore in north Kashmir. Mohammadan Sports Sopore and Friends Baramulla Football Club reached the finals. Mohammadan Sports Sopore won the match. It was the first official victory for the first football team of north Kashmir," says veteran footballer Ghulam Qadir Kachroo.
Making it Big
Since the focus in Kashmir has always been central Kashmir and the Srinagar district, raw talent and the football matches played in the north and south are rarely discussed. Yet north Kashmir has the most football clubs. The Sopore area has 65 associated clubs, though there were just two or three in the early 1950s and 1960s.
The Kupwara area started its journey with only the Mohammadan Football Club. It now has 14 clubs. The Bandipora district also started a Bandipora Sports Football Club. This district has 40 clubs, the Handwara region has 15, Rafiabad 20, and Baramulla town alone has 33 clubs. The Hajin area has 26 clubs, while the farthest end of Kashmir and the border town of Uri have four clubs.
There are over 100 clubs in the four South Kashmir districts, all associated with the JKFA and yet seldom mentioned in the media.
In 2022, North Kashmir played four tournaments: the Rahim Memorial Cup at Khushal Stadium, the First Industrial Cup at Noorgah Stadium, the Noorgah Cup at the eponymous stadium, and the Sopore League Cup at the Subhan Stadium. Around 40 teams participated in these tournaments.
'

Father of Football'
In north Kashmir, Janwari is a legend for his commitment to the game. "He is the father of football in north Kashmir. When the Mohammadan Football Club came into being in 1964, he was its president, coach, selector, and captain, its everything; our guide and mentor. Whatever little I achieved was because of him," says former JKFA selector Bashir Ahmad Basharat.
Noor Muhammad Hajam is a former footballer and captain of the Friends Football Club, who started his career in 1972 and joined the club in 1974. He says Janwari will remain a legend for football lovers in north Kashmir. "Every player is a product of this great man. After 4 PM, he would get students interested in playing at the Sopore College Ground (now Subhan Stadium), make them play and help them understand football," Hajam said.
Known for sheer determination, the late Janwari refused to accept defeat. "Fear or defeat was never on his mind. He was bold and had tremendous willpower. He always told us not to be afraid. He faced tremendous difficulties in life, but never did I hear him cribbing. He was a fearless leader," says a former footballer from north Kashmir.
Playing Barefoot
Football in the 1950s and 1960s was mainly played without shoes, as not everyone could afford them. In the early years, even Janwari played without shoes. "I had played with him [Janwari] without shoes when they were a luxury. In 1972, it was all about my passion for football, which took me to greater heights. Passion is a must for survival in any sport," Hajam says. "Only after 1974, when I joined Friends Football Club, did I start playing with shoes on," he says.
Hajam shares an interesting story about a tournament played barefoot.
"Janwari sahab conducted a tournament in the early 1970s in north Kashmir. I remember we played the entire tournament without shoes. I played for a local team named Leader Sports Football Team. We reached the semi-finals and lost to the local Gousia Sports Team. Young Mohammadans qualified for the finals. I don't remember who won the cup, but it was my first experience playing a tournament without shoes."
Former Mohammadan player, Ghulam Qadir Kachroo, says he got his first pair of football shoes in 1973 for Rs 13. He played in the first half for the Mohammadans even on the day of his wedding, 13 September 1973. "I wanted to play on my day of marriage. We had a match against Friends Baramulla Club, but our coach and captain, Janwari, did not allow me, fearing I might get injured. I still played in the first half. After dusk, I went to get my bride," Kachroo says. This match was between Food and Supplies Srinagar and the Mohammadan Football Club at the Subhan Stadium.
Sport Paradise
The Subhan Stadium, locally known as Sopore College Ground, was named after Janwari, who is also famed for being the first north Kashmiri—from the Mumkak Mohalla of Sopore town—who played football with shoes on, veteran footballer Kachroo told this author.
"All players at the national or international level got basic training at the Sopore College Ground. However, we lack basic facilities now. Sopore College makes no contribution towards sports facilities in Sopore. They have turned their ground into a concrete jungle," says veteran sportsman Bashir Ahmad Bhat.
He said the Subhan Stadium was always a "sports paradise" in north Kashmir.
In the 1980s, the Jammu and Kashmir Roads and Transport Football Club was on tour to Sopore for a football match against a local team. The Transport Football Club's captain was Majeed Kakroo, the first player from the [erstwhile] state to lead the Indian national football team on a tour of Bangladesh.
During the match, the Sopore Team fought with the opponents and Kakroo was severely beaten up inside the stadium. He was asked to apologise to the crowd watching the game, which was abandoned soon after.
Rahim Memorial Tournament
Four tournaments were a yearly affair for football lovers in north Kashmir in the 1960s and 1970s; the Shah Faisal Tournament, the Iqbal Memorial Cup, the Hassan Memorial Cup and the Rahim Memorial Cup.
While the first three survived only for three to four years, the Rahim Memorial Cup, under the tutelage of the Friends Football Club, survived. Founded in 1986, this cup is one of the biggest football events in north Kashmir. It is a state-level tournament of all teams from the Kashmir Valley and is the region's longest-surviving tournament. In the 2022 season, over 100 teams from across the valley participated in the game.
"But the JKFA has not provided a single penny to organise tournaments since its inception," says Rahim Memorial Cup tournament's chief organising secretary, Bashir Ahmad Basharat.
Leaving Football
With the onset of militancy in the late 1980s, the game came to a grinding halt, destroying the careers of many talented footballers in Kashmir. From 1988 to 1996, not a single match was organised in north Kashmir. After a civilian government came into place in 1996, the Rahim Memorial Cup restarted.
"We completely stopped playing after 1988. Many talented footballers were lost and fell out of touch and technique. By 1996, I, too, had lost touch with the game, having lost my prime from 1989 to 1996. So we started to organise the game and not play it ourselves," says Hajam.
Many players lost touch, became unfit, opted for other job opportunities or lost interest in the game because of the raging conflict.
"The Subhan Stadium was the main attraction, being the only stadium where football was played in north Kashmir. The Army and Border Security Force immediately took over its ground. They took it from us for security reasons," says Hajam.
"After we started football again, the lush greenery was gone. Successive governments did nothing despite repeated requests. They cared the least about the ground," says Friends Football Club player Bashir Ahmad Basharat.
Making a Name
The many ups and downs in the game of football include laurels for the conflict-ridden populace of Kashmir. Some of the greats Kashmir produced, who represented the erstwhile state nationally and internationally, include midfielder Muhammad Yousuf Dar, defence/forward Abdul Majeed Kakroo, forward/midfielder Mehraj Wadoo, forward Ishfaq Ahmad, defence, Lateef Ahmad, Zahoor Lone, Muhammad Syed, Aslam Dar, Shafi Wani, Bashir Beig, forward Shabir Ahmad Halwai, striker Tariq Halwai, goalkeeper Khursheed Bhat, forward Suhail Akram, and forward Qayoom Kachroo.
Internal Politics
Like any other sports board in India, the Jammu and Kashmir Football Association has also been marred with internal politics. The District Football Association (DFA) from north and south Kashmir have accused the JKFA of a step-motherly approach when giving district players opportunities to compete.
"Every member of the JKFA belongs to Srinagar. In the teams selected for the Santosh Trophy and other national events (under 16, 18 and 21), every player is from Srinagar. No one from the south or north Kashmir gets selected. We have a lot of talent, but nepotism disallows the players from showcasing themselves," says Basharat, who was one of JKFA's four selectors between 1996 and 2008. He is from north Kashmir.
"In eight years, I selected around 25 players from north Kashmir for senior-level national tournaments representing all age groups. Other regions of Kashmir have talent but no voice in the JKFA [today]," he says.
From 2008 to 2021, no player from north or south Kashmir was selected for national teams. "In 2022, one player from the Tuilbail area of north Kashmir was selected for the under-16 Indian team. He is currently with the Indian Team in Sri Lanka. He is a goalkeeper," says Basharat.
Facilities Lacking
Though Kashmir has abundant raw talent, the lack of basic facilities and exposure kills it even before players set foot on the ground.
"JKFA got affiliated with the All India Football Federation in 1965. In the last 60 years, Kashmir has only one ground that has turf near the Tourist Reception Center in Srinagar. We see no developments as far as the stadiums are concerned," a football enthusiast said.
He says football lovers have the Bakshi Stadium, TRC ground, Bandipora stadium, Khushal Stadium, Noorgah and Subhan Stadium in Sopore and another in south Kashmir's Anantnag, but security is a major concern and the primary reason why the national games are played at TRC or Bakshi Stadiums.
Meanwhile, the Khushal, Subhan and Bandipora stadiums in north Kashmir and the Anantnag stadium in south Kashmir do not have turf. "We only have turf in TRC stadium for the last few years. We have asked the administration repeatedly about the lack of facilities, but sports has never been a top priority for any administration," says Basharat.
He says that in the last four years, construction has begun at the indoor stadium in Sopore, but the work is incomplete as the administration has not released the contractor's funds. "No one cares. The under-construction building has become a haven for drug addicts," Basharat says.
However, he says, it is not the JKFA that is duty-bound to provide us facilities but the administration.
"We need land for a stadium, which JKFA cannot afford with its limited funds. The administration has to give us land for a good stadium. Will they even provide funds to organise tournaments or upgrade existing facilities?" he asks.
Hajam says around 100 matches are organised for league tournaments across the Kashmir valley every season.
"We need funds for referee charges, player refreshments and other facilities. Roughly, we need over Rs one lakh to cover these charges. JKFA only provides Rs 15,000 per year to every District Football Association unit to conduct league tournaments. What can we do with such meagre funds? We pool money from business establishments to conduct the tournaments," says Hajam.
'

Unable to Compete'
Former and current players complain about bias in selection committees but acknowledge that players from Srinagar are far better than those in north or south Kashmir.
"Srinagar-based players have more facilities and are well trained and better equipped than us. We lack facilities, fitness and exposure," says a member of the Friends Club Green.
To help players compete at the state level, a Sopore Arco Club has been formed to build a team comprising north Kashmiri players. "This club has the best players from north Kashmir and is the only team that at least gives the Srinagar-based teams competition. They win us matches but cannot compete nationally because they also lack professional training. However, they are growing, and we will see brighter days ahead," says the member of the Friends Club Green.
The author is an independent journalist. The views are personal.
Get the latest reports & analysis with people's perspective on Protests, movements & deep analytical videos, discussions of the current affairs in your Telegram app. Subscribe to NewsClick's Telegram channel & get Real-Time updates on stories, as they get published on our website.
Subscribe Newsclick On Telegram