Kashmiri Pandits Protest After Bhat's Killing, Express Anxiety and Anger
The protesters wanted to hand over their list of demands to the LG, but they said that even 72 hours later, the LG had not visited the protesters or listened to their demands.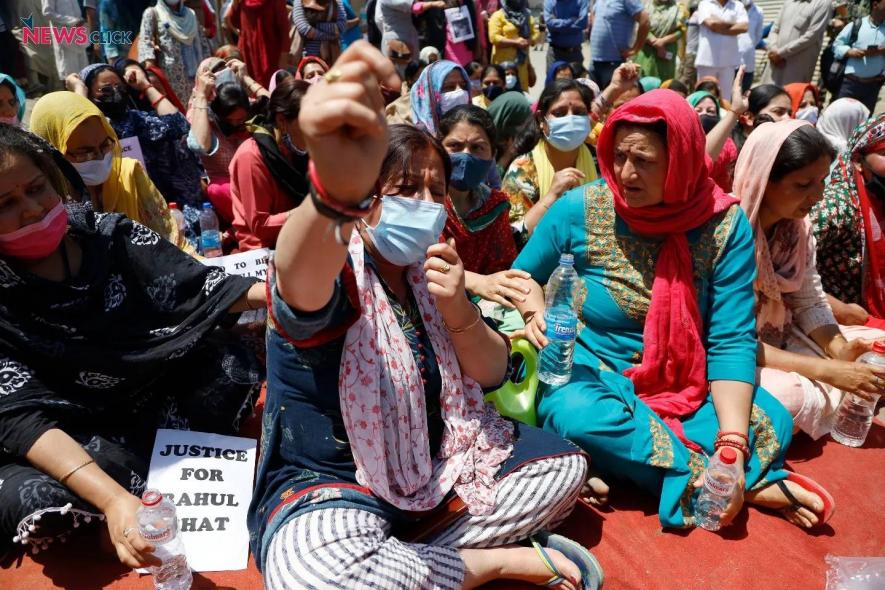 "I won't blame just the government, but the whole country for selective outrage. Why is no Indian Mulsim, Hindu, or Sikh is protesting for us? All the viewers who watched Kashmir Files and cried about what we went through in the 90s are nowhere to be seen now," said a Kashmiri Pandit, protesting in the aftermath of the killing of yet another Kashmiri Pandit in the Valley.
The killing of Rahul Bhat has fuelled anger, anxiety, and restlessnes, leading to widespread protests and demonstrations in the Valley. Bhat, 35, was shot and killed by two Lashkar-e-Taiba terrorists terrorists on Thursday while working at the tehsil office in Chadoora, central Kashmir's Budgam district – as part of an employment package for Kashmiri Pandit migrants. In October last year, Makhan Lal Bindroo, a Pandit businessman, was also killed by terrorists while he was dispensing medicines at his pharmacy in Srinagar.
Following the news of Bhat's murder, a small KP community living in the Valley took to the streets in Budgam, Anantnag, and Baramulla. They raised slogans, demanding an end to the targeted killings of the Pandit community members.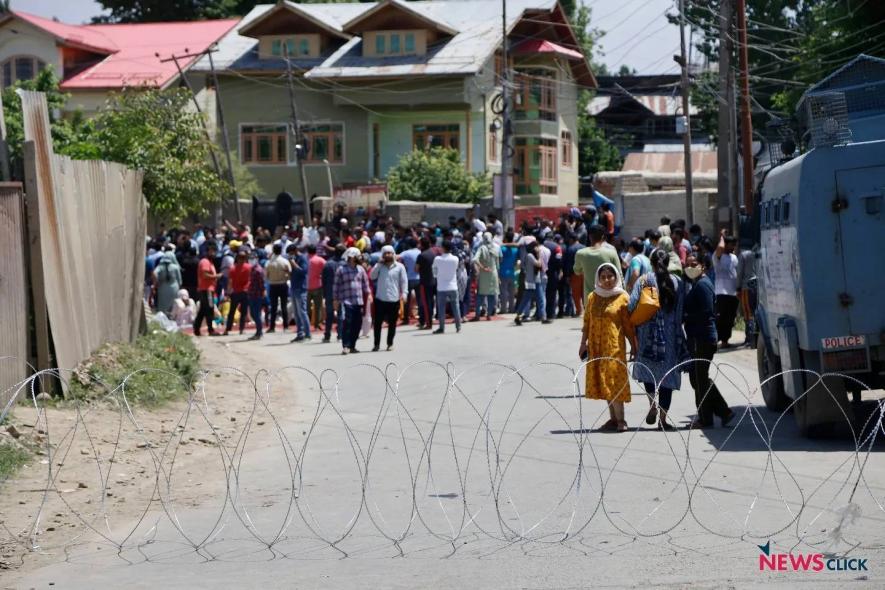 Members of the Kashmiri Pandit community held protests at multiple locations across Kashmir Valley. Photo by Kamran Yousuf.
Around 55,000 Kashmiri Pandits had left their ancestral homes in 1990 and migrated to Jammu and other parts of the country following the insurgency in Kashmir. However, more than 800 Pandit families chose to stay back and continue to live in their ancestral homes.
As the conflict faded, the Centre in 2010 had created a special job package for migrant Kashmiri Pandits who wanted to return to Kashmir. Over 4,000 KPs are residing in transit camps across Kashmir after being offered government jobs as part of the programme.
The raging protesters also raised slogans against Prime Minister Narendra Modi, Union Home Minister Amit Shah, and Jammu and Kashmir (J&K) Lieutenant Governor Manoj Sinha.
"Our brother, Rahul Bhat, who used to work in the magistrate office was shot dead by a few gunmen. I ask this with utmost rage and on behalf of all the Kashmiri Pandits that if our brother is not safe in the authorities' office, why did we come back to this Valley? How are we supposed to live here?" questioned Sunny Raina, president of the PM Package Employees' Forum, adding that the government has no solution on this issue. "We are quite furious with the government and are anxious that this might mean that the 90s are returning; we may have to face the fate that other Kashmiri Pandits did back then," he said.
He further added, "All the fingers are not the same; people from all the religions are standing with us and people from Muslim and Sikh communities in the Valley are supporting us. I can't blame the whole religion for some bad elements. Please understand that all the religions have some notorious elements."
Muslims joined the Kashmiri Pandits at a protest in Budgam's Sheikhpora, handing them water and demanding justice and protection for community members. As a conflict ensued between the officials and protesters, a video apparently filmed in Sheikhpora showed police personnel using batons and tear gas on the protesters. According to the police, they used force to keep them from approaching Budgam's airport road.
"Our situation today resembles our state in the 90s," cried one of the protesters while talking to NewsClick. 
"We presented our demands while peacefully demonstrating against the killing of Rahul Bhat. The very first demand was that the Rahul's family be compensated with Rs one crore. Secondly, his wife should be given a job in Jammu, and lastly, his six-year-old daughter should be given an education that would be funded by the government. We also demanded that all the employees should be transferred outside the Valley in view of Pandits; safety," said Amit, one of the protesters lathi-charged while protesting in Budgam.
The protesters wanted to hand over their list of demands to the LG, but they said that even 72 hours later, the LG had not visited the protesters or listened to their demands. 
"When we started marching peacefully, we were thrashed like criminals. The authorities rained tear gas on us; we were also lathi-charged by them. The women protesters were ruthlessly detained, and the male protesters were thrashed and were beaten badly. One of the protesters has several fractures and is in a serious condition currently," said Amit while speaking to NewsClick.
"They tricked us, we were promised that the LG will come to meet us and for that, we will have to go back to our colony for he will meet us there. As soon as we went back to our colony, they locked us inside," he claimed, adding that he and several others have been kept in a house arrest-like situation under the army's watch.
A release by the PM Package Employees Forum on Saturday had stated that they will take out a march in Sheikhpora and Veerwan Colony in solidarity, but were again stopped as clashes reportedly erupted between the protesters and the police on their way. 
"We were happy when PM Modi was elected thinking that we will have a good future. The previous government at least fulfilled 50% of their promises, but this government has proved to us that we don't matter to them at all. This government has just given us lathi charge, tear gas, and death," said Amit.
"We don't have freedom of speech. We don't enjoy human rights," he concluded.
The writer is an freelance journalist. She writes on education, health and about politics.
Get the latest reports & analysis with people's perspective on Protests, movements & deep analytical videos, discussions of the current affairs in your Telegram app. Subscribe to NewsClick's Telegram channel & get Real-Time updates on stories, as they get published on our website.
Subscribe Newsclick On Telegram