Kerala Budget Offers Hope to All -- From Pensioners to Big Investors
Essential medicines to be made cheaper, construction of an oncology park announced.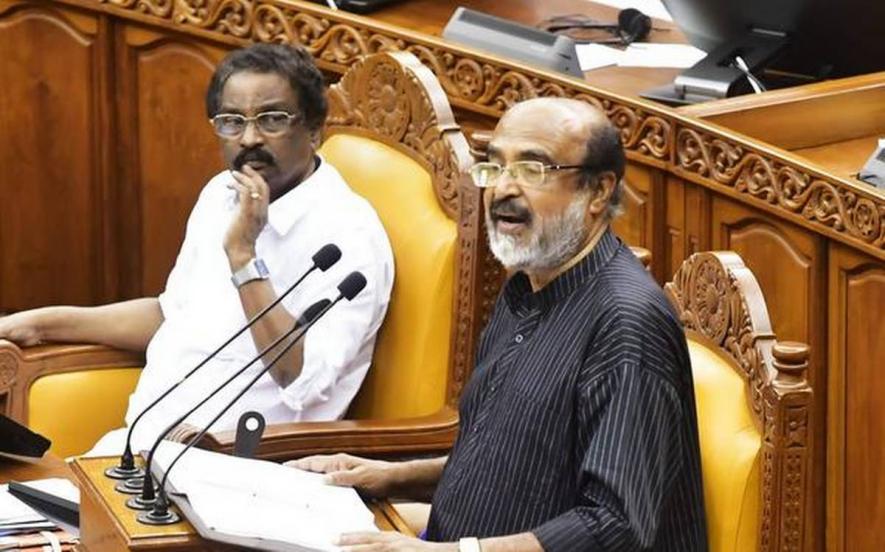 Image Courtesy: The Hindu
Kerala Finance Minister Thomas Isaac on Friday presented the budget 2020-21with a decentralised approach, focusing on large- scale investment projects. Amidst the Centre's squeeze on the state by cutting down funds, Isaac also announced various packages addressing all the sections of the society.
The first part of the Isaac's budget speech focused on the economic recession across the country. Making the Left Democratic Front's (LDF) stand clear on the issue, he accused the Centre of being indifferent to financial stagnation that makes the people suffer, citing no increase in outlay for schemes aimed at generating employment and raising incomes.
Though Kerala has been facing a financial crunch, this hasn't affected the developmental drive, Isaac said.
As per the budget, the average growth of the state expenditure during the period 2013-14 to 2018-19 was 16.13%, whereas revenue income during the period rose only by13.26 %. Isaac pointed out that this gap between expenditure and income accelerated the crisis. Along with this, the expected gains in goods and services tax collection did not materialise.
In some good news for genuine pensioners, the budget announced an increase of Rs 100/month. "Even after several extension of time limits, 4.98 lakhs persons have not turned up or refused to inform the secretaries of local bodies to collect the requisite information. Deceased persons, government pensioners, non-residents, non-eligible persons, drawing more than one pension, married persons drawing widow pension, etc, will be deleted from the list. Because of these measures, an expenditure of 700 crore can be avoided. This will enable us to give a raise of Rs 100 in pension amount to eligible pensioners, even in this time of financial crisis," he said.
Large Scale Investment
The budget announced large-scale investment projects as also focus on an anti-recession package declared in budget 2016-17. Against the backdrop of the financial crisis, earlier it was decided to invest Rs 50,000 crore through KIIFB funding as loan outside budget. So far, the Kerala Infrastructure Investment Fund Board (KIIFB) has sanctioned 675 projects worth Rs 35,028 crore.
"Apart from this, KIIFB has approved projects worth Rs 14,275 crore for land acquisition for industrial parks and Rs 5,374 crore for land acquisition for National Highways. Thus, the total outlay of the projects approved by KIIFB amounts to Rs 54,678 crore. Of this, a tender has been floated for projects worth Rs 13,616 crore and work has been completed for projects worth of Rs 4,500 crore," the budget said.
However, the 2020-21 period would see projects worth Rs 20,000 crore, including 2,985 km of designed roads, 10 bypasses extending to 43 km, 20 flyovers, 74 bridges, North-South waterway from Kovalam to Bekal, transgrid 2.0 project that ensures electricity up to the year 2040, K-Phone project that provides free Internet connectivity to weaker sections among others.
The industrial sector which had a share of 9.8 % in in 2014-15 in domestic revenue of the state had witnessed a rise in revenue share to 13.2% in 2018-19. The LDF government, which has consistently been working to revive the public sector industries, also earmarked Rs 280 crore for the public sector.
Start-ups
Companies, such as Nissan, Taurus, Coconics, have already started their operations. In 2021, 85,000 more people are expected to be the part of IT/IT related fields. Along with this, the total area of Techno park, Info park and Cyber park will be expanded to 245 lakh square feet.
Start-ups will also see a boost in the coming years, as per the budget. As of now, 2,300 start-ups are functioning across various sectors. Isaac also announced "loans would be made available without asset security to those who have secured work order from government/quasi government/major corporates or Institutions."
Energy
Since the state has been witnessing insufficient power supply and frequent power failure, steps to enhance the installed capacity of Kochi-Edamon corridor and the work on Transgrid:2 worth Rs 10,000 crore has been started.
Rs 1,102 crore has been earmarked under Plan Scheme for road construction and at least Rs 3,500 crore can be expected under Non Plan spending for maintenance, for new roads and for clearing pending bills. Construction of 5000 km roads will be completed during 2020-21, the budget said, along with many other measure.
Kochi Green Mobility Zone
Aiming at an eco-friendly and integrated urban transport system, Kochi Green Mobility Zone projects will be implemented in 2020. Under this project, Rs 3,025 core has been allotted for new lines for Kochi Metro from Petta to Thripunithura and from Jawaharlal Nehru Stadium to Kakkanad Infopark.
Solar boats for water transport department, green vehicles, subsidies for e-autos, electric/CNG transport buses and KSEB charging stations etc will also be implemented, among other things.
Though the state had witnessed two floods in consecutive years, state's tourism has overcome this with 18.5% growth in the number of domestic tourists and 8.24% in the case of international tourists during 2019. For the coming financial year, Rs 320 crore is earmarked for the tourism development. The budget also focuses on conservation activities of heritage mansions constructed in 19th century including Churches/Mosques/Temples educational-health-commercial institutions etc.
Cheaper Essential Medicines
One another important decision is that the cost of five essential medicines will be reduced. "The average daily expenditure of these 5 essential medicines comes to Rs 250, whereas KSDP is going to make available these medicines for Rs 28. Likewise, the cost of medicine for cancer can also be reduced. For this, construction of an Oncology Park with the aid of KIIFB in the 6.4-acre land near KSDP will begin in 2020-21," Issac announced.
The outlay for Ayyankali Employment Guarantee Scheme, which occupies an important position in the cleanliness drive of cities, will be raised to Rs 100 crore. In total, 12000 public toilets will be constructed in 2020-21.
Under the decentralisation schemes, an amount of Rs 12,074 crore is earmarked for Local Self Government Institutions in 2020-21.
"Of the Development Fund Rs 1,221 crore is for Scheduled Caste Sub Plan and Rs 183 crore is for Scheduled Tribe Sub Plan. 83) Apart from this, Rs 6285 crore will also be made available to Local Self Government Institutions in 2020-21," Isaac said.
As the country has been sliding down in its ranking in the World Hunger Index, state budget gave a special focus on 'Hunger Free Kerala'.
"The Food Department has given final shape to this scheme. This scheme will be implemented through voluntary organisations and institutions. They may freely deliver food to bedridden patients at home. Or else food courts could be established for providing meals at a maximum rate of Rs 25. At least 10% of meals should be given free through sponsorship."
Along with this, Kudumbashree will be starting 1,000 food courts which would provide food for Rs 25. As part of strengthening Kudumbashree, 'She Lodge' enterprises will be established in all cities.
Complete Housing
Aiming at housing for all, the state government introduced the Life mission and third stage of Life Mission will commence in 2020-21. In this stage, 40,000 houses will be made available to Scheduled caste and tribe community and fisher folks. Another 60,000 persons will be given house/flats and the outlay for Housing Department is Rs 61 crore.
Education
The total outlay for General Education sector is Rs 19,129.55 crore. While the plan outlay for higher education sector is Rs 493 crore and the outlay for technical education is Rs 210 crore
An amount of Rs 40 crore is earmarked as financial assistance to 290 special schools run by voluntary 78 organisations and others. Apart from this, an amount of Rs 10 crore is earmarked for the protection of differently abled who are above the age of 18. The additional amount required for this should be met from the plan outlay for the Education Department. An amount of Rs 35 crore is earmarked for Bud Schools.
Universal Health Security Scheme
'Karunya Arogya Suraksha Padhathi' is implemented in Kerala ensuring in-patient treatment up to Rs 5 lakh per family for 41.37lakh families. The expenditure for this is Rs 700 crore. Whereas the central assistance provided is only Rs 140 crore.
As part of Ardram Scheme, 350 Primary Health Centres were upgraded into Family Health Centres. The government also approved a Palliative Policy.
Isaac said people's intervention should be expanded to preventive measures and to monitoring of severity of illness. The Health force, along with extension activists in the sub centres, ASHA workers
and voluntary workers will take up this responsibility. He also announced Rs 500 hike in honorarium for ASHA workers.
Packages
Various long-term packages, include Coastal Area Package, Kuttanad Package, an example of the effectiveness of flood rehabilitation activities in Kerala, Wayanad Package and Branded Coffee, Idukki Package, which focuses on a development strategy for augmenting the production and productivity of spices such as tea, pepper, cardomom and fruits such as jack fruit, by ensuring ecological balance have found place in this budget too.
Agriculture
An amount of Rs 118 crore is earmarked for paddy cultivation. Agriculture Department will provide Rs 5,500 as subsidy per hectare. The outlay of agriculture sector is Rs 764 crore, as per the budget. The total outlay for animal husbandry sector is Rs 422 crore.
Scheduled Castes and Transgenders
For Scheduled Castes, topmost priority is for housing. An amount of Rs 685 crore under Scheduled Caste Sub Plan and Rs 247 crore under Scheduled Tribe Sub Plan are earmarked for land for landless, completion of incomplete houses, 75 share of Life Mission and for study rooms. In 2020-21, housing will be provided to 15,000 Scheduled Caste families and 5,000 Scheduled Tribe families from Life Mission, the finance minister.
An amount of Rs 101 crore is earmarked for the welfare of backward communities. Also, an amount of Rs 36 crore is earmarked for the Welfare of Forward Communities.
Transport
For KSRTC, which is reeling under a financial crisis, an amount of Rs 1000 crore has been allocated as special financial assistance and Rs 109 crore is earmarked in the Plan expenditure. While, in the case of Water Transport Department, an amount of Rs 111 crore is allocated. Of this, Rs 26 crore is earmarked for State Water Transport. An amount of Rs 75 crore is earmarked for Coastal Shipping and Inland Navigation Department.
Get the latest reports & analysis with people's perspective on Protests, movements & deep analytical videos, discussions of the current affairs in your Telegram app. Subscribe to NewsClick's Telegram channel & get Real-Time updates on stories, as they get published on our website.
Subscribe Newsclick On Telegram