Kerala Chicken: Women Entrepreneurs Cross Rs 100 cr Turnover in 5 years
Kerala Chicken was started by Kudumbashree in association with the Kerala State Poultry Development Corporation (KEPCO) and the animal husbandry department.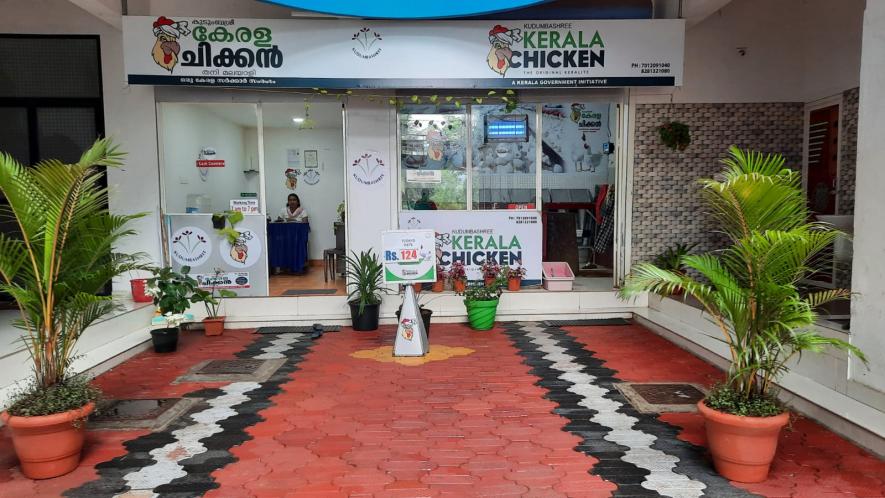 Kerala Chicken - VIthura outlet
Thiruvananthapuram: A brand that integrates a chain of microenterprises managed by women entrepreneurs has recorded a sales turnover of more than Rs100 crore in less than five years. Quite unbelievable, right? That's the phenomenal success story of Kudumbashree-Kerala Chicken. 
The Kerala government started the project in 2017 to ensure the availability of quality chicken products to customers at reasonable prices. Besides, the intended market intervention to tackle fluctuating chicken prices was an empowering mission that benefited 364 women entrepreneurs. A total of 270 Kudumbashree volunteers run poultry farms that produce chicken for 94 outlets across the state—all managed by women. 
Kerala Chicken was started by Kudumbashree in association with the Kerala State Poultry Development Corporation (KEPCO) and the animal husbandry department. The objective was to produce and supply 50% of the chicken consumed in the state thereby creating better employment and livelihood for the women volunteers. Subsequently, the Kudumbashree Broiler Farmers Producer Company Limited (KBFPCL) was formed to incorporate a support system for production, marketing and distribution. The company has sold more than 79 lakh kg of chicken so far.
Newsclick visited a Kerala Chicken outlet at Vithura, a small town in the valley of Ponmudi Hills in the Thiruvananthapuram district. Notably clean and well-maintained, the outlet has a glass window separating the customer waiting room and the meat processing area to restrict any foul odour. Chicken is processed live on demand. The processing area is cleaned at regular intervals and waste is collected and sent for disposal at Rs 7 per kg.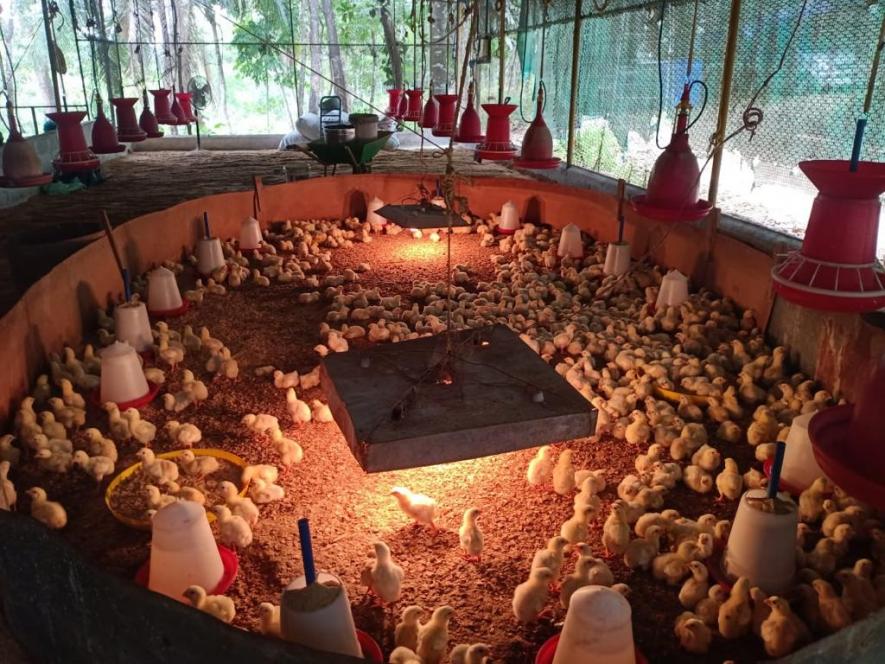 A poultry farm associated with the project
Nusaifa Beevi, who manages the outlet, said, the outlet maintains KBFPCL standards. "Stock arrives daily from poultry farms of the Kerala Chicken project. Chickens are ideally 45 days old. We sell 200 kg-300 kg of chicken daily. On festive days, the demand is definitely more," she said. 
Beevi's husband Shafi occasionally helps her along with the helper in processing chicken. The couple processed up to 700 kg of chicken one day. "When our employee was absent the day before Easter, we sold around 700 kg since it was the festive season," Shafi said. 
The couple is happy to have a loyal customer base. "Once they buy chicken from us, they do come again. Kerala Chicken has set some standards in quality and it ensures that they are maintained at outlets and farms. We sell only fresh and healthy chicken. The chickens are nurtured well at the farms under the supervision of the animal husbandry department. Unhealthy practices like injecting growth hormones are strictly avoided. Customers also feel this difference," Beevi added. 
"Sometimes, we also get wholesale orders for marriages and other functions. Business has been good since we set up the outlet in December 2021," Shafi added.   
The Kerala Chicken farms are allotted through Kudumbashree after officials visit the site and verify the requirements. Farms can be started by individuals or by four-member groups. KBFPCL provides 1,000 chicks, poultry feed and vaccines to an entrepreneur. After 45 days, the company procures them from the farmer and distributes them among the outlets as per demand. For a batch of 1,000 chicks, each farm would get Rs 50,000 per month (on average) after all other expenses. The outlet operators earn Rs 87,000 per month on average. Selected farmers also get a subsidy from the animal husbandry department. So far, 50 farmers have received a total subsidy of Rs 24 lakh.  
The retail price of Kerala Chicken was Rs 124 per kg on Friday. While ensuring financial stability for the entrepreneurs, Kerala Chicken also assures quality chicken at prices cheaper than the market rate. 
The outlets were operational even during the pandemic. It helped both the entrepreneurs and customers as the project ensured livelihood for farmers and outlet operators and quality chicken for consumers. Entrepreneurs had earned Rs 6 crore during this period alone.
After achieving the milestone of a Rs 100 crore turnover, KBFPCL now aims to start 1,000 poultry units and 500 retail outlets every year to ensure the availability of good quality chicken in the domestic market. The goal is to reduce Kerala's dependence on large-scale producers from neighbouring states to meet the domestic demand in five years. As KBFPCL eyes expansion, the construction of a poultry processing plant at Kathinamkulam, in Thiruvananthapuram, is in progress
Get the latest reports & analysis with people's perspective on Protests, movements & deep analytical videos, discussions of the current affairs in your Telegram app. Subscribe to NewsClick's Telegram channel & get Real-Time updates on stories, as they get published on our website.
Subscribe Newsclick On Telegram