Kerala Floods: 80 Landslides in 2 days, 48 Killed, Over 1 Lakh Displaced
According to the government, as many as 1,24,464 people from 34,386 families have been shifted to 1,111 relief camps which have been set up across the state.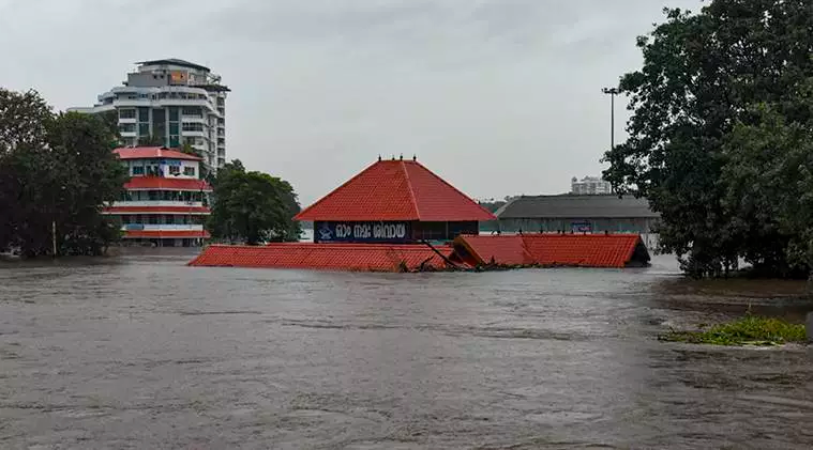 As Kerala continues to battle heavy landslides, landslips and rains, the death toll has touched 48 as of Saturday afternoon with about 1.25 lakh people being shifted to relief camps across the state.
Wayanad, Malappuram and Kozhikode districts in northern Kerala are the worst affected districts in floods and landslides. The continuing heavy rains in the affected areas are blocking the ongoing rescue operations. For the last two days, 80 landslides have occurred across eight districts. Among these, landslides at Kavalappara Bhoodhanam colony in the Nilambur region of Malappuram and Puthumala of Meppadi in Wayanad district were the most extreme which swept the entire area.
Though the landslide at Kavalappara Bhoodhanam colony occurred around 8 PM on August 8, the authorities were alerted about the incident only on the next morning. The massive rains and thunders storms have damaged the roads and networks connections and the place remained inaccessible. On Friday, August 9, Nilambur MLA P.V. Anvar somehow managed to visit the place and sought immediate intervention from the government and rescue teams.
As per the local residents and MLA, about 57 people from about 30 families are trapped under the debris. The words of villagers indicate that the ignorance of warnings from police and authorities have aggravated the depth of incident. Though the police had approached every family asking them to shift to relief camps, only about 15 families agreed to move.
Also read: Heavy Rains Wreak Havoc: Kerala Worst Hit as Death Toll Climbs to 22
While, on Friday, National Disaster Rescue Forces (NDRF) team and Army team's rescue operations faced hindrances due to the adverse weather. Till Saturday afternoon, 10 dead bodies have been recovered from these affected areas. Along with the 20-member team of NDRF, 50 from the engineering wing of the army have also joined the search operations in the area.
In Puthumala, Meppadi, nearly 100 acres of tea plantation land was washed away in the massive landslide. The villagers who moved to relief camps have managed to escape from this disaster. While, people who were there at the time of landslide have been trapped in the debris. Villagers fear that around 20 people are buried under the debris and so far, 9 bodies have been recovered from the area. Like in Nilambur, heavy rain and adverse weather hindered the rescue operations here too.
"Rescue operations have resumed in Kavalappara from morning. A 30 member fire force team and other forces are there. In Meppadi Puthumala too, rescue operations are being carried out with a 40 member fire force team, NDRF, army and others. There are many still stranded at the other slope of Puthumala as well," said Chief Minister Pinarayi Vijayan in a press briefing on Saturday morning.
In Wayanad, rains have subsided, but Indian Meteorological Department reports predict more rain by afternoon. As the heavy rain continues in the catchment area of Banasura Sagar, sluice gates have been opened since 3 PM on August 10, and water levels are expected to rise. Red alert has been declared in the zone from 8 in the morning. "People in the danger zones are evacuated, and if there are any left, they will be evacuated too," the CM further said.
According to the government, as many as 1,24,464 people from 34,386 families have been shifted to 1,111 relief camps which have been set up across the state. In Kozhikode district, 25,028 people have been shifted to 218 camps across the district. Wayanad has 186 camps with 24,990 people. In Malappuram, there are 139 camps for 16,684 people.
Also read: Andhra Pradesh: Flood Waters Continue to Rise, Over 75,000 People Affected
Many places in the northern districts of Kasargod, Kannur, Kozhikode, Wayanad, Malappuram and Palakkad are isolated since the overflowing rivers are overflowing. Landslides have also been reported from the eastern belts- hilly regions- of these districts. Iritti and Sreekandapuram towns of Kannur are completely submerged in water. In hilly belts of Kozhikode, landslips and landslides have been reported and several areas are isolated since the roads and bridges are damaged. As the Chaliyar river and its tributaries are over flowing, many places including parts of Kozhikode town have been submerged in water.
"In Malappuram Vaniyamkulam, nearly 200 families and some officials are stranded. The rescue operations are going on and measures are being taken to airdrop food and resources in places where the rescue team can't reach out," CM added in the press conference.
Power connection was lost in the northern districts, but with the collective efforts of the people and authorities, power has been restored. So far, 9 substations and 3 minor powerhouses of Kerala State Electricity Board (KSEB) have been shutdown. As the roads and railway lines are damaged and submerged in water, connectivity between the towns in northern Kerala is partial. Six major roads of PWD are closed. The rail lines in Shornnur-Palakkad route and Shornnur-Westward routes have also been damaged.
Different agencies including central forces, police and fire force, volunteers, fishermen community, youth, workers and people from all walks of life have come forward for rescue and relief measures. Rescue workers and officials in various departments are putting even their lives at risk for rescue operations. KSEB Assistant Engineer Baiju lost his life on Friday while carrying out his duty.
Though rains have subsided in Ernakulam district, it is still raining heavily in Pathanamthitta and thus the water in Pamba river has been increasing. Evacuation of people from danger zones in the central Kerala districts have started.
Amid these collective efforts, some people however, are involved in spreading rumours and fake news. One of the main rumours is that the dams have been opened, spreading panic among the people. Along with this, another rumour that the petrol pumps across the state will be closedshortly due to fuel shortage is doing rounds among social media platforms.
"We need to address these false messages and deal with attempts in creating panic" said CM Vijayan, adding that Idukki dam can store much more water from the rains. Idukki was at a storage capacity of 98.2% last year, while, now it is only at 37%. In the case of Pamba dam, last year it was filled till 99% , this time it is only 66%. Dams like Kakki, Sholayar and Idamalayar are at less than half storage capacity. The dams that are at full storage capacity are Kuttiyadi, Poringalkuthu etc."
"Loss of material things can be solved together and we can rebuild them united. But if the life is lost, nothing can be done. So, the priority should be to save human lives," the CM said, urging the public to stay safe.
Also read: Failed Dam Management Behind Floods in Maharashtra, Say Experts
Get the latest reports & analysis with people's perspective on Protests, movements & deep analytical videos, discussions of the current affairs in your Telegram app. Subscribe to NewsClick's Telegram channel & get Real-Time updates on stories, as they get published on our website.
Subscribe Newsclick On Telegram