Kerala Floods: How the State Govt. and the People Responded
Despite the staggering immensity of destruction response was quick and effective, driven by decentralised responsibilities and mass participation of people.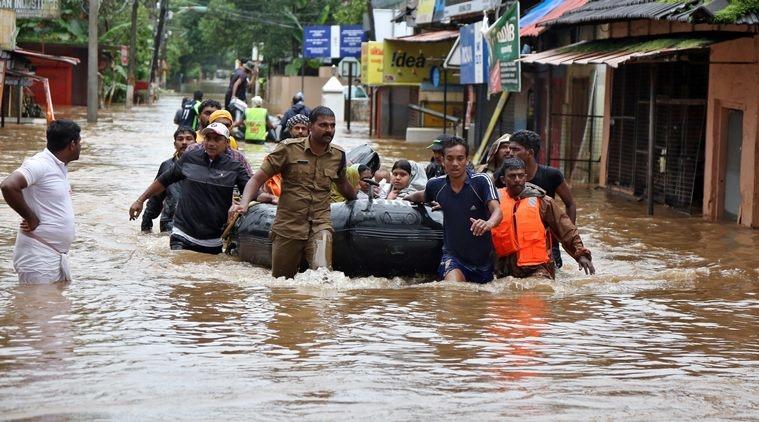 Kerala has suffered an unprecedented calamity with heavy rains and floods affecting 54 lakh people in the state, 373 lives lost (as of today), 12.5 lakh people in relief camps, 42,000 hectares of crops destroyed, over 40,000 farm animals and 2 lakh poultry birds dead, according to NDMA. Over 22,000 homes have been destroyed or damaged besides innumerable roads, culverts and bridges. Rescue operations evacuated 2.8 lakh people in the course of a week, most of whom were marooned on buildings, trees and higher places. 573 landslides have been reported. Estimates of total damage are provisionally being put at a staggering Rs.15,000-20,000.
How do people and the government respond to a disaster of this magnitude? While in all such disasters across the world, a mix of govt. help and efforts of other organisations provide relief and succour to the troubled people, we also see a supreme and often heroic resilience of the people themselves who defeat all odds to survive and rebuild their shattered lives.
This is happening in Kerala also. But there are some unique and exemplary features of Kerala's fight to collectively survive and rebuild. These are dimensions that may serve as lessons for the future, when such calamities befall other people in other states of the country.
Two such features are a key to understanding how Kerala responded to the unfolding calamity. One is the administration's unifying role even while it decentralised the resources and duties down to the district and even local bodies' levels. Second is the incredible manner in which people united to organise rescue and relief work, led by all kinds of peoples' organisations, which ranged from trade unions and student-youth organisations (across political lines) to self help groups, charitable organisations sports clubs and other collective bodies.
Also Read: Kerala Floods: 255% Excess Rainfall in One Week
A combination of these two factors – the framework of decentralised administration and mass participation – led to very fast and effective rescue operations which restricted the death toll to 373. Otherwise in a disaster of this scale, and with the highest population density in the country (double the national average), unimaginable loss of lives would have most likely taken place.
Powerful Decentralised Response
Heavy rains and floods actually started affecting Kerala right from June this year when Allepey district's low-lying areas got flooded. After that, as rains continued to pound the state, the state govt. announced that it was deputing senior IAS officers to each district to help in coordinating rescue and relief measures. According to a senior bureaucrat speaking to Newsclick on condition of anonymity said that this was the first time in his memory that such directions were given to IAS officers. The district collectors were of course overall in charge for their districts, while superintendents of police (SPs) were given responsibility of rescue operations. Fire service personnel coordinated with them.
One minister of the state govt. was deputed to each district to provide the necessary support, along with the districts other elected representatives like MPs and MLAs.
All local bodies' staff – from panchayats to municipal corporations – was asked to work in rescue and relief operations and, crucially, start using their funds as they deemed fit. Engineering wings of panchayats were also pressed into service. The local bodies, while given the freedom to act immediately in saving people and taking other measures like setting up relief camps, were instructed to not work in contradiction to the disaster management authorities' directions lest there be confusion. The NDRF and the armed forces that were later deployed coordinated their work through the district authorities mainly.
Also Read: Our Real Heroes
The state control room coordinated the efforts but dealt with only the larger issues – it did not intervene or try to organise on the ground hour to hour work.
It was this kind of decentralised intervention that led to mobilisation of 600 boats belonging to the fisherfolk community to rescue over 100,000 marooned people in a matter of days. Organising such rescues through helicopters – which require more centralised coordination and deployment, and hence more time – would have been impossible.
The state govt. displayed unusual (by Indian standards) sagacity by involving all political parties in the response to the floods. In his first aerial survey, chief minister invited the leader of opposition to accompany him. Meetings with opposition parties have been held at state and lower levels. This has created confidence among people that it is a collective spirit that is leading the way and not one marked by petty political wrangling.
Mass Upsurge of People's Volunteers
The other equally important component of Kerala's response was the manner in which people from across the state, but especially in the affected areas, rose up to help. In this there was an over-arching sense of collective solidarity and desire to support that was cutting across religious, political or class lines. It was humanity at its best.
This feeling was channelized by diverse political, social, cultural and religious groups or it expressed itself spontaneously in simple acts of bravery and selfless service. Several mass organisations like the DYFI SFI, AIDWA and other left leaning ones gave calls for participating in the rescue efforts at the local level. Such efforts dovetailed with the govt.'s own activities. Trade unions – including the now famous fisherfolk's unions – worked night and day to organise rescue and relief operations.
Even today, as rains have eased and waters are receding, these organisations are working to clean the villages from mud and debris that flood waters have left behind. Thousands of volunteers are working in relief camps including doctors and paramedical staff. They are undertaking a range of duties including cooking food, unloading supplies of relief material, looking after those who are elderly or sick, or caring for kids.
Also Read: Kerala's Deluge: The Causes and Cost
The very range of places where relief camps have opened up is mind boggling. Temples, mosques, churches, schools, sports clubs, community halls – there are nearly 5000 such relief camps across the affected districts. Stories abound of people working continuously without sleeping and sacrificing their own jobs and studies to devote time to those suffering from the floods. Such a spirit is not unusual among people – it exists everywhere. It is the scale at which it is being seen in Kerala that's so amazing.
Another aspect of this people's support is the donations that have flooded in from common people, both from within the state and from outside. Although concrete figures are not yet available, but rough estimates put the individual donations at over Rs.300 crore.
An online portal KeralaRescue.in was started by some non-resident Malayalis to not only collect donations (to be sent to the CM Disaster Relief Fund) but help enlist volunteers, record requests for help and other such needed services. It has been flooded with both donations and offers of volunteers whose names, addresses and phone numbers are listed. Reportedly, its visitor count is already over 10 million.
Kerala has suffered immensely in this tragic natural disaster. But the people's response in tackling it and the collective spirit that emerged serves as an inspiring example. In the coming months, as the state rebuilds all that was lost, this spirit will surely continue to flourish and bloom.
Get the latest reports & analysis with people's perspective on Protests, movements & deep analytical videos, discussions of the current affairs in your Telegram app. Subscribe to NewsClick's Telegram channel & get Real-Time updates on stories, as they get published on our website.
Subscribe Newsclick On Telegram