Kylian Mbappe, the Future of Football? Not Yet
Every FIFA World Cup throws up new names touted as the ones who will replace Lionel Messi and Cristinao Ronaldo and from Russia it is Kylian Mbappe. Unfortunately, one-off month long tournaments can cement reputations, building legacies takes longer.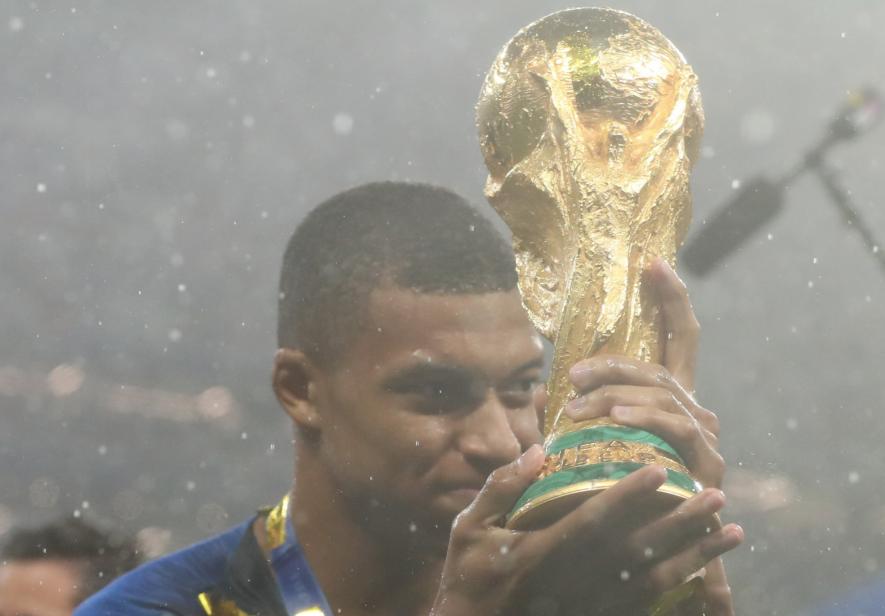 Many are looking at France's FIFA World Cup star Kylian Mbappe to take football forward, taking the mantle from Lionel Messi and Cristiano Ronaldo, and define the next era (Pic: IANS).
Imagine a parallel universe where Lionel Messi and Cristiano Ronaldo are not superstars. FIFA World Cup happens to be that parallel dimension, a one-month space in the universal time continuum where the world flips -- from a bipolar Messi-Ronaldo existence to one where teens make promises on the pitch, the wise and old write legacies, and teams expand their potential horizon, inspired by immortality in football only a World Cup could bring.
The parallel universe came to an euphoric end on July 15, leaving us with memories, and the itch to etch some of those into our psyche, giving them a name and a face, to act as reference, as well for an image of the future.
Football World Cups over the years, every edition, has had a couple of faces who symbolise it, a memory association of sorts. Diego Maradona in 1986, Pele in 1958, Zinedine Zidane in 1998 and Vladimir Putin in 2018. Just kidding!
Also Read | FIFA World Cup: Black or White? Les Bleus are French in Colour
On a seriously philosophical note, this star-seeking is not a footballing trait. It is related to human nature, our need to to humanize anything and everything -- giving things a name, a face.
This year, that name happens to be Kylian Mbappe, though, impact wise, there were arguably many other players within France, or within other teams, who left impressions in Russia this summer.
But Mbappe's, tall, powerful Titan-ish flourishes on the pitch have caught the eye of the world, while his goal in the final -- the second teen after Pele to score in a World Cup summit clash -- presented him with a gift, or rather a fate: he holds the key to football's future, say not just the French, but the world.
Many among us are looking at Mbappe to take football forward, taking the mantle from Messi and Ronaldo, and become that player who comes every decade or so to define the era.
Also Read | World Cup: Lukaku, Mbappe and the Colonial Ghosts Within Belgium and France
Former England international Rio Ferdinand is positive the world witnessed the birth of such a phenomenon in Russia. Messi and Ronaldo are "handing over their crown" as the world's best footballer to Mbappe, he told BBC.
"He is the guy who will be standing up on that Ballon d'Or podium in years to come. Easy," added the former Manchester United defender. "I hope my old club is chasing him. He has that connection with Paul Pogba too."
The 19-year-old Mbappe's star has been on the rise the past couple of years. Russia was not a moment of revelation, but just a landmark for the young striker, a huge landmark indeed. The tournament's best young player award was the icing of the cake.
Kevin de Bruyne of Belgium had seen Mbappe's younger version, though his current 19-year-old self is still young, in the French league. He observed how the youngster has evolved beautifully.
Also Read | FIFA World Cup: A Beautiful Midfield's Ugly Realities – the Croatian Irony
"He has become a star in France. When I was playing against Monaco, he had played only about 10 matches," said the Belgium striker. "He hadn't played a lot of football to tell the truth. At that time, I did not know him. But now he has been playing for a year and a half. He plays for a great team [Paris Saint-Germain -- PSG] and has played a lot for France, a lot in the Champions League as well. So he is a different player now. He is a star for the next 10-15 years."
Mbappe's France ended Belgium's run in the semi-finals.
However, it was Mbappe doing a Pele in the final against Croatia which has given wings to the footballing soothsayers. The French lad brought out his real self much earlier in the tournament, against the team led by a man whom many predict he would end up surpassing in the future. Mbappe's dashing run and goal against Argentina had class and more written over it -- a perfect marriage of modern footballing practicality, and the romanticism of the game of yore.
So, when the world picks Mbappe as the future, it, in essence, reflects our innermost desire as to which direction we want football to evolve in the coming years. We want the game to be dreamy, we want it be unpredictably competitive, we want it to euphoric, and mystically strong. Mbappe showed glimpses of all that. But, think of it, Russia 2018 as a whole was all that and more. This despite the South Americans going south much before the business end of the tournament. This without Messi or Ronaldo and their magic.
Also Read | FIFA World Cup: N'Golo Kante and the Art of Functional Football
And Mbappe happens to be a shiny reflection of that, a true reflection of where football is at the moment, and not where he could potentially take it forward.
What is Mbappe's say in all of this, one can't help but wonder.
The teenager -- let's not forget he is a teen still -- would crave for a luxury. To sit back and assimilate things. A luxury he may not get for he will be stuck into boardroom negotiations and the other trappings of a fast-forwarded stardom, for like Ferdinand pointed out, the sharks are already out there -- the Real Madrids and the Man Uniteds of the world, to get hold of the "future of football".
And one gets worried as we have seen "young futures", recent memory being that of James Rodriguez from the previous edition of the World Cup, get hyper-looped into the future a little too fast and too harshly. Not that Rodriguez has fared badly, but he is no Messi or Ronaldo either, not even close.
Also Read | Oscar Tabarez: A School Teacher's Revolution Which Changed Uruguayan Football
Mbappe might be that player, but he is not there yet. He has quite a head start though. Let's not forget that Messi and Ronaldo were never made at World Cups. They became who they are, redefining the footballing world in a daily grind that we call professional leagues.
The football World Cup is indeed a parallel universe, a one-month long bubble. The reality is the week-in-week-out harsh-tackling, super-critical and hyper-cynical world of club football, and the system holds key to football's future, not Mbappe.
The question now is, will Mbappe have a say in his future. One hope football can give him that luxury at least, even as the summer sale begins in Europe.
Get the latest reports & analysis with people's perspective on Protests, movements & deep analytical videos, discussions of the current affairs in your Telegram app. Subscribe to NewsClick's Telegram channel & get Real-Time updates on stories, as they get published on our website.
Subscribe Newsclick On Telegram