Labour Uprising Sweeps US and Europe in Unprecedented Wave
The number of strikes, work stoppages, picketing, and other forms of protests has been much higher than last year.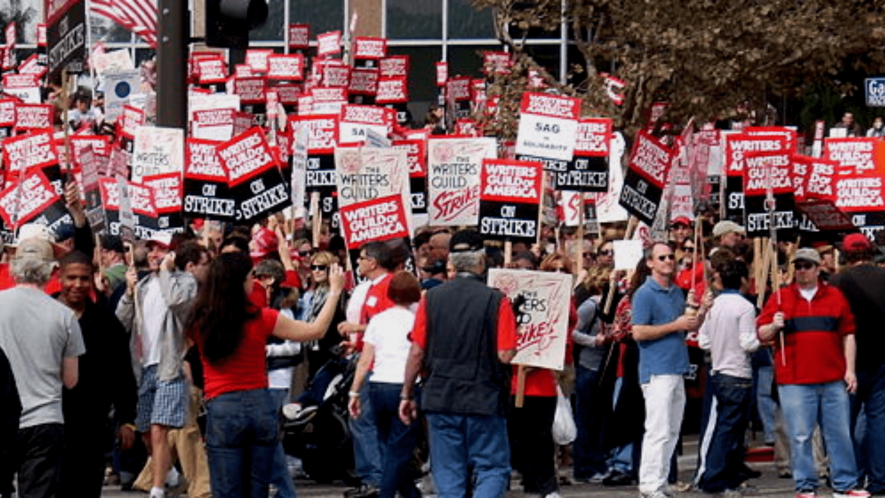 Representational Image. Image Courtesy: Wikimedia Commons
Workers, spanning various industries in the United States of America and Europe, are increasingly on the warpath, demanding improvements in wages and salaries, job security, and other working conditions. In the US, which observed Labour Day on September 4, over 320,000 workers have participated in at least 230 strikes so far this year.
The number of strikes, work stoppages, picketing, and other forms of protests has been much higher than last year, according to data from the US Bureau of Labor Statistics, Cornell University School of Industrial and Labor Relations, and media reports.
The industries where workers have gone on strike in the US and Europe range from airlines, railways, postal and courier services, and car manufacturers to nurses, teachers, and even Hollywood writers and actors. More and more workers and professionals and their unions have started taking a hard stance against companies or governments in the wake of a crisis in job security and gruelling working and living conditions, skyrocketing company profits, high inflation rate, pensions, and rising disparity between their pay and executive compensation. The trends show that a growing number of workers are willing to strike work or walk off jobs in demand of higher pay and a better quality of life, and some are winning.
As per the data released by the US Bureau of Labor Statistics earlier this year, there were 23 major work stoppages in 2022. This can be compared to the lowest annual total of major work stoppages at five in 2009, with the highest being 470 in 1952. Between 2002-2022, there have been an average of 16 work stoppages. The Bureau defines major work stoppage as those involving 1,000 or more workers and lasting at least one shift during the work week (Monday-Friday). The official data showed that there were 120,600 workers involved in major work stoppages in 2022. Service industries accounted for 118,400 workers or 98% of workers over the year. Within the service-providing industries, education and health services sectors accounted for the idling of 106,300 workers — the education sector for 69,500 workers and the healthcare and social assistance sector for 36,800 workers. The Bureau will release this year's statistics in February 2024.
This year, while some workers' unions are clinching record deals following strikes or threats of work stoppage, others have struck work or are carrying out protests in other forms to force their issues. Writers Guild of America (WGA) members of Hollywood have been on strike for more than four months. The 11,500 screenwriters represented by WGA have been joined by 160,000 actors in the strike. The striking writers and actors of Hollywood have not only brought production to a grinding halt but have disrupted marketing efforts as well. 
As the television and film writers' strike reached the four-month mark on September 2, and there is still no sign that it will be over any time soon. The WGA and television producers are yet to agree on a new contract, while the union plans to remain "resolved and united" amidst the largest interruption to the American television and film industries since the COVID-19 pandemic.
In the aviation and travel sectors, workers at key Boeing supplier Spirit AeroSystems in June approved a deal after a brief work stoppage. Pilots at Delta and American Airlines have ratified contracts worth billions, following months of pickets and strike authorization votes. United Airlines has struck a preliminary agreement with its pilots' union last month for up to a 40% raise over four years. In the US airline industry, the contract wins are partly the result of years-long buildup. Airline unions had just started industry-wide negotiations when the COVID-19 pandemic hit, derailing negotiations. Employees such as pilots and flight attendants had not received raises since their contracted pay increases had expired.
While the airline industry received USD 54 billion from the Biden administration after the pandemic to help workers retain their jobs, the airlines had asked thousands to take early retirement packages. Besides actors and pilots being on the picket line, about 3,000 workers of Starbucks went on strike at 150 outlets in June across the country.
Meanwhile, 6,000 Los Angeles hotel workers walked out over increased workloads in July. Thousands of hotel and restaurant workers in Southern California went on strike, calling for higher wages and better benefits. Their union—The Unite Here Local 11—claimed it was the largest strike in the US hotel industry's history.
With less than half the year left, there have already been 177 work stoppages, according to Bloomberg Law's work stoppage database. That is compared to the nearly 320 total strikes initiated by the unions in 2022. Last year proved to be monumental for strikers. It was the first time since 2005 that the number of strikes surpassed the 300-mark. This summer season, about 650,000 workers in total are expected to go on strike, including 340,000 UPS workers. Their union — the Teamsters — reached a deal before their expected strike early this month, averting what could have been one of the largest and most crippling strikes in US history. The automotive industry's labour union, the United Auto Workers (UAW) represents about 150,000 automotive workers at Detroit's 'Big Three' car companies (Ford, GM and Stellantis).
At the time of completing this article, the UAW and the 'Big Three' management were at the bargaining table, trying to hash out details for a new contract.
The UAW members have overwhelmingly granted their union leaders authorization to call strikes during ongoing contract negotiations with the car manufacturers if warranted. "Our union's membership is clearly fed up with living paycheck to paycheck while the corporate elite and billionaire class continue to make out like bandits," media quoted UAW President Shawn Fain as saying.
Threatened by the number of workers and the impact of a strike in the auto industry, even the US government has intervened to try and avert such a situation. President Joe Biden said on August 25 that he was "concerned" about the possible strike as he weighed in on the negotiations. "I've been talking to UAW, obviously I'm concerned," Biden told reporters. "I think that there should be a circumstance where the jobs that are being displaced and replaced with new jobs, the first choice should be to the UAW members who had the jobs, and the salary should be commensurate."
The White House has so far taken a neutral stance on the talks, but Biden's call for commensurate salaries is notable as they support the union's stance on higher wages, US media reports said.
While about 650,000 workers have so far threatened to go on strike this summer, as per Bloomberg Law data, this number has risen more than the pre-pandemic level. The data shows the number of workers involved in strikes year-wise. In 2019, it was 499,600, there is no data for 2020 (Pandemic); in 2021, the number stood at 117,500, which rose to 221,300 in 2022.
Europe saw strikes and work stoppages disrupting hundreds of flights, stoppages or delays in running trains and public transport, and protests against the French government's proposals to increase retirement age and a new pension law. In
Germany, Berlin and Frankfurt airports cancelled all flights due to a work stoppage by security and other workers, while in the UK, rail workers launched three strikes to protest low wages, forcing cuts in train service. In France, the union of air traffic controllers recently went on strike, joining months of nationwide action by all major trade unions against the country's proposed retirement age increase.
Among the main factors that have caused these strikes is the stubborn inflation in Europe and the United Kingdom that is squeezing the working class, who are demanding better wages and improved working conditions. Frustration is being felt by people across sectors, as evidenced by the strikes led by doctors, nurses, and even teachers in the United Kingdom. Over 130,000 civil and public servants across the UK walked out of their jobs in April over pay, pensions, redundancy terms, and job security. The government announced that pay rises would be limited to 4.5-5%, which, according to the Public and Commercial Services Union (PCS), is an "insult."
"Our members are on strike today because they are very angry that the government seems to have singled out its own workforce for the worst treatment," PCS General Secretary Mark Serwotka was quoted by Reuters as saying.
Some European countries are also seeing such walkouts and strikes more frequently. While inflation has been very high, the shocks of the Ukraine war, coming after the pandemic, have contributed to inflation, especially in the European Union and the UK. Many European economies have so far been dependent on cheap Russian gas. So, the Russia-Ukraine war has prompted an energy crisis, forcing industries and households to face shortages, higher prices for oil and gas, and mounting living costs. The fuel shortage has also hit power supply and nuclear reactor maintenance.
Workers around the world and across industries are making demands for better wages and employment terms amid inflation and failing economies. Some of the most explosive class battles are taking place in the United States, the centre of world capitalism, where the number of strikes has increased significantly in the recent past. And the governments in the US and Europe, many of which have been working in collaboration with the corporations, are making desperate attempts to contain the rising social anger. 
Get the latest reports & analysis with people's perspective on Protests, movements & deep analytical videos, discussions of the current affairs in your Telegram app. Subscribe to NewsClick's Telegram channel & get Real-Time updates on stories, as they get published on our website.
Subscribe Newsclick On Telegram