Ladakh: Environmentalist Sonam Wangchuk, Observing 'Climate Fast', Claims he was Detained
Authorities deny detention; Wangchuk asked to sign 'bond' promising no statements or participation in public gatherings.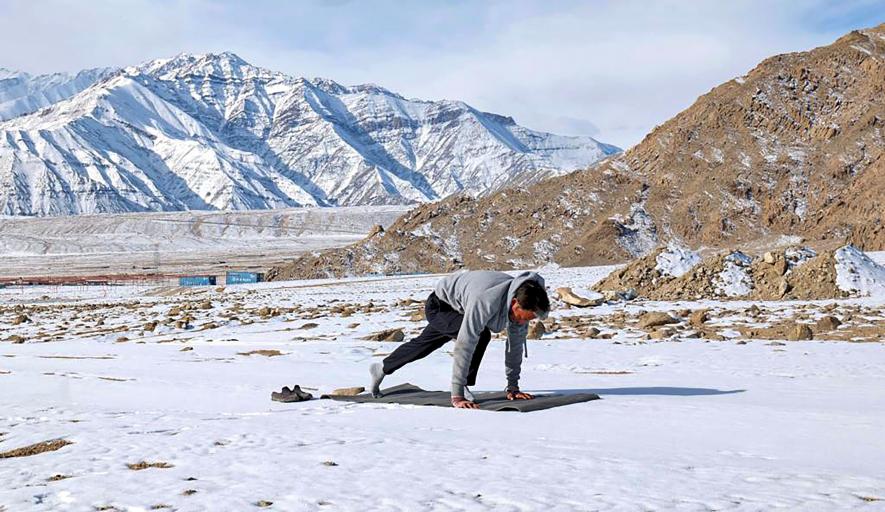 Social reformist Sonam Wangchuk does 'yoga' on the 3rd day of his five-day climate fast to "save Ladakh" in in Phyang, Saturday, Jan. 28, 2023. Image Courtesy: PTI
New Delhi: Sonam Wangchuk, the Ladakhi Magsaysay Award recipient and the man who inspired Aamir Khan's character in the film '3 Idiots', is observing a five-day fast demanding the region's inclusion in the Sixth Schedule of the Constitution. 
However, Wangchuk, on Monday alleged that he had been detained by the Union Territory's administration after his protest fast demanding special status for Leh, as per a report in NDTV. Authorities, however, denied any detention. Wangchuk had on Sunday said the administration wanted to "silence him" for the protest against the destruction of the region's ecology and unsustainable development.
The UT administration said he wanted to protest in Khardung La, permission for which was denied. 
Wangchuk has been asked by the UT administration to sign a bond promising that he will not make any statements or participate in any public gatherings over recent happenings in Leh for one month, now bristling with protests demanding special status under the Sixth Schedule of the Constitution.
Wangchuk, 56, began his five-day fast on Thursday at Phyang, Leh, where the night temperature is minus 20 degrees Celsius. He earlier alleged he was placed under house arrest.
Calling for preventive steps, Wangchuk believes unsustainable industries, tourism, and commerce would continue to mushroom in Ladakh and finish the region eventually.
As per the bond document provided by the administration, these activities have the potential to endanger peace and tranquillity in the district. "That I undertake that I will not make any comment(s) or issue statements(s) or make public speech(s)hold or participate in any public assembly(s)/any activity related to recent events in Leh district, at the present times, since it has the potential of endangering the peace and tranquillity and law and order in the district or any part thereof for a period of one month (sic)," reads the bond, shared by Wangchuk on his Twitter handle.
The bond document further states that he shall not incite anti-government sloganeering/activity that will breach public peace and shall carry out his fast in the area in which he has been given permission. "Any violation will attract legal action," it continues.
Wangchuk co-founded the Himalayan Institute of Alternative Ladakh, or HIAL, on whose grounds he has been fasting. He had planned his fast at Khardung La Pass, where the temperature could fall to minus 40 degrees Celsius. He, however, alleged the administration was trying to stop him from reaching Khardung La Pass.
According to a report in The Wire, Wangchuk said the administration had asked him to sign the bond and to refrain from making comments on current happenings. "They came yesterday and today and asked me to sign the bond, but I told them that I will consult my lawyers first." He also said that he will not sign the bond.
He termed the move as a "banana republic" tactic to silence voices. "My climate change fast is not an action of dissent. I am promoting a climate-friendly lifestyle and seeking safeguards for mountains and glaciers," he said.
He said the administration has restricted his movement to prevent him from going to Khardung La pass, where he planned to observe his five-day climate fast. "They have not served me a warrant, but I am under de-facto house arrest. It is worse than house arrest," he claimed.
On January 23, Wangchuk uploaded a video appealing to Prime Minister Modi, appealing for action since "all is not well in Ladakh".
Wangchuk has expressed worry about the potential for corporate expansion in the UT, which is anticipated to add to the already severe shortage of resources like water. Mining and other comparable activities may cause glaciers to melt.
In the video, he explained, "Ladakh, also known as the "third pole" of the earth, is dealing with serious issues as he mentions the 6th Schedule and protests related to it. To promote total economic development and decision-making autonomy, locals have been calling for the inclusion of Ladakh under the 6th Schedule. The topic has also previously been brought up in Parliament."
The Constitution requires 50% of a region's population to be tribal for the 6th Schedule to apply. Ladakh, with over 95% of its population as tribal, was expected to be added soon, it was believed, Wangchuk says in the clip. Arjun Munda, the Minister of Tribal Affairs, has also provided assurances, Wangchuk added.
The people of Ladakh are perplexed as to why the government that has listened to their 70-year-old demand for a union region is not paying attention to this demand, Wangchuk said in the 13-minute video.
Now, Wangchuk is observing a fast at a time when two major citizens' bodies from Ladakh have refused to participate in proceedings of a high-level panel constituted by the Bharatiya Janata Party (BJP)-led Central government to discuss job and land safeguards for the region. The bodies have said their demands of statehood Ladakh and constitutional safeguards under the Sixth Schedule have not been included in the panel's agenda.
The Sixth Schedule provides for the formation of autonomous administrative district councils in tribal areas that have some legislative, judicial and administrative autonomy. These councils can make rules and regulations governing land, forest, water, agriculture, health, sanitation, inheritance, marriage and divorce, mining and more.
CPI(M) Condemns 'Arrest'
Meanwhile, the Communist Party of India has hit out at the government, saying Wangchuk's "arrest" prevented him from speaking on bringing the UT under Schedule 6 of the Constitution.
"Magsaysay awardee Sonam Wangchuk's life inspired '3 Idiots'. He launched a campaign to safeguard Ladakh's unique attributes and is under house arrest for this! Prevented from speaking on Schedule 6 and risks of climate change and on Republic Day! Reprehensible," CPI(M) general secretary Sitaram Yechury said in a tweet.
Get the latest reports & analysis with people's perspective on Protests, movements & deep analytical videos, discussions of the current affairs in your Telegram app. Subscribe to NewsClick's Telegram channel & get Real-Time updates on stories, as they get published on our website.
Subscribe Newsclick On Telegram