Lakhs of Farmers, Workers, Agri Labour to March in Delhi on April 5 to Fight Against Assault on Rights
The 'mega' rally is being jointly organised by Centre of Indian Trade Unions, All India Kisan Sabha and All India Agriculture Workers Union.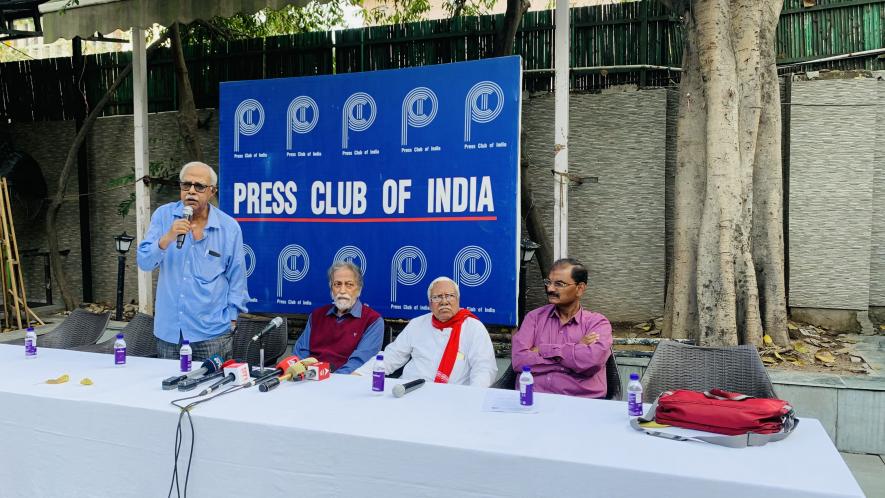 New Delhi: Lakhs of farmers, workers and agricultural workers will march on the streets of the National Capital on April 5 next month to make the "deaf Centre hear" their voices demanding higher minimum wages and roll back of the four labour codes, a law guaranteeing minimum support price (MSP) for crops among others.
The rally is being jointly organised by the Centre of Indian Trade Unions (CITU), All India Kisan Sabha (AIKS) and All India Agriculture Workers Union (AIAWU).
Addressing a press conference here on Tuesday, noted economist Prabhat Patnaik, who is chairman of the reception committee for the all-India rally, said it was a "historic development for working people" and called upon all sections of the society to join it.
Citing the sharp increase in income and wealth inequality, which at present is greater than at any time over the last 100 years, Patnaik said it was imminent to fight against the assault on the working people, to demand MSP for crops for ensuring food security, defend democracy and the right to resist, to preserve India as a secular republic, and defend the Constitution upon which modern India is founded.
Hannan Mollah, vice-president, AIKS said preparations for the rally have been going on for months in close coordination with CITU and AIAWU, with joint conventions, meetings and yatras held in 26 states and Union territories. He said the three organisations had reached out to over one crore households.
He said lakhs of working people were coming to Delhi to show to the country that all is not well with producing classes of India.
"We are producing everything, from grains to bikes, yet our sufferings do not end. As many as 93% workers are engaged in unorganised sector with no social security, no provident fund, no provision for ESI. Their sufferings are not visible in this part of the country where middle classes enjoy a comfortable life," he said.
The AIKS leader recalled that when farmers came to the borders of Delhi, they were rebuked as if they were vagabonds.
"When the new economic policies were implemented, this particular class (middle) was very happy that we are marching to better days. When successive governments showed their true colours and started selling public sector enterprises, it was shocked. I wish to tell you that you can survive without branded clothes or shoes for 15 days but you cannot survive without food. If the producers are not happy, nobody will be happy," he said
The farmer leader questioned that "when producers determine the prices of their products, why cannot farmers do it? You go to a shopping mall, pick up a product and pay the maximum retail price (MRP). Do you bargain over it? It takes Rs 2,400 to produce one quintal of paddy and they have to sell it for Rs 1,300 per quintal. Is this not injustice?"
On the plight of agricultural workers, Mollah said lakhs of them drew solace that at least NREGA would provide 100 days of work. "But they are getting only 43 days of work. Can you sustain your family for a year with this little work?", adding that it was to fight this assault on the producing classes that they were preparing for the "biggest rally that Delhi has even seen in recent history to make the deaf Modi hear."
B Venkat, general secretary, AIAWU, said that they were facing three-fold challenges posed by social biases, which have been bolstered by this government .
"The majority of agricultural workers come from dalit and adivasi backgrounds. There is an increasing trend of atrocities on dalits and tribal population. Dalits constitute 16% of the total population, which means they are 28 crore in numbers. They have been subjected to brutal violence and discrimination in rural and urban areas."
The second challenge, he said, was the ongoing struggle of tribal people for execution of the Forest Rights Act. "They are denied pattas for homes and cultivation, to serve corporate interests and encourage the mining mafia," he said.
The third challenge, Venkat said, was the question of employment.
"NREGA provided some assurance of work in rural areas and indirectly benefited dalits. However, there have been consistent budget cuts. Now, it has been given only Rs 60,000 crore whereas the demand was for Rs 2 lakh crore. So, thousands of agricultural workers are coming to Delhi to reclaim their dignity and rights," he said.
Tapan Sen, general secretary, CITU, who spoke briefly on labour codes, pointed out how workers were being deprived of their rights that they got after centuries of struggle through the "atrocious four labour codes" that do away with the right to legal recourse, denial of permanent work and longer working hours.
"It is a difficult situation for the working class but we are fighting and winning. In Maharashtra, power sector employees went on strike for one week and stalled privatisation. In Uttar Pradesh, three days of power strike brought the Yogi government on its knees. In Karnataka, power sector unions only gave notice for strike and the government has already accepted the demands. In Chhattisgarh, after 38 days of strike, anganwadi workers emerged victorious over their demand for increased pay. We are also coming to Delhi. This time, we will see this government in its own court," he said.
Earlier, economist Patnaik cited National Sample Survey data to show that between 2011-12 and 2017-18, the per capita real monthly expenditure in rural India declined by 9%. He said the finding was "so startling" that the Union government decided to suppress the data altogether.
"The BJP government has sought to institutionalise the heightened assault on workers through its labour codes and the three infamous farm laws for farmers. The farmers' heroic resistance forced it to retreat, but it has not given up its intent. The agricultural workers are witnessing a subversion of the MGNREGA which had not only provided them with some succour before the pandemic but had also constituted a veritable life-line during the pandemic when the government had peremptorily ordered a draconian lockdown at four hours' notice."
On the sharp increase in income and wealth inequality, "which at present is greater than at any time over the last 100 years", Patnaik said "instead of combating this growing inequality the government is adding to it through tax concessions to the corporate rich; and there is an open and vulgar exhibition of "crony capitalism".
Pointed out the shrinking space for dissent, Patnaik said the government's "benign attitude towards 'cronies' was in sharp contrast to the terrorisation of all critics, the attempted closing of all oppositional political space, and the venomous hate-mongering directed against hapless minority groups."
He called upon all sections to join the working people's rally on April 5,tro raise their voices against growing assaults on livelihoods, to defend democracy and the right to resist, to preserve India as a secular republic, and "to defend the Constitution upon which modern India is founded."
Get the latest reports & analysis with people's perspective on Protests, movements & deep analytical videos, discussions of the current affairs in your Telegram app. Subscribe to NewsClick's Telegram channel & get Real-Time updates on stories, as they get published on our website.
Subscribe Newsclick On Telegram