Lakshya Sen and the Big Splash in World Badminton
World No. 9 Lakshya Sen's game is top notch, and a cut above the rest. It needs chiselling for sure but his mentors are confident about his ability to keep chipping away and not get complacent.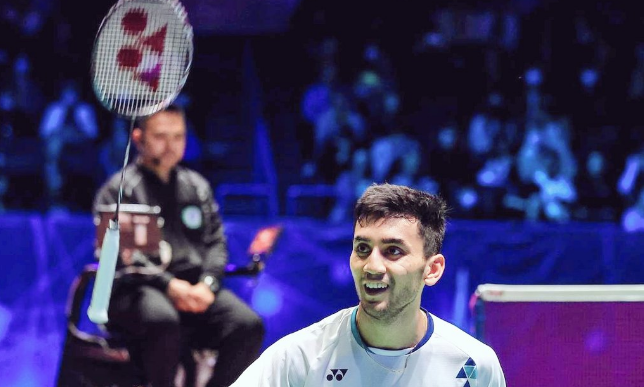 Indian badminton player Lakshya Sen, who won silver at the All England Championships on March 20 to climb to No. 9 in the latest BWF rankings.
Breaking into the top-10 in the world right at the start of a season strewn with major competitions. World No. 9 and India's top player at 20. Rubbing shoulders with — and even beating — the best player in the world on a regular basis. Lakshya Sen has arrived on the big stage. The best part is he promises more. 
The prospects visible on the horizon are not just assumed from his age, ranking or hot form, but the way he has progressed up the badminton hierarchy, first in India, and now the world. Those step-by-step increments, and a quantum leap last season, all systematic, and eked out through planning, good-old hard work, primes him up for grander things in the game.  
In the past four months, Sen has won a BWF World Championships medal — a bronze in Spain, and reached the final four of the World Tour Finals, beat Danish World No. 1 Viktor Axelsen in the German Open and lost to him in a couple of finals too, the latest being at the All England Open title clash last Sunday. And Axelsen, who is turning out to be Sen's great rival, is also the reason behind his purple patch. 
Also Read | Iraq Football Still Struggling to Shake off Image of Insecurity
Last year, when Sen found himself deflated after not getting a call up into the Indian squad for the Thomas Cup, Axelsen invited him to be his training partner in Dubai. That was a two-week stint, where he rubbed shoulders with a few other upcoming players as well. While the stint in itself was small, it changed quite a lot of finer bits in Sen's game as well as training repertoire and approach. Though being considered one of the top players in the country, and a regular in the BWF tour, Sen was yet to get that professional shade in his entourage. He realised how much of a difference that makes, and carrying forward the learning, including inputs on changing his game, he is well and truly on his way, almost emulating his mentor, Prakash Padukone, at the All England last week.
Vimal Kumar, Sen's coach from the time he joined the Padukone Academy in Bengaluru at the age of 11, shed some light on his ward's stint abroad and the difference it made. When Sen went through a period of uncertainty after not getting selected for the Thomas Cup last year, it was Axelsen's invite that pushed him out of what could have become a mental rut. 
"When he was dropped from the Thomas Cup, he was very upset," Vimal was quoted as saying by News18.  "He came here [Padukone academy in Bengaluru] and exactly that day, Viktor Axelsen phoned him saying he has shifted base from Denmark to Dubai and asked him if he could come down to Dubai to practice together. Axelsen had also sent invitations to Loh Kean Yew of Singapore, Brian Yang of Canada, Toby Penty of England and Felix Burestedt of Sweden. Lakshya told me about the Axelsen phone call and I said, 'you just go, don't even stay here'."
Vimal took a dig at the country's badminton authorities for dropping "the best player" in the country from a major tournament. However, he is also happy Sen proved the detractors wrong by doing what he had always believed the youngster from Almora is capable of — become a world beater.
Also Read | Why Hyderabad FC's Showstopper in the ISL 2021-22 Final is Not in Igor Stimac's India Squad
"He went on his own even prior to that when in 2019 Morten Frost was taking care of him (in the European circuit, especially in Denmark, where he spent three months under the European legend)," said Vimal. "After the Dubai stint last year, he managed all his matches without a coach or anyone and he did very well."
Having missed the Tokyo Olympics ticket, Sen finished 2021 on a high. In the new year, he just picked up from where he left. Vimal elaborated on what sets Sen apart among his teammates at the academy, as well as peers in the circuit. 
"He grasps things very fast. We convey to everyone the same thing but he implements them when it matters," he said.
Sen's game is also top notch, and a cut above the rest. It needs chiselling for sure, but that will always be an ongoing process, said Vimal, expressing confidence that one thing he is confident about Sen is his ability to keep chipping away at his game and not get complacent.
"His pace is good," added Vimal. "He can move quickly on the court. The backward movements and front, he can suddenly up the pace. And, I am not talking about sprints. The short bursts have a lot to do with technique, footwork. The only other thing is he dives a lot. For typical badminton, it is not required to dive. But he dives and recovers quickly. That is something very special about him. When you look at Lin Dan or Lee Chong Wei, they are steady, they don't dive. Later for fancy, they dived and all these youngsters picked it up."
It is a long year for Sen with not just the BWF tour but the Asian Games and the Commonwealth Games coming up later this year. With current form, and the precedent he has set, he is one of the favourites for a medal at both. That adds more pressure on him, something Vimal feels he has learnt to cope with. If the mental aspect of high intensity badminton is taken care of, the rest is all likely to fall in place, especially since Sen seems to have a larger understanding of how to take care of his game as well as body while meeting the rigours on tour. 
Read more sports stories from Newsclick
Get the latest reports & analysis with people's perspective on Protests, movements & deep analytical videos, discussions of the current affairs in your Telegram app. Subscribe to NewsClick's Telegram channel & get Real-Time updates on stories, as they get published on our website.
Subscribe Newsclick On Telegram