Large Number of Women Do Not Have Access to Maternity Benefits: Survey
The paper by economists Jean Dreze, Reetike Khera, and Anmol Somanchi is based on the findings of the Jaccha Baccha Survey (JABS), a survey of pregnant and nursing women in rural India conducted in June 2019.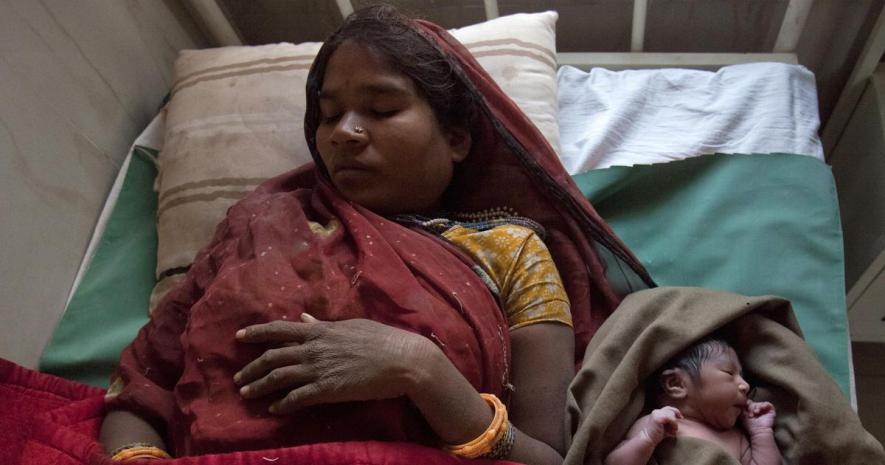 A large majority of Indian women are still deprived of maternity benefits they are entitled to under the National Food Security Act, 2013, according to a recent paper by economists Jean Dreze, Reetike Khera, and Anmol Somanchi. The paper is based on the findings of the  Jaccha Baccha Survey (JABS), a survey of pregnant and nursing women in rural India conducted in June 2019. The survey, conducted by student volunteers, took place in six states: Chhattisgarh, Himachal Pradesh, Jharkhand, Madhya Pradesh, Odisha, and Uttar Pradesh, constituted as many as possible interviews of the pregnant and nursing women registered at the anganwadis.
India's Maternity Benefit (Amendment) Act in 2017 was widely celebrated, as it increased the maximum duration of paid maternity leave from 12 to 26 weeks. However, the paper pointed out, this provision effectively applies to a tiny fraction of women workers – mainly among those employed in the formal, organised sector. It said, "In fact, that law has been used to create a misleading perception, in some international forums, that India has some of the most generous maternity leave provisions in the world. Some women are more equal than others in this respect: relatively privileged women get maternity benefits based on the wage compensation principle (as they should), but the most disadvantaged are entitled to measly amounts. This stark asymmetry is barely noticed."
In 2013, maternity benefits became a legal entitlement for all Indian women except those already receiving similar benefits as regular government employees or under other laws, under Section 4 of the National Food Security Act (NFSA). It said that every pregnant woman and lactating mother will be entitled to maternity benefits of at least Rs 6,000. In 2017, the central government finally formulated a new maternity benefit scheme under Section 4 of NFSA, the Pradhan Mantri Matru Vandana Yojana (PMMVY). An allocation of Rs 2,700 crore was made for this in the Union Budget 2017-18. According to the paper, this is only a fraction of what is required; universal maternity entitlements of Rs 6,000 per child would need at least Rs 14,000 crore per year.
According to the paper, the special needs of the pregnant and lactating women remain unattended. It said, "We were shocked to find how little attention was being paid, in the sample households, to the special needs of pregnancy – good food, extra rest and health care. Often, family members or even women themselves had little awareness of these special needs. For instance, 48% of pregnant women and 39% of nursing women in Uttar Pradesh (UP) had no idea whether or not they had gained weight during pregnancy. Similarly, there was little awareness of the need for extra rest during and after pregnancy."
The paper said that only 22% of the nursing women reported that they had been eating more than usual during their pregnancy, and just 31% said that they had been eating more nutritious food than usual. It stated that the most commonly reported reason for not eating more is that pregnant women often feel unwell or lose appetite. "Lack of resources, of course, does not help: for one thing, it makes it more difficult to provide or prepare the sort of food that a woman who feels unwell might like to eat,"  it said.
Poor diets contribute to low weight gain during pregnancy. According to the Jaccha Baccha Survey, the average weight gain reported by nursing women over nine months of pregnancy was barely 7 kg in the sample as a whole. It added, "Even these figures are likely to be overestimates, as they exclude women who did not know their weight gain at all (26% of all nursing women). Some women were so light to start with that they weighed less than 40 kg at the end of their pregnancy."
Pregnant and nursing women are acutely deprived of quality health care, according to the paper. Many of them receive some elementary services such as tetanus injections and iron tablets at the local anganwadi or health centre, but they get very little beyond these elementary benefits. It said, "Small ailments easily become a major burden, in terms of pain or expenses or both. At the time of delivery, women are often sent to private hospitals when there are complications."
The paper concluded by saying, "The provision for universal maternity entitlements in India's National Food Security Act 2013 is a historic move but its significance, it seems, was lost on the Indian government as well as on the public." 
Also read: Bihar: Migrant Workers Returning Home Again in Fear of Likely Lockdown
Get the latest reports & analysis with people's perspective on Protests, movements & deep analytical videos, discussions of the current affairs in your Telegram app. Subscribe to NewsClick's Telegram channel & get Real-Time updates on stories, as they get published on our website.
Subscribe Newsclick On Telegram