Last Bus to the Lost Town of Dhanushkodi
Nature has taken its course in this ghost town in Tamil Nadu due to all-around apathy, but residents pin their hopes on a bus that connects them to Rameswaram.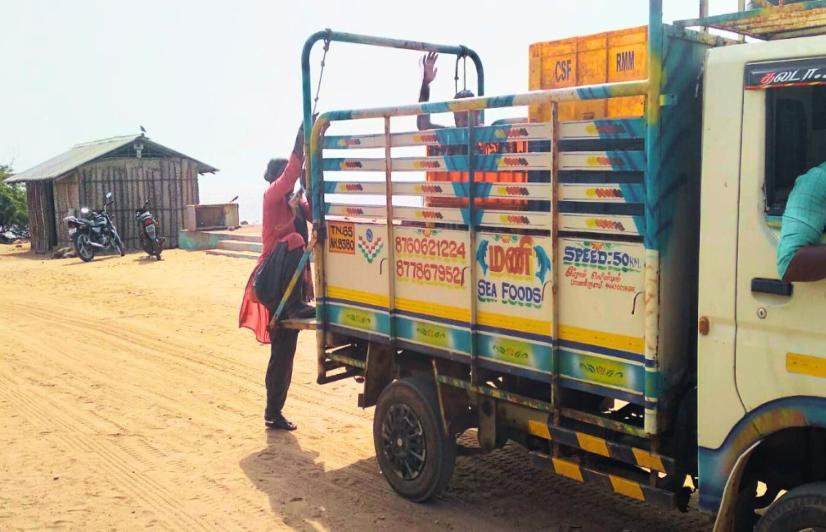 People climbing on the trucks for the road journey (Photo - Prasanth Muthuraman, 101Reporters).
Rameswaram: The crowd, their constant chatter revealing their daily struggles and hopes, a whimpering child or two, heat and dust — these are the quintessential elements of a bus ride to any remote location in Tamil Nadu.
Boarding a bus from Rameswaram to Dhanushkodi could add a tinge of melancholy to the whole affair. After all, we are travelling to an abandoned town deemed unfit for human habitation following a devastating cyclone that swept away what was once a thriving trading hub.
Located at the south-eastern tip of Pamban Island, Dhanushkodi had a shipping port, railway station, trading clusters and signature dishes such as vakrini sambar in its heyday. As Talaimannar in Sri Lanka is less than 30 km from here, bilateral markets also flourished. From Chennai Egmore Railway Station, traders took different types of goods to Dhanushkodi Railway Station and reached Talaimannar from there by ship.
Things turned upside down in the intervening night of December 22-23, 1964, when the cyclone swept away the entire coastal area. Around 1,800 people reportedly died in the storm, including 115 passengers onboard the Pamban-Dhanushkodi passenger train. A crumbling church, ruins of the railway station and ramshackle buildings still dot this surreal landscape, beckoning us to the past trauma.
Soon after the cyclone, the government mechanism ceased to exist in Dhanushkodi, and India's mainland ended at Rameswaram, located 19 km away. However, the residents did not heed the state government's pleas to relocate and continued to live in thatched huts, earning their daily bread through traditional fishing practices.
Some of them set up small makeshift shops selling a variety of items, including conches, seashells, trinkets, fish fry, fresh-cut fruits and water, to the tourists visiting the place. At present, around 300 families live here. But the place does not even have a primary health centre. The only solace is the presence of two small schools in nearby places, where less than 100 children study in all.  
 Frozen in time
Until 2016, jeeps carrying fish were the only mode of to-and-fro transport in Dhanushkodi. Accessing the outside world became easy for residents only after the National Highways Authority of India laid a road up to Arichalmunai (the eroded tip) in 2017. After that, the Tamil Nadu State Transport Corporation launched a bus service to Dhanushkodi from Rameswaram.
"We make three round trips a day, and it takes around 40 minutes to reach Dhanushkodi. The first bus to Rameswaram and the last bus to Dhanushkodi will be crowded," says Bhumi, the bus conductor, as this reporter engages him in a conversation while taking a ticket costing Rs 30.  
Travelling on the last bus of the day to Dhanushkodi along with residents and tourists is a quirky experience. Along the way, one cannot help but notice the overgrown bushes of seemai karuvelam (Prosopis juliflora), an invasive shrub that can deplete groundwater. Salty pans line up on either side of the narrow road as we move forward.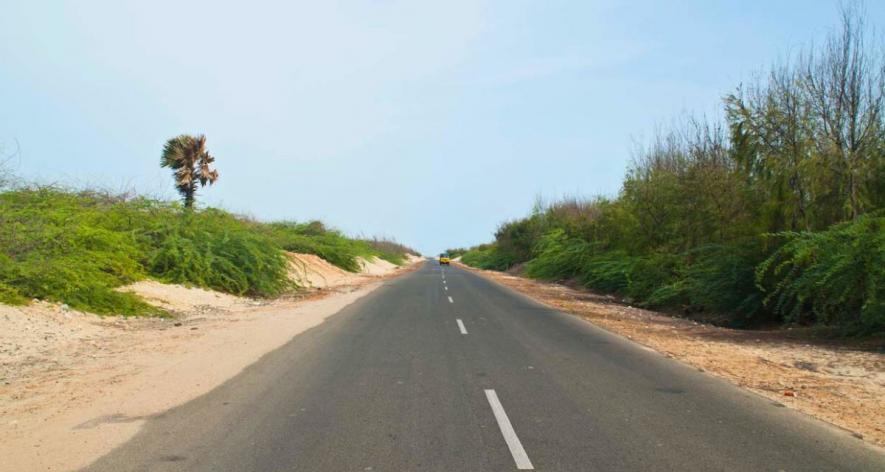 Road way to the ghost town of Dhanushkodi (Photo - Prasanth Muthuraman, 101Reporters).
Inside the bus, the aluminium fish baskets clank against each other while fisherwomen engage in conversations about the day's sales. It does not take much to understand that they are returning home after selling fish in Rameswaram. Two teenage boys could be seen standing on the rear end footboard.
A devotee could be seen reading a sacred book, disregarding the loquacious crowd. Dhanushkodi is believed to be the place from where Lord Rama's vanara sena (monkey army) built a bridge to Lanka so that he could rescue his wife Sita from asura (demon) king Ravana. This bridge is mentioned as rama setu in the ancient epic Valmiki Ramayana.
Being a person living only 30 km from Dhanushkodi, this reporter does not have to prepare to start a conversation. Nevertheless, he asks if this is the last bus and how to return to Rameswaram. "You should get back on this bus itself. Otherwise, you will have to seek help from the driver of a vehicle carrying fish. At times, you will have to pay, too," says the passenger standing near him.
Even before this reporter could wonder how it works, he heard a woman waving and shouting at a mini truck, asking whether she could be dropped at Rameswaram. The driver gestured, and she got in without any delay.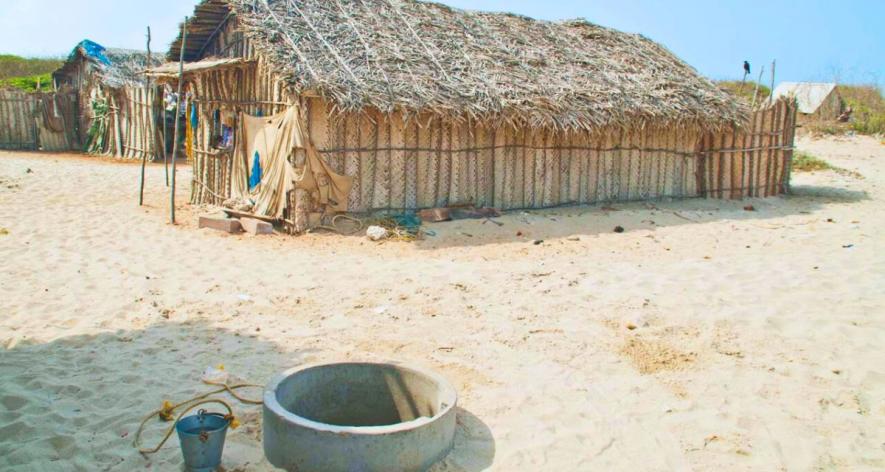 Houses in the sand and their only source of water in Dhanushkodi settlement (Photo - Prasanth Muthuraman, 101Reporters).
"From Dhanushkodi, we transport fish to big and small export companies in Rameswaram. Sometimes, we have to take the load to the railway station," says Veeramani (26), a truck driver from Rameswaram. Fish parcels are packed along with ice and are delivered to various parts of the state.
"We come to Dhanushkodi thrice or four times a week. Apart from fish, we also transport fishing equipment and nets. We mostly do not charge locals for the ride as we are like friends now. However, when tourists ask for help to reach Rameswaram in late evenings, we take anywhere between Rs 30 and Rs 50 per head from them," Veeramani adds.
"Almost 600 families find their livelihood by fishing in Dhanushkodi. Of them, nearly 300 families reside here, among the vestiges of the past," says Kumaresan, the former head of the fishermen association of Dhanushkodi, when we met at his residence.
A social worker, Ramu, tells 101Reporters that public transport facilities are inadequate, due to which people are forced to depend on vehicles carrying fish.
Time did fly as this reporter examined the rickety structures and strolled on the beach, taking note of the serene waters — the meeting point of the Indian Ocean and the Bay of Bengal. It was time to get back on the bus.
While returning, only a few seats remained occupied until we reached Mukundarayar Chathiram, located five km from Dhanushkodi. At the Chathiram bus stop, students of a primary school boarded the bus. These children presumably belonged to the families rescued during the cyclone and provided with housing in nearby villages almost six decades ago. The cacophony they created continued until they began to alight in groups at nearby villages.
This reporter also met the only teacher of the school on the last bus. Asked why students are not admitted to schools located near their settlements, she replies, "Parents find it easy to send them to Mukundarayar Chathiram as it is closest to the place where they spend most of the time fishing."
"From time to time, based on the financial condition of their parents, the number of students travelling on the bus may vary, but we need this bus," says the teacher and in-charge of the Mukundarayar Chathiram Union Primary School, on condition of anonymity. Hailing from Kanniyakumari district, she stays in a rented house in Rameswaram.
As we get back to the town of Rameswaram, Dhanushkodi does seem to be much more than a rustic locale. It is a monument of neglect, where nature has taken its course due to all-round apathy.
(Prasanth Muthuraman is a Tamil Nadu-based freelance journalist and a member of 101Reporters, a pan-India network of grassroots reporters.) 
Get the latest reports & analysis with people's perspective on Protests, movements & deep analytical videos, discussions of the current affairs in your Telegram app. Subscribe to NewsClick's Telegram channel & get Real-Time updates on stories, as they get published on our website.
Subscribe Newsclick On Telegram