Leaked Supreme Court Draft on Abortion ban Jolts America
President Joe Biden said that a ruling banning abortion could imperil other rights, including same-sex.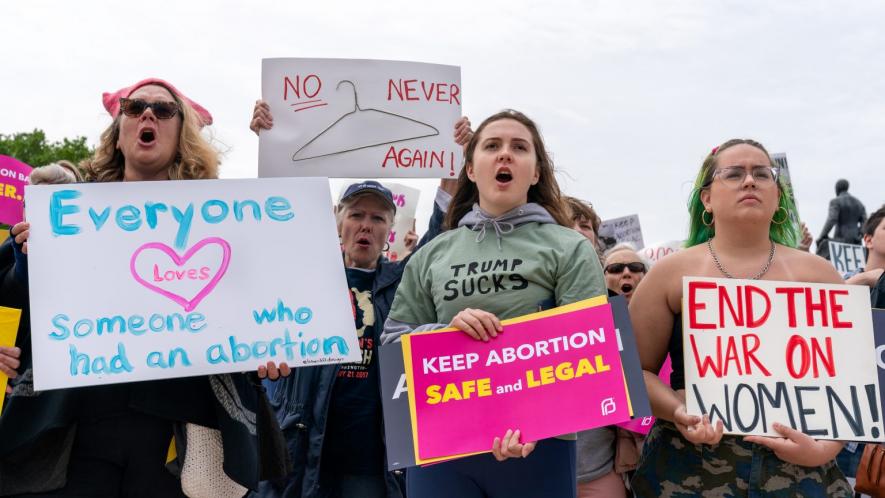 The movement advocating for abortion access has long been advocating for passing the Women's Health Protection Act (WHPA), which would render all of these restrictions illegal. (Photo by Lorie Shaull)
The leaked draft Supreme Court ruling overturning the 1973 Roe v Wade case, which guaranteed the right to abortion, published by POLITICO on Monday night has had a seismic impact on the United States and the Democratic Party.   
The draft, written by Justice Samuel Alito, was supported by four other right-wingers on the court panel, which has a conservative majority of 6-3. "Roe was egregiously wrong from the start," Alito wrote in the draft opinion,  dated February 10.
Confirming that the draft was authentic, the court said that it did not "represent a decision by the court or the final position of any member on the issues in the case". A ruling is not expected before June-end. 
Immediately after the draft was leaked, Oklahoma governor Kevin Stitt signed a bill on Tuesday banning abortion after six weeks of pregnancy, Reuters reported. "I want Oklahoma to be the most pro-life state in the country because I represent all four million Oklahomans who overwhelmingly want to protect the unborn," he tweeted.
A total of 26 states are expected to enact partial or total abortion bans if the court makes it illegal. Some Republican-run states are expected to attempt to make travelling for abortion illegal. 
Terming the provisional court opinion "radical", President Joe Biden told reporters at Joint Base Andrews ahead of a trip to Alabama that a ruling banning abortion would represent a "fundamental shift in American jurisprudence" and could imperil rights, including same-sex marriage and access to contraception, The Guardian reported. 
"It would mean that every other decision relating to the notion of privacy is thrown into question—all the decisions you make in your private life, who you marry, whether or not you decide to conceive a child, whether or not you can have an abortion and a range of other decisions [including] how you raise your child."
Sensing that abortion could be an issue during the Midterm elections, Biden appealed to voters on Tuesday to elect more representatives and senators that support women's rights. "If the Court does overturn Roe, it will fall on our nation's elected officials at all levels of government to protect a woman's right to choose. And it will fall on voters to elect pro-choice officials this November," he said, according to a Reuters report.
"At the federal level, we will need more pro-choice Senators and a pro-choice majority in the House to adopt legislation that codifies Roe, which I will work to pass and sign into law," Biden added. The Democrats have a slim majority in the House of Representatives and the Senate and Republicans are expected to win both in the November elections.
America's first woman vice-president Kamala Harris commented in similar vein terming it as a risk to the right of privacy and women's rights. "The rights of all Americans are at risk. If the right to privacy is weakened, every person could face a future in which the government can potentially interfere in the personal decisions you make about your life. This is the time to fight for women and for our country with everything we have."
New York congresswoman Alexandria Ocasio-Cortez warned that gay marriage and civil rights will be targeted next. "They're coming for the right to privacy Roe rests on, which includes gay marriage and civil rights."
Former President Barack Obama and his wife Michelle Obama issued a joint statement: "The consequences of this decision would be a blow not just to women but to all of us who believe that in a free society, there are limits to how much the government can encroach on our personal lives."
Democratic senator and 2020 presidential hopeful Elizabeth Warren said that she is "angry, upset and determined" as she rallied outside the court. "The Republicans have been working towards this day for decades … plotting, carefully cultivating these Supreme Court Justices so that they could have a majority on the Bench who would accomplish something that a majority of Americans do not want," she added.
In a statement issued on Tuesday, Biden that his administration had argued strongly before the court in defence of Roe v. Wade by citing the "Fourteenth Amendment's concept of personal liberty … against government interference with intensely personal decisions". 
"I believe that a woman's right to choose is fundamental. Roe has been the law of the land for almost 50 years, and basic fairness and the stability of our law demand that it not be overturned," he added.
 
Outlining his government's response if the court overturns Roe, Biden said that "after the enactment of Texas law SB 8 and other laws restricting women's reproductive rights, I directed my Gender Policy Council and White House Counsel's Office to prepare options for an administration response to the continued attack on abortion and reproductive rights, under a variety of possible outcomes in the cases pending before the Supreme Court. We will be ready when any ruling is issued".
 
If the court does overturn Roe, "it will fall on our nation's elected officials at all levels of government to protect a woman's right to choose". Appealing to voters to elect more pro-abortion representatives and senators, he said: "At the federal level, we will need more pro-choice senators and a pro-choice majority in the House to adopt legislation that codifies Roe, which I will work to pass and sign into law."
The draft opinion mobilised both pro- and anti-abortion supporters outside the court and triggered massive demonstrations in New York City, Boston, Nashville, Dallas, New Orleans and several other cities. 
Outside the court, abortion supporters carrying signs reading "Justices get out of my vagina", "Legal abortion once and for all" and "We won't go back" chanted: "Abortion is healthcare." While pro-life supporters chanted" "Hey, hey, ho, ho, Roe v Wade has got to go". 
"This terrifies me. I could not sleep, so I figured I should be here. This opens a floodgate for everyone … like the right to privacy, to due process, the right that we're innocent until proven guilty. All of that can go away if this goes away," Haley Lund, from Woodbridge, Virginia, told The Guardian outside court.
Though polls and surveys shows a clear majority support for abortion, Christian and conservative groups have campaigned to end it.
Republicans welcomed the draft ruling and condemned the leak. Josh Hawley, a hard-line Missouri senator, called the draft "tightly argued and morally powerful".
Among Republican moderates, Susan Collins of Maine, who under former President Donald Trump supported the appointments of Neil Gorsuch and Brett Kavanaugh but voted against Amy Coney Barrett, pointed to a possible betrayal. "If this leaked draft opinion is the final decision, it would be completely inconsistent with what Justice Gorsuch and Justice Kavanaugh said in their hearings and in our meetings in my office," she said.
Women's rights campaigners condemned the draft. Laphonza Butler, president, advocacy group Emily's List, said: "It's past time to vote out every official who stands against the pro-choice majority.
Get the latest reports & analysis with people's perspective on Protests, movements & deep analytical videos, discussions of the current affairs in your Telegram app. Subscribe to NewsClick's Telegram channel & get Real-Time updates on stories, as they get published on our website.
Subscribe Newsclick On Telegram