Life of Muslims in Bhuj -- A Saga of Political Alienation And Discrimination
How Varnora village, with 100% Muslim population, has become a prime target of right-wingers
En route Varnora, a village about 15 kilometres from Bhuj city in Gujarat, lie stretches of barren government land. On a piece of one such land, stands a small temple built a few months ago. Nobody noticed the nondescript temple until a tea stall owned by a Muslim man from Varnora village across the temple was vandalised by followers of right-wing organisations.
That's when Varnora village, which has a dominant Muslim population, suddenly woke up to the strategically built temple just about 5 kilometres from their village, which had by then become the meeting point of members of right-wing organisations of Bhuj taluka.
A Prime Target of Right-Wingers
Varnora has been a prime target of right-wing organisations in Kutch district primarily because Muslims constitute 100% of the population, who are Maldharis, a pastoral community.
Noticeably, Ragubir sinh Jadeja, who is Founder President of Samast Sanatan Hindu Samaj, Mandvi, Kutch head of the Vishwa Hindu Parishad and National head of Hindu Yuva Vahini, wrote a Facebook post referring to Varnora village on August 18 this year.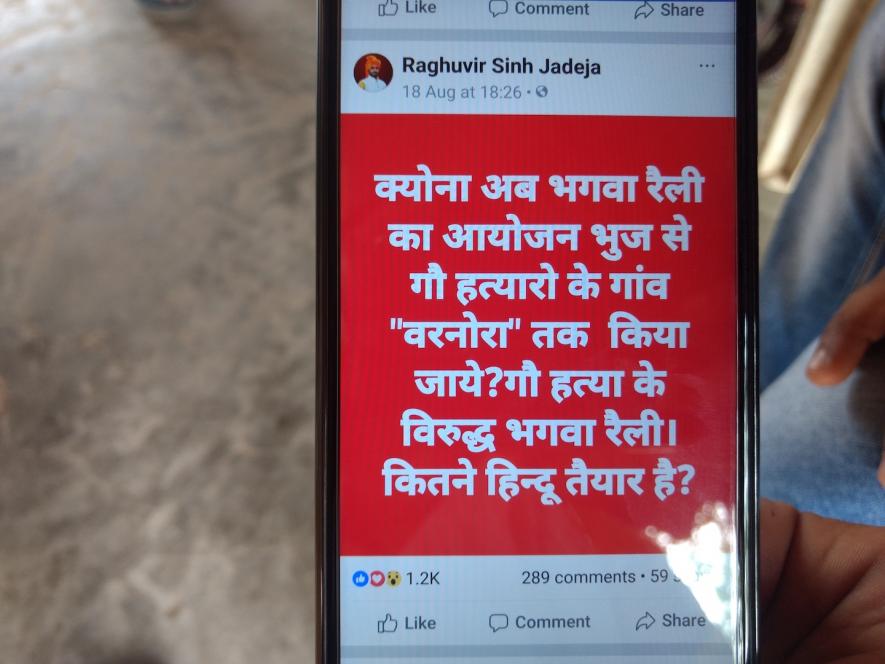 Screenshot of the FB post of Raghuvir Sinh Jadeja
"Kyu na ab Bhagwa rally ka ayojan Bhuj ke gau hatyaro ke gaon Varnora se kiya jay? Gau hatya ke virudh Bhagwa rally. Kitne Hindu taiyar hai? (Why don't we take out a saffron rally through Varnora, the village of cow killers? A saffron rally against cow killers. How many Hindus are ready?)," wrote Jadeja, a resident of Mandvi taluka in Kutch.
No complaints have been filed against Raghubir Sinh Jadeja yet.
A Bhuj-based Muslim activist told Newsclick that "initiated by some Muslim activists of Bhuj, an application was submitted to Bhuj police apprising them of such an inciting post and requesting them to take action. But, as expected, there was no response from police."
Abdul Wahab Bachu Maman, of Varnora says, "Cow vigilantes existed in Kutch way before it became a national phenomenon. However, their activities have increased post-2013."
No that the area police is unaware of various incidents.
Mohsin Hingorja, a Bhuj-based social worker and activist pointed out that "in another incident, a right-wing member had abused the Prophet in a Facebook post. It took us nine hours to convince the police to register our complaint. The man who had written the post was arrested and bailed out in just half an hour."
A marginalised community
Muslims constitute about 35% of the population of Bhuj taluka and about 25% in the district of Kutch, yet they are marginalised  -- politically, socially and, apart from a handful, even economically. There are 78 slums in the taluka, out which 63 slums are inhabited by only Muslim.  
"BJP has been dominating Kutch for several decades now. In Bhuj, MLA Nimaben Acharya won her third term in the state elections in December 2017. An otherwise peaceful region, Bhuj becomes very polarised and communally divided during the elections making it an easy turf for the BJP," says Hingorja.
A dry and arid region, Bhuj's problem are aplenty. Non-availability of clean drinking water, lack of healthcare facilities and proper education, and unemployment. But instead of local issues, the politics of communal divide has dominated BJP's political discourse in the region.
A dirty canal on which pastoral communities of Bhuj city and neighbouring villages depend during arid summers. The canal is never cleaned. 
Even in last election, while Prime Minister Narendra Modi evoked the 'Gujarati pride' in other parts of Gujarat, in communally-sensitive Bhuj, his speeches were laced with mentions of the Uri attack, Hafiz Saeed and Doklam.
"The earthquake of 2001 had completely flattened Bhuj. Since the taluka was still limping back from the destruction, the riots of 2002 had no impact in Bhuj. In fact, Bhuj saw Muslim women standing in camps set up by the RSS (Rashtriya Swayamsevak Sangh) and Hindus accepting relief help from radical Muslim organisations. Relief work had, in a way, brought us closer. But as Bhuj was reconstructed, saffronisation seeped in as right-wing organisations found a base here. What the riots couldn't do here was done in small doses in all these years and it still continues," says another Bhuj-based activist on condition of anonymity..
Post-quake development has reshaped Kutch in huge way. However, the heavy industrialisation, desert tourism or mining has not helped changing the plight of the locals of the area.
Muslims, especially in rural Bhuj, say the Congress hasn't helped much either.
"My brother was picked by the police from the state transport bus station 25 years ago and he was never to be found. When my family was running from pillar to post in hope of justice, I had given a copy of my application stating the incident and our struggle so far to a national-level Muslim Congress leader from Gujarat who had come here for election campaign. After his election meeting got over, I found my papers thrown on the floor as he left," says Meraj Sama of Dhobrana (Khavda) village.
Cow Vigilantism
After 2013, the plight of the minority community of Bhuj has worsened, say villagers of Banni and Pachham areas -- constituting 84 villages with a population of about 65,000, known for milk and milk-based products produced by the Muslim pastoral community.
"In the Banni region of the area, people don't own land and mostly own buffaloes, while in the Pachham region, people own lands and cows. In Pachham region, about 6,000 households owns about 3,500 cows. The men of this region suffer the most  at the hands of cow vigilantes," says Umar Sama, an activist and social worker in the area.
"Bulls of this area are considered a good breed. The Muslim pastoral communities of Banni Pachham have been selling bulls to farmers of the Saurashtra region for years. This trade has gone down drastically since the cow vigilantes became a stronger force post-2013," adds Sama.
People of Khavda village, which is considered the economic headquarters of the Banni Pachham area, have since long been demanding that the area be declared a separate taluka.
"Bhuj is 80 km from Khavda. Besides, this region has been at the receiving end of administrative apathy. There are no properly equipped hospitals in the region, while the schools mostly run with half the staff strength. A government school in the area didn't have a permanent staff for nine months in a year," says Umar Sama.
Dry and arid weather is one of the prime challenges faced by the pastoral communities of the region. Villagers claim that subsidised grass at the rate of Rs 2 per kilogram that government is supposed to supply, is not supplied in enough quantity.
"Cows die due to lack of fodder. Every summer, around 700 cows die in the region. Why doesn't a right-wing organisation adopt cows during the summers?" asks a villager.
"Ahirs (the Hindu pastoral community) don't face any problem from cow vigilantes while transporting cows. In fact, ever since our business has been affected, theirs has increased," says Sama.
Muslim Community Alienated
Noticeably, in Banni Pachham area, BJP has not been very popular. Traditionally, about 27,000 Muslims and around 3,000 Dalits of the region don't vote for the party.
The BJP has been trying to woo the Dalits of not only the Banni Pachham region but of entire Bhuj to form a Hindu support base of Bania, Brahmin, Ahir and Lohana communities of Bhuj. In the process, Muslims have been alienated and are at the receiving end of political and administrative discrimination.
In Bhuj city, over the years, many Muslims organisations and rich and socially influential Muslim individuals have come together to build schools and even publish newspapers to uplift the community.
"There was a time when BJP would speak of modernisation of madarsas. A narrative was being built that Muslim religious and social leaders were against it. Reports of local leaders favouring the tone of the ruling party wasn't helping either. It was then that leaders of the community in Bhuj decided to welcome the idea so that madarsas can also get government recognition. Detailed reports on the issue were published then in Farooq Saptahik, a local weekly. Since then no government agency has taken the issue forward or mentioned it again in Bhuj," says Yusuf Jat, Editor of the newspaper published  since 2000.
"Wrong and low representation led us to think that the community needs its own platform for its voice to be heard, hence Farooq Saptahik was founded," adds Jat.
Activists hold that the distance from the centre of Gujarat and prime city, Ahmedabad,has isolated the region.
"Lack of education is a major issue in the region. Earlier, Muslims of the region didn't even file a complaint against injustice, and even if there were protests, the news wouldn't reach the centre of Gujarat due to proximity," says Mujaheed Nafis, head of Minority Coordination Committee, an organisation working with Muslims in the state.
"But it is politically very important to rule the region, as it is endowed with  natural resources," adds Nafis.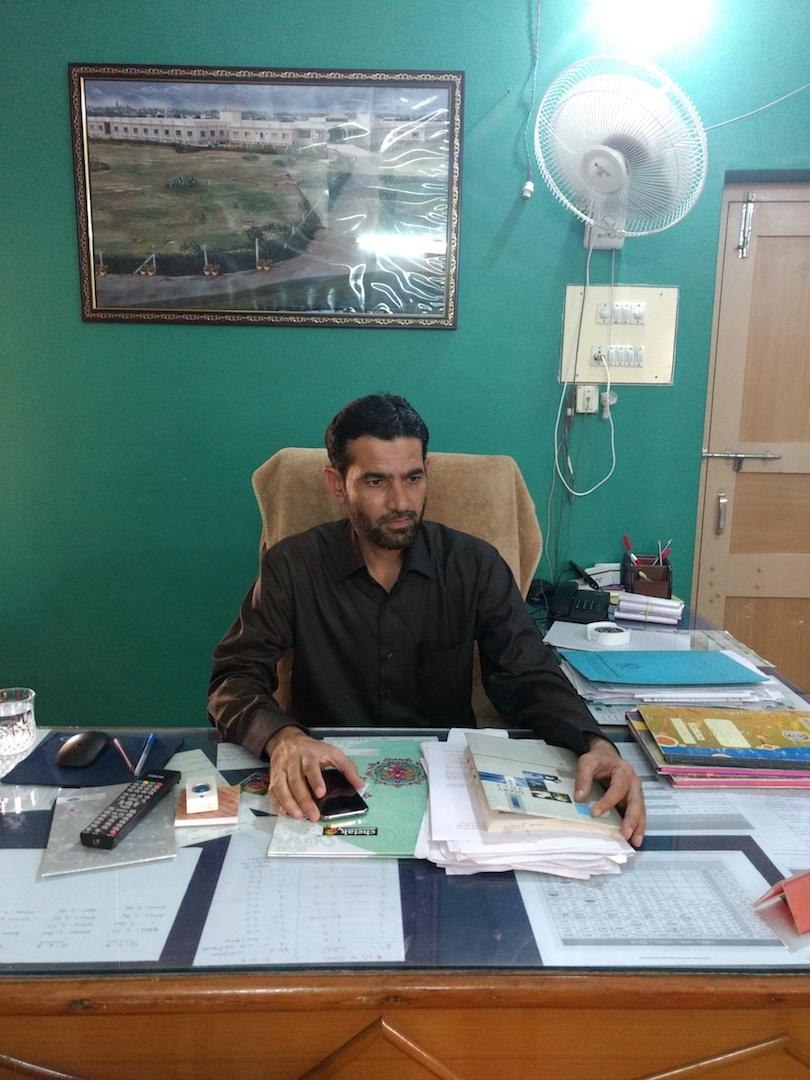 "Over the years the community has understood the importance of education. We try to ensure that kids are at least get primary education," says AA Saiyed, Principal of a school run by the Muslim Education and Welfare Society of Bhuj. The organisation also runs a management and information technology college, Gujarati and English medium schools till higher secondary, kindergarten school and separate computer classes in Urdu and Arabic.
Get the latest reports & analysis with people's perspective on Protests, movements & deep analytical videos, discussions of the current affairs in your Telegram app. Subscribe to NewsClick's Telegram channel & get Real-Time updates on stories, as they get published on our website.
Subscribe Newsclick On Telegram