Limba Ram's Condition Worsens; Authorities Intervene to Restart Life-Saving Injections
Limba Ram, the Indian Archer who missed the bronze medal at the 1992 Barcelona Olympics by a narrow margin, suffers from a neuro-degenerative disease (multiple system atrophy). As his condition worsens, his family seeks intervention from authorities to ensure life-saving medical assistance.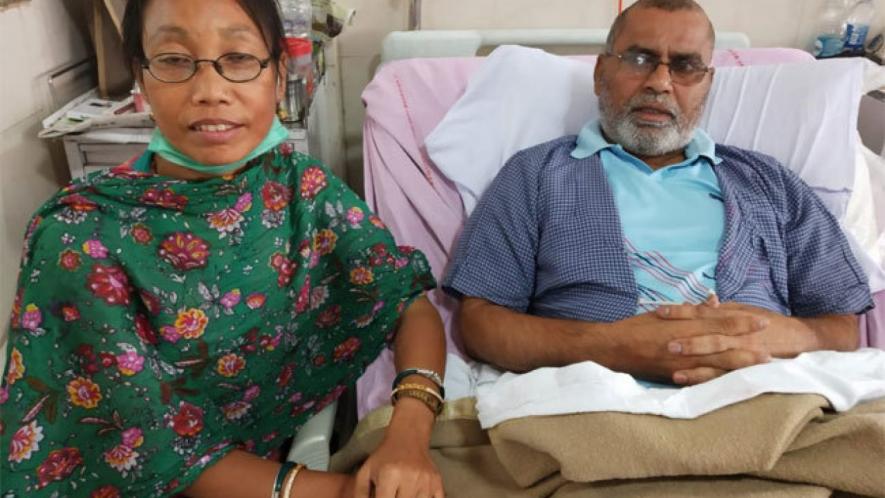 Limba Ram, (pictured here wife, Merian Jenny) has been confined to the SAI Centre in Delhi since late last year when he was diagnosed with Neurocysticercosis and has been unable to get adequate medical help during the lockdown. (Picture: TOI)
While the nation continues to be under lockdown, even basic necessities such as critical medical care have become increasingly difficult to access. The tricky state of affairs almost put archery legend Limba Ram's life under threat. This despite being housed in a Sports Authority of India (SAI) facility, undergoing treatment under the aegis of the Sports Ministry. 
Limba, who suffers from a neuro-degenerative disease (multiple system atrophy), saw his condition deteriorate over the course of the lockdown which began on March 25. The 48-year-old was diagnosed with Neurocysticercosis after worms were found in his brain during a scan. Last December, he was also diagnosed with schizophrenia. Initially he was treated at AIIMS Delhi but was later referred to GB Pant Hospital. However, after the coronavirus crisis, GB Pant was declared a Covid-19 treatment facility, and the archer is now confined to his room at the SAI hostel in the Jawaharlal Nehru Stadium.
The curfew also meant that a lab technician, who was administering injections to Limba, could not reach him. This was confirmed by Pramod Chandurkar, Secretary General of the Archery Association of India (AAI), who added that his treatment at GB Pant will resume. The hospital was removed from the list of designated Covid-19 facilities on April 9. So, resumption of treatment for Limba should have started much before. There seems to be a communication gap which compromised the retired archer's well being.
Read More | The Price of Power: Modesty, Decadence And Inevitability
"Finally, the roadblocks have been cleared. I spoke to his wife and she confirmed that Limba's routine treatment would resume soon," said AAI secretary general Pramod Chandurkar. As per reports, a doctor from GB Pant has been made available to overlook Limba's condition. A lab technician has also been assigned to administer the injections, which are meant to bolster the neurological health.
Chandurkar narrated to Newsclick how things escalated into a life and death crisis for the former Asian champion because a lab technician could not reach the Nehru Stadium premises. The AAI official, however, could not explain why such a scenario arose when things were under direct control of  the Sports Authority of India.
Last week, Limba's wife Jenny approached reporters saying she was worried that Limba's health had worsened. "Earlier, a lab technician would come to administer him the injections, but that has not happened after the lockdown," she had said. "No doctor has also come for check-ups. We are too scared to call a new lab boy to the hostel because Limba is a high-risk patient."
Read More | Coe Suggests Strict Action On Doping In Quarantine, NADA Has Zero Samples In April
Gunjan Abrol, Assistant Secretary, AAI, said the association had initially been unable to get in touch with Limba's wife to understand the situation after news broke of the three-time Olympian's plight. "The problem is that all of us are in lockdown and we cannot step out. We also got to know from the papers that they haven't been able to go for the treatment," he said.
It is very disconcerting to hear that the association needed a newspaper report to get to know the struggle of one of its iconic athletes. It also sheds light on the hierarchical mess such organisations are in where even a star athlete or his kin finds it difficult to reach out to the higher ups. Whoever was at fault here, the fact remains that the injections never reached Limba and his condition worsened over the past month. His legs have swelled up to the extent that he is bed ridden, and he was in immediate need of the life-saving injections. His weak nervous system also took a turn for the worse.
"What we can do right now is provide Limba with what he needs," said Chandurkar. He added that SAI has been in constant touch with the Ministry and is continuously monitoring and giving them sufficient funds. "They have no issues with the treatment which is going on or the living condition. The miscommunication has only happened since the lab boy, who was taking care of him could not reach them on time," he reiterated.
Back in 2019, Limba approached the authorities for help even before his condition was not diagnosed and doctors assumed he had Parkinson's disease. However, after scans, his condition came to light and the treatment began. At the time the Sports Authority of India had come forward to help him and provided his wife a room to stay in its facility. SAI secretary SS Chhabra wrote to the Sports Ministry for special consideration which led to then Sports Minister Rajyavardhan Singh Rathore releasing Rs 5 lakh as financial assistance for Limba. 
The archer was a whisker away from winning the bronze medal at the Barcelona Olympics in 1992 (he eventually finished joint 10th). Limba then moved on to become a successful coach and guided India to three golds, one silver and four bronze medals at the 2010 Commonwealth Games. However, after India's failure in the London 2012 Olympics, Limba's contract was not renewed and he faded from the spotlight till last year when news came out of his illness.
Get the latest reports & analysis with people's perspective on Protests, movements & deep analytical videos, discussions of the current affairs in your Telegram app. Subscribe to NewsClick's Telegram channel & get Real-Time updates on stories, as they get published on our website.
Subscribe Newsclick On Telegram