A Little Credit When Due: Gandhi, Nehru Envisioned More Elected Women Leaders
The quest for adequate representation for women in the Lok Sabha and State Assemblies is a long pending demand, which India's founding fathers considered just and necessary.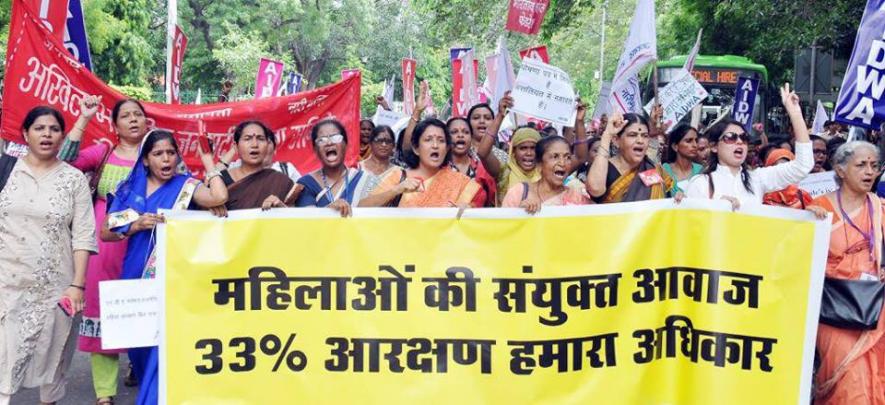 The Constitution One Hundred and Twenty-Eighth (Amendment) Bill 2023, providing reservation for women in 33% of seats of the Lok Sabha and State Assemblies, including the Assembly of Delhi, has been tabled in Parliament. It is a categorical imperative to flag that Mahatma Gandhi and Jawaharlal Nehru put forth this idea in the 1950s, during the freedom struggle and right at the formative stage of nation-building.
Gandhi's 1931 Observations
On 17 September 1931, Gandhi, after delivering his speech at the Federal Structure Committee of the second Round Table Conference organised in London, faced a question from Mrs. Subbarayan. She asked, "Suppose the Central Legislature does not have any women on it, then you will have a clause to allow that Legislature to co-opt women?"
Gandhi replied, "I would boycott that Legislature." He repeated, "A legislature that will not elect a proper share of women will be boycotted by me, and I speak for the Congress also."
He then said, "How it can be brought about is incredibly simple, but I would be no party to a setting up special constituencies."
When Subbarayan asked, "... [if] women do not come in by general election, then you will allow the Central Legislature to elect some women?" Gandhi replied, "Then they have got to enjoy the honour of being elected by the elected legislators before they can conduct their proceedings."
Those ideas of Gandhi, sixteen years before India got independence, represented a robust vision for women to have adequate space in elected legislatures.
Gandhi on Belated Justice for Women
On 30 March 1946, almost one and a half years before India attained independence, Gandhi was told, "It is surely just and necessary that more women are taken into the various bodies" and that the Congress party was reluctant to select women representatives on a large scale for elective bodies. He was then asked how he "...would you deal with the question".
He replied, "I am not enamoured of equality or any other proportion in such matters. Merit should be the only test.... Seeing, however, that it has been the custom to decry women, the contrary custom should be to prefer women, merit being equal, to men even if the preference should result in men being entirely displaced by women."
Gandhi observed, "It would be a dangerous thing to insist on membership on the ground merely of sex. Women, and for that matter, any group, should disdain patronage. They should seek justice, never favour." And, he said that if men took the lead in this "much-needed reform", it would not be "a matter of favour but a simple act of belated justice due to women".
Gandhi thus strongly advocated for representation of women in elected bodies and said men in leadership must ensure "belated justice to women". Attempts to ensure representation of women in 33% of seats in legislative bodies constitutes this quest for "belated justice", which Gandhi underlined even before independence.
Nehru's Vision
India's first prime minister, Jawaharlal Nehru, wrote a remarkable letter to chief ministers on 4 January 1950. He wrote persuasively about the need to have adequate representation of women in the forthcoming parliamentary election, "Even in the Constituent Assembly, the women members were very few," he reminded the chief ministers. "Of these," he wrote, "Some dropped out for various reasons, and their places were filled by men."
Therefore, Nehru said it was important to "keep up and add to the number of women in Parliament". Nehru wrote he had "no doubt that a sufficient number of women, at least as competent and suitable as men, are available."
Two weeks later, on 18 January 1950, Nehru wrote another letter to chief ministers, in which he expressed regret over the situation: "I was very sorry to learn that in spite of my request to provinces, relatively few women have been chosen for Parliament", he said, and observed, "I think this keeping out of women is basically wrong and is certainly opposed to our general Congress policy."
Nehru was emphasising that his party should take the lead in ensuring greater representation of women. His prescient words assume far greater significance in the context of the measures being taken in in the ongoing special session to ensure, in the words of Mahatma Gandhi, "belated justice due to women".
Nehru's Anguish and Hope After 1952 Election
In 1952, after the first General Election, Nehru wrote another letter to chief ministers. The letter dated 18 May 1952 said he had "...noticed with great regret how few women have been elected." Presuming that even State Assemblies and Councils could have been without adequate women, he observed, "...we are very much to be blamed" for the situation.
"It is not a matter," Nehru wrote, "Of showing favour to anyone or even of injustice, but rather of doing something which is not conducive to the future growth of our country."
He remarked, "I am quite sure that our real and basic growth will only come when women have a full chance to play their part in public life."
Wherever women have had this chance, he wrote, they have done well—"better if I may say so, than the average man".
Interrogating patriarchy, Nehru noted, "Our laws are man-made, our society dominated by man, and so most of us naturally take a very lopsided view of this matter." He said, "We cannot be objective because we have grown up in certain grooves of thought and action." He said, "But the future of India will probably depend ultimately more upon the women than the men."
Very profound words indeed.
Women's Reservation Bill: Conditions Attached
The women's reservation Bill was passed in the Lok Sabha with near unanimity on Thursday. Likely, the Rajya Sabha would also pass it and, later, it would be enacted as the law.
However, it is well documented that 27 years ago, in 1996, a Bill to reserve 33% seats for women in the Lok Sabha and State Assemblies was taken up in the Lok Sabha. Later, several other political regimes also considered the matter. All those Bills could not be passed and eventually lapsed following the dissolution of the Lok Sabha. But in 2010, a Bill was passed in the Rajya Sabha during the United Progressive Alliance government headed by prime minister Manmohan Singh.
But it also lapsed as the Lok Sabha to which it was sent for consideration and passage dissolved in 2013.
The Modi government hailed the passage of the Constitution (One Hundred and Twenty-Eighth Amendment) Bill, 2023, on 20 September 2023, as historic. But, even once enacted, it would be implemented only in 2029, provided the all-India Census and the delimitation of constituencies is completed by then. It means women will not avail of its benefits when the general election is held in 2024.
The Congress and INDIA alliance opposition parties, while supporting the reservation of seats for women in the Lok Sabha, flagged the issue of reserving seats within the 33% quota for women belonging to Other Backward Classes (OBC) and for the conduct of a caste census to ensure social justice.
Many also asked for the government to implement the reservation for women in the 2024 General Election. Sadly, these conditions—the conduct of the Census and delimitation of constituencies—attached to the Bill before its implementation, make the objectives and claims about the Bill distant goals.
In 1946, Gandhi had said that electing more women to legislatures "would be not a matter of favour but a simple act of belated justice due to women". But those two conditions in the Bill itself would generate an impression among women that the "simple act of belated justice due to women" is getting complicated by a regime half-hearted in its approach to dispensing justice to women.
Political Parties Field Women Candidates
In several states, some political parties have fielded women on 33% of seats during elections. The Biju Janata Dal (BJD), under its president Chief Minister Naveen Patnaik, made the historic announcement of fielding women candidates in 33% of Odisha's 21 Lok Sabha seats. West Bengal Chief Minister and chairperson of the All India Trinamool Congress, Mamata Banerjee, also fielded women candidates of her party in just over 30% of the seats of the Lok Sabha constituencies in the state. It was repeated in the 2021 Assembly election.
In the 2022 Assembly election in Uttar Pradesh, the Congress party fielded women candidates in 40% of seats and raised the campaign slogan, "Ladki Hoon, Lad Sakti Hoon—I am a girl and can fight." These parties gave women representation without any legal mandate forcing them to—but the BJP has not done so in any state where it has formed the government.
Gandhi and Nehru's Vision Endures
Against this backdrop, one discerns the enduring significance of the vision of Gandhi and Nehru for greater representation of women in legislatures. That vision now resonates in the context of political parties striving to reserve for them 33% of seats in legislatures, which, according to the United Nations, constitutes the critical mass to bring about positive social and political transformation. We pay tributes to Gandhi and Nehru for nurturing such a constructive vision.
The author was Officer on Special Duty to President of India KR Narayanan. The views are personal.
Get the latest reports & analysis with people's perspective on Protests, movements & deep analytical videos, discussions of the current affairs in your Telegram app. Subscribe to NewsClick's Telegram channel & get Real-Time updates on stories, as they get published on our website.
Subscribe Newsclick On Telegram