Live Media Coverage of UP 'Encounter' Killings Throws up Many Questions
A close look at the pattern of 8 FIRs filed against the two dead men shows that all of these were filed within the last one or one-and-a-half months.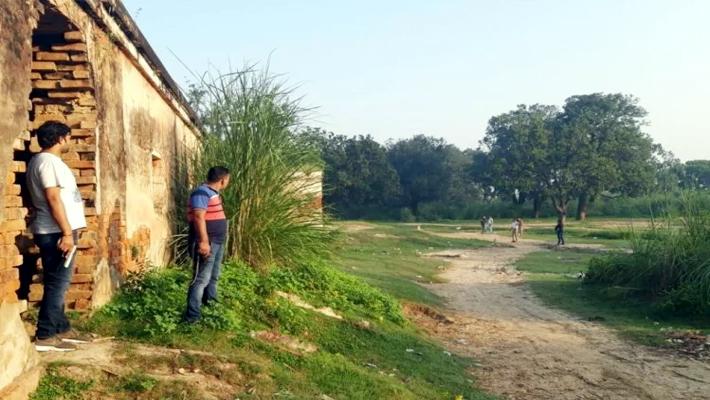 The gunning down of two youth in Aligarh on September 20 has taken the number of deceased to more than 67 who were killed in well over 1,100 'encounters' carried out by the Uttar Pradesh police ever since Chief Minister Adityanath took over in March last year.
The early morning killings of Mustakeem (22) and Naushad (17) in an abandoned government building near Machhwa canal, not far from Harduaganj in Aligarh district, have courted controversy after it came to light that journalists were "invited" by the cops to film the shootout.
Video footage from the encounter site in Aligarh shows policemen armed with guns taking aim and firing. Several members of the 'encounter' party can be seen aiming but  not wearing bullet proof jacket.
Police Theory
The police claim the two men – who were wanted in six murder cases and had a reward of Rs 25,000 on their arrests – stole a motorbike and two mobile phones on September 19, and the cops were looking for them. Around 6 am on September 20, they were intercepted while heading towards Harduaganj. When they were signaled to stop at a check post, the police said, the duo opened fire and rode off to an abandoned building. They were allegedly chased, which triggered a crossfire. The two – the police claimed – fired 30 rounds. The alleged gun-battle lasted one-and-half hours. They suffered bullet injuries and were taken to the district hospital where they died. 
The police claimed that one of their officers also received bullets injuries in his leg.
"The two who were killed in the encounter were heinous criminals who were wanted in many cases. They had murder cases against them and were involved in many other crimes," Aligarh Senior Superintendent of Police Ajay Sahni – who was part of the 'encounter' party – told Newsclick. 
When asked about the criminal records of the deceased, the SSP said he does not have any document in hand and that those could be collected from the district police public relations officer (PRO), who is yet to provide the documents sought. 
Families of the deceased cry foul 
The family members of the two men, however, alleged that they were picked up by police from their house in Bhainspada on September 16 for questioning.
"Policemen had taken my son with them on Sunday (September 16) when I had gone out to earn a living. We came to know about it when I returned in the evening. My son was working in a garment shop. Neither had he any criminal past, nor has he ever been to jail. We are poor people. I am a widow. I was dependent on him," said Naushad's inconsolable mother.
Mustakeem's grandmother Rafikan said, "They (cops) picked up Mustakeem, his brother Salman and my son Naseem, who is mentally ill. The police now say Mustakeem had fled. How can he flee when he was in custody. He was killed in cold blood and we want justice."
Elements that raise doubts
Video clips of the incident have several elements which lead one to question the genuineness of the alleged 'encounter'. While a few policemen can be seen walking randomly without any visible seriousness on their face, one footage shows a man in uniform casually holding a firearm and aiming, while the camera person is heard giving instructions, "Don't see here and there as I am filming the action. Take aim as if you are going to fire the bullet."
Another video clip shows a police officer standing in an open field along with few plain- clothed and uniformed men and opening fire in a particular direction, without any cover of tree or anything, which is generally used in encounters. Second, the camera is focused on policemen only and is moving towards the other side from where the alleged cross-firing was being done.
While the police officer can be seen busy in showering bullets, five other cops accompanying him can be seen relaxed and talking among themselves, as if it a firing practice was going on, not a gunbattle.
Reports suggest that mediapersons were called by the district police spokesperson at around 6:45 am and asked to reach Machua village under Harduaganj police station to "watch and film a real encounter". At least two journalists Newsclick spoke to confirmed this information adding that they went to the shootout site after they got the information.
Perhaps, this is the  first encounter in the country where journalists were invited to cover it live. They were allegedly asked to record the shooting from "around 100 metres" and none of them were provided bullet-proof vests or helmets.
The Times of India has quoted SSP Sahni justifying the filming, saying that "there is nothing wrong in it". "We wanted to provide first-hand information to the media. We were just adopting a transparent approach. Nothing was hidden. If anyone wanted to click pictures or record a video, they were free to do that," the daily quoted him as saying. 
He reportedly emphasised that the police had orders from the top to share details of each and every encounter with the media.
But later, he told the media that there was no formal invitation to journalists. But any one of them – he said – might have informed the media about the operation.
The question, therefore, is: if the shootout was spontaneous and not stage-managed, how did the police get time to inform journalists to cover it?
The post-mortem conducted on the bodies of both the deceased suggests that they received two bullets each that penetrated them. X-rays also confirm this. Experts say this can happen only if they were fired at close range and did not try to hide themselves. But the video footage available suggests that the bullets were fired from a distance.
The deceased receiving bullets in the chest and a police officer in the leg also begs clarification.
An Unexplained Saga of FIRs
Police sources said the two dead men had eight cases against them and five FIRs are registered Harduaganj police station alone. The rest three are registered at the district's Pali, Atrauli and Kwasi police stations.
It is not confirmed that the duo were named accused in all eight FIRs, as a source in the district police told Newsclick that the two boys were operating in entire western Uttar Pradesh with different names.
A close look at the pattern of the cases suggests that all of these have been filed within a period of last one or one-and-a-half months. 
Official data of the state police suggest that 66 people have so far been killed in more than 1,100 encounters that took place since the Adityanath government assumed power last year. These encounter killings are said to be part of a well-chalked out strategy of the state government to reduce crime, which has apparently refused to go down.
Get the latest reports & analysis with people's perspective on Protests, movements & deep analytical videos, discussions of the current affairs in your Telegram app. Subscribe to NewsClick's Telegram channel & get Real-Time updates on stories, as they get published on our website.
Subscribe Newsclick On Telegram