Lives of Peasants in India #3
Nagaraj Thigala: An Arecanut and Coconut Farmer from Tumkur.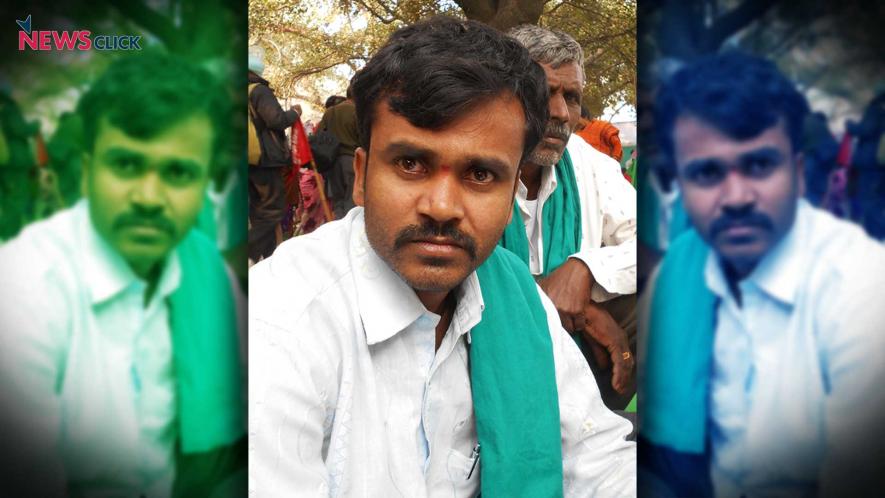 Newsclick Image by Nitesh Kumar
The year 2017 saw an outpouring of farmers' protests sweeping the country. To understand why they happened, NewsClick presents a series of profiles of farmers from different parts of India, based on interviews done by students from Delhi, guided by the Society for Social & Economic Research (SSER). See Introduction to series.
Nagaraj (31 years) is a coconut and arecanut farmer from Karnataka. While in Delhi to participate in the Kisan Sansad, Nagaraj told us about the losses he incurred because of demonetisation in an otherwise profitable small plantation of arecanut and coconut.
Nagaraj lives with his parents, wife and three children in Bugudanahalli village in Tumkur district in Karnataka. His father Uchaiah (56) and mother Lakshmamma (45) are also actively involved in cultivation and so is his wife Gayatri (29). His elder daughter Srilaxmi is only 4 and goes to nursery school in the village and while younger son Pawan is not yet ready for school. The family belongs to Thigala OBC caste; cultivation of flowers and vegetables is the traditional occupation of Thigala caste.
Bugudanahalli is a medium sized village. At the time of the 2011 Census, it had about 533 households and a total population of 2340. The village is about 10 kilometers from Tumkur town, the district headquarters. In addition to cultivating his land, Nagaraj also works as a casual worker in the flower market in Tumkur.
The economy of Tumkur district is mainly dependent on agriculture. It is part of the coconut belt, and accounts for one third of coconut production of Karnataka. In 2014-15, coconut plantations accounted for about 28 per cent of net sown area of Tumkur. Arecanut plantations accounted for another 6 per cent. Main foodgrain crops of Tunkur are paddy, ragi and maize.
Nagaraj's family owns two plots of land both of which are irrigated using tubewells. The first parcel, inherited by Uchaiah, is of one acre and is in the Bugudanahalli village itself. Arecanut and coconut have been planted on this plot. The family has purchased another plot of 2.5 acres in Koratakere village, which is about 20 kilometers away. Ragi is cultivated on this land.
Production of arecanut and coconut, and wage labour in Tumkur flower market, are the main sources of income for Nagaraj's household. Arecanut is harvested every 3 months. Harvested tender nuts are dehusked, sliced, boiled, coloured using additives, and then sun dried at home. Arecanut husk and dry leaves from their land are used as fuel for boiling of the nuts. Depending on the weather, the curing process lasts about 7-10 days. Coconut harvest is sold as copra. Harvested coconuts are dried at home, peeled and shelled to obtain copra. Processed arecanut is sold immediately in the APMC market in Tumkur, while dried coconut is stored and sold in the form of copra in APMC market in Tiptur (about 70 kms away). Surplus ragi, after home consumption, is sold in the local market. Coconut husk is used a fuel and occasionally sold for coir manufacture. Coconut shells are regularly sold to a small enterprise near Tumkur that makes charcoal from it.
Nagaraj earns between Rs 300 and Rs 500 a day when he gets work in the flower market in Tumkur. Besides the agricultural income, earning from wage labour in the flower market is an important source of stable income for the household.
In 2016, the family took a loan of Rs 2 lakh from the Kaveri Grameen Bank for agricultural expenses and for repaying some old informal loans. Although the family has repaid all the interest on this bank loan, the principal remains unpaid. In June 2017, Government of Karnataka announced a loan waiver scheme under which a Rs 50,000 loan that he had taken from the Vyavasaya Seva Sahakari Bank was waived. The loan from the Kaveri Grameen Bank was not covered in the loan waiver.
Demonetisation caused havoc for their farming as they were unable to pay casual farm workers. In the beginning, workers were ready for delayed wages. However, after a few days, work on the fields had to stop as there was no money to pay the workers. Sale of arecanut and coconut copra was disrupted for over 3 months. While copra could be stored for sale later, they incurred losses since some of the arecanut was spoilt. Average prices for arecanut, ragi and ragi-hay have also been lower this year in comparison with last year. Apart from losses in farming, Nagaraj was also unable to get employment at the flower market for almost one month because of demonetisation.
Jesim Pais is with the Society for Social and Economic Research
Part 1 of the series can be read here.
Part 2 of the series can be read here.
Disclaimer: The views expressed here are the author's personal views, and do not necessarily represent the views of Newsclick.
Get the latest reports & analysis with people's perspective on Protests, movements & deep analytical videos, discussions of the current affairs in your Telegram app. Subscribe to NewsClick's Telegram channel & get Real-Time updates on stories, as they get published on our website.
Subscribe Newsclick On Telegram