Lockdown Woes: Betel Leaf Farmers in 2 West Bengal Districts at Their Wit's End
The preponderance of middlemen in the betel leaf trade is the biggest roadblock for farmers from deriving "their due profit" from this cash crop.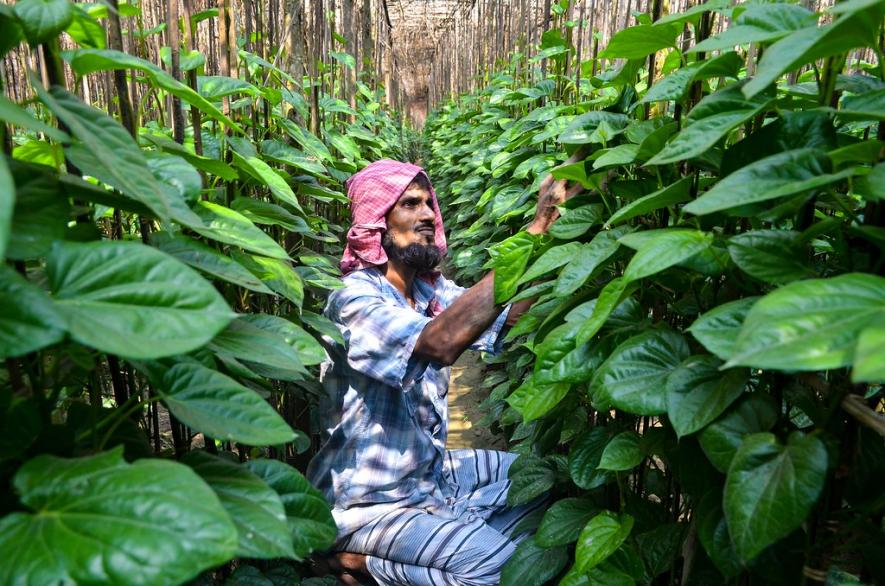 Kolkata: Betel leaf farmers in Purba Medinipur and South 24 Parganas – the two West Bengal districts famous for the evergreen creeper – are virtually at their wit's end. The two districts, aided by their climatic characteristics, happen to be a very important source for the famous and pricey 'mitha (sweet) patta' variety.
The going for the betel leaf farmers had already become tough in the lockdown phase when, with the normal marketing channels becoming practically inactive, the farmers had to witness the stacked leaves losing flavour and rotting. There was some elbow room with the unplucked leaves, but with marketing outlets not available, the middlemen, who are a key factor in the betel leaf trade, had their chance of hammering down the prices. 
The West Bengal government did exempt the trade from the purview of the lockdown from April 7, but that meant little as markets and transport services were not functioning.
As they were trying to figure out ways of minimising their loss, super cyclone Amphan dealt the final blow on May 20-21. Almost 100% of the betel leaf farms were ravaged in Amphan's fury. Out of 25 blocks in Purba Medinipur, 10 blocks have intensive 'paan' farming. These blocks are Nandakumar, Tamluk, Sahid Matangini, Moyna, Mahishadal, Ramnagar I and II, Egra and Nandigram.  Farming is undertaken in about 5,000 hectares.
The worst-affected blocks are Nandakumar, Ramnagar I, and Ramnagar II. Nearly two lakh dwellings were destroyed and over 15 lakh dwellings suffered partial damage. 
In South 24 Parganas, intensive betel leaf farming takes place in nine blocks out of the total of 29 blocks. The Southern part of the district is better known for the 'mitha' variety while in the Northern part, the 'Bangla' variety, which jells well with the state's name, is major produce. In this district, the important 'paan' growing blocks are Sagar, Kakdwip, Namkhana, Patharpratima, Kulpi, Magrahat I, Budge, Budge II and Bishnupur I. The economy of Sagar is dependent almost entirely on betel leaf farming.
Over one lakh families are estimated to be involved in betel leaf cultivation in Purba Medinipur. In South 24 Parganas, nearly 40,000 families are involved. This is how the situation was summed up while speaking to NewsClick by secretary of Paschim Banga Rajya Panchasi Samity (PBRPS), Sufal Pal, a betel vine owner in Mugberia in Purba Medinipur's Contai subdivision.
Aswini Jana and Jadabendra Sahoo are also owners of 'paaner boroj'. [Boroj are well guarded/covered conservatories where 'paan' is grown.] PBRPS is affiliated to Paschim Banga Pradeshik Krishak Sabha, a frontal organisation of the Communist Party of India (Marxist). The other points which emerge from the discussions with Pal, Jana and Sahoo are as follows.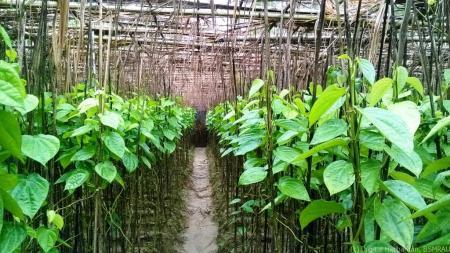 Depending on the size of the farm, reconstruction of a farm will require a minimum of Rs.60,000 and a maximum of Rs one lakh plus. "There may be some government schemes on paper for assistance, but to get it is not so easy. Betel farming is treated as a horticultural activity, and not an agricultural activity, which explains the rather low priority for assistance even from banks. This, therefore, means that the affected parties will themselves have to arrange the funding. The reconstruction exercise, if started by this month's end, will be over by September end—if expedited keeping in view the onset of the festive season when 'paan' demand picks up substantially in our country," they explained.
Nonetheless, the outfits of growers have made representations to the district magistrates through the block development officers and they have been told their submissions will be forwarded to the authorities with appropriate recommendations.
The preponderance of middlemen in the betel leaf trade is the biggest roadblock for farmers from deriving "their due profit" from this cash crop. Boroj owner Sahoo, goes to the extent of saying "we are being exploited by the middlemen". 
Their demand for a minimum support price for their produce remains unrealised. The trio feels, in Gangetic West Bengal, it will be more appropriate to treat it as part of agriculture. The production is overwhelmingly taken care of by family members of the owner. At the same time, it provides job and livelihood opportunities to several thousand people virtually throughout the year in processing, handling, transportation and marketing.
This farming is also in vogue, to varying extent, in the Paschim Medinipur, Hooghly, Nadia, Bankura, Jalpaiguri, Cooch Behar, Murshidabad and Uttar Dinajpur districts of the state. According to PBRPS secretary Pal, the livelihood of over four lakh people is directly or indirectly dependent on this activity in West Bengal. The popular varieties are Mitha, Bangla, Sanchi, Kali Bangla, and Simurali Bangla.
General secretary of United Trades Union Congress (UTUC) and senior leader of Revolutionary Socialist Party Ashok Ghosh lamented that 'paan' growing does not receive the support of the authorities it deserves despite the fact that the evergreen creeper, apart from being the livelihood source of several lakh people, has tremendous social and religious significance in our country. Moreover, the Railways earn freight on its transport and the country earns foreign exchange from its export, Ghosh told NewsClick.
Export sales are handled by the Agricultural Processed Food Products Export Development Authority. The important markets are Sri Lanka, Pakistan, Bangladesh, Bahrein, Saudi Arabia, etc. In 2018-19, exports stood at 13,195.43 tonnes valued at Rs 46.75 crore. According to Aswini Jana, who is also associated with Samyukta Panchasi Samity under UTUC, the district's varieties that find a way to overseas markets are Mitha, Kali Bangla and Halud Pata.
For the record, use of 'paan' is a must in Hindu marriages. At lunches and dinners hosted to mark any occasion in the state, paan happens to be a must to treat the invitees after they have taken the food. 
Also read: Why Lockdown Nikah is Viral in West Uttar Pradesh
Get the latest reports & analysis with people's perspective on Protests, movements & deep analytical videos, discussions of the current affairs in your Telegram app. Subscribe to NewsClick's Telegram channel & get Real-Time updates on stories, as they get published on our website.
Subscribe Newsclick On Telegram