Long Wait for Wages, Gratuity for Telangana Anganwadi Workers
Despite being the backbone of efforts to reduce infant and maternal mortalities and impart pre-school education, Anganwadi teachers and helpers are not considered government employees.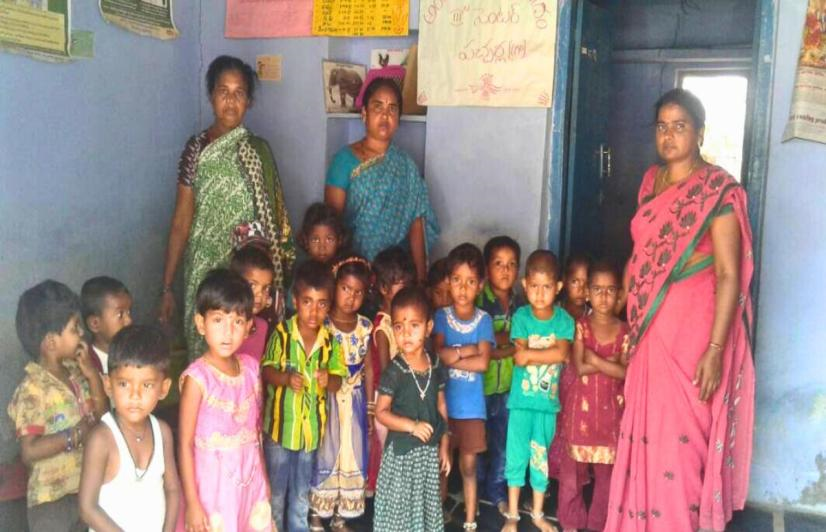 Anganwadi helper Mohammad Mahboobi (left) with worker Sridevi and a child's mother in Pacharla village, in the Jogulamba Gadwal district of Telangana.
Hyderabad: Akula Buvvamma, alias Mohammad Mahboobi, (53), has a busy morning schedule. Waking up at 6 am, one of the first things she does is to fetch water from a public tap installed under Mission Bhagiratha near the Anganwadi centre in Pacharla BC Colony, in the Jogulamba Gadwal district of Telangana.
She walks half-a-kilometre from her house, in Pacharla village, and collects three pots of clean drinking water which she uses for cooking and cleaning at the Anganwadi centre.
Once done with the chore, she hurriedly returns to clean the house, take a bath and make tea. She also cooks and packs her lunch of rice and curry before setting out for the Anganwadi centre again, mostly by 8.30 am.
By 9 am, the Anganwadi helper assembles slum dwellers' children aged between seven months and six years and makes them sit for preschool activities. Earlier, no one was interested in tending to the children from lower castes due to the rigid caste system. As Mahboobi showed willingness, she managed to get the job.
Mahboobi immerses herself in work till 4 pm—boiling milk and eggs for 25 children, cooking nutritious food for them as well as the pregnant/lactating mothers visiting the centre, doing dishes, cleaning the premises and putting the tiny tots to sleep after their lunch at 12 pm.
Every child gets 120 ml of milk and an egg daily. However, the hard work she puts in does not match her monthly honorarium of Rs 7,800.
"I joined the Anganwadi centre in 2007, two years after my husband died. I was paid nothing in the first two years. Finally, some relief from the financial stress came when I started receiving a monthly honorarium of Rs 4,500 in 2009," says Mahboobi, who sold betel leaves to raise her two sons and three daughters.
With her children moving out after marriage, she now lives alone. Her biggest fear is that she will not receive gratuity on retirement. "My salary will not be enough to deal with the future, including diseases," she frets.
Nothing comes without a fight
At every protest, Anganwadi teachers and helpers raise their voices seeking gratuity. They seek recognition as full-time government employees, who get wages under the Payment of Wages Act, 1936, not honorarium.
An Anganwadi teacher is paid Rs 12,000 per month, which translates to Rs 460 a day. Similarly, a helper's daily wage is Rs 300. The Central and state governments contribute in the ratio of 60:40 to pay them. Sadly, the honorariums are no match for the minimum wage of Rs 800 a daily wager receives in Telangana.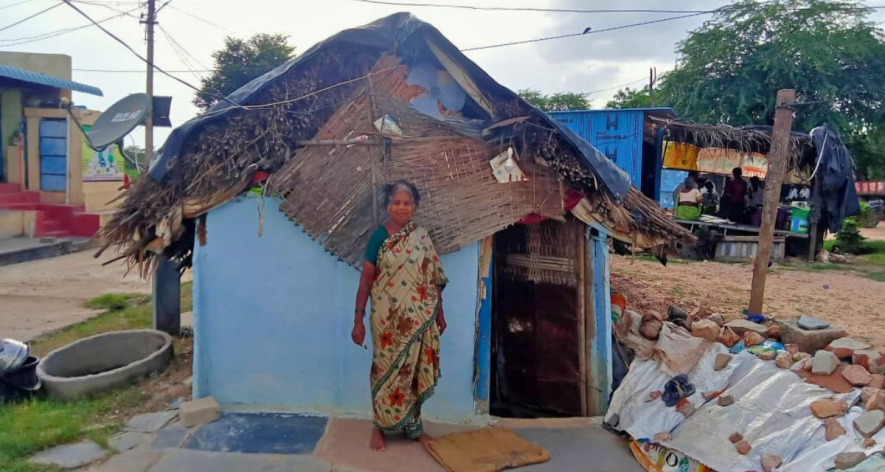 An Anganwadi helper in front of her hut in the Jogulamba Gadwal district of Telangana. A helper's daily wage is only Rs 300.
The Telangana Anganwadi Teachers and Helpers Union (affiliated to CITU) has been demanding Anganwadi teachers be paid Rs 26,000 and helpers Rs 20,000. The union will launch an indefinite strike on September 11 to make the state government fulfil its demands, which include retirement benefits of Rs 10 lakh to teachers and Rs 5 lakh to helpers.
A landmark Supreme Court (SC) judgement on April 25 last year raised their hopes. The SC observed that Anganwadi workers and helpers were entitled to gratuity under the Payment of Gratuity Act, 1972 and directed the disbursal of gratuity to all eligible employees within three months with 10% simple interest.
The apex court also noted that Anganwadis worked are an arm of government and take responsibility for the proper implementation of the Right to Education Act and the National Food Security Act.
In a bid to firefight and find a loophole, the Telangana government recently announced financial assistance of Rs 1 lakh to retiring Anganwadi teachers and Rs 50,000 to mini Anganwadi teachers and helpers. It also raised the retirement age of Anganwadi teachers and helpers from 57 to 65 years.
Notably, the term 'gratuity' was not used for the financial assistance, which will be a much bigger sum than the amount announced. For example, if a helper's last drawn salary is Rs 7,800 and she has completed 30 years of service, the gratuity contribution would be Rs 1,35,000. For an Anganwadi teacher with similar experience, the gratuity contribution comes to Rs 2,07,692.
There are 34,148 Anganwadi centres across Telangana with each supposed to have a teacher and helper. However, only 33,843 teachers and 27,990 helpers are on duty with the remaining posts vacant.
No job security, health cards
Being the torchbearers of government education and health schemes under the Integrated Child Development Services (ICDS), the compensation for their critical work does not match the importance of their roles. Health cards, pension and job security are still unattainable for the predominantly female Anganwadi workforce. They have also been seeking more budget allocation for the ICDS.
 
The lack of money or health cards needed for treatment leads to deaths at times. Padma Kolas (46), an Anganwadi helper from Maddulapalli village, in Khammam Rural mandal, died of dengue, leaving two children below eight. Similarly, cases where funerals got delayed due to want of money have also been reported. 
Boya Manikyamma (55) is an Anganwadi helper at the Comprehensive Women Child Welfare Development Anganwadi Centre in Jyotinagar 2 of Khairatabad mandal, Hyderabad district.
"This is my 26th year of service. I have leg and back ache. Officials say we can take voluntary retirement if we want. But how can I leave with empty hands? How shall I live after retirement?" says Manikyamma, who stays with one of her three children.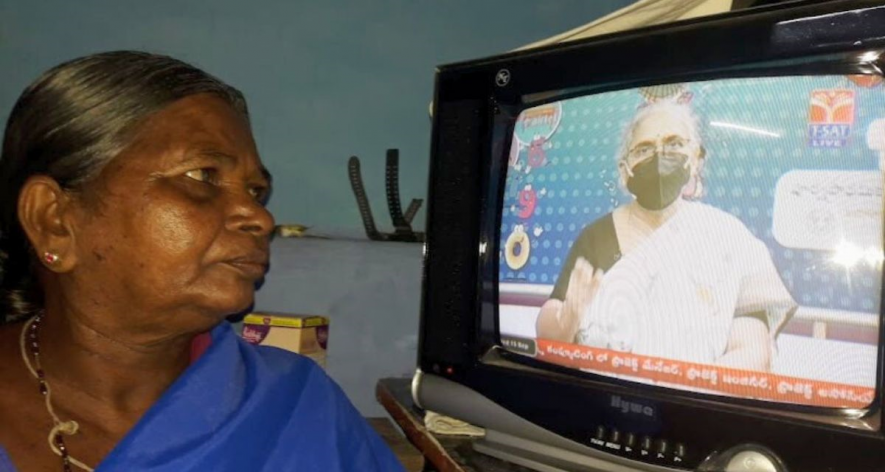 Boya Manikyamma, an Anganwadi helper at the Comprehensive Women Child Welfare Development Anganwadi Centre in Jyotinagar 2, Khairatabad mandal, Hyderabad district, listens to an ICDS class.
The nutritional status of women and children in the state has improved through the concerted efforts of Anganwadi workers though it has not achieved the target to reduce anaemia. The percentages of underweight children under three years and anaemic pregnant women are still high. As a result, reduction of Infant Mortality Rate (IMR) and Maternal Mortality Rate (MMR) continues to be a challenge.
A Press Information Bureau release dated February 8, 2022, shows how IMR in Telangana decreased from 34 in 2015 to 23 in 2019 per 1,000 live births. In fact, Telangana health minister Thanneeru Harish Rao claimed on Twitter last November that the state ranked third in the country in reducing IMR and MMR.
Despite the good work, Anganwadi workers are yet to receive their dues. When they will get it depends mainly on the state and Central government's willingness to recognise their role as frontline workers in educating the marginalised, ensuring their nutrition and thereby securing their health in the future. Until then, people like Mahboobi and Manikyamma will continue to struggle.
The writer is a Telangana-based freelance journalist and a member of 101Reporters, a pan-India network of grassroots reporters.
Get the latest reports & analysis with people's perspective on Protests, movements & deep analytical videos, discussions of the current affairs in your Telegram app. Subscribe to NewsClick's Telegram channel & get Real-Time updates on stories, as they get published on our website.
Subscribe Newsclick On Telegram