Looking Back at the Legacy of Jurist P.P. Rao on His Fourth Death Anniversary
Pavani Parameswara Rao started his legal practice relatively late but blazed a glorious path and left an indelible imprint on the constitutional law jurisprudence in India.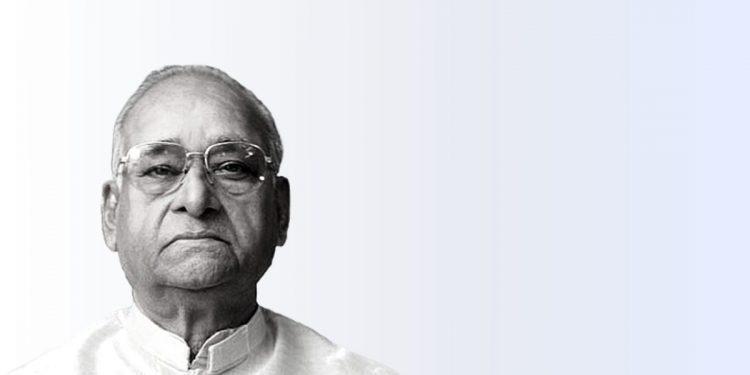 Pavani Parameswara Rao started his legal practice relatively late but blazed a glorious path and left an indelible imprint on the constitutional law jurisprudence in India, writes his daughter-in-law MAHALAKSHMI PAVANI.
"To live in hearts we leave behind is not to die."

–      Thomas Campbell
Today marks four years since the world, and I, lost my dearest father-in-law, Pavani Parameswara Rao. His departure from this world, after a brief battle with a heart illness, was not tinged with prolonged suffering, just as he had wished for.
In the preceding five decades or so, P.P. Rao had left his mark on Indian jurisprudence as a force to reckon with in the arena of Constitutional law.
He was a man of solid principles, and believed in toiling in hard work.
His personal life was no bed of roses. From an early age, he had to face a lot of hardships, like travelling miles on foot to attend school. At a young age, he was inspired by his uncle to ditch a lucrative zamindari holding and study law for the sole reason that he felt that the legal profession would give him recognition and social standing.
Early career
After completing his studies, he began his career teaching at the Faculty of Law, Delhi University in 1961, and taught there for six years.
He was a great teacher, with prolific knowledge. Several years later, studying under his tutelage and learning from his is why I could pass my own Advocate-on-Record exam with flying colours.
During his time as a lecturer in law, he assisted the Parliamentarian, jurist and senior advocate in the Supreme Court N.C. Chatterjee in research work. They even authored a book together titled Emergency and Law, which was published in 1966.
It was Chatterjee who persuaded him into pursuing a legal practice, and he finally took the plunge in 1967. Despite being such a late entrant into the profession, his contribution to the law.
He enrolled himself as an Advocate with the Delhi Bar Council on July 29, 1967. In 1969, he secured the first rank in the Advocate-on-Record examination conducted by the Supreme Court.  In 1970, at the young age of 37, he was invited to the Bench of the Delhi High Court. He respectfully declined, since many of his family members in Andhra Pradesh were dependent on his income from his legal practice.
His initial years at the bar beckoned several opportunities of being involved in a number of constitutional matters, including landmark cases such as the Kesavananda Bharati case (1973), the Raj Narain case (1975), the N.M. Thomas case (1976), the ADM Jabalpur case (1976), to name a few. At that time, he observed and learnt the most from assisting legal doyens like M.C. Setalvad, C.K. Daphtary, M.C. Chagla and H.M. Seervai, among others.
Also read: Why ADM Jabalpur vs. Shivkant Shukla is criticized for wrong reasons: A case for constitutionalism
Involvement in landmark constitutional judgments
He was designated a senior advocate by the Supreme Court in 1976, within 9 years of active practice after enrolment! This was, and continues to remain, exceptional.
His first appearance before a Constitutional bench of the Supreme Court as a newly appointed Senior Advocate came in the case of M.S. Gill vs. Chief Election Commissioner (1977), where his arguments earned him the praise of Justice V.R. Krishna Iyer.
Thereafter, there was no turning back for him professionally, as success remained on his doorstep.
In both 1985 and 1989, he was invited to the Bench of the Supreme Court. which he declined.
In the case of A.R. Antulay vs. R.S. Nayak (1988), he convinced a bench of seven judges of the Supreme Court that the judgment given by the apex court's five-judge bench was based on an incorrect application of law.
He crusaded in Indira Sawhney's case (1992), the M. Nagaraj case (2006) and the Ashoka Kumar Thakur case (2008) the argument that caste should not be the only determinant for determining backwardness of classes, and that economic penury should be the yardstick adopted instead.
Also read: Should there be reservation in job promotions? Supreme Court hears arguments to reconsider M Nagaraj verdict | Read Senior Advocate Indira Jaising's Written Submissions
He thought of education in schools and colleges as a service and not money-making venture, and successfully argued against the imposition of capitation fee by educational institutions in the J.P. Unni Krishnan case (1993). He also advocated for the protection of students by the government from exploitation by private educational institutions in the T.M.A. Pai (2002), Islamic Academy of Education (2003) and P.A. Inamdar (2005) cases.
He formulated the doctrine of common thread of secularism in the S.R. Bommai case (1994), which led a bench of nine judges of the Supreme Court to uphold the dismissal of four state governments by the union government in the aftermath of the Babri Masjid demolition. Till date, this is the only judgment after Kesavananda Bharati that expressly holds secularism to be an inviolable part of the basic structure of the Constitution.
Also read: Secularism and democracy requires the power of truth, not any religion, to survive
He successfully defended former Prime Minister P.V. Narasimha Rao in the JMM bribery case (1998), and by a slim margin of 3:2 got a ruling in his favour holding that Parliamentary privilege was absolute even in the face of grave charges of corruption and bribery levelled against Parliamentarians.
He successfully argued for the Governor's power to appoint a Chief Minister who is not a member of the legislature, but enjoys majority support while their appeal against a conviction is pending in B.R. Kapoor vs. State of Tamil Nadu (2001). He rallied in People's Union for Civil Liberties vs. Union of India (2003) that candidates with criminal backgrounds should not be permitted to contest elections.
In 2003, representing the National Human Rights Commission, he successfully convinced the Supreme Court to intervene in the Best Bakery case, in which a fast track court had controversially acquitted all the accused.
Other professional accolades and contributions
He assisted the Supreme Court as amicus curie is a posse of cases, notably when then Chief Justice of India P. Sathasivam appointed him to suggest a mechanism to the apex court for inquiry into allegations of sexual harassment by women in the judiciary against judicial officers and judges – both sitting and retired.
During the peak of Anna Hazare's India Against Corruption movement, he was appointed as a member by the union government into a high-powered committee for the selection of a Lokpal, a position he did not aspire for after his name had sparked controversy for purely political reasons. He was also named in a committee constituted by the Supreme Court for inquiry into corruption allegations against then High Court judge P.D. Dinakaran; he again withdrew his name from the committee after allegations flew against his integrity.
He was awarded the National Law Day Award for lifelong contribution in the field of Constitutional law by the Indian Council of Jurists in 2005, and the Padma Bhushan by the then President of India Dr A.P.J. Abdul Kalam in 2006.
Due to his abiding love for teaching and academics, he would end up delivering lectures in law universities, colleges and bar associations all over India.
Overall, his contribution to the development of constitutional law has been exceptional; this in spite of him never holding the position of a public law officer or a Parliamentarian. Offers for these positions came his way multiple times, but he never accepted over the apprehension that his professional neutrality would be compromised.
In the field of litigation, a lawyer's success is not only measured by the cases they successfully argue and the public awards they receive, but also by the number of successful lawyers they mentor and train. By this standard, too, P.P. Rao enjoyed success, since his chambers produced very many juniors who have gone on to achieve enormous professional acclaims, with some even going on to become law ministers, and judges at the High Courts and the Supreme Court.
Though I was never a direct beneficiary of his clout, I feel that the absence of any professional leverage or pull from him gave me the gumption to forge my own professional credibility, and prepared me to face the varied challenges life threw at me.
The following lines from the English Cardinal J.H. Newman's 'Definition of a Gentleman' from his lecture The Idea of a University seem to perfectly portray my father-in-law:
"He is the one who never inflicts pain. He may be right or wrong in his opinion, but he is too clear- headed to be unjust, he is as simple as he is forcible, and as brief as he is decisive. Nowhere shall we find greater candour, consideration, indulgence: he throws himself into the minds of his opponents, he accounts for his mistakes. He knows the weakness of human reason as well as its strength, its province and its limits."
(Mahalakshmi Pavani is a Senior Advocate. The views expressed are personal.)
Get the latest reports & analysis with people's perspective on Protests, movements & deep analytical videos, discussions of the current affairs in your Telegram app. Subscribe to NewsClick's Telegram channel & get Real-Time updates on stories, as they get published on our website.
Subscribe Newsclick On Telegram