Love Remains Forbidden For Dalits in Gujarat
"Gujarat government has so far not done anything in accordance with the Supreme Court's guideline to aid and protect such couples."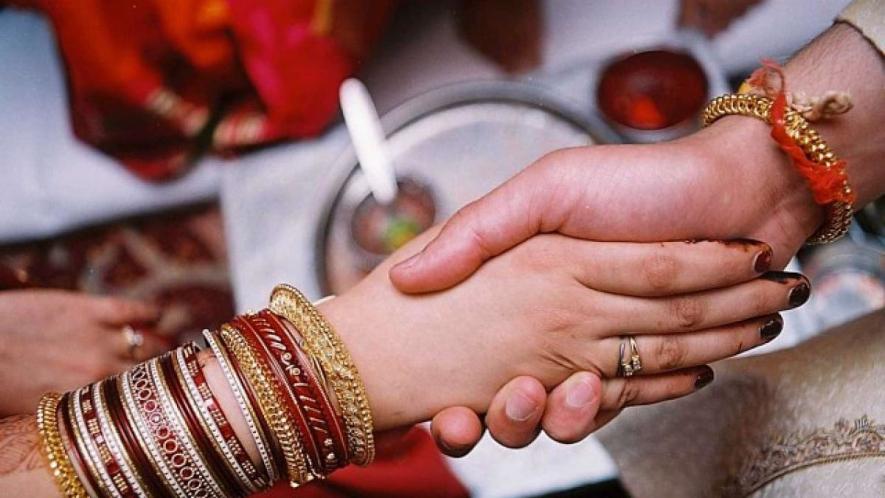 Image Coutesy: Sabrang India
Ahmedabad: A 16-year-old boy and a 13-year-old girl, who were in love, allegedly committed suicide in Kutch district of Gujarat on February 14, this year. Reportedly, they slit their wrists, consumed a pesticide, and then hung themselves to leave no room for the chance of survival. The couple, so young, had reportedly feared that they would not be accepted by their families, as the girl was a dalit.
In March 2018, 25-year-old Naina Dadukia, belonging to Koli caste, was pregnant when she was allegedly strangulated by her own parents. Naina, a resident of Amreli district, had married and eloped with Prakash Khetaria, who was a dalit.
Union Social Justice Department's decision to give incentive of Rs 2.5 lakh to couples where either the bride or the groom is a Dalit – with a hope to encourage inter caste marriages – has been of little help. As per a report by the Union Social Justice Ministry, in 2014-15, a year after the implementation of the scheme, only five couples were given incentives. In the year 2015-16, 72 couples were given incentives, and while 409 proposals were received in 2017, only 74 couples received the incentives.
In December 2017, the Modi-led BJP government had tweaked the scheme, and removed the income cap of Rs 5 lakh, making any couple where one is from the Schedule Caste community, eligible for the incentive.
However, in Gujarat, where caste violence is a common occurrence, the scheme doesn't provide much comfort to such couples fleeing threats.
Prakash (name changed) and Renu (name changed) of Ahmedabad district fear for their lives, and have not stepped out of their home for six months. They have been attacked by Renu's family more than once.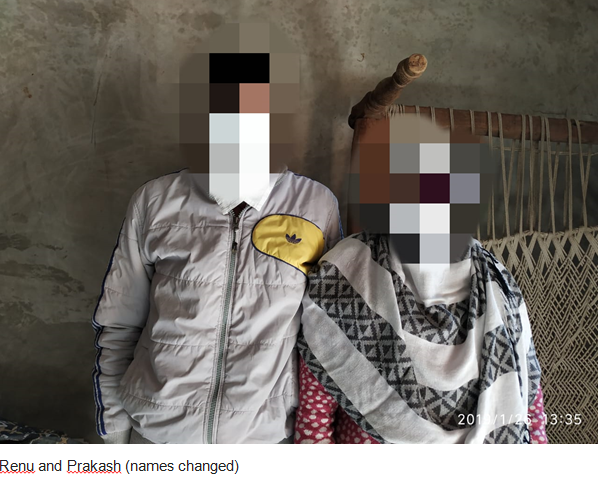 "On November 23 last year, my father and my brother along with about 60 men attacked us at my father-in-law's house. They vandalised, broke windows and our car. I managed to lock myself inside the house, and my husband managed to free himself and ran. He suffered injuries though," Renu told Newsclick.
"After the incident, we fled Gujarat for about 15 days. But my family began harassing my husband's family. So, we had to return and seek help from the police," she adds.
Renu and Prakash are both teachers in a government school where they met and fell in love. They married in 2013, and chose to keep it a secret from their families, and lived like bachelors in their respective homes.
"After living apart for five years, we decided to reveal our marriage in August last year to our families. My family initially had issues, as Renu belongs to upper caste, and my family was apprehensive, but they accepted after they met her. Renu's family, however, has been threatening us, attacked us multiple times, harassed my family when we were away from our hometown," shares Prakash.
"Their only problem is that I am a dalit. They think I am dirty and hence untouchable. The fact that I am educated and a teacher by profession makes no difference to them. They have told Renu that they would have relented if I would have been from any caste other than dalit," he adds.
The couple has been restricted to the Prakash's home for past six months now. Unable to work for so long has forced them into financial crisis.
"Prakash's work place, the school where he is posted is about 10 km  away from my father's house. He constantly keeps a watch on the school, asks the staff if Prakash has resumed work. Earlier, my father had threatened Prakash's landlord, forcing him to throw Prakash out," says Renu whose father is a taluka pramukh, and mother a former sarpanch.  Both are members of the Bharatiya Janata Party.
"Vehicles with no number plates could be seen following us whenever we stepped out of our house," she adds.
The couple has already taken a loan of Rs 2 lakh from a local loan shark.
"We received Rs 25,000 from Social Justice department so far. They told us that we are not eligible for Rs 2.5 lakh, as we were married in the year 2013," Prakash, whose father is a retired school teacher, shares.
"I have to resume work even if they (Renu's family) kill me," he adds.
Ravindra Bharatiya and Shilpa Bharatiya have similar story to tell. Fearing their safety, the couple has been forced to move more than 20 times in different cities of Gujarat since they got married in 2015.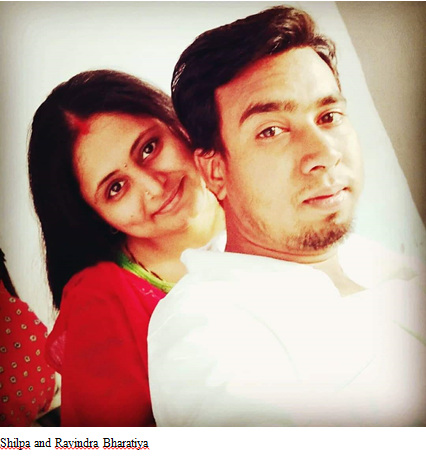 "Shilpa belongs to Darbar (Kshatriya) caste while I am a dalit. It is not just Shilpa's family who are against our marriage but also the people of the Darbar community of the state. People who don't even know me want to kill me to protect their honour," Ravindra told Newsclick.
Thirty-year-old Ravindra hails from a small village named Muli in Surendranagar district. His family was one of about 100 Dalit families amid about 2400 Darbar and OBC families in the village.
"I grew up amid various kinds of caste discrimination, even practice of untouchability," shares Ravindra, who managed to get educated, and had job of an engineer in a government-run project in Surendranagar before he married Shilpa.
"We met on Facebook. I used to have a fake account as my orthodox family wouldn't approve of a girl having social media account. I was unaware of such caste divide in the society. It is after I met Ravindra I knew about casteism and practice of untouchability," recalls Shilpa who hails from Bhavnagar.
"I needed money for further studies, and he sold his phone to help me. We had not met in person until then. After this incident, we became friends and eventually fell in love," she adds.
Ravindra and Shilpa fled to Ahmedabad, and got married, sparking anger amid Darbar community of both Surendranagar and Bhavnagar.
"My family paid the price for what we did. The whole village boycotted my family and other dalit families for a long time. In fact, those people are still baying for our blood," tells Ravindra.
"Financial crisis is the worst problem couples face when they have to elope or stay in hiding due to life threats. I myself had to quit my job, and could not work anywhere for one year after marriage. A year later, both of us joined 108 Abhyam emergency services, but our address got leaked from the information we had to provide for joining the organisation, forcing us to quit. After complaining to police, they provided us with security. But personnel deputed for our security called a mob of Darbar community upon us, as they belong to same caste," he adds as he prepares to change his home yet again.
This wouldn't be the first case where couple has been hounded by people of a caste. In November 2017, people belonging to Patidar caste had called for a bandh after a Patidar woman married and eloped with a Dalit man in Kathal, Kheda district. The Patidars staged a protest, and submitted a memorandum to the district magistrate, threatening to boycott the then impending Assembly polls if the woman was not 'rescued and returned to the family'.
According to Kheda police, "The Patidar woman and the Dalit youth were consenting adults who married against the knowledge of their families fearing a backlash. The woman is a doctor while the Dalit man is an office bearer of local BJP unit. The Patidar community had pressurised both district administration and police to invalidate the registered marriage of the couple."
Noticeably, as per a survey conducted by Navarsajan Trust, Gujarat-based organisation working for Dalits' rights and Robert F Kennedy Centre for Justice and Human Rights, in 1589 villages of 14 districts of Gujarat, in 98.4 per cent of villages, inter caste marriage was prohibited and inter caste couples would be subjected to violence, and would have to leave their village. In 97.2 per cent of villages, Dalit priest would never be asked to perform rituals in a non-Dalit area or for a non-Dalit couple.
The survey also found out that 98 forms of untouchability are still practiced by the upper castes against Dalits while 99 types of untouchability are being practiced within 32 sub castes of Dalits.
"In most such cases of inter caste marriage, the couple is met with violence from not just the family, but the community of the upper caste involved. It is easier if the man is Dalit, in which case, the woman has higher chances of being accepted by the family of the man, but if it is vice versa, the girl faces flak from the man's family even after they relent," Manjula Pradeep, a Gujarat-based rights activist who was formerly associated with Navsarjan told Newsclick.
"Gujarat government has so far not done anything in accordance with the Supreme Court's guideline to aid and protect such couples. A state is required to have a safe shelter, provide security in case of threats, and take prompt action to prevent any sort of violence against the couple," stated advocate Pratik Rupala.
"To add to that, attitude of the local police in most cases does not help the couples in distress," he added.
Get the latest reports & analysis with people's perspective on Protests, movements & deep analytical videos, discussions of the current affairs in your Telegram app. Subscribe to NewsClick's Telegram channel & get Real-Time updates on stories, as they get published on our website.
Subscribe Newsclick On Telegram