Lucía Pérez's Murder Was a Femicide and This is a War
Today, women, transgender, travestis, gender dissidents across Argentina are holding a strike in response to the acquittal of the three men who were accused of raping, torturing and killing 16 year old Lucía Perez two years ago.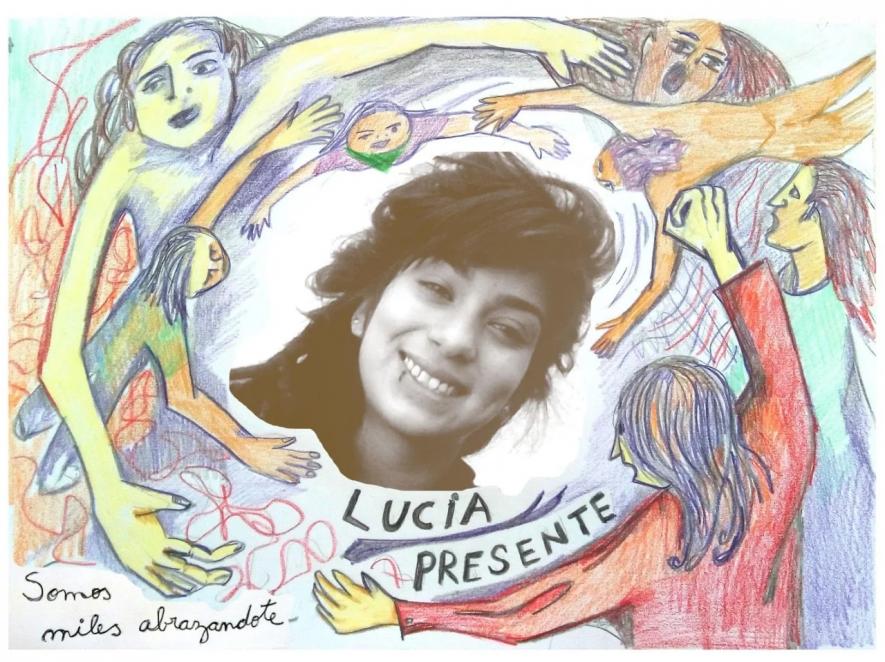 Lucía present! Image: Flor Ve
We share an article written by feminist journalists Laura Salomé Canteros and Nadia Fink of Marcha Noticias on the court's shocking decision to acquit those responsible for the femicide of Lucía Pérez and the patriarchal system that made this happen
We are furious as the accused for the femicide of Lucía Pérez in Mar de Plata, Buenos Aires have been acquitted. We will make the judicial structures tremble until they hear us. We demand justice for Lucía Pérez.
They hear our powerful arguments, they see us cheerful and in huge numbers and yes they intend to curb our advancement of rights. We have proposals to change the world, to make it livable, to move and remove the privileges and asymmetries in each area we inhabit; to re-distribute the banquets leaving behind the discriminations that abuse us; and to recover everything that the hetero-patriarchal power system has denied to more than half of the world's population.
We understand with pain the reason behind the systematicity of the femicides, the cruelty of the policy of discipline of men who hate us as women, which leads to an average of 137 women dying per day across the world: generally in the hands of ex partners or close males family members or friends. In Argentina, between January and October 2018, 255 women and girls were abused and killed, i.e. one in every 32 hours. But some were abused more than once like Lucía Pérez.
Can you imagine that suddenly these words disappear because you or I are not there anymore? That our screams become silent? That society stops thinking that a man abuses and rapes for power? That the conservative reaction under the tyranny of misinformation wins common sense and somehow the feminists become the violent ones? They intend to curb our advancement of rights. They do so by demonstrating the privileges they long to keep. They do so by acting  in the places of decision making that they (still) occupy: like with the unacceptable ruling of judges Facundo Gómez Urso, Pablo Viñas and Aldo Snowy in Mar del Plata's First Criminal Court, who did not find the accused responsible for abusing and raping Lucía Pérez until she died, two years ago. If they cannot assure (us) reparation, they must resign. Otherwise they run the risk of becoming accomplices in the cruelty of that policy of discipline.
A case that doesn't match up to history
It is a ruling of 71 pages that fails us and acquits 23 year old Matías Farías and 41 year old Pablo Offinadi, accused of sexually abusing and murdering Lucía Pérez, a 16 year young girl on October 8, 2016. The ruling also forgives Alejandro Maciel for "aggravated cover-up".
The trail began on October 31, almost a month later and despite the evidences and allegations of Lucía's family, nobody was convicted for her death and for the violence she suffered. The oral debate was based on the hypothesis of three subjects who, as co-authors, abused Lucía, when the prosecutor or the particular victim came to hold such an alternative in their respective accusations. However, the judges of the criminal court stated that "the state operators who are part of the penal system did not live up to the circumstances in this case".
"Lucía's story, tells of her strong personality and vitality, both in physical and psychological terms", states the verdict. It cites that the conclusion of the forensic doctors that there was no abuse is "unanimous". "The context gave room for speculations like that they were bad people, [there was] sale of drugs, [they were] marginals, but that does not make them rapists or murderers, unless they rape or murder. Which was not proven", adding that "the forensic test has offered clarity around the absence of sexual abuse with carnal access and the cause (accusation) for Lucía's death".
The private life of the victim, who was minor, surprisingly, was also cited as (no) proof to verify her abuse. "Lucía would not be with anyone without her consent", the judges said. "From the chats analyzed, it clearly emerges that her experiences completely alienate the possibility that she would have been subjected without her will", they added. "She was absent from school for more than 20 days because she had been consuming drugs, which had everything to do with all those who liked them".
With regard to the age difference between two adults who sell drugs to a 16 years old child, the judges again concentrated more on the victim: "Lucía was 16 years old and Farías was 23, so it would be very forced to talk about a situation of inequality or superiority, especially considering the personality of Lucía who did not behave like a girl of her age and also had referred to have had relationships with men up to 29 years", dared to say the judges from behind a desk who believe that they are immune to the gaze of the outside. The gender perspective, incorporated decades ago in the prosecution of sexual offences in international law, was absolutely indifferent to them. The Institute of Compared Studies in Criminal and Social Sciences (INECIP), Argentina is of the same opinion.
"Everything happened in the context of normalcy and naturalness, everything was perfectly loved and consented by Lucía Pérez", the judges said. "This inequality between man and woman, this asymmetry in the power relationship, is not present in this case. Here there has been no physical or psychological violence, subordination or humiliation, much less objectification". Lucía "was not in a street situation", "she had friends, she chose what to consume and with whom to share intimacy". "It is not in the spirit of the executor to judge Lucía's sex life, but from the chats analyzed it clearly emerges that her experiences in that sense completely alienate the possibility that would have been subjected without her will".
Feminism to live
Lucía's family was shocked to hear the ruling. The first thing that Lucía's mother Marta Montero could say, was: "They didn't rape her, they didn't kill her, they didn't give her anything. And my daughter's death, was it a gift?" There is no peace for Martha and William, Lucía's father, after their daughter's femicide. There are no days or nights, but perhaps, as a glimmer of hope, the possibility of a little justice being done. For Lucía and all the young girls who are there in Mar del Plata, smoking a joint or not.
Marta said this sentence is like "killing Lucía again". "The same thing happened to me when I went to the police station and they told me Lucía was dead", she said. "They killed her", Marta shouted at the exit of the court, "(Farías, Offidani and Maciel) took her alive from my house and brought her dead to the hospital", she added. But "we will continue to fight, as we are doing today with these wonderful people who are accompanying us". She informed that they would appeal the sentence and would go to the Appeals Court, and that "there the fight will continue". She also suggested that, in memory of her daughter, "a march could be organized, that would help not to kill Lucía again".
For Lucía and for all the women, on the day when her brutal femicide was known, the Argentine women decided to carry out the first national strike to warn and show that the issue was of importance on the streets, in the home and in every part of life. Because for life, it is important to fight until the end. That's why Martha with a smiling picture of her daughter in her hands said: "for the judges, Lucía's death doesn't matter… They're going to do it again, there are more girls going around. It's a disgrace!". "The message that the judges leave is: Do it all again, nothing will happen", she continued so that they listen to her, so that they understand that there will be no silence.
This decision is about judges that continually speak of justice, but their justice is one that is far from understanding the perspective of class and gender (although when they ignore the gender perspective they appeal to the other class "[They were] bad people,' [there was] sale of drugs, [they were] marginals, but that does not make them rapists or murderers, unless they rape or murder. Which was not proven"). The "gentlemen's agreement" manages to bring together the marginal drug dealers that deal to young underage girls with gentlemen judges that give classes, play rugby, or spend their Sundays with their kids with fancy clothes. Machismo is what makes this possible: the walls of class difference are torn down because of the necessity of machos to save themselves, because if one is struck down, it is like an unstoppable domino effect, they all will fall.
In this context, we ask ourselves: the all-powerful, are you trying to punish us for what we have won? In your animated fantasies are you able to stop a feminist utopia of a dignified life for all? This is a war, they kill us and rape us every day but we choose make our proposals to overcome visible. But what happened with Lucía hits us hard. This is why it's time to say: "We want bread and roses, we want us alive and free, we demand our rights and we will not ask permission to exercise our autonomy. And yes we are coming for you machos, for the spaces of power that you represent". To the violence of the machista war we put the weapons of feminism to live. We will tear down the patriarchy and the pact between the machos! Lucía Perez, present!!
Get the latest reports & analysis with people's perspective on Protests, movements & deep analytical videos, discussions of the current affairs in your Telegram app. Subscribe to NewsClick's Telegram channel & get Real-Time updates on stories, as they get published on our website.
Subscribe Newsclick On Telegram