Lucknow Municipal Corporation Fires 1,944 Sanitation Workers Citing 'Financial Crisis'
In January this year, a similar situation was witnessed when around 1,500 safai karamcharis working with multiple outsourcing organisations were terminated from employment after their contract expired.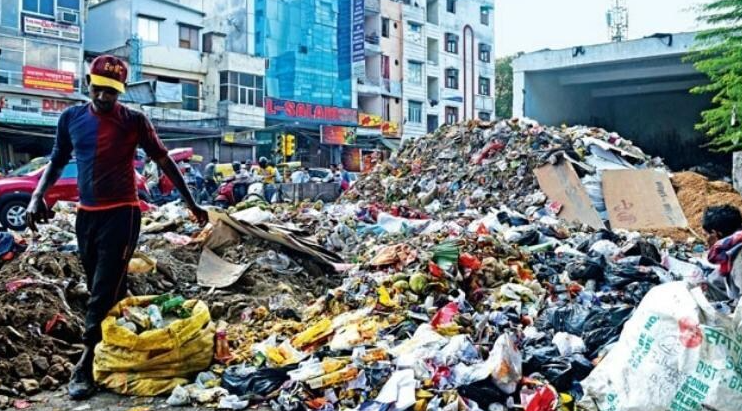 Image Courtesy: India Today
Lucknow: Shavitri (46) had been working as a contractual safai karamchari under NGO Subh Enterprises at Lucknow Municipal Corporation since 2010. The sole breadwinner in her family, she would get a wage of Rs 9,400 per month to manage expenses for a family of five. On March 7, as she was heading home after work, she claims she was told by the municipal authority to stop coming to work from the next day.
"We have been working for over 10 -12 years, and we have been working day and night. Be it COVID-19 or Omicron, or collecting the waste from Covid-infected homes, we are the ones who had to do all those work. We have been asked to leave all of a sudden, today we were asked not to come on duty, is this how corona warriors treated, or we are only for photo-op?" a distraught Shavitri told NewsClick, adding that "many of us have been infected by the virus because of our job. We weren't even given the promised compensation."
As many as 1,944 sanitation workers hired under several outsourcing organisations, including Varsha Enterprises, Bala Ji, Lion, Aryan, Ujjawal, etc, in Uttar Pradesh's capital city, were left in the lurch when they were suddenly told that their services were no longer required. On March 7, the services of over 1,944 sanitation workers appointed on a contract basis were terminated by the Lucknow Municipal Corporation, citing "financial bankruptcy".
These workers were among those "Covid warriors" who were showered with flower petals by local political leaders, senior officers, police personnel and medical staff for their services during the lockdown when no one besides them dared to move on the roads.
All the sanitation workers who have lost their jobs have a similar story to narrate. The COVID-19 pandemic has been a time of struggle for all of them. As society is bouncing back to normalcy, these Covid warriors have been pushed into darkness all of a sudden.
The workers said their family members numbering around 2,000 would also suffer.
In January this year, a similar situation was witnessed in Lucknow Municipal Corporation. Around 1,500 safai karamcharis working with multiple outsourcing organisations were terminated from employment after their contract with the university expired.
The sanitation workers said that hundreds of them have been working for the last ten-twelve years on a daily-wage basis, hoping that the government will regularise their job. But instead of regularising them, the government left them in the lurch. The sanitation workers said they were the real players behind the Swachh Bharat Abhiyan.
According to Uttar Pradeshiye Safai Karamchari Sangh, there is already a shortage of sanitation workers per the municipal corporation's standard; in such a situation, keeping about 25% of the employees out together will be a very harmful decision for the municipal corporation. Its impact will be significant on more than 30 lakh of the city. The sanitation system of all 110 wards will come to a standstill in the capital city. However, municipal officials deny this claim.
Meanwhile, union leader Arun Kumar Valmiki said it was an unjust action as the authorities ignored their services during the crisis. The workers and their leaders have demanded that the services be restored at the earliest.
"This is the second time when sanitation workers were removed at this large scale without any prior notice. Earlier, around 1500 workers were discontinued from their posts due to acute financial shortages. We are trying to hold a meeting with municipal commissioner Ajay Dwivedi to find out the solution," Valmiki told NewsClick.
When asked the reason for the sudden removal of workers, he added, "For the last three months, the sanitation workers did not receive their wages as the outsourcing organisation haven't received fund from the government as they claimed. The department does not even have money to pay salary the contractual workers."
Per day the sanitation workers were paid Rs 309.
"In the last five years, prices of everything had increased, but our pay remained the same despite taking all the risks. Despite working round the clock during pandemic risking our lives, we were not given any extra pay for the double duty we did," he further added.
Mukul, a sanitation worker, told NewsClick that 10,258 safai karamcharis (sanitation workers) are working in Lucknow Municipal Corporation. After the removal of 1,944 employees, now only 8,314 employees are left. Furthermore, about Rs 32 crore is spent every month on the salary, pension of 4,200 regular employees and 3,800 retired employees. Similarly, about Rs 10 crore is spent every month on the honorarium of 11,000 workers posted from different working organisations.
A senior municipal official on the condition of anonymity said that this effect is due to the reduction at the government level. Under the AMRUT scheme, about ten crore rupees came from there every month, but now it stopped coming. Therefore, it was decided to remove the employees.
At present, the Municipal Corporation owes about 40 crore rupees to the employees of the executive organisation. Even before this, 500 employees were removed, although it was argued that there are fewer employees on the spot, while there are more on paper. Payment is being made to the contractor in their name.
Get the latest reports & analysis with people's perspective on Protests, movements & deep analytical videos, discussions of the current affairs in your Telegram app. Subscribe to NewsClick's Telegram channel & get Real-Time updates on stories, as they get published on our website.
Subscribe Newsclick On Telegram