Lumpy Skin Disease Returns as Social, Infrastructural Factors Dampen Uttarakhand's Vaccination Drive
The issue of information not reaching marginalised communities, lack of roads in difficult terrains and official apathy during last year's drive led to a second wave of the viral infection.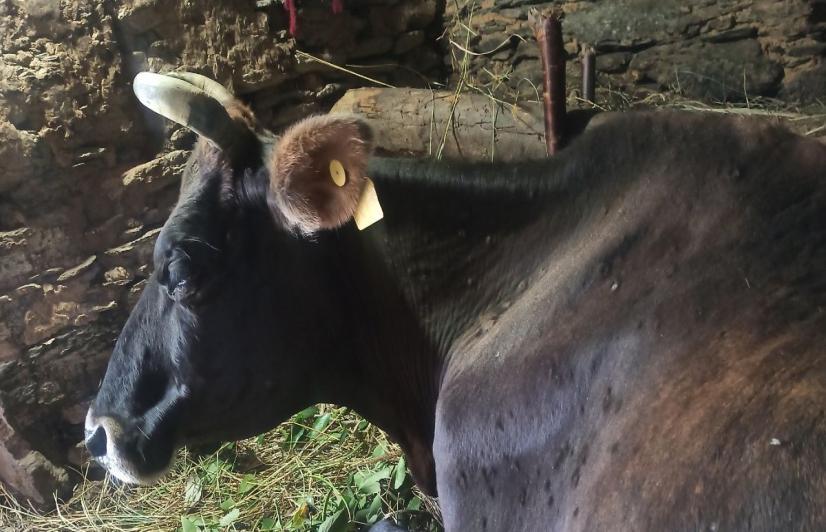 Lumpy Skin Disease is characterised by fever, skin nodules, enlarged lymph nodes, skin oedema, and sometimes death (Photo - Swati Thapa, 101Reporters)
Almora:  "One of my cows has not stood up for the last 24 days. When the first one got sick, we could not separate it due to lack of space. Now both are sick, and we have no milk to consume. We are forced to buy powdered milk for my four-year-old grandson," says Kaushaliya Devi, a Dalit farmer from Dhudholi village in Almora. 
Kaushaliya's cows are among the thousands infected with Lumpy Skin Disease (LSD) in the second wave of the viral infection to hit the state since last year. In a reply to a question in the Lok Sabha on February 7, Union Minister for Fisheries, Animal Husbandry and Dairying Parshottam Rupala said 921 cattle died in the state till then, and 6,96,811 cattle received vaccine against the disease.
Caused by Lumpy Skin Disease Virus (LSDV), the condition is characterised by fever, skin nodules, enlarged lymph nodes, skin oedema, and sometimes death. It can cause a temporary reduction in milk production, temporary or permanent sterility in bulls and damage to hides. The World Organisation for Animal Health categorises LSD as a notifiable disease, which means it must be reported to an appropriate authority if suspected or confirmed.
"There are many animals that cannot get up and many that cannot sit down for days because their feet are swollen.... others have swollen udders or briskets. Some will develop nodules, while others will not," Dr Surbhi*, a government veterinary doctor in Champawat district, tells 101Reporters.
LSD has no antiviral treatment yet, so supportive care, which includes antibiotics and painkillers, is only possible. However, the cost of treatment has been burning holes in the pockets of dairy farmers. 
"When cows are ill, milk production drops. We dairy farmers have spent twice as much on treatment as we make from milk sales. We are completely dependent on farming and dairying, so it has been difficult," says Bhuvan Purohit from Dhudholi.
Purohit claims he did not even make enough money this year to buy feed for his cows. "We have had a rough time for the last couple of months. I have spent Rs 25,000 on my cows so far. Medicines are very expensive, and minerals and other supplements should also be given."  
Accessibility an issue
The Central government's action plan has mentioned a vaccination target of 9,10,000 out of the total 18,52,123 cattle in Uttarakhand. According to Uttarakhand Livestock Development Board, 2,92,748 cattle have been vaccinated so far. 
While the action plan to control the spread and severity of the disease involves vaccination push, many villagers in Almora have claimed that lack of accessibility prevented them from benefitting from such drives.
"So far, a calf and cow of mine have died. Last time, the vaccination drives were held near places connected by roads. But my home is quite far away. I was aware that a vaccination drive would take place, but had no information on the dates," says Mohan Singh Adhikari, a dairy farmer in Dhudholi. 
The pradhan (village chief) coordinated the drive through a WhatsApp group. However, since all farmers, especially those from marginalised communities, may not have access to smartphones, the project did not succeed fully. Due to the presence of so many unvaccinated cattle, the risk of a fresh bout of infection was always there.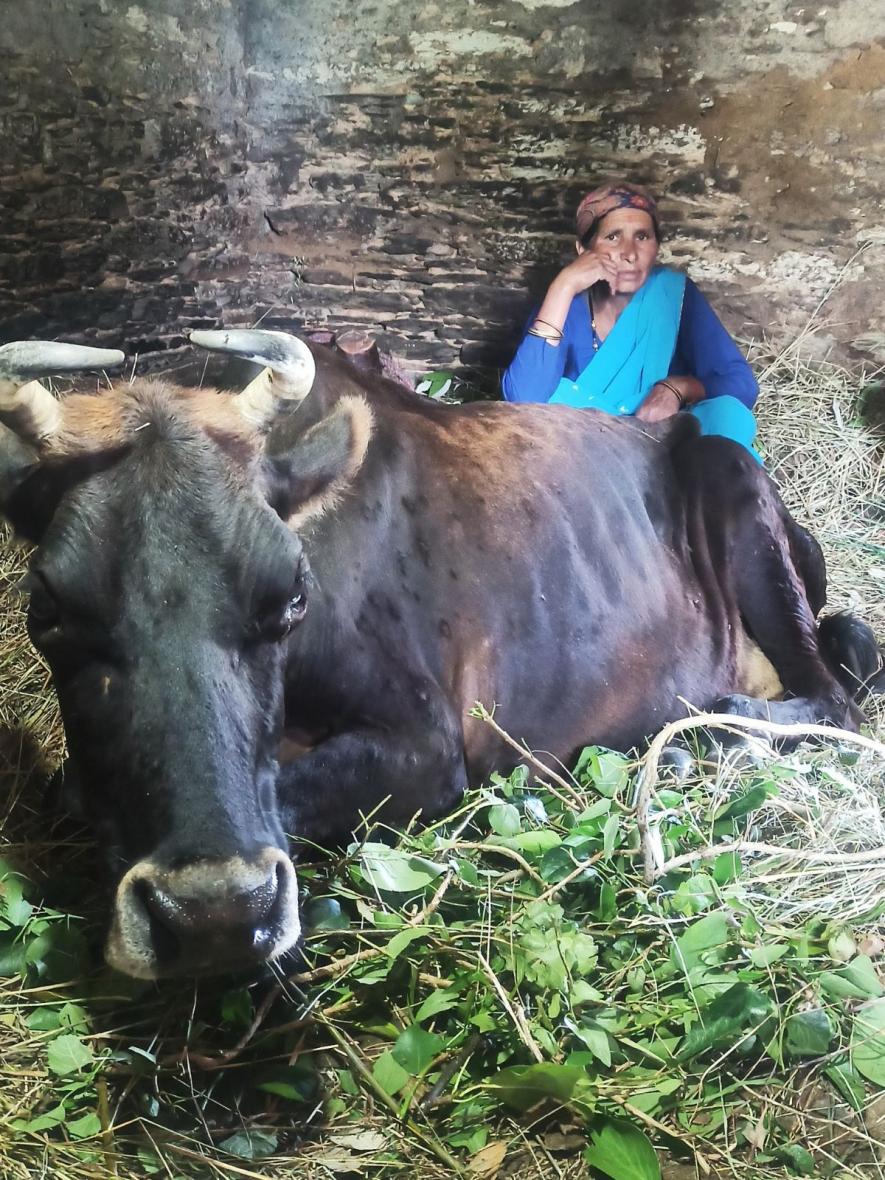 Kaushaliya Devi's cow affected by LSD could not stand up for 24 days (Photo - Swati Thapa, 101Reporters).
With new cases surfacing since March this year, the state animal husbandry department launched a doorstep vaccination drive using animal ambulances. On getting a request from helpline number 1962, a medical team would visit the village to vaccinate the animals. However, Purohit claims many families, including his one, could not make use of the facility due to a lack of road connectivity.     
"No one came to our village. We contacted the authorities, but they said they were understaffed. This is a large area. As many as 116 villages constitute the development block of Dwarahat, but there were not enough people to serve everyone," he adds. 
In several villages, the Dalit hamlets are located far away from the village epicentre, due to which information also escapes them. To this effect, Dalit dairy farmer Prema Devi mentions how she never got to know about the vaccination drive as her house is in the village outskirts.
"The ambulance service came once when I called them. But the second time, the staff concerned told me that they would come tomorrow as it was raining then. But they have not reached out so far," says Adhikari.
In many families, male members migrate for work. Hence, the burden of duties weighs heavily on women. As such, in Uttarakhand, women are mostly the caretakers of cattle. During last year's drive, many could not get their animals vaccinated due to daily domestic chores. They mostly do not have access to smartphones either.  
Under-reporting of deaths
"A majority of bovines have not been vaccinated. The number is huge, and we did ask them [the animal husbandry department] to provide preventive vaccination to the healthy ones right now. However, the doctor said it will be done after the cases, and spread came down. I do not know when that will be. I feel vaccination will not happen," says Adhikari. 
The LSD deaths have also been under-reported due to the lack of a proper documentation system. "We are not told to follow any procedure to report cattle death. So, all we do is bury them in the soil. There is no reporting of any kind. At least 15 cattle deaths would have taken place in this village alone, so definitely the death toll would be much higher in Almora district," he avers.
An email sent to the animal husbandry department on whether they have raised awareness on how to deal with animal deaths did not elicit a reply. 
Many farmers are hesitant to mention the actual cause of death, fearing they would not receive the insurance money. The state government is not providing any separate compensation for LSD deaths, but it is covered under its Livestock Insurance Scheme. Yet, farmers are not keen on applying as red tape deters them. Moreover, a postmortem report from a doctor is required for applying.
(Swati Thapa is a Uttarakhand-based freelance journalist and a member of 101Reporters, a pan India network of grassroots reporters)
Get the latest reports & analysis with people's perspective on Protests, movements & deep analytical videos, discussions of the current affairs in your Telegram app. Subscribe to NewsClick's Telegram channel & get Real-Time updates on stories, as they get published on our website.
Subscribe Newsclick On Telegram