Madhya Pradesh has 7.72 Lakh Registered SC/ST Youths Without Jobs: Govt Data
Around 30% of the registered unemployed persons belong to scheduled caste and scheduled tribe categories, and this does not even take into account a lot of people who are not registered.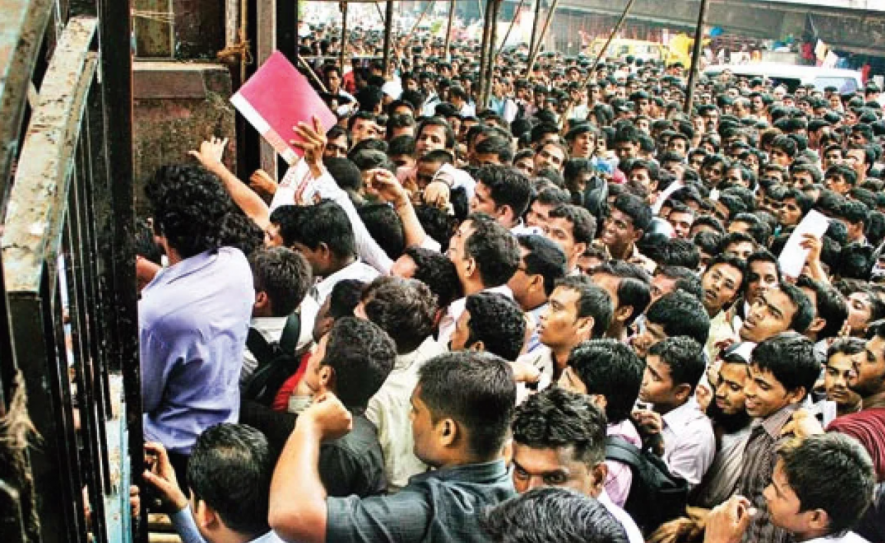 Image for representational purpose.
Bhopal: In one of the most iconic scenes from Satyajit Ray's 1972 film Pratidwandi, the lead character was questioned about his "purpose in life" during a job interview. He said, "To get a job." Yet, he was turned down. Five decades later, the actual and the fictional worlds seem to have merged as the nation finds itself in a similar situation where an excessively high number of people are looking for work but cannot find any.
Just like the film, Suneel Vaskale (30), a tribal from Kukshi block of Madhya Pradesh's Dhar district, has made it his life's purpose to find a job, but he did not get any in the last decade. Owing to penury, Vaskale, a post-graduate degree holder with various diploma certificates, ended up opening a tea stall after failing to get a government job.
"My parents have sacrificed many of their desires to educate me. My only aim is to look after them and feed the family," said Vaskale over the phone. Striking a balance between exam preparations and 12 hours of work at the tea stall is the only goal Vaskale has these days. "After working at the tea stall for over 12 hours, I revisit my notes to be in the job's race," he said.
Vaskale is among the 39,698 unemployed tribals in Dhar district -- highest in the state -- registered with Madhya Pradesh's Department of Technical Education, Skill Development and Employment.
According to the data tabled by the state government in reply to Congress MLA Pratap Grewal during the Monsoon session of the assembly, the state had 25.81 lakh registered unemployed youths till April 1, 2022.
Of 25.81 lakh, 30% (7.72 lakh) of the registered unemployed persons belong to scheduled caste and scheduled tribe categories, which account for 36% of the state's total population. There were 4.35 lakh Scheduled Caste youths and over 3. 36 lakh from Scheduled Tribes. The remaining 70% of the unemployed people belong to OBC and general categories.
These numbers represent only the tip of an iceberg. The actual number of unemployed in the state will be higher since all do not register themselves at employment exchanges.  
Speaking to Newsclick, Vaskale talked about a pattern; he said, "When election days are close, the government notifies vacancies and seeks applications. The last date extends multiple times. After months of waiting, the agency announces the exam date. After a lot of hue and cry, the exam takes place, but the paper gets leaked a day before the exam. Subsequently, the government initiates a probe that lasts for a year, and after seeing irregularities, the exam gets cancelled. But the government holds no one accountable no one. The process takes over 2-3 years; in the meantime, elections take place. After returning to power, the government forgets about it."
"For instance, during school teachers' recruitment, the agency declared the results after a tiresome process, but the selected candidates have been waiting for the appointment letters for the last 2-3 years. On protesting, either they were removed by the police or slapped with FIRs," he added.
According to Jagdish Nigwal, another tribal job aspirant from Sondwa block of tribal-dominated Alirajpur district, this vicious cycle has continued for over a decade, forcing several aspirants to commit suicide. "Hum taiyari kar kar ke thak gai hai. 2015 se 2022 ho gya, exam nahi ho rahe hai (We are tired of preparing. From 2015, now it is 2022, and still, no exam is being held)," he said in a video clip. "The aspirants are feeling suffocated in this vicious cycle," Nigwal added.
The state government's reply in the assembly also classifies unemployed youths according to how long they have been registered with the employment offices. The data reveals that over 20.71 lakh youth have been registered for a year or more, over 2.75 lakh for three years or more, and at least 68,000 for five years or more.
What's more, is that a mere 1,647 jobs were given out against notified vacancies in employment offices in the decade between 2011-12 and 2021-22. Of them, 760 are in the general category, 323 SCs, 300 STs and 254 OBCs.
The data further shows that over 8.25 lakh people were given offer letters through job fairs between 2011 to 2021 — 2.89 lakh OBCs, 2.69 lakh unreserved, 1.54 lakh SCs and 1.11 lakh STs.
An analysis of the data reveals that Gwalior has the highest unemployment with 1.55 lakh registered jobless youth, followed by Bhopal at 1. 31 lakh, 1. 09 lakh in Rewa and 1.02 lakh in Morena. The top five districts account for over 20% of the state's unemployment numbers.
In the state's commercial capital, Indore, which has 1.02 lakh unemployed youth, aspirants have been on Bharti Satyagrah (Recruitment Protest) since September 21, 2022, at Deendayal Park near Bolaram Ustad Square. The students are demanding completion of the recruitment process of various departments pending since 2018-19.
Schedule Tribe
Madhya Pradesh has the country's highest tribal population, accounting for 21.04% of the state's population. The unemployment data presented by the government in the assembly shows that the state has 3,36,950 (13%) registered jobless tribals.
With 39,698 tribals, Dhar district has the highest number of unemployed tribals, followed by Jhabua with 20,121, Chhindwara 20,036, Balaghat 19,748, Mandla 18,520 and Khargone with 17,897 jobless. 
Schedule Caste
The Schedule Caste, which accounts for 15.54% of the state population, has 4,35,599 (16.87%) registered jobless youths across the state.
SCs (mostly Jatavs), with a sizable population in Gwalior-Chambal region, have the highest number of jobless youths, with 16% of the total jobless Dalits registered in the government data. Gwalior, Bhind, Morena and Shivpur of the region have 71,488 jobless dalits.
With 24,940 registered jobless SC youths, Gwalior has the highest number of unemployed dalits, followed by commercial capital Indore with 22,968, while state capital Bhopal has 21,587 dalit jobless youths.
Sumer Badole, a tribal aspirant who runs the Movement Against Unemployment in the tribal-dominated Barwani district, told Newsclick, "When we seek permission to protest against unemployment to make our rightful demands, we are turned down. When we carry out protests without permission, the police thrash us and file FIR to quell our voices. Besides, members of the ruling party threaten youths not to protest against unemployment."
When the state was only 15 months away from the Assembly elections, Madhya Pradesh Chief Minister Shivraj Singh Chouhan announced to fill one lakh government posts in the next one year starting August 15.
He made the announcement during a two-day Yuva Mahapanchayat (youth conference) on July 23 to mark the birth anniversary of freedom fighter Chandra Shekhar Azad.
"The recruitment process for one lakh government jobs will start from August 15 and will be completed in a year," the chief minister said. Citing that unemployment was a big challenge, Chouhan said, "The government will generate self-employment opportunities for two lakh youth each month, and for this, melas (fairs) will be held across the state every month." 
Data analysis by Peeyush Sharma.
Get the latest reports & analysis with people's perspective on Protests, movements & deep analytical videos, discussions of the current affairs in your Telegram app. Subscribe to NewsClick's Telegram channel & get Real-Time updates on stories, as they get published on our website.
Subscribe Newsclick On Telegram