Madhya Pradesh Power Crisis Sparks Farmer Protests 
RSS-affiliated Bharatiya Kisan Sangh has demanded the replacement of faulty transformers within 24 hours.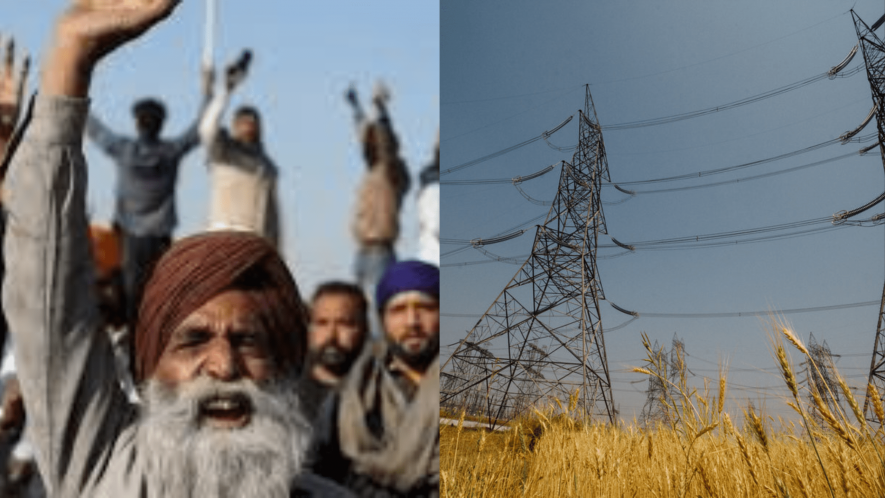 Bhopal: The BJP-led Madhya Pradesh, which produces surplus electricity, faces a unique power shortage problem with Assembly polls around the corner. 
After the erratic monsoon hit hydel power generation and farmers gearing up for Rabi crops, power cuts are giving sleepless nights to both agricultural and domestic consumers. Owing to the shortage in the first four days of this month, the daily power supply was trimmed to 7 hours. 
The state produces 22,730 MW and provides power to all non-agricultural consumers, including industrial and commercial. Agricultural consumers get electricity for 10 hours. On December 30, 2022, power demand was maximum at 17,065 MW, the highest so far. 
Unable to water their crops due to the scanty rainfall and power shortage worsening the situation, farmers took to the streets with protests erupting across the state. 
In Khandwa, a 30-year-old farmer named Sukhram committed suicide on September 4 after losing two bulls in his flood-hit Dait village (Mundi tehsil) last month and an estimated crop loss of Rs 4.5 lakh following the drought-like situation. 
"He was upset for the past few months. First, his bulls were washed away in the floods. He sowed cotton and soybean on his three acres but the excessive heat and scant rainfall damaged both crops," Sukhram's brother Chandu said.
MP | Farmer | Suicide |

खंडवा ज़िला निवासी किसान सुखराम के दो बैल डेढ़ माह पहले गांव में आए बाढ़ में बह गए। पंचनामा हुआ पर मुआफज़ा नहीं मिला।

अपनी तीन एकड़ जमीन में फ़सल लगाई लेकिन बारिश ना होने से लगभग 4.5 लाख़ की फसल भी सुख गई।

कल उसने खेत में कीटनाशक पीकर कथित आत्महत्या कर… pic.twitter.com/isgRBEORAU

— काश/if Kakvi (@KashifKakvi) September 5, 2023
"He has a 12-month-old daughter. The government must compensate the family, which has no earning members now," he said in a video clip. 
In many districts, including Agar-Malwa and Barwani of the agriculturally rich Malwa-Nimar region, RSS farmer body Bharatiya Kisan Sangh (BKS) held several protests complaining about the unscheduled power cuts and demanded the replacement of faulty transformers within 24 hours. 
In the Nalkheda block of the Agar-Malwa district, farmers associated with BKS locked the power department office and switched off its power. 
"The erratic power supply, delay in replacing faulty transformers, and powerline breakdown have compounded the problems of farmers, struggling after the poor monsoon," BKS member Umesh Patidar told the media.
एमपी | बिजली |

आज RSS की किसान शाखा भारतीय किसान संघ ने आगर मालवा जिले में नलखेड़ा विद्युत विभाग के दफ्तर में ताले जड़कर कर कर्मचारियों को कमरे में बंद किया।

वह बिजली कटौती और अनियमित बिजली सप्लाई के साथ ही ट्रांसफार्मर में खराबी के चलते नाराज़ थे।

करीब पांच घंटे चले धरने के… pic.twitter.com/gjHFnvNVhj

— काश/if Kakvi (@KashifKakvi) September 4, 2023
In Khandwa, hundreds of farmers demanding that the district be declared drought-affected heckled water resources minister Tulsiram Silawat as he reached the Mandhata Assembly constituency to review preparations for Jan Ashirwad Yatra on Saturday. In Burhanpur, farmers growing bananas and other crops have planned to take out a rally to raise their demands for crop loss compensation and a 14-hour electricity supply. 
Soybean farmers claimed that more than 50% of their crop has been damaged due to the heat and prolonged dry spell coupled with sporadic power supply. 
Failing to draw attention to their plight even after submitting memorandums to senior administrative officials, farmers in most districts have now started demonstrations at collectorate and tehsil offices. 
Chief minister Shivraj Singh Chouhan admitted to the crisis during a meeting on the power crisis and crop loss on September 4 and offered prayers at Mahakal Temple. 
"The dry spell caused the power crisis. In monsoon, the power supply is normal at 8,000 MW due to water availability for sowing or watering the crops. But because of the erratic monsoon, the power demand has surged to 15,000 MW," he said. 
"We sent officials to Delhi to ensure power supply. There will be an outage. I request consumers to use electricity wisely," he added. 
"समृद्ध" मध्य प्रदेश में बिजली संकट !

सीएम पहुंचे महाकाल की शरणं में।

कांग्रेस ने चुटकी लेते हुए कहा, सीएम बिजली को भी झटका दे रहे हैं। pic.twitter.com/rUgB7CpH3P

— काश/if Kakvi (@KashifKakvi) September 4, 2023
"Kharif crops depend on rain. But water bodies are not full due to the lack of rain, which is likely to affect Rabi crops as well," Bharatiya Kisan Mazdoor Sena state president Bablu Jadhav said. 
Many districts recorded normal rainfall, which subsequently reduced demand, on Tuesday. Still, power department officials urged consumers to conserve energy for the peak October season. 
"The power supply has been trimmed to seven hours to meet the demand. We are committed to resuming and maintaining the 10-hour power supply for farmers," MPPKVVCL managing director (MD) Amit Tomar told Newsclick. 
"The state's central and eastern parts recorded good rainfall in the last 24 hours, reducing the electricity demand. Another spell of rain is predicted in the western region (Indore-Ujjain division). The situation is expected to improve in days to come," he added. 
While Madhya Pradesh Power Management Company Limited MD MR Raghuraj said, "We are preparing for the peak season, which starts in October. Every unit conserved now will be useful then. We appeal to users to conserve power and use it efficiently."
Get the latest reports & analysis with people's perspective on Protests, movements & deep analytical videos, discussions of the current affairs in your Telegram app. Subscribe to NewsClick's Telegram channel & get Real-Time updates on stories, as they get published on our website.
Subscribe Newsclick On Telegram