Maharashtra Kisan March: Police Notice and Harsh Weather Couldn't Dampen Farmers' Spirit
The farmers halted their march on the second day after the government initiated talks with their leaders.
The Maharashtra farmers' foot march was postponed for the second day. The farmers have camped at Rameshwaram Temple in Dhandarphal, their first stop. Today, on the second day of the march, the government's delegation will meet and talk with the farmers. 
However, amidst allegations of threats from the administration, police notices and unforgiving weather could not deter the spirits and courage of the farmers.
The first day's march of thousands of farmers started on April 26, Wednesday, around 4 pm, covering a distance of about 12 kilometres from Akole market to Rameshwaram Temple (Dhandarphal, Tehsil Sangamner). The farmers spent the night there under the open sky.
After a night's rest, the farmer set out on a foot march of about 10 kilometres from Rameshwaram Temple to Khatode Lawn at 7 am on April 27, the following day. But in the meantime, seeing their numbers, the government appealed to the farmers not to march ahead and started talks with their representatives. After this, the farmers stopped the march till further orders from their leaders.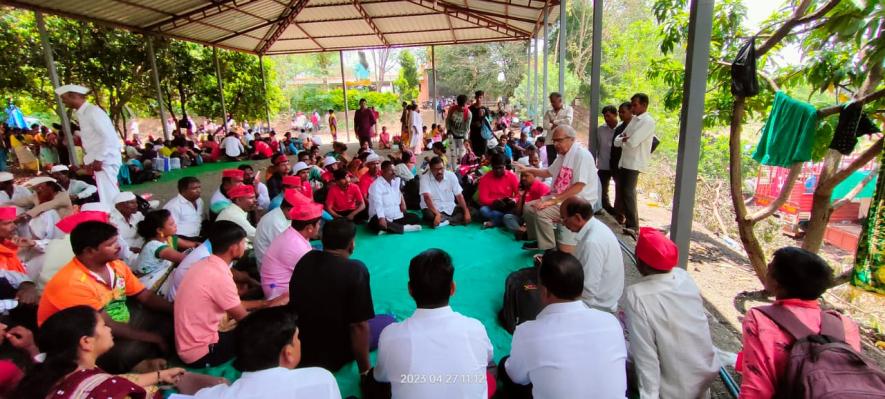 Even after this long journey on the first day, there was no shortage in the spirits of the farmers.
All the farmers were talking, sitting in the fields on both sides of the road because the road was scorching even after 10 pm.
On the second day, it started raining suddenly at around 10 in the morning. Some farmers took shelter under the trees and somewhere in the temple and its auditorium while most ran towards their vehicles. The rain did not last long, and it became hot again.
While journalists (including this reporter) couldn't bear the scorching sun and tried to find comfort in the air conditioners of their vehicles, farmers remained enthusiastic throughout, travelling for about 10 kilometres to Loni. They say that if their leaders direct them, they will complete the remaining journey of 40 kilometres in a day.
Before leaving Akole, the protesting farmers made a temporary stove by burning wood to cook food.
However, many groups of farmers brought gas stoves with them. Similarly, different village-level and taluka-level groups were formed at night, and food was prepared.
Sambhaji, who had come from Kolhapur and was preparing food for himself, said the idea was to make dal, rice and potato curry.
Sambhaji said that he and other farmers had brought ration and fuel.
"Everyone cooks and eats their food. All this happens peacefully with complete discipline."
This is not the first such march for these tribal farmers of Maharashtra; they have already taken out three such marches. 
After the previous marches, the government accepted their demands. However, farmers say that they get cheated by the government in the implementation of their demands.
Administration Failed to Deter Farmers
Regarding this long march from Akole to Loni in Ahmednagar district, the police issued a notice under section 149 and denied permission to the protesters. However, this did not affect the farmers.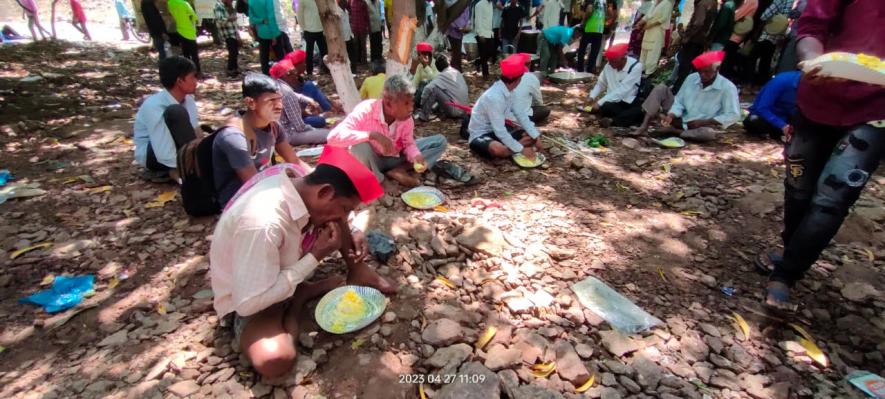 Recently, 14 people died due to heatstroke during the Maharashtra Bhushan ceremony. Given this, the police refused permission for this march as a precautionary measure. But the biggest question is that even after heavy pressure from the police and the administration, why are the farmers ready to walk in this scorching heat?
On this, the state general secretary of the All India Kisan Sabha (AIKS), Ajit Navale, while talking to the media, said, "Police is not the enemy of the farmers. They are doing their work. Today the government is not worried about us farmers, whose lives are spent working in the sun. But they do not get the price of their crops. There is no value for the sweat of the farmers in the summer. But we are worried about them too. That's why we will continue our struggle day and night. There is no seriousness in the meetings of officers and ministers. That's why we are unanimously taking out this march."
He added, "Keeping in mind the concerns arising from the high temperature, the organisers have made suitable arrangements for drinking water, shade, walking only in the morning and evening hours, etc."
The effect of his appeal was also visible. Women and men are involved in this march, and almost all are walking carrying essential salmon bags on their heads or shoulders.
Journalist-activist P Sainath gave the opening speech at Akole. Later in the afternoon, Ashok Dhawale, Navale, CPI(M) State Secretary Uday Narkar and other top AIKS leaders joined the march.
Workers' and Women's Organisations Join the March
"This march is not just about farmers. It is about the unity of all the hardworking people working in rural society. All of them are our brothers and sisters and work for us. So their problem is also our problem," Dhawale said. 
Sangeeta, who came to join this march along with other colleagues from her village, was waiting for the march to start sitting under a mango tree.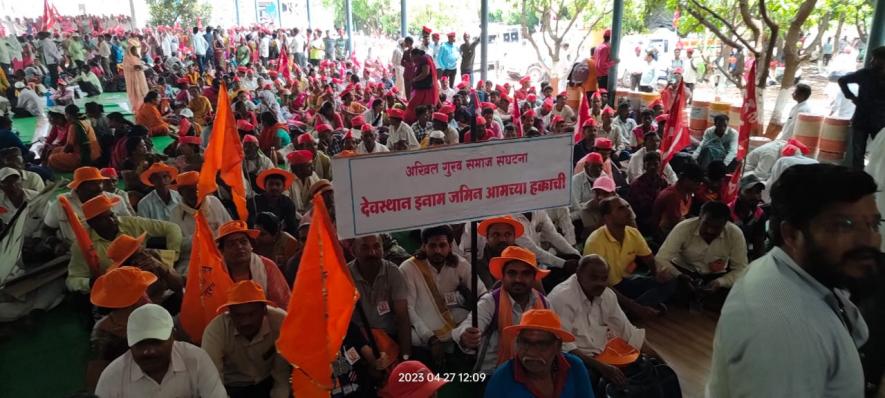 "They get only Rs 1400 monthly honorarium after working six to eight hours which is not even Rs 50 daily. How will we be able to run our house with this? Even a kilo of sugar and tea leaves are not available for less than Rs 50, and the government is asking us to run our house with this," Sangeeta said.
All the other mid-day meal workers who came with Sangeeta have also joined the march demanding a minimum salary of Rs 15,000. Most of the poor, landless and single women in this mid-day meal work are women responsible for running their families. In such a situation, it is a serious question of how they will survive with such a low honorarium.
Why are the Farmers Agitating?
Navale said, "We talk of vesting and ownership of forest land to farmers and farm labourers. We also demand remunerative prices for cotton, milk, soybean, arhar, gram and other products."
Several farmers from Vidarbha reported that the prices of one of their main crops, cotton, have halved compared to last year. 
Amol, a farmer with five acres of land, had cultivated cotton, which was ready in seven-eight months; he harvested about 10 quintals of cotton. The market price of his produce is Rs 70,000, while his production cost comes to about Rs 60,000. This does not include the wages for the month for him and three other members of his family. He claimed he could get only one cotton crop a year from his land.
"You tell me, how will the family survive with an annual income of Rs 15,000?" Amol asks.
This is a significant issue for cotton and soybean farmers of the entire region.
Along with them, tribal farmers who have been fighting for their forest land rights for many decades have joined this march. This question has been at the centre of many farmers' movements in the past. Despite promises from the government, the farmers are yet to get ownership of their lands.
Umesh, a young farmer whose family has been cultivating forest land for several decades, alleges he is being harassed. 
"The authorities destroy our crops; they even kill us. We are ready to walk on hot coals in this scorching heat to save our land."
Mariam Dhawale, general secretary of All India Democratic Women's Association (AIDWA), who participated in this march, said, "A large number of women are involved in this march of farmers, and if there is anyone who is the most oppressed, it is women. Be it the question of forest land or crop prices, not getting work in MGNREGA, all these are related to women. Forest officers forcefully enter their homes and misbehave with them. While the country's Parliament has passed a law to give them rights on forest land, the government is not implementing it."
Ready for Indefinite Strike if Demands Not Met: Farmers
Uday Narakar, state Vice President of AIKS, said, "After the Long March last month, the government accepted our demands and also formed a committee to implement them, but the chairman of that committee, Revenue Minister Radhakrishna Vikhe Patil, didn't do anything, which shows the intention of the government. That's why we had to take the path of struggle once again."
He further says, "It is not only the forest land but also Devasthan land, Warkas land, Garan land, Revenue land, Inam land, Aripad land, Benami land which the farmers have cultivated for years, but the government is not ready to give them ownership rights. The government agrees with our demands but later attacks farmers."
The farmer leaders insisted that if the farmers' demands were not met, they would stage an indefinite sit-in near the office of Minister Patil in Loni, Maharashtra.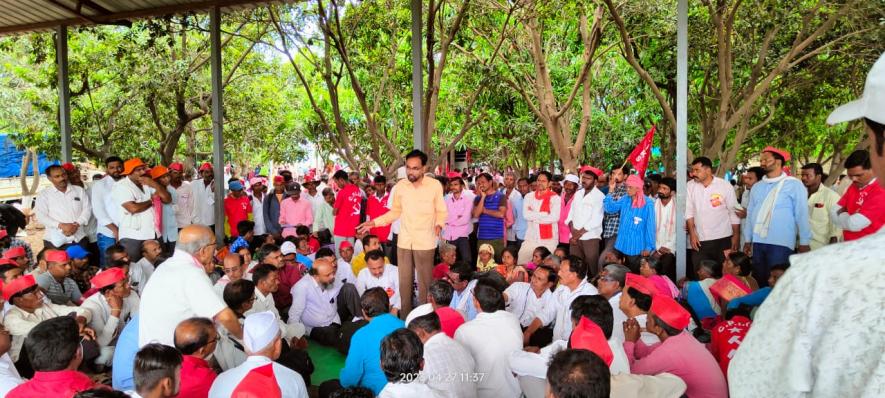 Last month, AIKS took out a long march from Nashik district towards Mumbai regarding farmers' issues. In this, 14 major demands were raised, including subsidies to onion growers, land ownership in tribal districts, and loan waivers. 
As the march took off, Chief Minister Eknath Shinde, Deputy Chief Minister Devendra Fadnavis and senior officials held discussions with AIKS delegations at Vidhan Bhawan, after which the onion subsidy was increased by Rs 50 to Rs 350. 
They also announced the appointment of a joint committee of ministers, government officials and leaders of the AIKS regarding forest land. The Chief Minister also gave this statement in the Legislative Assembly.
After this, the movement was suspended. But AIKS leaders had said at that time that the movement was not over but postponed; if the government did not accept their demands, the movement would resume, and the same thing seems to be happening.
Get the latest reports & analysis with people's perspective on Protests, movements & deep analytical videos, discussions of the current affairs in your Telegram app. Subscribe to NewsClick's Telegram channel & get Real-Time updates on stories, as they get published on our website.
Subscribe Newsclick On Telegram