Maharashtra's New Government in 'Undo' Mode 
The newly formed MVA government is rolling back almost every decision taken by the earlier BJP-led government.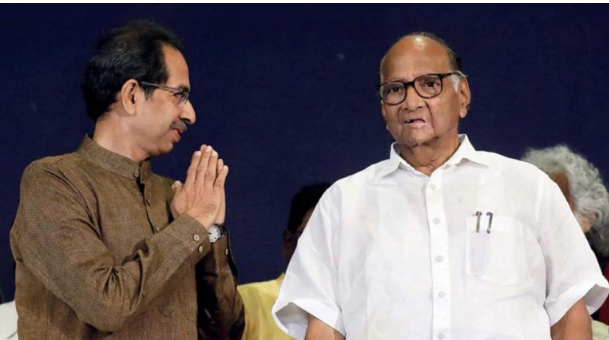 Image Courtesy: India Today
Mumbai: When long-term ally Shiv Sena ditched Bharatiya Janata Party (BJP) to join hands with politically opposite poles, such as Congress and Nationalist Congress Party (NCP), various political pundits analysed it as a battle of ego or battle of becoming numero uno in Maharashtra.
However, NewsClick has always maintained that behind this joining of hands of contradictory political parties was their urgent need for political survival. The decisions that have been taken since the formation of Maharashtra Vikas Aghadi (MVA) government are enough to underline that the parties – Sena-NCP-Congress -- are 'undoing' everything that was hurting the foundational structure of all three parties. 
Sena is pan-Maharashtra party. But everyone knows that the party's soul is its power in Mumbai and surrounding municipal councils. These rich and politically important cities have been a lifeline for Sena. So, when BJP rose to power, it brought an Act that could have hurt the basic structure of Sena. The Act was about the formation of group ward system in these municipalities. Mumbai was kept out of it purview but other municipalities were included. 
Earlier, there used to be a single ward for corporators. Now, there are either two or four combined wards and political parties need to put up a panel in every ward. This has helped BJP, as urban voters seem still in awe of Prime Minister Narendra Modi. During the 2017 local body elections, BJP rose to number one from number three in 2012. The change in the basic structure of the electoral battle helped the party a lot. 
Now, in its first legislative session, the MVA government has brought and passed a Bill that would 'undo' the system pushed by BJP and bring back the electoral map of municipalities to square one. Now, there will be a single ward, not panel. 
Maharashtra's Congress and NCP could survive for decades because they have a base in the strong cooperative sector network. Despite any government at the Centre or the state, the pulse of Maharashtra's rural economy has been in control of a few leaders, mainly from these two parties.
BJP, when it became single largest party and formed the government in 2014, had only one agenda in hand -- to weaken this decades-old structure and possibly capture it through various measures. 
The Devendra Fadnavis government brought all agriculture produce market committees (APMC) in indirect control of BJP. They brought an Act wherein the government was allowed to appoint two members of its choice on every committee. Now these two members are mainly from BJP's parent, Rashtriya Swayamsevak Sangh (RSS) backgrounds. That implied a direct interference into the committee. The MVA government has scrapped this.
Also, the BJP-led government had expanded the electoral base for these elections. Earlier, the member of attached committees were voters for APMCs. But BJP made a rule wherein farmers of the area could have voted. This was like making an APMC a mini Assembly. Now, the MVA government has restored the earlier system of elections in APMCs. 
Not just this. NewsClick has learnt from highly-placed sources that the other steps that were taken by BJP to control all possible political capital of state would be gradually revoked by the MVA government.
Direct elections for the municipal council's chairman as well as direct elections for the gram panchayat sarpanch are two such decisions. The BJP tried to build this as a 'personalised' system. Now, MVA, in the next few weeks, will bring back the original system of election of members and then the election of chairman or sarpanch through the members. 
"RSS was building a system inside government functioning. The new system was loyal to them. MVA undoing it on some levels. But this is not enough. There are multiple layers to it and if MVA wants to complete its full term, then it will have to do lots of work in this direction," said senior journalist Jatin Desai. 
Apart from the appointments, MVA is also taking stock of various policies where funds have been spent on RSS's pet programs or NGOs of Sangh Parivar. Government sources informed Newsclick that these would be examined on the basis of quality of work and right usage of funds.
"If they are doing good work and funds being properly managed, then no issue. But, if that is not happening, then we will cancel all such work," said a senior minister in government. 
Get the latest reports & analysis with people's perspective on Protests, movements & deep analytical videos, discussions of the current affairs in your Telegram app. Subscribe to NewsClick's Telegram channel & get Real-Time updates on stories, as they get published on our website.
Subscribe Newsclick On Telegram