Maharashtra: Package for Rain-Affected Farmers Falls Short of Earlier Demands by NCP and Shiv Sena During BJP Rule
The government is providing a relief of Rs 10,000/hectare to the rain-affected farmers for cash crops, whereas NCP and Shiv Sena, in the past, had demanded Rs 50,000/hectare and Rs 25,000/hectare, respectively.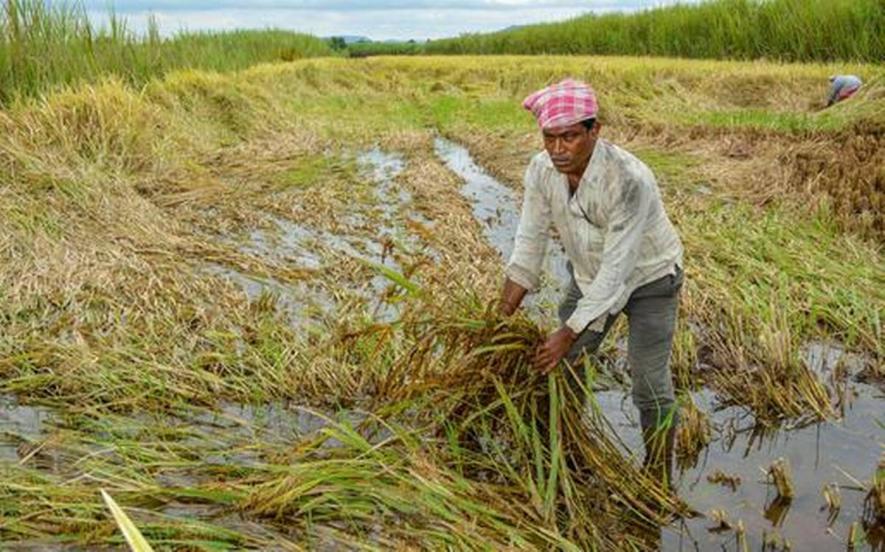 Representational Image. Image Courtesy: PTI
Crops in Maharashtra's more than 55 lakh hectares of land have wholly washed off this year due to continuous rains and the cyclone 'Gulab'. As per the state's revenue department, the preliminary estimate of farmers' losses runs into almost Rs 25,000 crores, including crops such as sugarcane, jowar, soybean and pulses. All five regions in the state have faced natural calamities this year. In addition to this, the government has failed to help the vulnerable farmers through these calamities.
Gunaji Kale, a 54-year-old farmer from Varegaon, Jintur, has a 3.5-acre farm. He had planted pigeon pea (tur dal) in two acres and soybean in the rest. But heavy rains in the third and fourth week of September in Marathwada submerged his entire crop in water. "It was like a cloud had burst on our heads. Ten villages almost lost their entire crop. I was expecting at least Rs two lakhs from soybean and between 80,000 -1,00,000 from tur," said Kale.
In a cabinet meeting held on October 13, the Maharashtra Vikas Aghadi (MVA) government announced a package of Rs 10,000 crores to help the farmers. The state claims that it has not waited for the National Disaster Relief Fund's instructions and gave this package from its limited finances. Despite these claims, a detailed look into the package reveals that the help provided to the farmers is negligible.
According to the package, farmers who have lost their pulses or other crops like jowar and soybean would get Rs 10,000/hectare, while farmers who have lost cash crops would get Rs 15,000/hectare. Farmers with multi-year crops would get Rs 25,000/hectare. The government compensation is limited to two hectares/farmer.
The package doesn't take into account the production costs of agriculture in the state. For instance, pulses farmers are given an aid of Rs 10,000/hectare, which amounts to Rs 4,000/acre. Generally, soybean production costs are as high as Rs 50,000/acre, even for a small farmer. For a farmer planting the crop on one-hectare land, the costs rise to approx. 1.30 lakh, which means the state government compensation of Rs 10,000/hectare is just 10% of the entire expenses of farmers.
"How come farmers will stand in this case? Generally, they go for loans every season. Now they have lost everything they could have got had the season gone well. And what is the government giving them? Just 10% of the entire cost. It is unacceptable and atrocious," said Dr Ajit Navale, general secretary of All India Kisan Sabha (AIKS), Maharashtra.
Manik Kadam, a farmers' leader from Parbhani, Marathwada, said that the Maharashtra government's little financial assistance would spread despair amongst farmers.
"Government is the only caretaker of farmers. Private companies are not concerned about their well-being. The government will have to extend a helping hand, giving farmers confidence to continue in agriculture. Otherwise, such a helpless situation would eventually lead to a large number of suicides," feared Kadam.
During 2016 and 2019, Maharashtra had seen similar rains. In 2019, Bharatiya Janta Party (BJP) was in power with Shiv Sena as its minor partner in the government. At the time, Sharad Pawar's Nationalist Congress Party (NCP) was in opposition. During those days, Sena chief and now CM of state, Uddhav Thackeray, demanded Rs 25,000/hectare for crops like jowar and soybean. He had also asked the government to immediately give financial assistance without wasting time in the bureaucratic process. Similarly, NCP chief Sharad Pawar had also asked the government to provide immediate relief. His nephew and current Deputy Chief Minister Ajit Pawar had asked for Rs 50,000/hectare relief for cash crops.
"Be it Sena or NCP, both of them have forgotten what they used to demand a few years back. None of these main political parties cares for farmers. They do lip services. Uniting and protesting seems to be the only way for farmers," said Dhavale.
CM Thackeray had claimed that his government would take care of farmers. But that is not translating on the ground. Government insiders keep claiming that the COVID-19 has broken the backbone of the state economy. Swabhimani Shetkari Sanghatana (SSS) has spoken against this narrative.
"They have money to continue Rs 55,000 crores Mumbai Nagpur road. They gave clearance to Konkan expressway, which would cost Rs 10,000 crores. So, when it comes to big infrastructure projects, the government pulls up resources and announces projects. But when it's about helping farmers, they point towards COVID-19. This shows that the MVA doesn't intend to help the farmers in the first place," said Raju Shetti, president of SSS.
Get the latest reports & analysis with people's perspective on Protests, movements & deep analytical videos, discussions of the current affairs in your Telegram app. Subscribe to NewsClick's Telegram channel & get Real-Time updates on stories, as they get published on our website.
Subscribe Newsclick On Telegram