The Season of Absurdity in the Election Year
PM Modi's #MainBhiChowkidar is a grand example of the BJP's out of proportion responses to non-issues while glibly missing the actual point, pushing the electoral system towards a volatile future.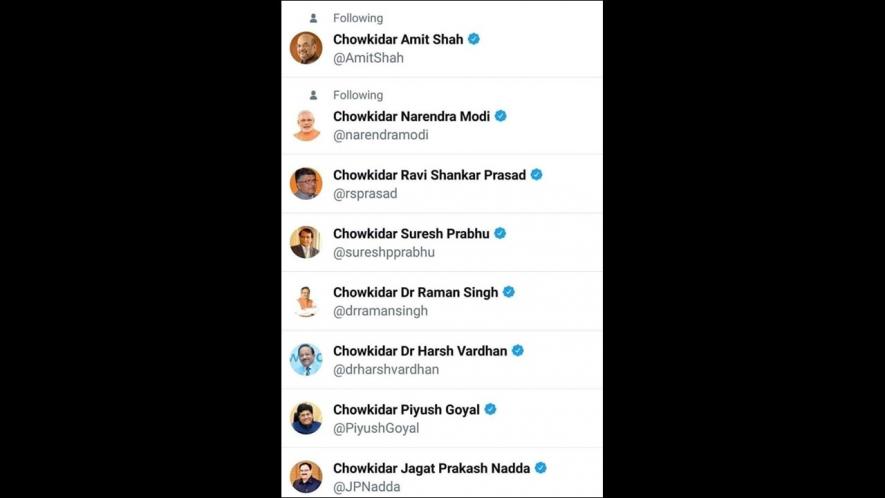 Several BJP leaders participated in the #MainBhiChowkidar campaign, sharing it on their Twitter.
What's an election season without over-the-top campaign rallies and some wildly bizarre statements from netas so determined to get elected or re-elected, that they sometimes breach even the low bar set for believable declarations by saying things that repeatedly imperil our sanity?
The social media age has certainly scaled up the volume (both in decibel and sheer quantity) of what we experience in the run up to the polls and the high-stakes results at the other end. When reality can be warped, or opinions shifted or amplified according to the precision with which a hashtag can be crafted and how popular it can become, the nature of our political engagement has gone through a re-modelling, even as it sets up yet another barrier for the most marginalised to engage. By virtue, these are already privileged grounds where ideologies and a lot of noise meet in "battle". Though I believe that engagement in these spaces is important, even crucial at times, one needs to be constantly aware of whom it includes and excludes.
The Twittersphere is currently seeing a large influx of chowkidars. No, it's not a working-class mobilisation. Last Saturday, the Prime Minister tweeted, "Your Chowkidar is standing firm & serving the nation. But, I am not alone. Everyone who is fighting corruption, dirt, social evils is a Chowkidar. Everyone working hard for the progress of India is a Chowkidar. Today, every Indian is saying-#MainBhiChowkidar". This is tagged to a 03:45 video that is so dislocated from reality, that it has broken free of orbit. Snatches of traditional dance practises are randomly intercut with people representing different economic/regional identities gleefully mouthing "main bhi chowkidar hun". Joining in are supposedly army personnel  (This, despite the ECI Advisory Notice dated March 9,2019, calling upon all political parties to desist from using images of the armed forces "in any manner in advertisement/propaganda/campaigning or in any other manner in connection with elections by political parties and candidates") -  all of them chowkidars. This "clap-back" as such responses are called on social media, to Rahul Gandhi's #ChowkidarChorHai is a grand example of the BJP's out of proportion responses to non-issues while glibly missing the actual point. Now, Rahul Gandhi will only be able to point out the many discrepancies with the Rafael Deal without using his hashtag, because if he did, he'd be calling all these people chors too. How ingenious. Not only is the hashtag being used in the thousands by pro-BJP Twitterati (as they probably also are by the most hardworking unit of the ruling party – the IT wing), most of the senior leadership in the BJP have added Chowkidar to their Twitter handle, following the PM's example.
Last Lok Sabha elections, Modi was the chaiwallah, this time he's the chowkidar. This reducing of the working class, wrapped in the false garb of anti-establishment sentiments, to a single caricature that represents 'humility', 'honesty', and 'integrity' smacks of political privilege and utter disregard for their autonomy.  It falls within the same power structure of the 'noble savage' image – thoroughly crude and utterly self-serving. It appears to be unapologetic appropriation generated for mainly middle-class voters (the BJP's primary vote bank) to consume without consequence or scrutiny. Given that the Modi government has been widely criticised for its anti-poor policies and politics of exclusion, the whole exercise jars the teeth. This sort of shallow engagement such as the video of the Prime Minister's Christ-like washing of the feet of manual scavengers (while their lives and livelihood are a set of inhuman conditions that aren't media-friendly enough to address) is pushing the electoral system towards a volatile future.
Backlash from opposition parties has been swift, with Akhilesh Yadav of the Samajwadi Party pointing out the role caste structures play in job opportunities. If anyone thinks that Rahul Gandhi's response might have come off as rather tame, someone in the BJP did think it critical that Sushma Swaraj also add Chowkidar to her Twitter handle.
Standing devastatingly stark against all this, Najeeb Ahmed's mother asks in a tweet, three years after her son's unsolved disappearance from the JNU campus amidst allegations of ABVP involvement, "If you are a chowkidar then tell me where is my son Najeeb?"
Get the latest reports & analysis with people's perspective on Protests, movements & deep analytical videos, discussions of the current affairs in your Telegram app. Subscribe to NewsClick's Telegram channel & get Real-Time updates on stories, as they get published on our website.
Subscribe Newsclick On Telegram