Major Mistakes in Study Material, SOL Students Hold Protest in DU
The self-learning materials contain several grammatical mistakes, poor language usage, and incorrect information.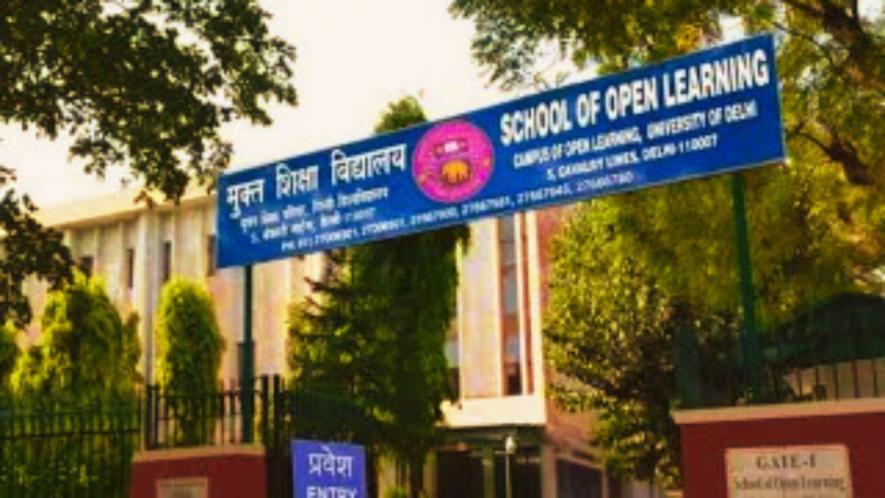 Students held massive protests outside the Arts Faculty of Delhi University (North Campus) against the University and School of Open Learning (SOL) for approving alleged sub-standard study material with many errors. 
Krantikari Yuva Sanghathan (KYS) led the protest against the controversial study material. The students and activists also burnt a representative copy of the study materials. Further, a delegation of protesters submitted a memorandum addressed to DU Vice-Chancellor Yogesh Singh.
These study materials were approved despite nine elected members of the council dissenting against it. The council had earlier passed study materials for the first and second semesters of the undergraduate courses being offered by SOL. The study materials are of sub-standard and pathetic quality that any cursory reading of them would show, the protesters said. Thus, the issue was recently raised in the Academic Council by the elected representatives. 
The self-learning materials contain several grammatical mistakes, poor usage of language, factually incorrect information, and plagiarism, among others. In the Hindi-medium study material for the BA (Hons.) Political Science course, Montagu–Chelmsford Report is written as "Mountain Dew Chelmsford report". In another Hindi material, it is written that India got independence in 1945 instead of 1947! 
There are egregious value judgments in the material as well. In the material for the paper 'Ideas in Indian Political Thought', it is argued that Swami Vivekananda was an "unprincipled" person. As per the Oxford Learner's Dictionary, unprincipled means "without moral principles". This is said about a person who is considered one of the foremost figures and social reformers of modern India. There is also an implication that the Constituent Assembly adopted the Constitution in 1994. The mistakes and errors  being pointed out are just illustrative and not exhaustive. 
Maya John, an Academic Council (AC) member and professor of History at the Jesus and Mary College, said in an interview with TOI, "The major concern is that there are alarming levels of factual and grammatical errors that lakhs of students have to depend on." 
Close to 1.3 lakh students are enrolled in different programmes at SOL, which is much higher than in regular colleges. 
"No credit/reference has been given to the original source material," the teachers' note said. "Moreover, the words 'justice' and 'injustice' from the source material have simply been translated to nyaya (a specific concept in Indian philosophy), causing a gross loss of meaning."
The errors in different courses have been sent to DU for review. Members of the AC argued that a system similar to that used by the Indira Gandhi National Open University, where the study materials go through rigorous checks, should be implemented.
All resources for self-directed learning, according to SOL director Payel Mago, have been submitted to the AC or DU's Executive Council for revision. She questioned, "Why is there a fuss among AC members when it is their responsibility to verify the study material? This seems to be done deliberately to discredit a school that is expanding its offerings of courses for disadvantaged students.
After protests by the students in the North Campus, the SOL constituted a review committee to investigate "minor" errors flagged in its self-learning curriculum by DU's AC. 
The statement from SOL read, "University of Delhi's School of Open Learning (SOL) has constituted a review committee over minor errors in Self Learning Material (SLM) of two political science papers. Giving information in this regard, Principal of SOL Prof Ajay Jaiswal said some errors were pointed out in the SLM of two papers on Political Science by some elected Academic Council (AC) members during the AC meeting with the University on Friday (August 11)."
Back in 2019 as well, there were similar allegations on SOL regarding the problems in the study material. The Delhi High Court then directed SOL to get the material audited immediately, besides other directions. However, the problems have lasted for long.
Student activists narrate how the matter of SOL does not reach the ears of the media as well. This problem has been there year after year but comes to limelight only when something big comes up. They allege that the problem is structural. 
"People should realise that these are students from extremely marginalised communities and many of them are first-generation learners. Although the University claims to have increased accessibility, the sad truth is that the students who are compelled to go for SOL are completely helpless," says Mandvi Mishra, a student activist at DU.
Mandvi narrated how the problems in English could be one thing where there are grammatical errors, but political science is purely based on facts, and the majority of the mistakes have been made in Political Science itself.
When it comes to the classes of SOL, the numbers are too low. There are only 8-10 classes held per subject for lacs of students who are a part of such curriculum. "It is not possible to understand everything within 8-10 classes. The syllabus is quite big. And the spaces in the three-four classrooms that are allotted to us are not so much. As a result, for a student like me who comes all the way from Ghaziabad, there are quite less chances of getting a seat inside the classroom," said Yash, a resident of Ghaziabad who travels to North Campus whenever their classes are scheduled. He often has to stand outside class or sit on the floor for the lack of space. 
For students who are from financially underprivileged backgrounds, although SOL provides a medium to learn, the fundamental issues prevent them from attaining proper education. There are students who do henna design work all year to pay their fee and students who sell wipers to make their family's ends meet while completing their education. However, none of this is taken into consideration. 
Student activists allege that when they try to understand the matters of these students and plan on helping them, they are often stopped by authorities from doing so. If a college authority sees an activist talking to an SOL student, they are strictly asked not to do so.
The students pursuing open learning do not have the right to vote in the students' union elections of DU. This creates a major challenge for them since their issues are completely neglected.
A delegation of affected students and activists had even gone to the UGC with their problems. They were given verbal assurances, but ever since the meeting, there has been no progress. 
Get the latest reports & analysis with people's perspective on Protests, movements & deep analytical videos, discussions of the current affairs in your Telegram app. Subscribe to NewsClick's Telegram channel & get Real-Time updates on stories, as they get published on our website.
Subscribe Newsclick On Telegram