Malaria Vaccine Trials in Africa: Dark Saga of Outsourced Clinical Trials Continues
Apart from efficacy issues, critics point out conflict of interests and even question need for vaccine.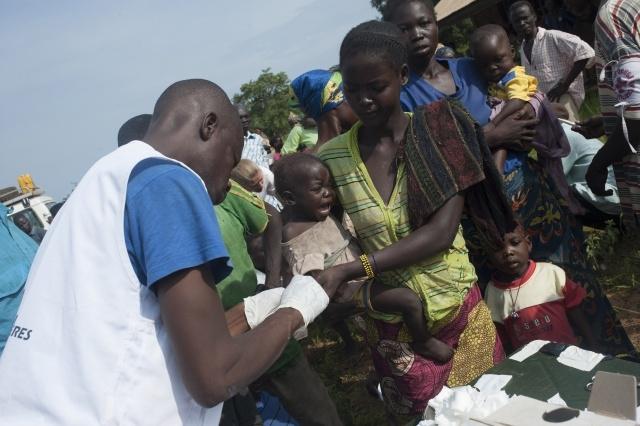 Image Courtesy: Seychelles News Agency
With celebratory headlines - such as "World's first malaria vaccine will be available from 2018 - and could save tens of thousands of lives", "World's First Malaria Vaccine Coming to Africa in 2018" - the media enthusiastically reported in April 2017 about the large-scale clinical trials that are to start in Africa this year, involving over 750 thousand 5-17 months old babies in Ghana, Malawi and Kenya, on whom the RTS,S vaccine will be tested.
Permitting such costly large-scale clinical trials of a vaccine which has been shown to have a low efficacy, while other tried and tested methods of combating malaria through public health interventions have not been sufficiently encouraged by international agencies, raises many questions. There are also reports of conflict of interest arising from the common stakes held by various agencies involved. Then there is fear of violations and deception in such trials - as previous drug trials involving these agencies have demonstrated.     
Produced under the trade name Mosquirix, this vaccine was developed by GlaxoSmithKline (GSK), in partnership with the Bill and Melinda Gates foundation (BMGF) and an American NGO called Programme for Appropriate Technology in Health (PATH), which, having received from the foundation a billion dollars in grants, has been characterized as its virtual "agent". The results generated from this on-the-ground testing, which will include data regarding the safety issues associated with the vaccine, will be used by the WHO to decide whether or not to add this vaccine in the core package of the measures it recommends against malaria.
In October 2015, WHO's Strategic Advisory Group of Experts on Immunisation and the Malaria Policy Advisory Committee had recommended that "limited pilot demonstrations" of this vaccine "involving upto 1 million children" as test subjects be done in Africa. Note that BMGF is the second biggest source of funding for WHO.
GSK and its backers, including the BMGF, have together spent $565 million on this drug, whose interim test results turned out to be "disappointing", falling short of "the expected criteria for a malaria vaccine set out by a WHO-led consortium", which requires a "protective efficacy of more than 50% against severe disease and death and last longer than one year," an article in science journal Nature noted.
"The efficacy came back lower than we had hoped, but developing a vaccine against a parasite is a very hard thing to do," Bill Gates himself acknowledged in November 2012. "The trial is continuing and we look forward to getting more data to help determine whether and how to deploy this vaccine."
Three years later, the data available from trials carried out in the initial phase on 15,000 children from seven different sub-saharan African countries showed "that a series of four RTS,S shots reduced the number of malaria cases by only 36% in young children, and by 26% in infants," the journal Nature reported in another article.
The vaccine, containing a certain protein found on the surface of the malaria parasite, works by triggering the immune system's response this protein, and thereby equipping the recipient "to fend off parasites if bitten by an infected mosquito". However, different parasites have slightly different proteins, and researchers, who developed this vaccine nearly three decades ago, "did not have the tools to measure the extent of this variation". Therefore, the protein used in this vaccine was found to match less than 10% of the parasites in the region where it was tested. This has reduced the vaccine's potential efficacy by half.  
Re-engineering the drug to match the protein found in several malaria parasites, according to a molecular biologist who had worked with GSK in the early years of development of this vaccine, would take anywhere between 10-15 years. However, "it was (already) expected that the vaccine would be recommended for use by 2017," The East African reported in 2015.
Is a vaccine needed for malaria?
Perhaps these new trials in Africa will produce valuable data using which the vaccine's efficacy can be improved over the following years. This would lead to its inclusion in immunization programmes of these countries, guaranteeing enormous long-term profits to GSK, and, indeed, immunization to many million children in Africa.
But is making hundreds of millions of dollars in philanthropic grants to help a corporation to develop a vaccine the most effective way in which BMGF, the richest philanthropic foundation in the world, can contribute to the war against malaria?
Europe, where malaria was endemic in the South until the end of the Second World War, became Malaria free by 1975. But between late 1980s and early 1990s, the political turmoil resulting from the collapse of the Soviet Union and the Gulf war triggered a wave of migration into Europe, bringing malaria back into the continent from other parts of the world.
After hitting a peak of almost a hundred thousand cases of malaria in 1995, Europe managed to reduce the occurrence of this disease to zero by 2015. This was accomplished not through vaccination, but by taking "anti-mosquito measures, primarily water drainage and larviciding", spraying of DDT, changing land-use, draining of marshland for cropping and an overall increase in the population's access to healthcare, according to a 2016 paper published in the Malaria Journal.
Any assumption that Africa, not being Europe, is incapable of taking these measures can be quickly dispelled by the example of Eritrea - a country on the wrong side of U.S, victimized by sanctions and repeatedly dubbed as the "North Korea of Africa". Having closed its door to foreign aid and most international NGOs, this poor country in the horn of Africa, ravaged by decades of war, is one of few that have managed to achieve the millennium development goal regarding reduction of malaria cases. In recognition of this accomplishment, Eritrea was presented with the Award for Excellence in January 2016 by African Leaders Malaria Alliance (ALMA), whose Executive Secretary declared that "Eritrea has been a model for other nations in the fight against Malaria."
Between 2001 and 2014, the number of malaria cases in the country declined from 125,746 a year to 35,725. Only 15 malaria deaths were reported in 2014. This was achieved through programmes such as public distribution of Insecticide-treated bed nets, using Indoor Residual Spray, larviciding, targeting mosquito breeding sites and increasing the population's access to healthcare facilities, the Malaria Journal explained in a 2015 paper. 
However, unlike funding corporations to develop new vaccines, making large grants to sovereign nation-states to implement these tried and tested methods offers no opportunity for pharmaceutical giants like GSK, which are closely associated with the BMGF, to secure long-term monopoly profits .
The Bill and Melinda Gates foundation, even after selling most of its  $205 million worth of shares in pharmaceutical companies in August 2009, continued to indirectly hold shares in a number of them, including GSK, through Warren Buffett's Berkshire Hathaway - a company in which the foundation's holdings amounted to almost 50% of its portfolio share as on June 2010, before receiving in the following month an additional 24.7 million shares as a 'gift' from Buffett. Bill Gates is also a board member of Berkshire Hathaway, which until 2014 held 1.5 million shares in GSK. 
While the value of the share-holdings may vary as and when new opportunities for generating profits present itself in the stock market, the revolving door between the foundation and the very pharmaceutical companies that benefit from the foundation's grants, betray an alliance based on more than mere holding of shares. For instance, Tachi Yamada, who was the chairman of GSK's R&D, was appointed as the executive director of the BMGF's Global Health program, in which position he served for 5 years until 2011. Kate James, who had previously served in GSK for nine years, was appointed the as the Chief Communications Officer of the foundation, where she served till October 2013.  
Why outsource clinical trials to developing countries?
Apart from the conflict of interest evident in the fact that the foundation "funds programmes that accelerate R&D for private pharmaceutical companies which the Gates Foundation's Donors and endowments are in turn invested in," the extent of violations in previous clinical trials involving this triad - BMGF, GSK and PATH - raises further concerns.
From deceiving the villagers into believing that the clinical trials were in fact an immunization programme carried out by the government to flouting the prescribed procedure for taking informed consent - the "blatant violations" by PATH while testing GSK's HPV vaccine in the Indian state of Gujarat in 2009, using funds from the foundation, have been documented in detail in a parliamentary committee's 2013 report.
It is not the medical necessity of carrying out trials on Africans to develop any vaccine for malaria that is being disputed here. In fact, development of any new drug requires testing on a wide range of ethnicities in order to determine its efficacy and safety. However, the disproportionate rise in the number of clinical trials carried out in developing countries cannot be explained solely by the imperatives of medical science. There are other motivations behind this increasing outsourcing of clinical trials by western pharmaceutical corporations.
The regulatory regime in the developed world, which had previously been lenient enough to allow "expansion and profitability" of big pharma, was now imposing increasingly more stringent rules. The London office's director of corporate consultant Mckinsey complained:
"..regulators are introducing new measures raising the bar for entry, particularly in parts of the developed world. They show little inclination to permit market access, price increases, and follow-on products without proof of substantial incremental clinical benefits." (emphasis added)
Thus it was that, with nostalgia and sadness, the authors of this Mckinsey report opened the article with the sentence: "The good old days of the pharmaceutical industry are gone forever."
The BMGF, which had purchased $205 million worth of shares in big pharmaceutical companies in 2002, naturally sympathized with their plight, sharing the concern that the development of a market for their vaccines was "plagued" by a number of impediments, including "slow entry into.. early-stage test-of-concept trials in humans, and the high cost of clinical trials. It typically takes 15 to 20 years to go from target discovery to deployment of a new vaccine."
Offering to assist the big pharma, the foundation promised to "invest in technologies that can identify promising vaccine candidates and refine them before they enter costly and time-consuming late-stage clinical trials. "Furthermore", the foundation quite candidly clarified on a page in its website, "we seek more effective models of collaboration with major vaccine manufacturers to better identify and pursue mutually beneficial opportunities."
Urging these "major vaccine manufacturers" to enter new markets beyond the purview of stringent regulatory regimes in Western countries, an Associate Principal of McKinsey's London office listed a number of enticements in outsourcing clinical trials to developing countries:   
"Development cycles can be reduced thanks to the faster recruitment of subjects from a larger pool of patients. The costs of recruiting patients and paying investigators are lower too. That can benefit the development of drugs targeted at either emerging or developed markets, as patients recruited for trials in the former can count toward the total number of patients that European and US regulators require."   
Populations of Africa and Asia will be served well if their respective governments interpret the above statement as an advice to the big pharmaceutical industries of the West to exploit the weaknesses of the regulatory regimes in the developing world for profit maximization - an advice evidently taken.  
Get the latest reports & analysis with people's perspective on Protests, movements & deep analytical videos, discussions of the current affairs in your Telegram app. Subscribe to NewsClick's Telegram channel & get Real-Time updates on stories, as they get published on our website.
Subscribe Newsclick On Telegram