Mandatory Aadhaar-Based Payment System in NREGA Will Lead to Migration Wave: Nikhil Dey
Social activist Nikhil Dey feels this government wants to make MGNREGA as difficult as possible for ordinary workers so that they lose interest. This will give the government an excuse to phase out the programme.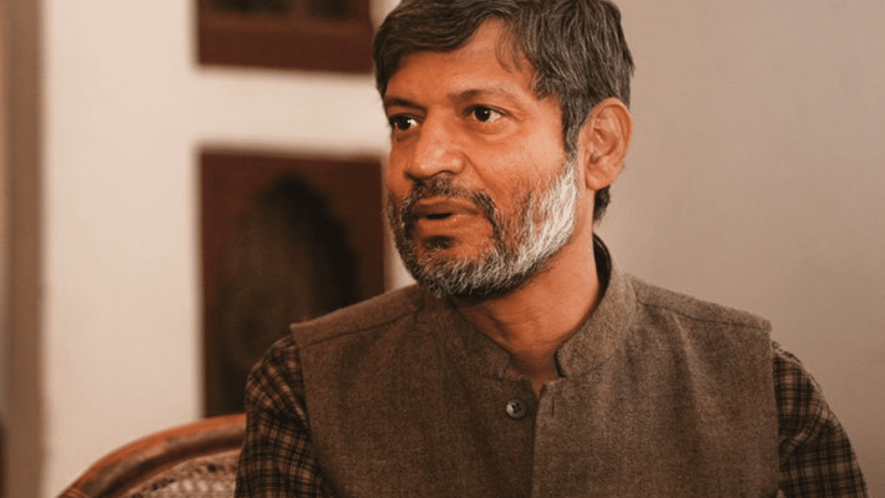 In 2023, the Central government introduced two measures concerning MGNREGA (Mahatma Gandhi National Rural Employment Guarantee Act). In January, it mandated the use of NMMS (National Mobile Monitoring System) to mark worker attendance. This move was fiercely opposed by NREGA workers countrywide, who protested at Delhi's Jantar Mantar for 100 days. Additionally, the government implemented an Aadhaar-based Payment System (ABPS) in MGNREGA. Before this, the workers received payments through two modes -- an account-based system and an Aadhaar-based system. In the ABPS system, workers must have their job cards linked with their Aadhaar card and bank account. They should also be linked with the National Payments Corporation of India (NPCI) mapper. 
Currently, as per government data, the existing workforce of the NREGA is 14.41 crore active workers, of which 11.60 crore meet the eligibility criteria set by ABPS. Experts have called this exercise futile and anti-worker. NewsClick spoke with social activist and researcher Nikhil Dey, who has been associated with NREGA workers for over a decade, to understand the impact of ABPS on MGNREGA. Edited excerpts:
Neelam Gaur: Experts argue that mandatory ABPS (August 31 deadline) will lead to work denial. Do you agree?
Nikhil Dey: Yes, on the face of it, you don't need to prove anything. One-and-a-half crore people cannot get work. That's by the government's own admission. Many of us feel the numbers are actually much higher. People can't get work, and they can't get paid. We have seen this repeatedly: if one worker in a muster roll can't get paid, then either that entire muster roll gets held up, or those people are ejected from the muster roll.
So, an illegal scenario of making them work and taking them off the muster roll is building up.
There are multiple issues with the system.  
First, the numbers we see as already ABPS-enabled are lower than in reality. The latest study of Lib Tech India shows that states like Assam had 25% ABPS-eligible workers, Maharashtra 26%, Gujarat 33%, Bihar 46%, Jharkhand 53%, Uttar Pradesh 55%, Madhya Pradesh 58% and Karnataka 60%. So, seven states have less than 60% ABPS-eligible workers. This is a huge number.
Almost half of MGNREGA workers, or 40%, and in some cases even 70% of the workers, will be denied work if ABPS gets implemented nationwide. My question to the government is, without a legal mandate, how can they stop anyone who demands work under MGNREGA? The government is enforcing an illegal order. This will not only create a wave of migration but also reduce the bargaining power of the labour force in cities.
NG: Did the government consult civil society and other stakeholders before introducing NMMS and ABPS in MGNREGA?
ND: No, they did not consult anyone. The government in Parliament said they went to one particular site in Alwar (Rajasthan), and based on that, they brought in NMMS for the whole country. This order was implemented in places where there is a huge issue of internet connectivity.
Look at the number of poor people in need (of jobs) and don't have smartphones. People face difficult conditions to get their attendance registered. The government says these measures (ABPS and NMMS) have been brought in to prevent fraud cases in MGNREGA, but how many of the corruption cases have they acted on yet?
We have shown them (the government) several cases where the NMMS app has accepted marketplaces, animals and pictures of buildings as human faces, but how many such cases has the government followed up? The reality is the government does not have the capacity to act on it. So, how are these measures bringing any value to the scheme? Initially, they did not ask us. Later, they held talks with us, where we brought all these issues to their attention. These changes will leave poor people without their survival benefits. 
NG: Recently, a 100-day-long protest took place at Jantar Mantar. Mazdoor Kisan Shakti Sangathan and other organisations participated in the protest. Did any government or Opposition parties' representative contact you or offer assurance?
ND: We did reach out to ministers, but they did not meet us. We did meet some parliamentarians. By and large, from the ruling party, we did not meet anyone. But it is true that a few from the government met us later and assured us that they would never make anything mandatory. But they are doing it. Now, August 31 is the deadline, which is also a problem because it is going to get implemented by the state governments, who are pushing people to get ABPS done. If these measures are so great, why doesn't the government take the responsibility of getting it done? Why burden people who do not understand the whole system?
As far as Opposition parties are concerned, we contacted them and made a presentation. They did raise this issue in Parliament, but that's not enough. We told Opposition parties to join us on the streets. The issue cannot be tackled by merely issuing a press statement or asking a question in Parliament. 
NG: The government says ABPS and NMMS will tackle corruption in the existing system. Your views?
ND: Prevention of corruption is possible by the government. They brought these two measures, after which they're talking of drones and other things. But let's take one measure at a time. After implementing NMMS, they say it would show the attendance in real-time and cut corruption. However, the outcome did not turn out to prevent corruption but made life extremely difficult for workers due to the severe internet connectivity issues. On ABPS, the workers were already getting their money in bank accounts linked to their Aadhaar. So, why is this new system in place?
When we pressed the government on NMMS' claims of corruption prevention, they did not show us any figures. They said it increased efficiency by 2% but did not give the specifics of it.
These measures are also putting an unnecessary burden on state governments as they are the ones who have to implement these impractical decisions on the ground. 
NG: What do you think the government wants to achieve by bringing these measures?
ND: We have been consistently saying that this government wants to make MGNREGA as difficult as possible, as unreasonable as possible for ordinary workers so that they lose interest. It will give the government an excuse to phase out the programme.
The only other reason I can think of is that some arbitrary set of bureaucrats, wherever they are sitting, say that we want everyone on ABPS. If they lay out the conditions, every worker will come on ABPS, and surveillance or data gathering will become easier. We have seen this since the beginning; it's not for the convenience of the people. It's for the convenience of the government. Any policy must be tested against reasonableness, convenience, acceptability and producing results. These two changes have failed on these parameters. 
NG: Which three steps, according to you, could the government have taken to strengthen the programme?
ND: First, we have consistently said that you give work on demand and timely payment; that's NREGA's bottom line. By just doing this, the government can change the face of empowerment of labour across the country. 
The second part is what we have been talking about for many years: if you want to make sure the work is done and if you want to make sure that assets are built, then your entire implementation machinery has to be the central focus. You will not have corruption if your engineers are held accountable. The other ones are the officials who sign the paper. The government is barking up the wrong tree. 
The third issue is corruption. If you empower people to act on social audits, such measures can control corruption. Maybe not 100%, but many issues can be resolved. 
Get the latest reports & analysis with people's perspective on Protests, movements & deep analytical videos, discussions of the current affairs in your Telegram app. Subscribe to NewsClick's Telegram channel & get Real-Time updates on stories, as they get published on our website.
Subscribe Newsclick On Telegram