Manipur Elections: AFSPA, Drug Menace, Agri Distress key Issues of Concern
While Congress and NPF have mentioned AFSPA repeal in their manifestos, BJP has given it a miss.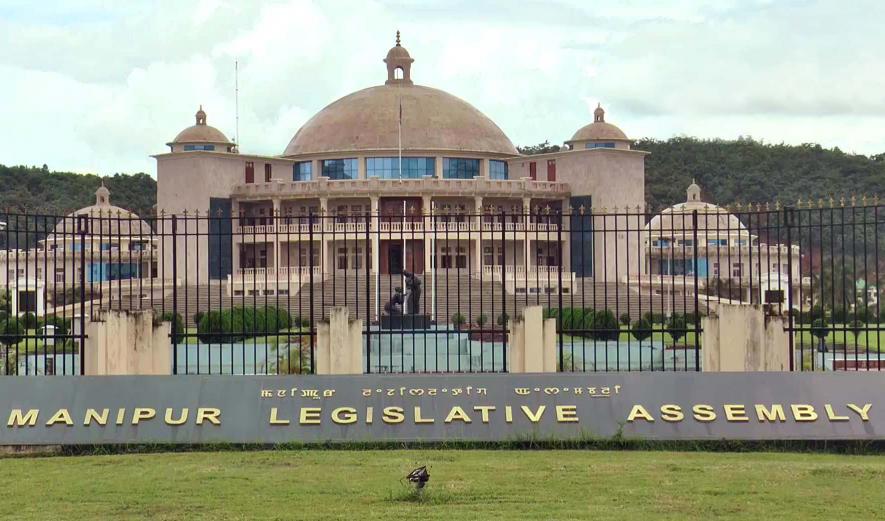 A general view of Manipur Legislative Assembly
Manipur, along with four other states, goes to Assembly elections this month. Voting for 60 constituencies in the North Eastern state will be done in two phases -- on February 28 and March 5. 
The key parties that are in the fray are Congress, National People's Party (NPP), Naga People's Front (NPF), Bharatiya Janata Party (BJP), Left Parties, Trinamool Congress among others.
One of the seven sisters of North Eastern states, Manipur is bound by Nagaland in the north, Mizoram in the south and Assam in the west. It also shares borders with two regions of Myanmar i.e. Sssaing in east and Chin state in the south.
The population of almost three million is a mix of the majority group or 53 % of the Meitei, 24% of Naga Tribes and about 16% of various Kuki- Zo tribes. The main language of the state is Meitei (also known as Manipuri) and the main religion is Hinduism followed by Christianity.
The small North Eastern state's economy is primarily agriculture, forestry, cottage, and trade-driven with significant hydroelectric power generation potential. It also acts as India's 'Gateway to the East' and is the land route for trade between India and Myanmar and other countries in Southeast Asia, East Asia.
To understand the various aspects at play in the upcoming elections, the ethnic divide, the political divide and people's issues in Manipur, NewsClick separately interacted over email with two keen observers of politics in the state – Pradip Phanjoubam, (senior journalist and author, and Editor, Review of Arts & Politics based in Imphal) and Babloo Loitongbam, Manipur-based human rights activist.
Ethnic divide and how it influences elections
According to Phanjoubam, the ethnic divide is complicated, with the simplest being – the Hills populated by tribals practicing Christianity and tribal religion, and the Valley, occupied by the non-tribals who mostly practice Hinduism.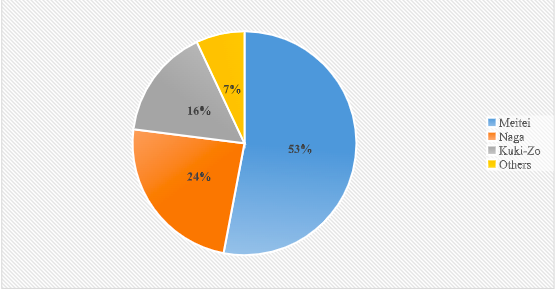 Manipur has 60 seats, of which 40 are in the Valley open to everybody, though generally the majority groups contest from here, while the Hills have 19 seats reserved for tribals.
"At one time, one seat was neither in the Hills nor in the Valley and was, therefore, left unreserved. This region is now populated by the Kukis and the Nepalese. The Nepalese have won one from this constituency once," he said.
There are 33 -34 recognised tribal groups in Manipur who are predominately divided into the Kuki ZO and the Naga tribes with different affiliations and voting patterns, said Phanjoubam.
The Nagas affiliate with the Kohima-based NPF and were able to win four seats in the 2017 elections.  In the upcoming elections, NPF is contesting 10 seats.
Phanjoubam said it was not certain if all Naga tribes would this time vote for NPF candidates or for the two bigger parties -- Congress and BJP, which have put up candidates on all seats. 
"In a way, the bigger parties are attempting to bind together the electoral arithmetic across electoral divisions, whereas the smaller parties are campaigning only within their specific regions/community or preserving the existing divides" he added.
Beyond ethnicity, Manipur has had very strong women and civil society movements.
However, electoral politics is unfortunately not fought on ideology but is dominated by the rich to get into government, stay in power and get richer, said the senior journalist, adding that this was one reason why   electoral politics in Manipur had become a ground for horse trading and bargaining, especially by smaller parties, in case of a fractured verdict.
Also unlike in other states, in Manipur there is no identity politics. "The people treat elections rather superficially. They come out to vote without really expecting change in their lives," said Phanjoubam.
Loitongbam shared similar views, adding that in the absence of ideological affiliation, defection was very common in Manipur.
Is AFSPA a big issue for people?
The Armed Forces (Special Powers) Act 1958 or AFSPA, which gives the armed forces unbridled power to "maintain public order" in "disturbed areas", including the right to shoot to kill, to raid houses, and destroy any property that is "likely" to be used by insurgents, and "to arrest without warrant" even on "reasonable suspicion" a person who has committed or even "about to commit a cognizable offense. The draconian Act, which provides theArmy immunity from prosecution, has long been opposed by the people of Manipur. The women of Manipur have been in the forefront of the agitation to demand the repeal of AFSPA.
Phanjoubam said AFSPA was a very important issue for the people of Manipur, adding that the fact that it cannot be challenged in court was  "dangerous." In his view, even a draconian Act like UAPA (Unlawful Activities Prevention Act), which has been used arbitrarily, is better than AFSPA, because it can be challenged in court and it has been successful in some cases.
Loitongbam, too, said that AFPSA was a major issue in the upcoming elections.  Political parties like NPF and Congress are talking about its repeal in their elections manifestos, but it is missing from BJP's manifesto. This is despite defence minister Rajnath Singh, during the recent visit, talking about starting peace talks with the armed groups.
Loitongbam said the extension of AFSPA by the Centre was "unfortunate given that BJP claims 80% improvement in the law and order situation."
According to him, there has been a reduction in the level of violence and a gradual improvement in law & order as many of the armed groups were in some kind of ceasefire agreement or suspension of operation arrangement. "However, there are still some groups who are yet to join any negotiation with the government of India," he added.
The human rights activist pointed out that reduction in violence was also because of intervention by the Extra-Judicial Execution Victims Family Association Manipur, formed by families of the victims of the extrajudicial execution.
"The Supreme Court came down heavily and directed the government to establish some accountability. Extrajudicial execution has since stopped. So, interestingly, when the State kind of restrains itself, there is also restraint from the other side, which is why insurgent violence has reduced considerably", he added.
Loitongbam said while there was "marked change in the situation on the ground. But it also makes one wonder that if the situation is 80% improved (as stated by the fefence minister) then what is the need for the Army to deal with law and order in the state". 
He said: "May be there is a kind of an addiction to AFPSA for power, complete, unguided power.  It is unfortunate that our government has become AFPSA addicts."
Drug menace among key people's issues .
The North Eastern states of Arunachal Pradesh, Manipur, Mizoram, and Nagaland share a 1,643-km- long border with Myanmar. Drugs, including opium, heroin, methamphetamine and many more are smuggled from Myanmar into the NE region.
Drugs produced in the 'Golden Triangle' (The Golden Triangle represents the region coinciding with the rural mountains of Myanmar, Laos, and Thailand- Southeast Asia's main opium-producing region and one of the oldest narcotics supply routes to Europe and North America), enter India through Champaiin Mizoram, Morehin Manipur, and Dimapur Nagaland and Guwahati in Assam from Bhamo, Lashio, and Mandalay in Myanmar.  
From once being a transit route for drugs from Myanmar through the Golden Triangle, Manipur is now a significant market.
Loitongbam alleged that "many of the drug kingpins are actually given tickets to fight elections, I mean people who have CBI cases on them are BJP candidates".  
He said during these elections, civil society groups brought out a people's manifesto and submitted it to all political parties. Congress and NPF have included the drug issue in their manifestos.
Besides drugs, the issues of agriculture and unemployment, corruption continue to be important issues in the state. COVID-19 has further aggravated miseries of the people, especially food supplies.
Any impact of farmers' agitation?
Phanjoubam felt that due to poor communication between the North East and mainstream, there was not much impact of the year-long farmers' agitation in Manipur. "There was perhaps a small rally or two, but nothing much."
Loitongbam agreed on the lack of communication but felt that there was a "positive effect" of the countrywide farmers' agitation in the state.
"Manipur farmers are not part of any farm union. Subsequent to the success of the agitation in the country, a consultation was organised in the state to understand state-specific needs. Interestingly, for the past 60-70 years, minimum support price has not been an issue for farmers in the state, but learning from the farmer's agitation, a performance declaration on this was submitted to all the political parties."
So, what will people in Manipur vote for?
Unemployment, drugs, agriculture, APFSFA, said Loitongbam, while Phanjoubam said "We can only wait and see", because "people with short term memory do get swayed by rallies and colourful political campaigns."
Get the latest reports & analysis with people's perspective on Protests, movements & deep analytical videos, discussions of the current affairs in your Telegram app. Subscribe to NewsClick's Telegram channel & get Real-Time updates on stories, as they get published on our website.
Subscribe Newsclick On Telegram