Manipur: Karwan-e-Mohabbat Team's Findings Point to 'Absence' of State Govt, Precarious Conditions in Relief Camps
The team said that the state is absent in its foremost constitutional duty to protect civilians. "It is absent from relief camps. Instead, the state government is often perceived to be taking sides in what is quickly escalating into a full-blown civil war," read the report.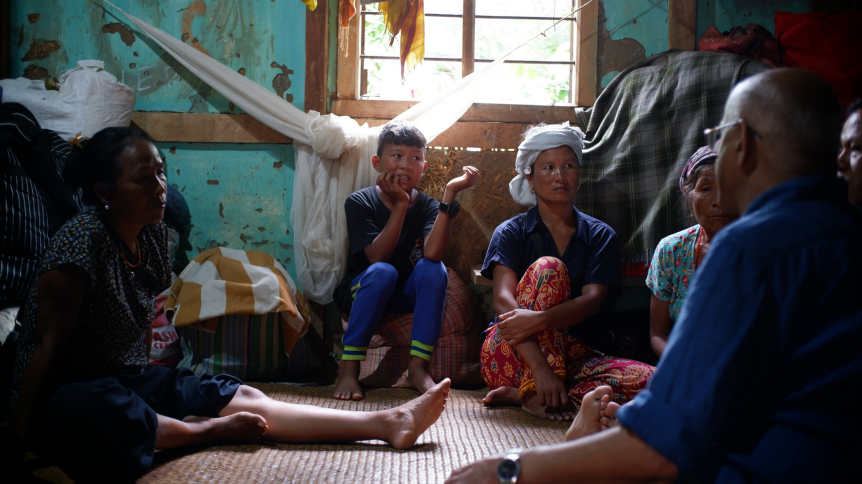 Image credit: Karwan-e-Mohabbat
The state government has not acted to restore peace and deliver justice in Manipur, according to a report released by the Karwan-e-Mohabbat team following its four-day visit to the violence-stricken Northeastern state from July 25 to July 28.
The team said that the purpose of the visit was to engage with the communities affected by the escalating turmoil in the state.
During their stay in Manipur, the team said that it dedicated significant time to listening to survivors in seven relief camps, situated on both sides of what has come to be known as a perceived "border" between the Imphal valley, primarily inhabited by the Meitei community, and the hills, where the Kuki and Naga tribal peoples reside. The team interacted with numerous community leaders from both sides of this divide, according to the report titled 'The Humanitarian Crisis in Manipur'.
The team claimed to have encountered a stark image of Manipur "transformed into a war zone", where sophisticated weaponry such as rifles, mortars, and bombs have become commonplace. There's an alarming mobilisation of ordinary citizens into this conflict, they said.
A primary takeaway from their findings was that the state is led by a government that has done "nothing to restore peace and ensure justice against people who kill, rape and destroy homes with unfettered impunity even three months later". The team said that the state is absent in its foremost constitutional duty to protect civilians. "It is absent from relief camps. Instead, the state government is often perceived to be taking sides in what is quickly escalating into a full-blown civil war," read the report.
It added that grief, anger, and animosity have reached boundless levels on both sides of the conflict. Interestingly, a common thread emerges in the narratives from both the Meitei and Kuki communities. The "other" community is painted as a threat. The team saw that the Kuki people were being portrayed as foreigners who had illegally immigrated from Myanmar when it spoke to the Meiteis, who also feared that Kuki people would "one day outnumber the indigenous Meitei people to whom Manipur belonged rightfully."
"They [Meitei] accuse them [Kuki] of endangering Meitei youth by illegal poppy cultivation. They allege that the Kuki people are illegally clearing reserved forests for their farms and settlements and threatening the ecology of the region. They claim that Kuki militants roam freely, and their violence and gun and drug trafficking thrive under the protection of the Assam Rifles," narrated the team in the report.
"The Kuki people have an entirely different narrative. They allege that their farmers may cultivate poppies for bare survival, but that the drug trade and profits are mostly harvested by politicians and big business in the Imphal valley and beyond. They claim to be legal citizens of Manipur and allege that the Meitei people want Scheduled Tribe status to grab their lands and reduce them to a minority in their mountain abodes. They also want to corner the seats in the legislatures and educational institutions that are reserved for tribal people. They also allege that a militia of Meitei youth is actively supported by the Chief Minister of Manipur and that with open state patronage, it is these militants who ravaged their lands and people with rape, murder and arson. They allege long years of work by the RSS to convert Meitei nationalism into Hindu nationalism implacably hostile to the Kuki people also for their Christian faith," added the report.
The team also observed that the conditions in the relief camps, despite the disparities, remain inadequate for both Meitei and Kuki residents. Meitei camps, at times, receive government support, while Kuki camps are mainly managed by the local church and community contributions.
While Union Home Minister Amit Shah's visit brought the promise of cash compensation for families of those killed during the violence, comprehensive schemes for compensation – encompassing cases of sexual violence, injuries, property destruction, and more – are yet to be detailed and implemented, noted the report.
According to the Karwan-e-Mohabbat team's findings, the public health situation in these camps was precarious. Lack of food support from the government has led to residents consuming only two meals a day, without diversity in their diets. Essential supplies for vulnerable groups, like pregnant and lactating mothers were inadequate. Medical supplies, including those for chronic diseases, were in short supply due to travel blockades. The situation is exacerbated as the region approaches winter. The team also warned of a "growing hidden mental health epidemic", which was manifesting itself in depression among young people as well as "a visible and dramatic rise" of alcohol and drug abuse – especially in the hills.
Apart from this, barring limited seasonal employment opportunities in the agricultural fields of the valley, the overall picture seemed grim, especially for those in the hill areas, stated the report.
The Karwan-e-Mohabbat team has come up with a list of recommendations to restore order in the conflict-torn state. Some of the key recommendations were as follows:
·The union and state government must announce a comprehensive relief and rehabilitation program for all affected people, including but not restricted to compensation for death, sexual violence, injury, disability, and loss of moveable and immoveable property; but also, the running of humane and dignified relief camps, and helping people affected by the violence to rebuild their homes and habitations in accordance with their wishes.
·The state administration must directly administer all relief camps in both the valley and the hills. The Chief Secretary for the entire state, and the District Collectors of each district, must be directly accountable to ensure that every relief camp fulfils standards laid down by the National Disaster Management Agency and international standards for IDP relief camps. Each camp should be managed 24x7 by teams of government officials appointed by the DCs.
·All camps must be housed in government buildings like stadiums and college buildings. These must be spacious and well-ventilated, with good drainage. Additional toilets with safe sewage disposal must be built for every camp on priority; and scientific arrangements made for waste disposal. Permanent toilets with good sewage drainage for all categories women, men and those with frailties and disability must be built within a short time frame.
·With immediate effect, the state government must restore its full presence and responsibilities in the hill regions of the state. This would include responsibility to supply food for patients, staff and medical students, as well as drugs and diagnostics, in the medical hospital and medical college in Churachandpur. The state government should establish both an air ambulance services as well as supply at least three critical care ambulances for transporting critically ill and injured patients from Churachanpur to Aizawl or Guwahati.
·Visible peace building measures between the two estranged communities must be organised, starting with the safe return of the bodies in morgues, developing neutral venues and appointing moderators and conflict resolution specialists to mediate dialogues between mid-level civil society, tribal chief and church and youth groups, counselling for individuals with a focus on youth and hope and dream building of a peaceful future, moves towards legal actions against known perpetrators of the violence, and sharing stories of hope and shared culture between the two communities
Read the full report here.
Get the latest reports & analysis with people's perspective on Protests, movements & deep analytical videos, discussions of the current affairs in your Telegram app. Subscribe to NewsClick's Telegram channel & get Real-Time updates on stories, as they get published on our website.
Subscribe Newsclick On Telegram