Manipur: Wage Earners Hit Hard, Cry for Early Relief and Rehab Package
Chief Minister Biren Singh has remained silent since May 3; Prime Minister Narendra Modi and Union Home Minister Amit Shah also avoided the conflict amid Karnataka polls.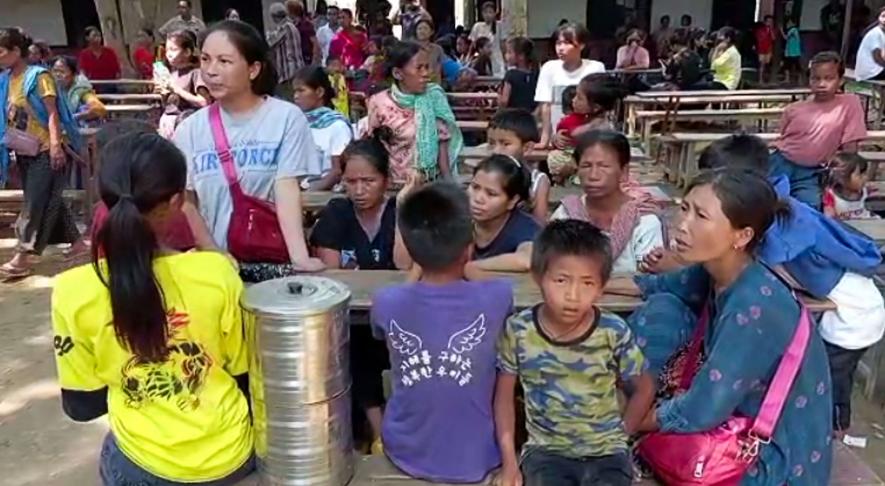 People of violence-hit area of Manipur at a relief camp setup by Assam Government in Cachar district of Assam. Image Courtesy: PTI
Kolkata: Important sections of the civil society and unionised wage earners are sore that although it is almost two weeks since the deep ethnic divide triggered widespread violence in Manipur, the Bharatiya Janata Party-led government in the state has not announced a comprehensive relief and rehabilitation package for the victims.
Only piecemeal efforts have been made by the administration. Chief Minister Biren Singh, no doubt, has held meetings with officials and representatives of political parties and trade unions. Still, much to their surprise and anguish, he had kept mum since March 3, when violence broke out, spread, and is yet to be fully controlled.
As events have shown, Prime Minister Narendra Modi and Union home minister Amit Shah were preoccupied with campaigning in Karnataka. The latter also paid attention to party affairs in West Bengal; therefore, both avoided even appealing to Manipuris to give peace a chance.
The silence of Modi and Shah prompted sections of civil society, which include retired IAS officers, to wonder whether the chief minister was "instructed" by them not to say anything in public.
In this context, they recalled the disclosure by former J&K Governor Satya Pal Malik that the Prime Minister asked him to keep mum when he reasoned with him how the Pulwama tragedy in February 2019 could have been averted. Only on Sunday, May 14, evening, Shah had asked the chief minister to visit New Delhi with four other ministers for a stock-taking exercise scheduled for Monday.
"Disgusting and demoralising" – this is how ex-bureaucrats described the state administration's handling of the situation, which is, as they put it, "as much a result of the failure of the intelligence gathering apparatus despite there being evidence of serious ethnic divide and tensions."
The ground realities have simultaneously busted BJP's boast of a state benefitting in terms of 'Vikas' if there is a 'double-engine sarkar', a senior ex-IAS told NewsClick, adding that an announcement about a comprehensive relief and rehabilitation package brooks no delay.
Concurring with the suggestion, simultaneously a drive should be immediately mounted to rescue a large number of people" who are hiding out of fear for their life, whose houses have been burnt and who may be starving", according to Manipur state secretary of the Communist Party of India (Marxist) K Santa, who told NewsClick that he had made this suggestion at the meeting the chief minister held on Friday, May 12.
Asked what the chief minister's response was, Santa said, "He did not respond; he kept mum."
Santa also sought organised distribution of relief materials in camps set up and cash assistance of Rs 6,000 to "every victim who is now left with nothing as their own".
Chief of the Manipur unit of the Communist Party of India, L Sonitkumar, told NewsClick that deaths and destruction, despite the deployment of even the Army, have shaken the people's confidence in the administration.
As a kind of CBM, a financial package should be announced and implemented with the help of civil society, opposition political parties and NGOs.
"Unfortunately, the administration allowed rebel tribal outfits to take out a march, but we were denied permission to hold a meeting we had planned to appeal for peace," Sonitkumar said.
According to the president of the All-Manipur Agricultural Workers' Union, S Nilakamal, for farm labour, the going remained tough for over five years.
In 2017, they suffered from extensive floods, and before they could financially reorganise, COVID-19 played havoc with their livelihood for a long time."
"Our repeated request to exempt them from interest payment on loans they obtained from cooperative banks using their Kisan credit cards under Nabard's refinance scheme has fallen on deaf ears. The cooperative department pleads helplessness," Nilakamal told NewsClick.
General Secretary of All Manipur Panchayati Raj Workers' Union, Kh Brojendro, pointed out that wages under the 100-day job scheme remain pending and "they have definite reasons to suspect that funds received from New Delhi for this purpose have been diverted for other schemes."
The long duration of the curfew – from 12 noon to 5 am the next day – has hit wage earners hard, Brojendro observed to NewsClick.
Agreeing with this observation, state INTUC unit chief Y Rana Pratap said, "Misery and despair are writs large on the faces of so many people, which is evidence enough to confirm that officials were taken aback by the scale of violence."
Compounding the situation was BJP's internal trouble, Pratap observed.
Retired IAS officer and a columnist in three newspapers, Raj Kumar Nimai, pleaded for immediate relief to the "internally displaced."
According to him, their number could easily be around 50,000. In his view, prioritisation would warrant a rehabilitation package for "those who have lost everything in the arson that remained uncontrolled for days."
The scope to earn a day's living for many people has shrunk because of the 17-hour curfew, and the government must recognise this reality.
Already, MGNREGA card holders' wage component remains unpaid for two years. While toning up relief delivery to the affected, the administration should involve civil society members and NGOs wherever feasible to widen participation in the task on hand, Nimai told NewsClick.
Situation in Moreh
Official trade through this Integrated Check Post between India and Myanmar is down to a trickle following the military clampdown in Myanmar in early February 2021 and earlier because of the devastating COVID-19 over large parts of the international border and adjoining areas.
If official trade is virtually 'nil', it does not follow that there is no activity. Despite surveillance by the Indian authorities, 'unofficial' trade takes place in the form of smuggling of drugs, narcotics and a host of 'other items'. This is very much within the knowledge of the Indian authorities, informed quarters told NewsClick.
According to the president of Tamil Sangam and Border Trade & Chamber of Commerce, V Shekar, in Moreh, there are some 3,000 Tamil-speaking people belonging to 300 families who hailed from 'Burma' and engaged themselves in trading activity.
Several students from Tamil Nadu are studying medicine in Manipur and at different locations, including the capital Imphal. Some 50 trained Tamil-speaking doctors are serving at indifferent hospitals, Shekar informed NewsClick. He has his import-export business. He visits Chennai at regular intervals.
"As president of the Tamil Sangam, I have to look after the interest of the Tamil community," he said.
A second-generation Tamil-speaking resident of the area, Thomas Michael, also confirmed the stalemate in official trade through the Moreh ICP. Michael is closely involved with the Child Welfare Committee of the Tengnoupal district, of which Moreh town is a part.
The writer is a Kolkata-based senior freelance journalist. Views are personal.
Get the latest reports & analysis with people's perspective on Protests, movements & deep analytical videos, discussions of the current affairs in your Telegram app. Subscribe to NewsClick's Telegram channel & get Real-Time updates on stories, as they get published on our website.
Subscribe Newsclick On Telegram