Manipur Women Await Justice Behind BJP's Façade of Nari Shakti
The prime minister needs to act fast to save constitutional order in Manipur after a video showing the harassment of two tribal women proved the state government's continued failure in handling the situation.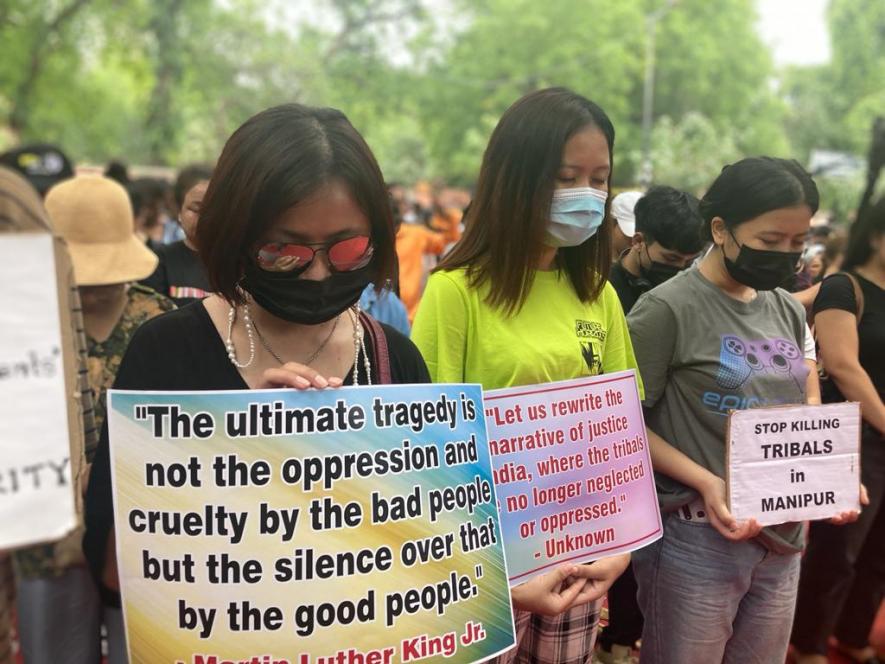 A mob in the Bharatiya Janata Party-ruled Manipur paraded three completely disrobed and crying Kuki women after brutally gang-raping them – as has been widely reported. Some among the mob derived sadistic pleasure in touching them as they were taunted and abused by others, displaying obscenity of monstrous proportions. All those gruesome developments took place in the first week of May 2023, nine months after the BJP government in Gujarat, on Independence Day, August 15, 2022, released 11 murderers and rapists convicted for life for gang-raping Bilkis Bano and murdering several members of her family including her three-year-old child. Ironically, those convicts and rapists were released upon applying remission rules after Prime Minister Narendra Modi waxed eloquently about 'nari shakti (women power)' in his speech from the Red Fort on August 15 and asked, "Can we not pledge to get rid of everything in our behaviour, culture, and everyday life that humiliates and demeans women?"
It is tragic that while some of the internationally acclaimed medal-winning women wrestlers were protesting in Delhi against alleged sexual harassment at the hands of the Wrestling Federation of India President Brij Bhusan Singh, a BJP Member of Parliament, and facing brutal action from Delhi police, those Manipuri women were getting traumatised beyond measure by the mob which stripped and marched them in full public view. Manipur Chief Minister N Biren Singh displayed utter insensitivity in saying that hundreds of such incidents took place after the state got embroiled in internecine violence from May 3, 2023, and its intensity is spiralling without any hope of being contained.
A Replay of Pre-partition Days
These horrifying developments from the Western, Northern and Northeastern parts of India represent a violation of women's honour and dignity and are a replay of the pre-partition days when Mahatma Gandhi, referring to the series of violent incidents, vandalism, and brutal assault on women, said on July 2, 1947, "Today, there is murder, plunder and rape in the air." Are we pushed to pass through those harrowing days because of unforgiving majoritarianism stoking communal and ethnic clashes in large parts of the country and causing irreversible damage to the image of our country?
The Prime Minister's Silence 
PM Modi's silence on the accelerating violence and vandalism in Manipur, where a BJP government is unable to sustain constitutional order, has perplexed the entire nation and caused anguish to all those standing for the amity and unity of our diverse people. He spoke on Manipuri women's agonising plight for a measly 36 seconds on July 21 and instead drew parallels with Congress-ruled states of Rajasthan and Chhattisgarh, where there is no widespread violence akin to what is continuing in Manipur unabated. The Supreme Court was outraged by the ill-treatment of the women and took suo motu cognisance of the matter, and observed that it would step in should the government fail to deal with the problem. Such observations bring out the apex court's deep concerns and indicate the breakdown of constitutional order in the state.
Gandhi's Vision
Women and children are the worst sufferers in any arena of violence and mayhem—their misery multiplies when the state fails to rescue them. On December 1, 1946, Mahatma Gandhi wrote about the treatment accorded to women in the princely state of Kathiawar in Gujarat and registered in the Harijan, "I cannot describe to you to what depths of depravity human nature go". "No woman's honour," he observed with anguish, "is safe in some principalities, and the chief is no hooligan but a duly anointed one".
The depths of depravity displayed in treating the stripped and paraded women in Manipur are spine-chilling. It is shocking that despite the elected BJP state government, with the mandate to govern and uphold the Constitution, women are becoming the victims of depravity by men who reportedly got them from police custody and raped and humiliated them.
National Shame  
The horror those women confronted because of their gender and tribal or religious identity shook the entire nation. Such obscenity, combined with the release of the people convicted of murder and rape charges in the Bilkis Bano case, proves that crimes against women and the continuing violence in Manipur are nasty and brutish. It has tarnished India's image at the global level. It is indicative of the screaming captions on Manipur in international media.
Has the State Become Impotent?
The Supreme Court only recently described the state as impotent in dealing with hate speeches. What happened to the women is more ghastly and chilling, and one may attribute it to hate-filled majoritarianism that stokes violence and bloodshed. What happened to those women could happen to any woman unless hate-filled majoritarianism is checked and defeated.
Honour the Victims
Mahatma Gandhi was in Noakhali, Bangladesh, to quell violence and communal riots in 1947. While addressing a prayer meeting on November 26, 1947, he referred to the untold suffering and pain of women who were kidnapped and ruthlessly violated there. Gandhi observed, "My daughter or wife too could be abducted and raped". "But," he asserted, "I would not hate her for that reason". Observing that both Hindu and Muslim women who suffered violations of their bodies approached him in Noakhali, he turned the searchlight inwards and wrote, "We have all become goondas". "I consoled those women," he said, "It is the men who commit rape that should feel ashamed, not these poor women." 
The courage of those Manipuri women, who faced the worst treatment possible, was displayed in their bold steps to follow the constitutional method of approaching the police for justice. The prime minister must speak up and take decisive steps to secure justice for them. He must live by the oath he has taken, among others, "to do right to all manners of people in accordance with the Constitution and the law, without fear or favour, affection or ill-will". His silence and short remarks on Manipur lasting mere seconds are not living by his oath. He must act fast to salvage Manipur and save the entire country.
S N Sahu served as Officer on Special Duty to President of India K R Narayanan. The views are personal.
Get the latest reports & analysis with people's perspective on Protests, movements & deep analytical videos, discussions of the current affairs in your Telegram app. Subscribe to NewsClick's Telegram channel & get Real-Time updates on stories, as they get published on our website.
Subscribe Newsclick On Telegram