March 25, 2020 - The Lockdown Files
Two years ago, India saw the largest exodus ever of migrant families from cities– no buses or trains were arranged, as poor families scrambled to reach their villages, walking for miles, with some even dying on the way.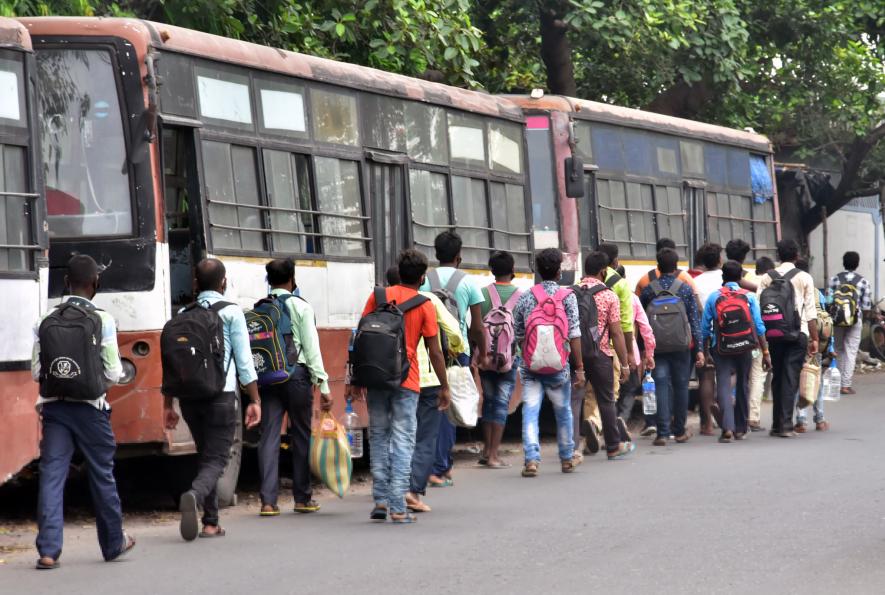 Migrants labor go by foot to their home after arriving from the special train due to unavailability of transport
On March 22, 2020, people in the country came out of their homes and clanged plates, clapped and blew conch shells, with Prime Minister Narendra Modi declaring the "beginning of the end" of the COVID-19 pandemic. This was days after Modi had held a huge gathering in Gujarat to welcome then US President Donald Trump. The COVID-19 cases had already been rising then.
Cut to 8 pm on March 24, 2020 -- Modi powdered his nose and appeared in front of his favourite television camera and announced a sudden and complete 21-day lockdown across the country after 12 am (March 25) – giving people only four hours to get back home, make necessary purchases, no matter where they were -- Kashmir or Kanyakumari.
"This decision… has drawn a Lakshman Rekha at your doorsteps. You must remember that a single step outside your home can bring a dangerous pandemic like corona inside," he said.
There was no Union Cabinet meeting, no meeting with Opposition parties, or with ministries and departments, medical experts or state chief ministers, who bore the brunt of it all; some of them were in "shock" while some others were in "awe". But, all of them were gasping in exasperation as they didn't get the time to make any arrangements to handle the chaos that ensued. The confirmed cases at that time were 519 and nine deaths, according to a BBC report.
What followed the PM's sudden announcement was panic and chaos across the country. Millions of migrant workers began rushing to bus stands and stations to get back to their villages, risking their own lives and those of their families. The middle classes thronged shops and supermarkets to buy groceries, medicines etc. There were reports of fights, fisticuffs and skirmishes. Daily wagers and domestic helps didn't know what had hit them. Should they stay, or should they go? What will they eat? How will they pay rent?
No other country, even with many more COVID-19 cases than India at the time, saw such a massive humanitarian crisis unfolding. People were given some time to make arrangements even in smaller countries.
Two years down the line, no matter how much the Modi government, with help from 'godi media', tries to whitewash the human agony that followed the unplanned lockdown, there are some images that will always stay etched in memory.
Who can forget the heart-tugging picture of a child tugging at her dead mother's saree at a railway station, a grandmother wheeling a suitcase on which her grandchild slept as she walked miles without food and water to reach her village, chapaties strewn on rail tracks as some fatigued workers were run over, a young Muslim labourer howling as his sick Hindu friend died on his lap. No help came from the government – the poor migrants were left to fend for themselves and abandoned; they depended only on the 'kindness of strangers' to survive the ordeal.
Apart from the humanitarian crisis, the unplanned sudden lockdown led to large-scale economic disruption that continues till date. Repeated pleas by experts and Opposition parties for a subsistence cash transfer to jobless families were rejected by the Centre.
With no compensation from the government, the over 90% of Indian workforce in the unorganised sector is reeling under financial distress till date. Their incomes have gone down, household debts have risen, medical expenses have gone up as food and nutrition intake has been greatly affected due to rising prices. Lakhs of small and micro businesses shut shop and those who didn't are still struggling to survive.
Contrast this with the corporate sector that basks in the glory of a friendly government at the Centre. According to an analysis by Mint, despite the pandemic-induced lockdown, corporate profits (mainly due to low spending on inputs and wages) are at a six-year high!
It's time now, therefore, for someone to make a film on 'The Lockdown Files' – the largest migrant exodus from cities in India's history, when millions were abandoned on the silken highways and expressways of India by a government that speaks on a Dolby sound system but wears sound-proof headphones that shut out the cries of people in distress.
Get the latest reports & analysis with people's perspective on Protests, movements & deep analytical videos, discussions of the current affairs in your Telegram app. Subscribe to NewsClick's Telegram channel & get Real-Time updates on stories, as they get published on our website.
Subscribe Newsclick On Telegram