Massive Fire Destroys Delhi's Only Rohingya Camp
This is not an isolated incident. This was the fifth conflagration in the camp over the past nine years.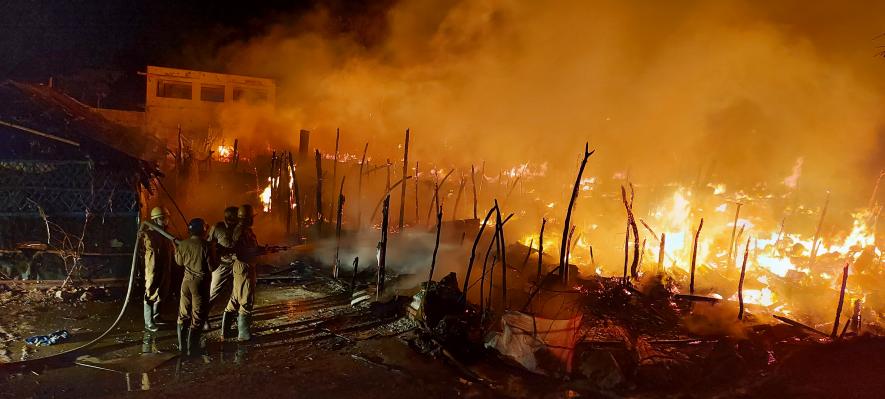 New Delhi: It was a usual night for Zahid Hussain. Unaware of what destiny has in store for him and others, the 23-year-old, like his fellow Burmese refugee neighbours in the Rohingya camp in South East Delhi's Kanchan Kunj, had gone to bed after having dinner at 10 pm on June 12. As he was slipping into slumber, he overheard screams of some people. 
He ventured out of his shanty and saw huge flames engulfing the makeshift camps — where around 250 Rohingya refugees had been living. All he could do at the time was save his wife and one-and-a-half-year-old son.
The massive fire, which broke out at 11:55 pm, turned all 56 shanties in the refugee camp into ashes within minutes. All the occupants lost everything they owned. Strong winds helped fuel the fire.
The daily wagers from the Rohingya camp make ends meet by working as construction workers, running small shops and driving e-rickshaws. They keep their savings in cash. The Saturday night's fire wiped out all their savings apart from other belongings such as clothes, utensils, food items, and furniture, etc. The ruins lying there bear testimony to the destruction.
"After months of hard work as a labourer at a construction site, I had saved Rs 46,000. I was planning to buy an e-rickshaw on EMI to ease my life. The fire was spreading so fast that I could not get time to take the cash along while running with my family to safety. We all now have to start life from scratch, just like we did when we had first come to Delhi in 2012," Hussain told NewsClick as he held his son in his lap, tears rolling down his face.
Wearing a lungi (long piece of cloth worn as a loincloth) and bare from the waist up with his child, who had no clothes on his body, he said, "We don't even have clothes to put on."
While most of the families lost all their savings, there are a few who lost their source of livelihood as well after their small shops, where they sold food items and other articles, mostly to fellow refugees, have been reduced to ashes.
"My husband works as a construction labourer, but does not get work every day. Therefore, I was running a small shop to contribute to the family income. Since I am skilled in sewing, I also used to stitch clothes to get additional money. But everything from the shop to the sewing machine is now gutted in the blaze," said Yasmeen, a mother of three. 
Also read: Human Life in a Poor Country is as Precious as in a Rich Country
Apart from starting their lives anew, the Rohingyas are now faced with another major challenge: re-obtaining their United Nations High Commissioner for Refugees (UNHCR) cards — the only identity card they had to prove their legal stay in the Capital and the country. 
Though no casualty has been reported in the incident, the cause of fire is not yet known. The fire fighters who took over two hours to douse the flames said the fire has been placed in "medium category" and the prima facie it appears to be "accidental".
MERELY AN ACCIDENT OR A CONSPIRACY? 
A senior police official present at the spot dodged the question when asked about any suspected foul play, adding that the forensic team is yet to ascertain the cause of fire. However, the locals and the refugees alleged that it was not at all an accidental incident, but a manufactured one.
"A few officials of the Yamuna Authority and UP Irrigation Department, which owns this land, had visited the camps in the evening, asking the occupants to vacate the place. They categorically told us that we would have to leave this place at any cost. The fire broke out hours after they left and when everyone had gone to sleep," alleged all the refugees NewsClick spoke to.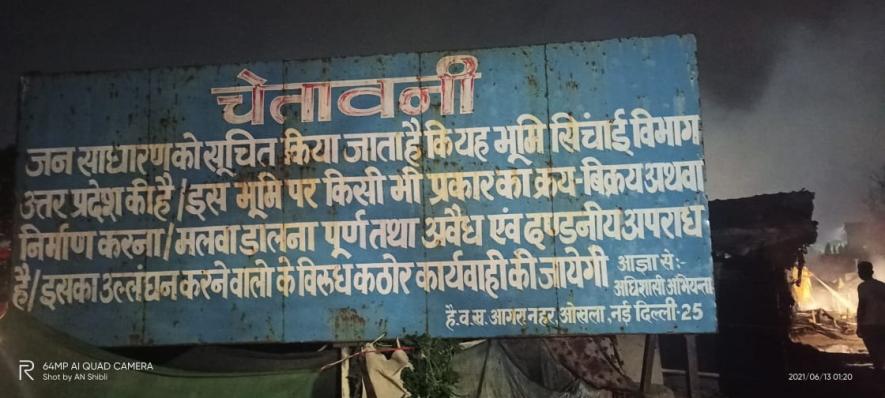 "We are a persecuted community who were forced to flee our homeland. We took refuge in India as we had heard and even seen in movies that Indians are very compassionate. We are not asking for anything, except a place to live. We too are human beings and have children. We too have rights as human beings and refugees. We are not encroaching on your lands, nor are we living here illegally. Our stay here has been validated by the UNHRC, which has issued us a refugee card. What will you get by setting our makeshift tents on fire?" one of the refugees questioned.
It should be noted that this was the fifth conflagration at the camp over the past nine years. A massive pre-dawn blaze had destroyed Delhi's only camp for Rohingya refugees in April 2018 as well.
"It is called accidental fire, and such accidents keep happening again and again. The incident was well-planned to scare these people to the extent that they leave the city," alleged Minnatullah Khan, a local Aam Aadmi Party (AAP) leader, demanding that a fair probe be conducted and culprits be brought to book.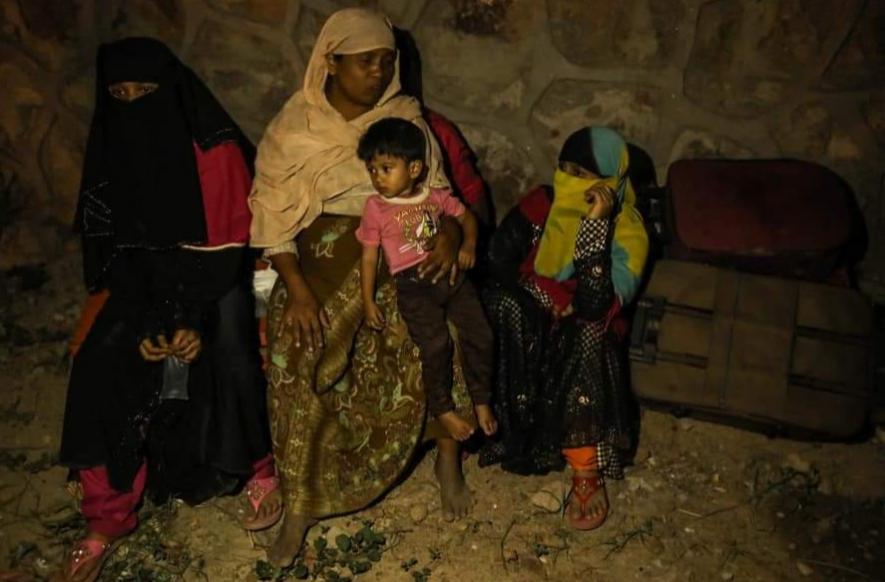 When contacted over phone to seek his reaction, Okhla MLA Amanatullah Khan said he is not close to the spot because he is out of the city. "It would be premature to jump to any conclusion. Let the police investigate and come up with the truth. If it is someone's handiwork, the possibility of which cannot be ruled out, he will not be spared for sure. We expect the police to do a fair and impartial investigation," he said.
He added the Delhi government will give the victims an ex-gratia amount of Rs 25,000 so that they can restart their lives.
Most of the Rohingyas from the Kanchan Kunj camp have reached Delhi after their short stays at refugee camps in Jammu, where they report to have been repeatedly targeted by Hindutva groups. This camp is often referred to as a settlement of Bangladeshi refugees, with little knowledge about their migration and history.
The refugee camp had recently hit headlines after the Delhi Police launched a crackdown by picking up several of its alleged illegal occupants to put them in detention camps.     
Following ethnic persecution by the then Buddhist government in Myanmar and its security forces, the Rohingya community has been fleeing Rakhine state for the past several years. A military offensive was launched against the community in October 2016 in the name of targeting extremist groups. Myanmar has refused to grant Rohingyas citizenship.
Get the latest reports & analysis with people's perspective on Protests, movements & deep analytical videos, discussions of the current affairs in your Telegram app. Subscribe to NewsClick's Telegram channel & get Real-Time updates on stories, as they get published on our website.
Subscribe Newsclick On Telegram