Massive 'Tractor Parade' on R-Day Marks Historic Protest by Farmers Against Agri Laws
Thousands enter Red Fort, one farmer dies in ITO; Govt disables internet, closes 20 Metro stations after violence in some areas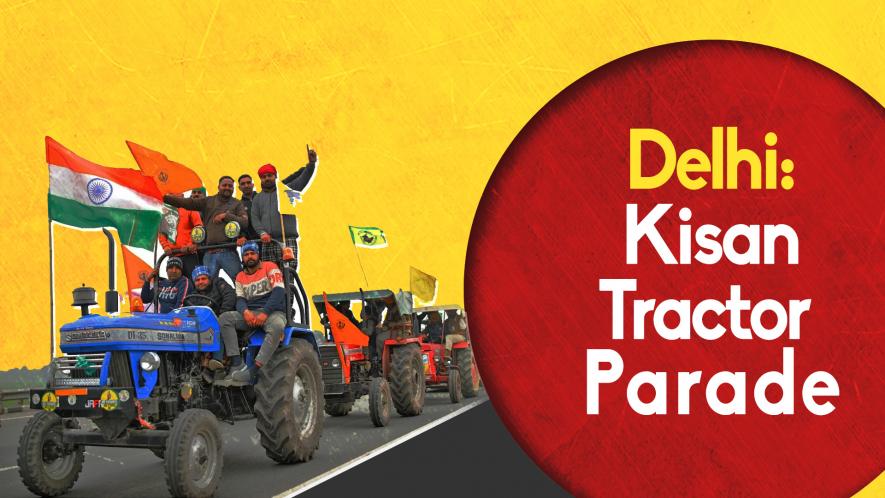 New Delhi:  January 26, 2021 turned into a historic 'Farmer's Republic Day' in the Indian capital, with lakhs of kisans, forced by the Central government to camp on Delhi's borders for two months in the biting cold, taking out massive 'Tractor Parades'. Thousands of farmers also breached police barricades to enter the iconic Red Fort, shaking the seat of the Narendra Mod-led Central government that has overlooked the farmers demand for repeal of the three 'pro-corporate agri laws.
However, the unprecedented 'Tractor Parade' was marred by violence, lathi-charge and teargas shelling in some pockets, as a section of farmers deviated from the designated route, broke barricades set up by the police and entered Delhi.  One farmer died at ITO in Central Delhi, reportedly due to a vehicle overturn, as per the police version. Later, the Home Ministry disabled internet in a few areas, including at the protest sites, even as the protests were continuing in Delhi till the time of writing.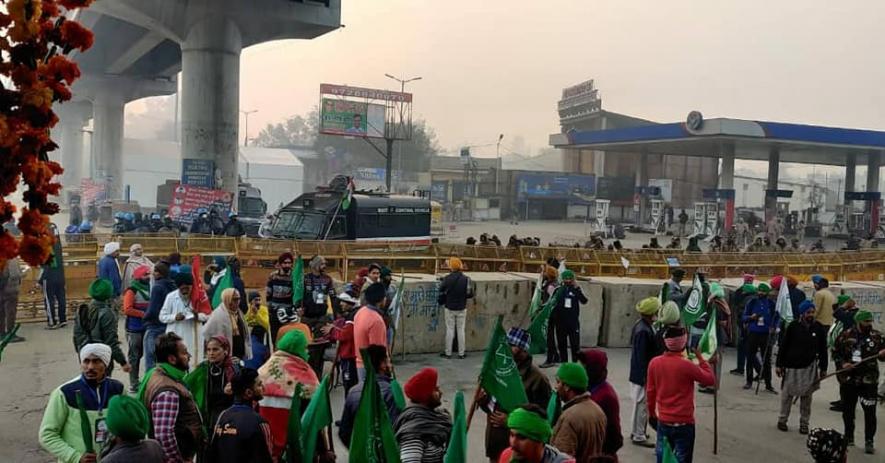 Farmers wait for removal of barricades at Tikri protest site
The Samyukt Kisan Morcha (SKM), an umbrella body representing over 40 farmer groups, however, distanced itself from the violence,  and alleged that some "antisocial elements" had infiltrated their peaceful movement  that has been going on for over now.
"We thank farmers for the unprecedented participation in today's farmers' Republic Day Parade. We also condemn and regret the undesirable and unacceptable events that have taken place today and dissociate ourselves from those indulging in such acts.
"Despite all our efforts, some organisations and individuals have violated the route and indulged in condemnable acts. Antisocial elements had infiltrated the otherwise peaceful movement. We have always held that peace is our biggest strength, and that any violation would hurt the movement," SKM said in a statement.
Red Fort
Across the Tractor Parade routes, farmers were welcomed with flowers by local residents, who came out on the streets in solidarity.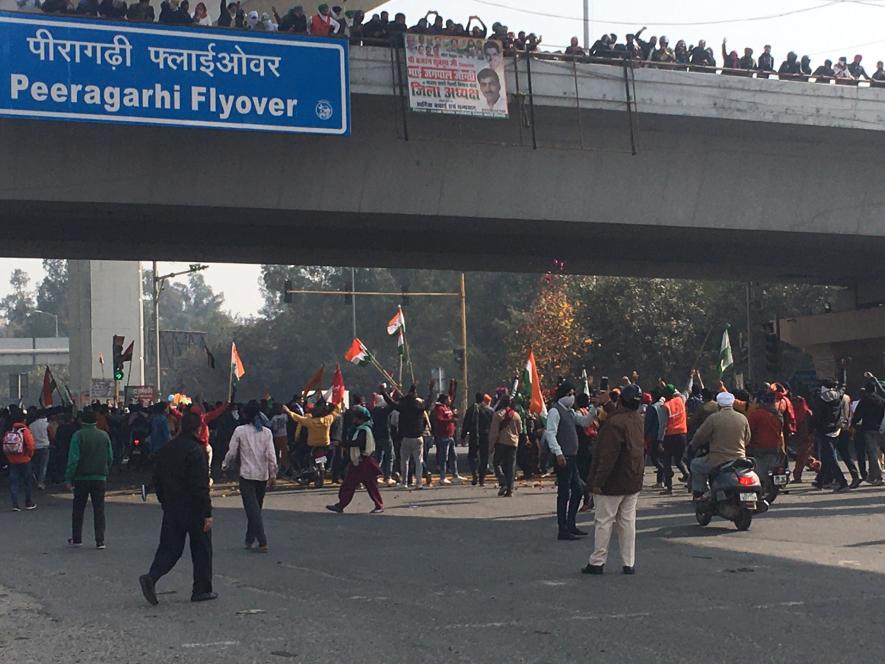 Marching farmers from #Tikri welcomed with flowers at Peeragarhi flyover.
The 'Tractor Parade', which was more of a "rosh" (anger) march on India's 72nd Republic Day that celebrates the adoption of Constitution, was announced much earlier, but till Monday,  the farmers were not even allowed to take to Outer Ring Road.
At Red Fort, a person hoisted a yellow Nishan Saheb (sacred Sikh flag) atop a pillar, as a symbol of defiance and resistance.
A Nihang (Sikh warrior order) protester, sitting atop his horse, who was present at Red Fort told NewsClick that this is exactly what the farmers "had wanted". "The world is witnessing this… the farmers have symbolically achieved the win today against the Modi government," he said.
"They (Modi government) had all the weapons in the world, but couldn't stop us from marching into the national capital, he added.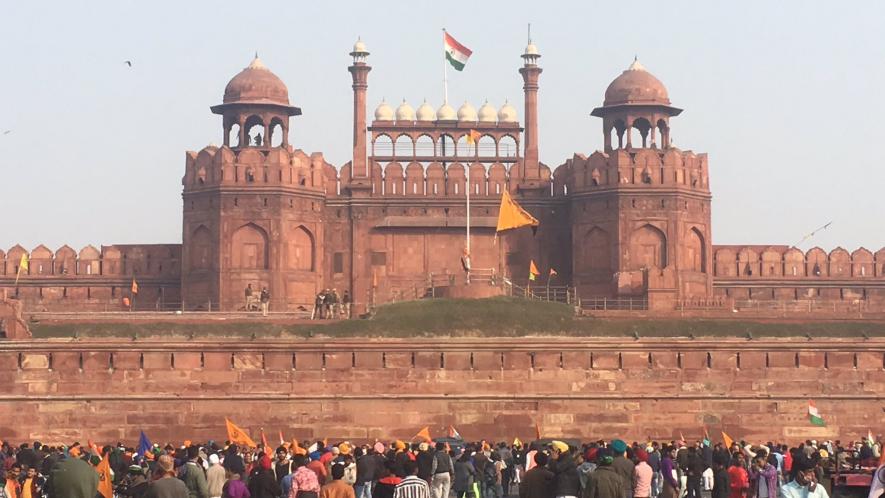 Camping at Tikri border, the Nihang also said that the farm protesters would be "going back now" to their border protest site
Singhu: 'We have led a peaceful Protest for 8 months'
The tractor rally commenced from Delhi's North West Singhu Border with benign appeals of farmers' leaders to apply restraint and conduct the parade peacefully. Minutes ahead of the march, Jagjit Dallewal, President, Bharatiya Kisan Union (Dallewal), said that the protest has been peaceful for eight months and the participants should conduct the peacefully. "We did not pluck a leaf leave alone any instance of violence. The peaceful but resolute defiance to government would only ensure repeal of the farm laws," he added
Another leader Gurnam Singh Chaduni from BKU (Chaduni) said the movement has been fought in various stages and the parade is another stage. He said,"Republic Day is one of the crucial stages of the struggle. We have already announced that the farmers will begin their foot march on February 1 in upcoming Budget session to press for our demands. It is our earnest appeal to farmers to be disciplined."
However, the Kisan Mazdoor Sangharsh Samiti (KMSS), led by Satnam Singh Pannu, began the march much before the timing announced by SKM, a collective of farmers' organisations, including KMSS. However, KMSS has been taking its own course of action throughout the struggle to repeal the farm laws.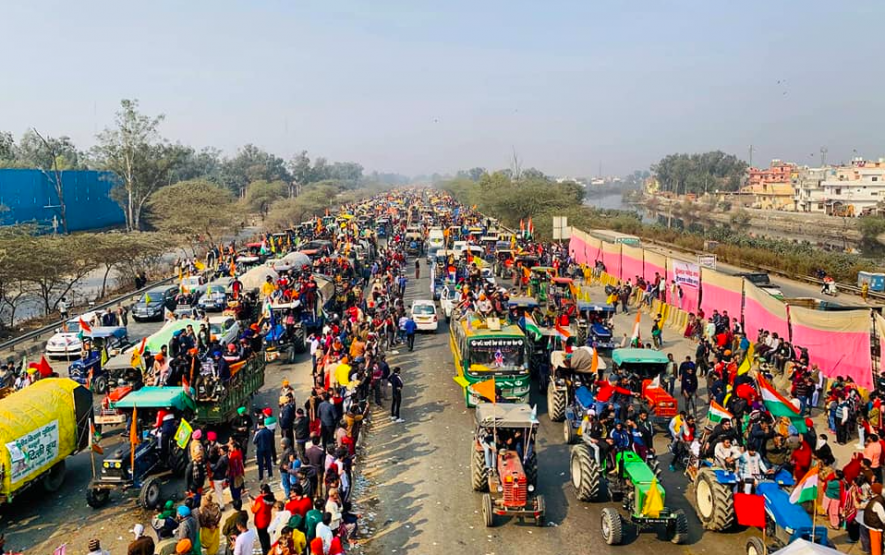 Baljeet Singh from Phillaur said:"We have categorically said that the march would be peaceful. Lakhs of farmers who came here have no intention to do any drama over here. On this Republic Day, we just wanted to emphasise that it's people's rule and not government." When asked about the response over the parade, he said: "People have given enormous support to us. They provided food, water and first aid. It's a unique thing now because the urban people too came along with us."
The skirmishes, however, resulted in collapse of communication between the farmers and the Delhi Police. The volunteers appointed by the SKM appeared to have no idea about the route and it subsequently resulted in confusion throughout the parade.
Germandeep Singh, who works as a teacher in Amritsar, alleged the events which led to violence at Red Fort seemed to have 'tacit understanding' with government agencies. He said "the main actors who instigated people for such acts are Deep Siddhu, Lakha Sidhana and Sukhpreet Udoke. Siddhu campaigned for Sunny Deol in Lok Sabha elections whereas Sidhana remained a notorious gangster who operated freely in the Akali regime. Udhoke, who claims to be a scholar, has always given extremist tilt to the movement but this is no surprise to us. Akali Dal, using Satluj Yamuna link canal dispute, gave the movement similar tilt by launching Dharam Yudh Morcha."
When asked if the violence would be a blow to the movement, Singh said," the movement has spread far wide. It will recover from it."
In a statement, SKM blaming the government equally for violence said:"Despite all our efforts, some organisations and individuals have violated the route and indulged in condemnable acts... We have always held that peace is our biggest strength, and that any violation would hurt the movement. The long struggle for more than 6 months now, and more than 60 days of protest at Delhi borders also seemed to have led to this situation."
Internet Suspended, 20 Metro Stations Closed
Citing 'violence', the Home Ministry on Tuesday ordered suspension of internet services in parts of Delhi-NCR.
The internet shutdown will be effective till midnight on Tuesday in Delhi's Singhu, Ghazipur, Tikri, Mukarba Chowk, Nangloi and their adjoining areas, officials told PTI.
People residing close to farmers protest sites said they got SMSes informing them about the suspension of internet services in their area.
"As per the government instructions, the Internet services have been temporarily stopped in your area because of which you are not able to use these services. You will be able to use the Internet services once we get directions from the government," an SMS sent by a telecom operator read.
The Delhi Metro also closed entry and exit gates of at least 20 metro stations temporarily.
"Entry and exit gates of Jama Masjid, Dilshad Garden, Jhilmil and Mansarovar Park metro stations are closed," the Delhi Metro Rail Corporation (DMRC) said on Twitter.
Entry and exit gates of all stations on the grey line were also closed besides the Delhi Gate and ITO metro stations.
Earlier in the day, the DMRC announced temporary closure entry/exit gates of Indraprastha metro station , Samaypur Badli, Rohini Sector 18/19, Haiderpur Badli Mor, Jahangir Puri, Adarsh Nagar, Azadpur, Model Town, GTB Nagar, Vishwavidyalaya, Vidhan Sabha and Civil .
Peaceful Parades and the Breach
In the wee hours of Tuesday, Bharatiya Kisan Union (Ekta Ugrahan) announced they would start their tractor rally from Bahadurgarh New Bus Stand to reach Najafgarh directly. The route suggested by Delhi Police earlier passed through Nangloi.
The need to have two rather than one parade - featuring tractors - was agreed upon on Monday between the union and police officials, Shingara Singh Mann of BKU-Ekta Ugrahan told NewsClick.  This was because "the number of tractors are more here as compared to other protest sites," he said, adding that the idea to take the march to Outer Ring Road was ultimately dropped by the union.
Even as the parade was scheduled to begin at Tikri Border by 11 a.m, a section of farmers, mainly hailing from Haryana  breached the police barrier around 9 a.m, and began marching toward Delhi on foot.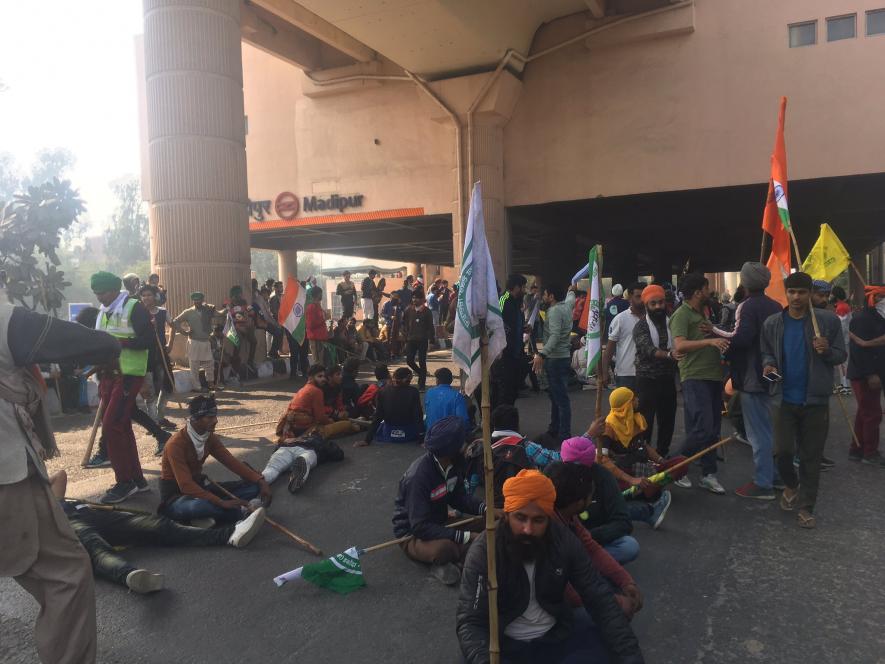 Jagtaar Singh, 38, from Punjab's Sri Mukhtar Sahib, told NewsClick that the decision to go on foot would have been influenced by the fact that the unions had restricted the number of participants at Tikri border.
"One tractor was allowed to have only five individuals, including the driver. That was not fair. Everyone here wanted to become part of the march; the arrangement suggested wouldn't have made it possible," he said. Hence, the protesters didn't wait for the tractors.
A convoy on foot instead of tractor posed challenges of its own. However, the marching farmers started breaking the police barriers at Nangloi, instead of taking a turn to Najafgarh, and claimed that "they want to protest at the Outer Ring Road."
Multiple appeal announcements were made by Delhi Police, along with leaders of Punjab and Haryana farmer unions, but to no avail.
Moving ahead, the farmers were met with multiple rounds of tear gas shells, along with barricading at different spots, but that all didn't stop the march.
The foot march of farmers was greeting with drums and flower petals at multiple points - Mundka metro station and near Peeragarhi flyover among others.
Referring to the foot march, Gurmeet Singh of BKU (Kadian) told NewsClick over phone that "Some people, most of whom reached the protest site only recently, got impatient," adding that the 'Tractor Parade' will be carried out on the route that has been agreed upon in a "disciplined manner.
Balbir Singh of BKU Ekta Dakaunda also appealed to the foot marching farmers to "stop" and "join" the 'Tractor parade', but to no avail. "The protest must  continue in a disciplined manner in the same way it was being run since September from back in Punjab," he told NewsClick.
Lathi-Charge, Tractor Tyres Punctured in Sikri
The 'Tractor Parade' at Palwal border started at 11 a.m. Permission had been granted for the rally from Palwal to reach Badarpur. Farmers'organisations from Madhya Pradesh, Chhattisgarh, Uttar Pradesh, Odisha, Haryana and Punjab had joined the rally. Around 2,000 tractors were supposed to set on the March with close to 10,000 farmers.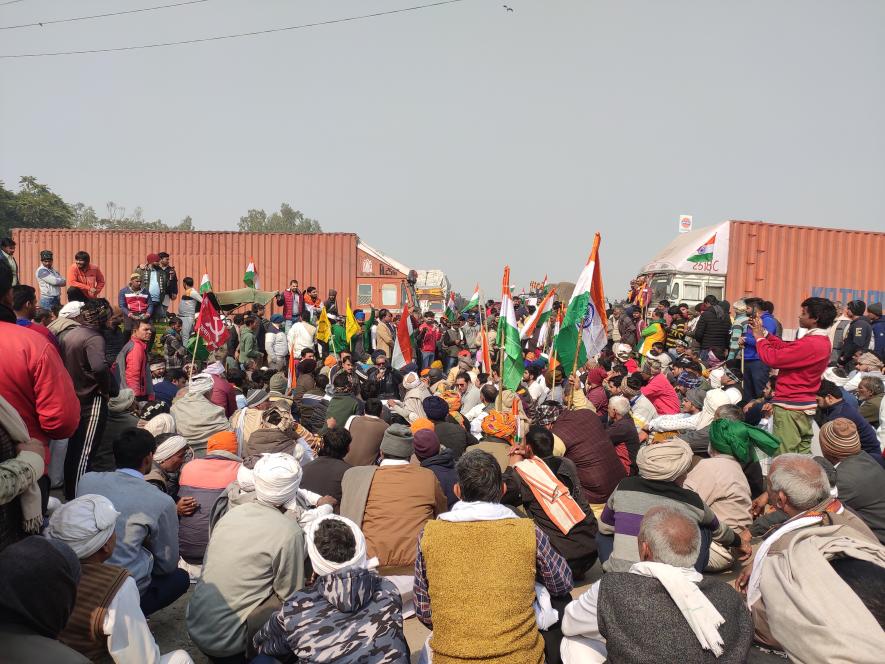 However, within 20 km from the starting point, at Sikri, Haryana Police did a lathi-charge on the rally, damaging and puncturing tractors, leaving 40-50 farmers injured. Around 20 farmers were detained and around 10 tractors were taken into custody. The rally was not allowed to proceed any further through the day. No instance of aggression has been reported from the side of the farmers. 
Around 1,000 tractors and thousands of farmers spent an entire day at Sikri, peacefully continuing their agitation and negotiating with Haryana Police. Farmers' organisations announced that they will not return to Palwal until those detained are released. 
This is a developing story.
(With inputs from PTI) 
Get the latest reports & analysis with people's perspective on Protests, movements & deep analytical videos, discussions of the current affairs in your Telegram app. Subscribe to NewsClick's Telegram channel & get Real-Time updates on stories, as they get published on our website.
Subscribe Newsclick On Telegram