Max and Fortis Horrors Highlight Need of Higher Budget for Public Health, Stringent Regulation of Private Hospitals
Overcharging, unnecessary procedures and apathy towards patients are the order of the day as the private hospitals work only for profit.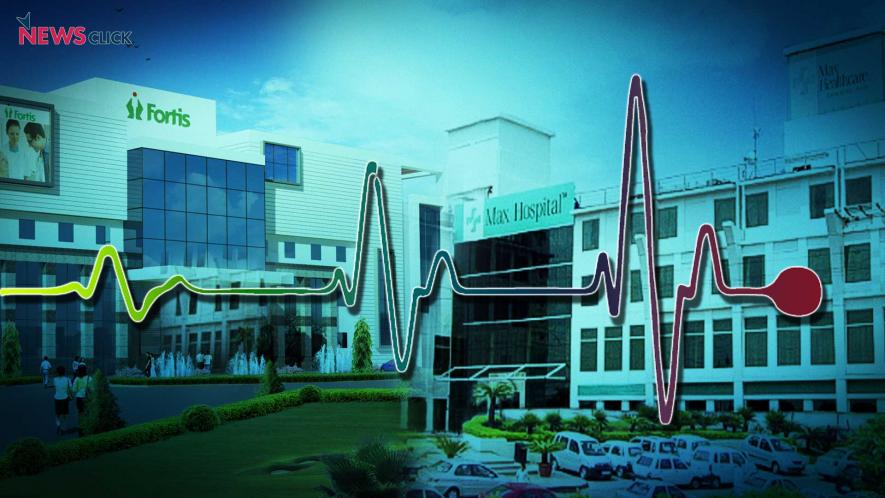 Newsclick Image by Nitesh Kumar
The indictment of two corporate hospitals—Fortis and Max, part of two of the largest corporate hospital chains in the country—by two state government probe panels once again confirms the profiteering and predatory practices of the private healthcare sector.
But in the absence of any remotely stringent regulations for the private health sector—and without substantial increase in government spending on the public healthcare system—the scenario is unlikely to improve no matter what action is taken against these two hospitals.
Fortis and Max are among the five large corporate hospital chains—including Apollo, Narayana Hrudayalaya, and Healthcare Global Enterprises Limited—whose total revenues touched Rs 12,990 crore in the year ending March 2017, as per rating agency ICRA's analysis reported in August.
But first, let us briefly look at the probe findings and the harrowing details of the two cases—both involving the death of children—that have drawn media attention.
The Fortis case
On 6 December, an inquiry committee was set up by the Haryana government to probe into the death of 7-year-old Adya Singh, who died of dengue in September after spending 15 days at Gurgaon's Fortis Memorial Research Institute. Fortis had overcharged her parents with a 20-page itemised bill of Rs 16 lakh, which included the cost of 2,700 gloves and 660 syringes.
The inquiry found Fortis guilty of "grave negligence, lapse, and unethical and unlawful act".
What's more, Adya's father Jayant Singh has alleged that Fortis offered him money to end the campaign against the hospital and not pursue legal action. Fortis can indeed afford to buy out many like Singh, given that it has a market capitalisation (the market value of its outstanding shares) of around Rs 7,800 crore.
"Senior members of Fortis met me, offered me a cheque worth Rs. 10,37,889 refunding the entire amount... They also said they will be offering me Rs. 25 lakh cash on top of this," Jayant Singh told news agency ANI.
The hospital did not allow Adya to be officially discharged as they kept imposing more expensive procedures even after the child had suffered 80% brain damage. After the parents refused, they had to 'leave against medical advice'.
The family says Adya died on Fortis hospital premises before they could shift her to another hospital, where they had to plead for the hospital to accept her—only so that she could be officially declared dead.
Haryana's health minister Anil Vij has called Adya's death a "murder". He said a criminal case would be filed against the hospital, while the licence of its blood bank that overcharged for platelets transfusion would be cancelled.
The panel also found Fortis guilty of violating the Indian Medical Association norms by deliberately using expensive medicines rather than affordable generic medicines. Some of the consumables used by Fortis were overcharged by 717%, Vij told the media.
Besides, he said the Haryana Urban Development Authority would consider cancellation of lease of the land given to the hospital, as Fortis had also violated the land lease agreement to provide free medical care to 20% of the patients.
The Max case
On 5 December, a Delhi government probe panel in its preliminary report found Max Hospital in Shalimar Bagh guilty of ignoring prescribed norms—failing to even conduct the electrocardiography (ECG) tracing—before wrongly declaring a premature baby dead.
The baby boy was handed over to the family in a polythene bag—along with his dead twin sister—on 30 November. Minutes before the last rites, the family discovered the baby was still breathing and rushed him to a private nursing home.
But the baby eventually died on 5 December, the same day that the preliminary probe report was submitted to Delhi health minister Satyendar Jain, who had ordered a probe on 1 December. The hospital had already terminated the services of two doctors, Dr AP Mehta and Dr Vishal Gupta.
In a separate investigation, the Competition Commission of India has found that another branch of the Max chain, at Patparganj, Delhi, made "unfair" and "excessive" profits of 276% and 527% on sale of disposable syringes to admitted patients in 2015-16. The CCI ordered the probe in 2015 acting on a consumer complaint.
Does India not care for its people's health?
Adya's bereaved father Jayant Singh, an IT professional in Gurgaon, recently demanded, during a talk show on NDTV, that private hospitals be nationalised.
But the demand is unlikely to be met any time soon. After all, the Indian healthcare market in 2016 was valued at US$ 100 billion, and is expected to grow to US$ 280 billion by 2020.
Meanwhile, the public healthcare system languishes for lack of funds and resources—India's spending on public health is just around 1.4% of the GDP, way below the global average of 6%, while the World Health Organisation (WHO) recommends public health spending of at least 5%.
According to the WHO, India is among the 57 countries with a critically low level of trained human resources available for healthcare.
The National Health Policy 2017, approved by the Union Cabinet in March, proposed to raise public health expenditure to 2.5% of the GDP "in a time bound manner", but such promises have been made earlier too.
Meanwhile, the government—both Centre and states—continue to think up new ways to privatise public health services. In July, the NITI Aayog came up with a plan to outsource public health services in district hospitals in Tier-I and Tier-II towns to private players. And states such as Rajasthan are in a hurry to privatise even the Primary Health Centres, the foundational units of India's public healthcare.
It is not surprising that 50.6 million people were pushed below the poverty line due to out-of-pocket spending on healthcare between 2004 and 2014.
Around 27% of these people are from Uttar Pradesh, where more than 70% of inpatient treatments in the state are provided by private players.
Again, it is not surprising given the condition of the state government hospital – as evidenced by the recent tragedy at Gorakhpur's BRD Hospital, where more than 70 babies died after oxygen supply ran out because the bill had not been paid.
'Commercial Innovations', Unethical Practices
Private hospitals essentially view health as a market, and are in it with the clear motive of profit. The situation has been worsened with the entry of corporates in healthcare.
Watch an industry executive here (at 12.41) explain "commercial innovations", while talking about how India can attract MNCs in health. This is the relevant transcript:
"How can I make an X product really sweat it out and work it out in a low-cost model that brings out my per scan charges lower?
For example, in the developed world, MRI can be used maybe in 15 cases a day. Can I use it in India at 35-40 cases and bring down the cost?
The answer is clearly yes.
Has there been models being done in India to do that? (sic)
The answer is clearly yes.
Can we do it even more?
The answer is yes."
Given the severely under-funded and under-resourced condition of the public health system, the middle classes prefer private establishments, which exercise a free hand at making profits. But even the middle classes are suffering due to the malpractices, and are increasingly finding healthcare unaffordable. Doctors often do avoidable surgeries to meet corporate targets. Patients are forced to undergo unnecessary procedures and expensive medicines are prescribed, as the hospital might have a tie-up with pharmaceutical companies.
"Patients are often not in a position to determine the quality of services that a hospital would provide. Even in the current under-resourced situation of the public health sector, thanks to deliberate neglect by the government over decades, it does not necessarily mean that the quality is bad," said Dr Amit Sengupta of the People's Health Movement, speaking to Newsclick.
"Patients may get impressed by the outward look of private hospitals, the impressive buildings, etc. Things might move faster. But that does not necessarily indicate that the quality if better."
He said that especially in corporate hospitals, doctors are under pressure to perform a certain number of procedures, they have quotas to meet. "Doctors are also forced to be part of these malpractices."
Regulations Need Teeth
In 2012, the Union government notified the Clinical Establishments (Registration and Regulation) Act 2010, meant to regulate the private medical establishments. It came into force in Arunachal Pradesh, Himachal Pradesh, Mizoram, Sikkim and all Union Territories except the NCT of Delhi. On paper, the states of Uttar Pradesh, Uttarakhand, Rajasthan, Bihar, Jharkhand and Assam have also adopted the Act under clause (1) of article 252 of the Constitution—but to little avail.
After the Fortis episode drew public outrage, the Centre again urged all states to implement the Clinical Establishments Act, but health being primarily a state subject, the Centre cannot force states to adopt it.
"There has been little interest and attempt on the part of the government to put in regulations. And even when they try, there is a massive pushback from the private medical industry and its lobbies," said Dr Sengupta.
"Most states do have some form of regulation or the other, on paper, but none are really functional."
This November, Karnataka witnessed a huge backlash from the private medical establishment while trying to pass the Karnataka Private Medical Establishments (Amendment) Bill that sought to regulate hospital charges, doctors' fees, drug prices and to hold private establishments accountable for medical negligence. Nearly 50,000 private hospitals, clinics and diagnostic centres staged massive protests against the Bill.
As a result, the state was forced to pass a much weaker version of the legislation. For example, while the original Bill prescribed six months to three years of imprisonment and a fine of Rs 25,000 to Rs 5 lakh for officials of hospitals charging fees in excess of costs fixed by the state, the final version of the Bill dropped this clause.
In March, West Bengal passed the West Bengal Clinical Establishments (Registration, Regulation and Transparency) Bill 2017 to take check medical negligence and malpractices by private health institutions.
In February, after India's drug price regulator National Pharmaceutical Pricing Authority slashed the prices of coronary stents by up to 85%, the Bengaluru-headquartered hospital chain Narayana Hrudayalaya decided to increase its charges for the angioplasty procedure to compensate for the reduction in profits.
This is how much the shiny private hospital near you cares about you. But in the absence of adequate public healthcare facilities—and with the government itself viewing the private sector as the key deliverer of health services—where are patients to go?
Get the latest reports & analysis with people's perspective on Protests, movements & deep analytical videos, discussions of the current affairs in your Telegram app. Subscribe to NewsClick's Telegram channel & get Real-Time updates on stories, as they get published on our website.
Subscribe Newsclick On Telegram