May Day 2023: How Will the Predicament of Sanitation Workers Improve?
The cleaners of sewer-septic tanks and open drains in Delhi are mostly from dalit, tribal, backward and marginalised communities. The question to consider is how to improve their social and economic condition.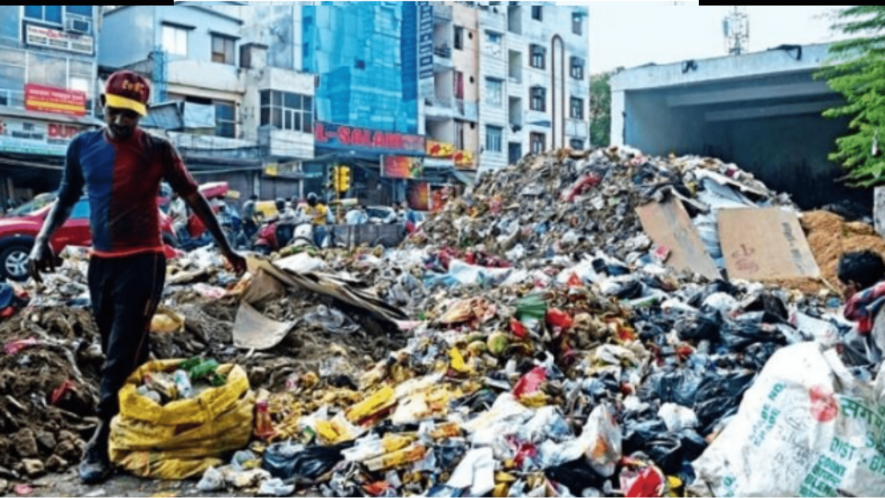 Sanitation work includes emptying toilets, pits and septic tanks, entering manholes and sewers to fix or unblock them, transporting the faecal waste, working treatment plants, as well as cleaning public toilets or defecation around homes and business places.
The work of sanitation workers involves various tasks across the sanitation value chain, including cleaning toilets and spaces, cleaning and emptying sewers, septic tanks and drains, operating sewage treatment plants etc.
Sewage and wastewater contain bacteria, funguses, parasites and viruses that can cause intestinal, lung and other infections.
Sanitation workers constantly work in the presence of poisonous gas and chemical substances. Due to this, they get complicated and fatal diseases. Sometimes they have to lose their lives while cleaning sewer septic tanks.
During cleaning, a person dies, and on the other hand, their family becomes destitute. The financial condition of the family becomes shabby. 
The administration does not take such a dangerous job seriously. Sanitation workers who clean sewers or septic tanks are not provided with safety equipment by the contractor. This is why sanitation workers die of suffocation due to poisonous gas while cleaning sewers or septic tanks. Even today, the series of such deaths continues across the country.
What Does the Law Say?
According to The Prohibition of Employment as Manual Scavengers and their Rehabilitation Act 2013, cleaning a sewer or septic tank by entering a person is prohibited and a punishable offence. In an emergency, a person can be lowered into a sewer or septic tank with full safety equipment so that his life is not in danger.
The law also states that if any person forces a sanitation worker to enter a sewer or septic tank, that person will be punished by law, imprisonment or fine, or both.
The Supreme Court, in one of its orders related to this (March 27, 2014), has said that the government should survey all the people who have lost their lives while cleaning the sewer or septic tank, and Rs 10 lakh compensation should be given to their families.
But due to the government's inaction and the lack of awareness of the sanitation workers and their families, the victim's family does not get even this compensation. However, compensation cannot be the cost of human life. Nevertheless, the victim's family gets some relief from it.
Stop Killing Us (Sewer/Septic Tank Cleaners) – A Campaign of Safai Karmachari Andolan
Safai Karamchari Andolan (SKA) is a nationwide movement to eradicate manual scavenging from India and has been working in 24 states of the country for almost 40 years. Last year, from May 11, 2022, SKA National Convenor Bezwada Wilson is running a nationwide campaign – #Stop Killing Us.
A recent tweet of Bezwada Wilson says, "Those always speaking only their #ManKiBaat and still feel being abused should have better listened to others like us to understand what being abused is for generations |#Action2023 campaign against sewer & septic tank deaths at Sitapur in UP."
Those always speaking only their #ManKiBaat and still feel being abused, should have better listened to others like us to understand what actually being abused is for generations |#Action2023 campaign against sewer & septic tank deaths at Sitapur in UP | #StopKillingUs #JaiBhim pic.twitter.com/MmIFYEQuyB

— Bezwada Wilson (@BezwadaWilson) April 30, 2023
Apart from Safai Karmachari Andolan, some other organisations also work on the issues of sanitation workers, such as Dalit Adivasi Shakti Adhikar Manch (DASAM).
Some Sewer/Septic tank cleaners or family members of the deceased shared their experiences which describe their pain. Here are some examples. 
 "Last year, my husband Balbir died of inhaling poisonous gas while cleaning a private septic tank. We have three small children. I live on rent. I am not able to pay the rent to the landlord on time. The landlord threatens to vacate the house. Somehow I make a living by working as a housekeeper. There is a lot of trouble," 35-year-old Meena Devi from Faridabad says. 
"I have not received any help from the government. You are big people. Ask the government to help us. Get the compensation and a government cleaning job. It would be very kind of you," Devi further says. 
"We are forced to put our hands and bodies in toilets and sewers for our bread. I was injured while cleaning inside a sewer. My other two companions had died. My treatment continued for many days. But I did not get any help from the government. However, Arvind Kejriwal announced financial assistance of Rs 2.5 lakh to the injured. But I didn't get any help. Now I can't do sewer work. I have three children. My wife Soni and I work together as labourers, and the household survives. I live on rent. How can we poor people bring up our children? How to teach them how to write? I want to say that the government should assist the sanitation workers who get injured while cleaning sewers," said Sher Singh, a 45-year-old sewer worker from Bhagya Vihar.
Contract System Must be Abolished
Ved Prakash, president of the Delhi Jal Board Sewer Department Labour Organisation, talked about how the exploitation of sewer cleaning workers cannot stop until the practice of contracting continues. 
"The sewer cleaning worker gets Rs 14,000 from the government, and the contractor gives Rs 7,000 to 9000. Where does the rest of the money go? All this is happening with the connivance of government officials and contractors. There are scams in medical and insurance too. That's why the privatisation of cleanliness should be stopped. The government should directly appoint sewer cleaning workers," Prakash says. 
 "There is a need to agitate against the contract system. Our aim should be to change the policies, not the government. The sewer worker will have to remove this fear. All organisations suffering from the contract system must come on a single platform. Only when we get organised will we be able to pressure the government to abolish the contract system," said Virendra Gaur, Municipal Workers Lal Jhanda Union.
Hannan Mollah, All India Kisan Sabha, talked about the importance of trade unions. 
"All democratic organisations should come together on the issue of contractual practice. They should raise their voice together. Unity will change the system. Your problems will be solved by changing the system. We have to fight this battle daily and fight it on a large scale." 
Forty-year-old Anju introduces herself to everyone by saying, Jai Bheem and Lal Salaam. 
"I do cleaning work in JNU (Jawaharlal Nehru University). I am very unhappy with the contract system. In JNU, we have been put on contract for cleaning. The contractor exploits us. They do not pay a salary for three months. My husband Deshraj also used to do cleaning work on contract. When he put pressure on the contractor for salary, he got the salary, but he was removed from work. All of us sanitation workers should unite and oppose the contract system. As long as the contract system continues, we will continue to be exploited. Senior officers should support us in this campaign." 
Sanjay Gehlot, the chairperson of the Delhi Safai Karamcharis Commission, said that to solve the problems of sewer workers, the contractual system should be uprooted. 
"We have to unite to end this practice. Memorandums must be given to the Chief Minister and the Prime Minister. We will have to raise our voices on a large scale by coming out on the streets."
Ashok Tank, joint secretary, DASAM, says, "Those who work for cleaning sewers and septic tanks on contract are being directly exploited by the contractors. Some such issues also came to our notice that the contractors are arbitrary even in giving daily wages and clearly say that they will pay only this much wages if you want to do it, then do. Otherwise, I will look for someone else. Earlier work was done on the muster roll, so it was hoped that one day we would be confirmed as permanent workers. Now the muster roll is over. Work is done on a contract basis. There is no paid leave. If the sewer worker takes leave, their wages for that day are deducted. When this cleaning work is regular and permanent, why are the cleaners hired temporarily?"
"DASAM has regularly represented these sanitation workers' voices for the last few years. Recently, we organised capacity-building programs for cleaning staff etc. We have given a memorandum to Sanjay Gehlot of the Delhi Safai Karamcharis Commission, requesting has made recommendations to the Delhi Jal Board to keep the Sanitation Workers on the payroll. We are preparing for a big Jan Andolan (public movement) to end the contract system," Tank said. 
Many sewer cleaning workers said it had been 15 years since they worked. 
"We do not have either an ESI card or EPF. When we are lowered into the sewer, we do not have safety equipment to wear to protect our lives. The contractor forces us to enter the sewer. If you refuse, he threatens to dismiss you. Due to this dirty work, we get many types of diseases. We do not have money for treatment. So, there is a need to do something for us," Tank said. 
To improve the predicament of sanitation workers, DASAM suggests that the government should make direct recruitments of employees and regularise the works of sewer/septic tanks and open drains. Furthermore, the process of cleaning sewer/septic tank/open drains from private contractors should be stopped with immediate effect. In the event of an injury to a sewer worker, it should be ensured that they are treated under the Employees' State Insurance Fund until they are completely healthy. In case of an accident, the executing authority or person should be held responsible and punished under the law. Moreover, rehabilitation should be provided to Sewer/Septic Tank/Open Drain Cleaners under MS Act 2013, and better education and employment for their children should be guaranteed.
Get the latest reports & analysis with people's perspective on Protests, movements & deep analytical videos, discussions of the current affairs in your Telegram app. Subscribe to NewsClick's Telegram channel & get Real-Time updates on stories, as they get published on our website.
Subscribe Newsclick On Telegram