Mazdoor-Kisan Sangharsh Rally: Lakhs Converge in Delhi to Protest Modi Govt's Polices
Workers, farmers and agricultural workers from across the country gathered in Ramlila Ground to demand legal guarantee for MSP, rollback of labour codes and more MGNREGS work.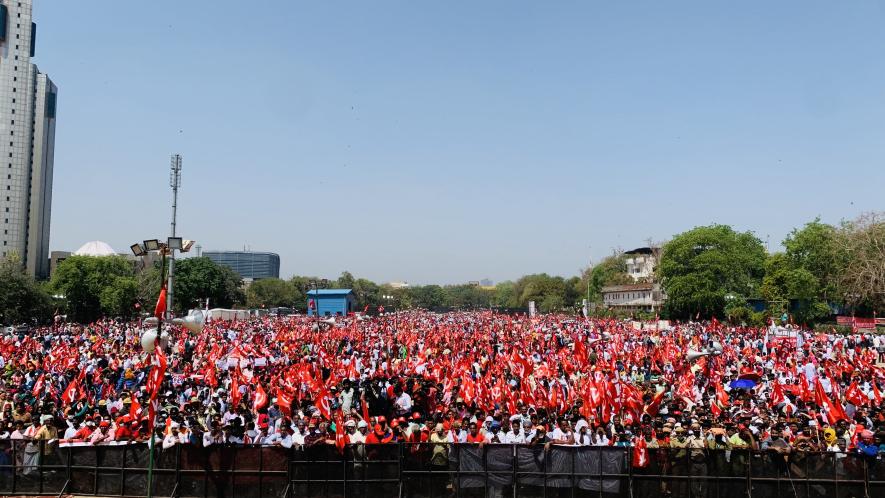 New Delhi: It was a sea of red at Ramlila Gorund on Wednesday, as thousands of workers, farmers and agricultural workers descended on the Capital city to express their anger and anguish at the continuous onslaught on their livelihood amid rising inflation and unemployment.
The Mazdoor Kisan Sangharsh Rally, organised by three organisations -- All India Kisan Sabha (AIKS), All India Agricultural Workers Union (AIAWU) and Centre of Indian Trade Unions (CITU) -- saw a huge turnout from across the country. The rally demanded Minimum Support Price or MSP as per the Swaminathan Commission for farmers, roll back of four labour codes for workers and more work under the Mahatma Gandhi National Rural Employment Guarantee Scheme for rural labour.
Shouting slogans like 'Inquilab Zindabad', 'Modi Government Down Down', the working people vented their anger at the government for not giving them their due and even snatching away whatever rights they had got after endless struggles, and pushing toward destitution.
The poor condition of workers and their exploitation can be gauged from Urmila Devi's story. She came all the way from Sitamarhi district in Bihar and made a startling revelation. She was being paid only Rs 100 for eight hours of work in farms. "We live in thatched houses. When we went to the sarpanch (village head) to ask for PM Awas Yojana (financial aid for affordable housing), he straightaway asked for Rs 30,000 as bribe. There is no work for us. Gas cylinders were given to us for free but how do we fill those? The prices have reached Rs 1,100 (per cylinder) now. We came here to tell PM Modi to stop this," she told NewsClick.
Much like Urmila Devi, Surendra Kumar Singh from Ambikapur district in Chhattisgarh was concerned if he would be able to sell his water melon crop and make some profit.
"I have been growing watermelon and rice in 2 acres. During the pandemic, the crop perished in the farms as it could not be transported. Last year, elephants destroyed the crop completely. They even enter homes. So, it's a calamity for us. There is no security of life or livelihood for us," he said.
Harpal Singh from Hoshiarpur cultivates in 5 acres. He NewsClick that MSP and compensation for crop loss were top on his agenda.
"We could win one battle in 2021 over the farm Bills. However, we are determined to fight the next battle for MSP, as per Swaminathan Commission's recommendation. Our experience suggests that the future lies in struggle, not suicide. Whenever I meet my friends, I ask them to have confidence and struggle," he said.
An Accredited Social Health Activist helper, Asha Devi, from Rajnandgaon district in Chattisgarh, said ASHA workers do not have the luxury of paid and sick leaves and have to perform their duties even in case of family emergencies. She said ASHA workers were primarily divided into two categories --sahayika (helper) and karyakarta (worker). They not only ensure nutrition to millions of poor children but also conduct surveys, animal census and registration for different schemes.
"Our job includes cleaning of anganwadi centres, preparing and feeding meals to children and other things that a karyakarta may instruct. We clean up children's excreta too. Yet, we are paid Rs 3,250 per month. We have to upload our photo online every day to mark attendance. How can one run a household on this meagre income? We went on strike for 48 days to compel the Chhattisgarh government to accept our demands, which agreed to pay Rs 6,000 to sahayika and Rs 10,000 to karyakarta. We are still waiting for its implementation."
Santosh Devi, who works as a karyakarta, said governments have been using excuses to deny ASHA workers their rights. "When we ask for higher income, the state government officials tell us that we are under jurisdiction of Central government. However, they exert pressure on us as a state government to do work, such as registration of people for welfare schemes, animal census among others. This hypocrisy should end. We put our lives in danger during pandemic to look after Covid patients but no one took cognisance of our contribution", she said.
Savitri Tiwari, an anganwadi karyakarta from Dantewada district in Chhattisgarh, said she continued her work despite threats of violence from Naxal groups. "We had our ration depot besides ICDS centre in our area. The naxals looted ration from it, used the kerosene oil to set it on fire. Had they known I was in centre, they would have killed me," she said.
Tiwari was angry that some schemes have been "mindlessly altered" without any ground inputs. "I literally have to climb a mountain to find network, upload the photo and come back to look after my children. Do they not know our precarious situation?", she said.
Arup Sinha, who was representing beedi workers from Malda district in Bengal, said workers are staring at an uncertain future as taxation plans on beedi and underpayment was haunting them beyond belief.
"Our wages are determined by the state government and as per law, a beedi worker should get Rs 269 for making 1,000 beedis. In reality, we are paid Rs 125 per 1,000 beedis. Mind you that it usually takes an entire day to make these beedis," he said, adding that "most beedi merchants are associated with the ruling Trinamool Congress and there is a tacit agreement among them to not to pay us."
 "After strikes, it was agreed that the merchants would pay us Rs 178 per 1,000 beedis. Most of these beedi workers are women. Mamta Banerjee (Bengal Chief Minister) claims that she is a great admirer of us, but why then does she not deliver justice to us? Modiji is thumping his chest on help of Rs 500 as assistance to us. We are here (in the rally) to warn both of them," Sinha said.
Jella Srinivas, a store-keeper in Toshiba company from Sangareddy district in Telangana, had his own concerns about low salary and increased work hours. "We came here from 2,000 kilometres away, to say that we would not tolerate imposition of four labour codes. We feel protected by our unions. Modi wants to snatch our basic rights," he said. His group members are more concerned that if companies are allowed to take 12 hours of work from them, they cannot even go to courts for disputes.
Animesh Mitra from BSNL Employees Unions was furious over the 'slow killing' of public sector undertakings (PSU). He said employees had ample evidence to suggest that government was hand-in-glove with the super-rich to take precious properties at throw away prices.
"The Modi government ousted 80,000 employees from our company. It did not allocate any 4G and 5G spectrum to us. We got killed by competition. However, we could still save thousands of workers. After much struggle, BSNL has started generating profits. However, there is a new threat to us in the form of National Monetisation Pipeline. They want to sell out our towers, optic fibre network and properties. We will not let that happen. We are also in solidarity with our brothers and sisters from LIC and other PSU to reaffirm our support," he said.
K N Umesh, National Secretary, CITU, said the fight might be multi-pronged but the campaign generated much confidence among workers. "Wherever we went, nobody told us that you are saying wrong things. People said they were fed up of this government and it should go. This is why the Modi government, which may have passed the labour codes, has not been able to implement it. They (Centre) know it (BJP) may have majority in Parliament but people are on streets."
Vijoo Krishnan, general secretary, AIKS, told NewsClick that the Modi government was elected to power on several promises to farmers, including doubling of farmers' income, MSP as per Swaminathan Commission recommendations, subsidised inputs, cheap loans and insurance of crop loss. "It was primarily meant to end the agrarian distress. However, none of these promises were realised," he said.
"If we look at figures of last nine years of Modi government, more than one lakh farmers and agricultural workers have committed suicide. In same period, 2.5 lakh daily wage workers have committed suicide. They also come from agrarian background. It shows how acute the agrarian distress has become and this government did nothing to resolve the crisis."
Krishnan, said attacks on the peasantry and workers were consistent since the Modi government was sworn in. First, the Land Acquisition Bill was brought, then the three farm Bills and then the four labour codes were introduced during the pandemic.
"We initiated different struggles and formed Bhoomi Adhikar Andolan. Finally, the government relented on land acquisition ordinance. Then All India Kisan Sangharsh Coordination Committee was formed to wage struggle against farm bills. They too were repealed. The journey began in 2018 when thousands of workers and farmers came to Delhi on September 5," he said.
Krishnan said: "Whenever we see a consolidation of farmers and workers, we see communal polarisation forging to disturb this unity. It happened four days back when Ram Navami processions were used to target mosques and Madrassa in Bihar."
When asked if any government official tried to reach out to them over demands, he said, no appointments were given. "This shows the arrogance of the government and must be defeated to save the rights of people, constitution and the country itself," he added.
Vikram Singh, Joint Secretary, AIAWU, said the relevance of such a big mobilisation remains in restricting the assault on them through government schemes. "It is well known that the capacity of agricultural workers to bargain minimum wages has significantly affected after mechanisation. So, our biggest hope from this rally is that our voice to the centre should reach that agricultural workers desperately needs a central legislation to protect their livelihood," he added.
"Our people have come with the hope that injustice meted out to them in form of fund cut in MGNREGS should be reversed and it is not a big task. There are three to four advisories regarding limiting work to 20 at any given time, uploading attendance on app and an Aadhaar based link for payments. This should stop. We have seen how data was forged to show that there is less demand for work. The centre could not provide work. We hope that this government would not conspire to eliminate food subsidy. Instead, it should be available to all. We have latest instances from Maharashtra that there are attempts to provide cash instead of ration. We would not tolerate it," Singh said.
When asked about the challenge to mobilise such an unstable working force, he said," it is correct that agricultural workers move very frequently from one place to other. They can be found in farms one day and other day, they would be at construction site. In our terminology, they are rural proletariat. Our relationship is not linked to work place. We share relationships with their families. Factory workers can be met at their workplace but how do you meet them when they only get 42 days of work at NREGA sites. So, we met them in homes, work places, tea shops. Our activists organised meetings in evening and late night, pasted posters and distributed pamphlets to reach out to maximum people."
He said the response to these meetings was overwhelming. "We could reach out to some places but we received reports that people organised meetings themselves. I am meeting people who were completely out of our organisation's fold. It only reflects that people are feeling the heat of regressive policies and they have resolved to fight now. People left their homes three days ago in Assam to reach Delhi. It is awe inspiring."
Prepare for Intensifying Movement
The CITU, AIKS, AIAWU, in a press statement, said "enthused by the success of the yearlong farmers' struggle and of the many recent victories against anti-people policies, people had made their way to Delhi from far and wide: Haryana, Punjab, Rajasthan, UP, Himachal Pradesh, J & K, Maharashtra, Andhra Pradesh, Telangana, Kerala, Karnataka, Tamilnadu, Madhya Pradesh, Bengal, Odissa, Assam, Tripura, Manipur, Chhattisgarh, Goa and Gujarat.
The rally was the culmination of a six-month long campaign in urban and rural districts of the country to mobilise people.
Leaders who spoke  from the stage warned the government that the rally was an indication of the surging anger of the working people of this country against the disregard of their basic needs while showering benefits on the big corporate.
"The deliberate destruction of the wealth, selling large public sector establishments developed over decades at throwaway prices to private owners, depriving workers and peasants of their basic rights, inviting foreign capital to capture Indian agriculture and dairy sectors, indulging corrupt money swindlers in looting peoples' hard-earned money, all this is being increasingly promoted by the present Govt."
The statement said that against "such dangers and to save the country from capture by a few wealthy business cartels that workers and peasants have joined hands to launch an incessant and intensified movement throughout the country."
Get the latest reports & analysis with people's perspective on Protests, movements & deep analytical videos, discussions of the current affairs in your Telegram app. Subscribe to NewsClick's Telegram channel & get Real-Time updates on stories, as they get published on our website.
Subscribe Newsclick On Telegram