Meghalaya Elections: More Contestants in the Fray, Boundary Row Resolution to Aid Ruling Alliance
Political leaders are optimistic that the recent Assam-Meghalaya border incidents will be a thing of the past when elections are held in February.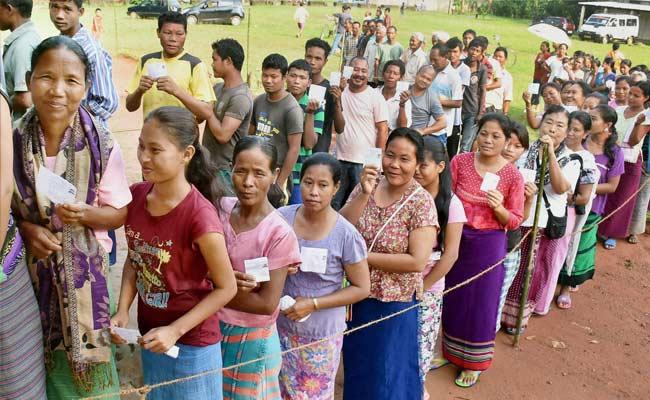 Kolkata: In about ten weeks, Meghalaya Assembly election is likely to be scheduled. Political leaders NewsClick spoke to confirmed that parties have begun initial electoral preparations, which invariably include sitting MLAs changing jerseys. According to them, the activities will gain momentum from the first week of January 2023.
As talks with a cross-section of leaders suggest, the number of candidates in the fray in the upcoming Assembly elections will certainly exceed the 2018 numbers, when around 300 contestants participated in the polls.
Political leaders are optimistic that the recent Assam-Meghalaya border incidents that caused strain in the inter-state ties will be a thing of the past when elections are held in February. They also hope that talks will resume on the boundary dispute after the polls, whatever the ministry format.
Though the Congress had then emerged as the single largest party with 21 seats in a 60-member house, it could not form the ministry. National People's Party, formed in 2012 by former Lok Sabha Speaker Late P A Sangma, secured 19 seats and was able to stitch together the Meghalaya Democratic Alliance that formed the ministry with the help of the Bharatiya Janata Party and local political outfits; Conrad Sangma became the chief minister.
At one stage, Meghalaya, known for en bloc defection, had the distinction of having a ministry being supported from outside by both the Congress and the BJP; the latter having won only two out of 47 seats it contested. The local outfits and others were United Democratic Party (UDP), Hill State People's Democratic Party, People's Democratic Front, KHNAM, Garo National Council and Sharad Pawar's NCP. They together had bagged 17 seats.
In late November 2021, the Congress suffered a body blow with 12-13 of its MLAs, including two-term chief minister Mukul Sangma, switching their loyalty to the Trinamool Congress. Mamata Banerjee, the Trinamool Congress (TMC) party chief and West Bengal CM, was then nursing ambitions for her party to set its footprint beyond Bengal. The Congress suffered more humiliation when its five remaining MLAs switched over to the Meghalaya Democratic Alliance led by the National People's Party (NPP) some months back, and thus, further strengthened Chief Minister Conrad Sangma's hands.
The Congress high command took disciplinary action against these five MLAs and, therefore, although they remained members of the Assembly, in effect, the Congress's strength came down to zero in the House. Thus, for all practical purposes, the Congress will be starting its 2023 electoral preparations with "a clean slate".
The high command has appointed Shillong (ST) Lok Sabha member Vincent Pala, who was a MoS in the second UPA government, as president of Meghalaya Pradesh Congress Committee. "I know it's a tough job, particularly during election time, but I am trying to build a coherent team whose key job is to convince people to join the party. We have a good number of highly qualified youths in our youth wing. We propose to field a number of them. Ultimately we may be able to field candidates in all 60 constituencies. Right now, we have identified some 55 potential nominees," Pala told NewsClick. He thinks there is no dearth of candidates, but there is a shortage of "good" candidates.
TMC's state chief Charles Pyngrope, who is also an MLA, is hopeful about the prospects of his party under the stewardship of the party's national general secretary Abhishek Banerjee. "People are fed up with the inefficiency and corrupt practices of the present ministry. They want change. As an electoral strategy, we have asked Banerjee to visit the two parts – Garo Hills, which has 24 seats and Khasi- Jaintia Hills, which has 36 seats – at regular intervals.
Pyngrope assessed the situation in Khasi and Jaintia Hills in May. He recently took stock of Garo Hills too. Apparently, reacting to NPP's charge that TMC is a West Bengal-based entity, Banerjee said, "TMC is not a party of outsiders in Meghalaya." Pyngrope confirmed to NewsClick that TMC would fight in all 60 seats on its own. He shares Pala's view that not many "suitable" candidates are available.
Senior NPP leader Nihim sounded confident about the victory of the MDA led by CM Sangma. As the coalition leader, NPP has been carrying the partners along. The ministry has delivered on its promises. "There is no reason for people to be disenchanted with our performance. Assam and Meghalaya have been contending with a five-decade-old boundary dispute. Meghalaya, carved out of Assam as an autonomous region in 1970, became a full-fledged state on January 21, 1972. In March this year, the two states resolved the boundary dispute at six out of total 12 such locations along their 884.9 km boundary." he said while speaking to NewsClick.
Nihim added, "This has generated a lot of goodwill for NPP and the chief minister. We are not worried about the TMC; it does not have a face to project. I doubt whether Mukul Sangma, who for a decade ruled as a Congress chief minister, is any more acceptable to people. Defection of a leader – an ex-chief minister at that – along with others, generated reaction. That's our assessment."
BJP state president Ernest Mawrice has in the past two three days roped in four lawmakers – two from NPP, one from TMC and one from UDP – to join his party. They will be handed over the BJP flag at a function in New Delhi soon, Mawrice told NewsClick. In 2018, BJP got two seats in the state. "This time around, we are confident of a two-digit performance and be a factor in ministry-making. I expect a few more lawmakers and senior politicians to accept the BJP flag before election schedule is announced. I am optimistic about Meghalaya having political stability," he said.
Mohendro Rapsang, who represents the West Shillong (general) seat in the Assembly, was a Congress member before disciplinary action followed his joining of NPP. "I am going to be an NPP candidate in 2023 election. As I see it, the party will again steer the state," Rapsang told NewsClick. He added that he, along with four other MLAs, had left the Congress as the AICC leadership was not handling Meghalaya's affairs properly. "Their choice of state office-bearers left much to be desired." Rapsang said.
As per the 2011 Census, Meghalaya had a population of nearly 30 lakh. For the 2018 Assembly election, the state had 13.16 lakh voters.
Get the latest reports & analysis with people's perspective on Protests, movements & deep analytical videos, discussions of the current affairs in your Telegram app. Subscribe to NewsClick's Telegram channel & get Real-Time updates on stories, as they get published on our website.
Subscribe Newsclick On Telegram